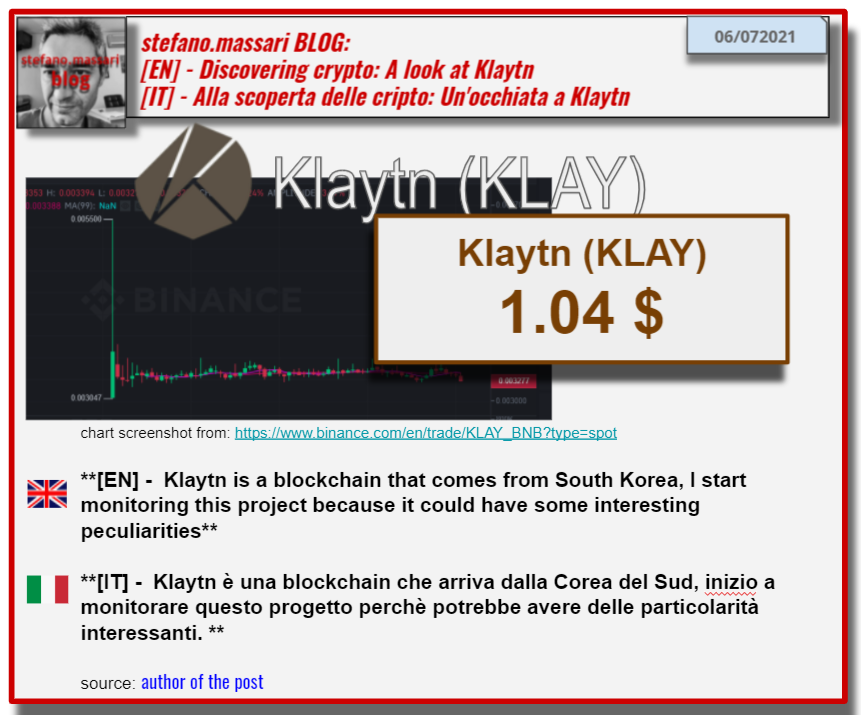 chart screenshot from: https://www.binance.com/en/trade/KLAY_BNB?type=spot
[EN] - Klaytn is a blockchain that comes from South Korea, I start monitoring this project because it could have some interesting peculiarities
[IT] - Klaytn è una blockchain che arriva dalla Corea del Sud, inizio a monitorare questo progetto perchè potrebbe avere delle particolarità interessanti.
source: author of the post
ENGLISH
Considerations
A year ago I noticed an application that I might have liked, the application was called PIBBLE, very similar to Instagram. I liked the application, but the blockchain on which it was built was a blockchain unknown to me. The blockchain was called Klaytn. I looked for information about Klaytn, but didn't find much. At that point I didn't invest in Klaytn and didn't try PIBBLE. Wrong move !! Today Klaytn ranks 39th in the ranking of the most capitalized blockchains. So today I try to make a first purchase of KLAY tokens. I noticed that the KLAY / BNB exchange rate is at 0.003293. I try to set a limit order with 0.18 BNB and a KLAY / BNB ratio of 0.003290. If the order is activated, I will purchase 54 KLAY tokens.
The project comes from South Korea, a territory in which the blockchain phenomenon has already developed predominantly. From the first readings I did on Klaytn, it seems that it is a project dedicated to both retail users and companies. So I would say that if so, this blockchain has an ambitious goal. Furthermore, I also read that this project would like to give users the possibility to create private blockchains.
link to the official website of the blockchain: https://www.klaytn.com/
Conclusions
South Korea is a fertile territory for blockchain technology and I expect some innovative projects to come from there that will spread around the world. I am monitoring the South Korean Klaytn project to understand if this blockchain can have this future.
Question
Have you already heard of Klaytn?
Previous post
no previous post
Referral
My HIVE referral link:
https://hiveonboard.com?ref=stefano.massari
---
ITALIAN
Considerazioni
Un anno fa avevo notato un'applicazione che poteva piacermi, l'applicazione si chiamava PIBBLE, molto simile ad Instagram. L'applicazione mi piaceva, ma la blockchain su cui era costruita era una blockchain a me sconosciuta. La blockchain si chiamava Klaytn. Cercai informazioni a riguardo di Klaytn, ma non trovai molto. A quel punto non investii in Klaytn e non provai PIBBLE. Mossa sbagliata!! Oggi Klaytn è al 39esimo posto della classifica delle blockchain più capitalizzate. QUindi oggi provo a fare un primo acquisto di token KLAY. Ho notato che il cambio KLAY/BNB è a 0,003293. Provo ad impostare un ordine limiti con 0,18 BNB ed un rapporto KLAY/BNB di 0,003290. Se l'ordine si attiverà acquisterò 54 token KLAY.
Il progetto arriva dalla Corea del Sud, territorio in cui il fenomeno della blockchain si è già sviluppato in maniera preponderante. Dalle prime letture che ho fatto su Klaytn, sembra che sia un progetto dedicato sia ad utenti retail che anche ad aziende. Quindi direi che se è così, questa blockchain ha un obiettivo ambizioso. Inoltre ho letto anche che questo progetto vorrebbe dare la possibilità agli utenti di creare blockchain private.
link al sito ufficiale della blockchain: https://www.klaytn.com/
Conclusioni
La Corea Del Sud è un territorio fertile per la tecnologia blockchain e mi aspetto che da li arrivi qualche progetto innovativo che si diffonderà in tutto il mondo. Sto monitorando il progetto Sud Coreano Klaytn per capire se questa blockchain può avere questo futuro.
Domanda
Avete già sentito parlare di Klaytn?
Post precedenti
Nessun post precedente con questo argomento
Referral
Il mio referral link di HIVE:
https://hiveonboard.com?ref=stefano.massari