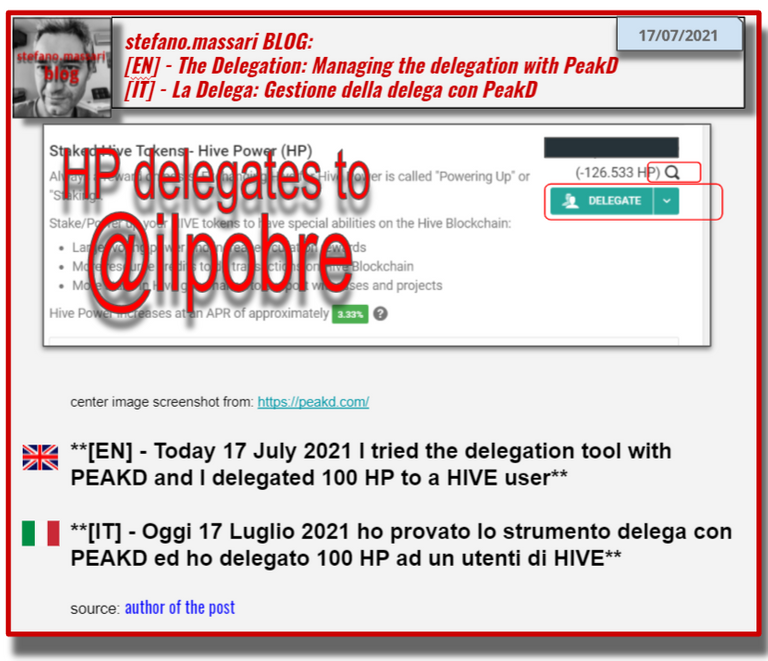 center image screenshot from: https://peakd.com/
[EN] - Today 17 July 2021 I tried the delegation tool with PEAKD and I delegated 100 HP to a HIVE user
[IT] - Oggi 17 Luglio 2021 ho provato lo strumento delega con PEAKD ed ho delegato 100 HP ad un utenti di HIVE
source: author of the post
ENGLISH
Considerations
Recently I have seen that Hiveworld was no longer working. I used the Hieveworld application to manage proxies. At this point I was no longer able to manage the proxies until @ libertycrypto27 advised me to use the PeakD application. Below I leave the link to the platform: https://peakd.com/
This is how I understood that delegations can be managed from the PeakD wallet section. By clicking on the magnifying glass next to the sum of the delegated HP, you can increase or remove the HP already delegated. While clicking on the green "DELEGATE" button, positioned below the sum of the delegated HP, new delegations can be made,
Today I delegated 100 HP to the Italian user @ilpobre. Ilpobre is a relatively young user for HIVE who signed up in October 2020 and has proven to be a good blogger.
Another interesting thing I noticed that my first 100 HP delegates earned me 1 HIVE.
In fact, you need to know that already HP delegates generate interest.
Conclusions
I find the delegation tool very useful for encouraging new arrivals to participate and be interactive. I remember well when I joined the platform and the first months were not easy. I will try to use the proxy tool more and more often to help the profiles that need it most and that I consider deserving.
Question
Have you already tried the proxy tool?
Previous post
https://hive.blog/hive-146620/@stefano.massari/stem73-en-is-hiveworld-still-working
Referral
My HIVE referral link:
https://hiveonboard.com?ref=stefano.massari
---
ITALIAN
Considerazioni
Negli ultimi tempi ho visto che Hiveworld non era più funzionante. Usavo l'applicazione di Hieveworld per gestire le deleghe. A questo punto non ero più in grado di gestire le deleghe fino a quando @libertycrypto27 mi ha consigliato di usare l'applicazione di PeakD. Qui di seguito lascio il link alla piattaforma: https://peakd.com/
E' così che ho capito che dalla sezione del wallet di PeakD si possono gestire le deleghe. Cliccando sulla a lente di ingrandimento vicino alla somma degli HP in delega, si possono aumentare o togliere gli HP già delegati. Mentre cliccando sul pulsante verde "DELEGATE", posizionato sotto alla somma degli HP delegati, si possono effettuare nuove deleghe,
Oggi ho delegato 100 HP all'utente italiano @ilpobre. Ilpobre è un utente relativamente giovane per HIVE che si è iscritto ad Ottobre 2020 ed ha dimostrato di essere un buon blogger.
Un'altra cosa interessante ho notato che i miei primi 100 HP delegati mi hanno fruttato 1 HIVE.
Infatti bisogna sapere che gi HP delegati generano un interesse.
Conclusioni
Lo strumento delega lo trovo molto utile per incentivare i nuovi arrivi a partecipare e ad essere interattivi. Ricordo bene quando mi sono iscritto alla piattaforma e i primi mesi non sono stati facili. Proverò ad usare lo strumento delega sempre più spesso per aiutare i profili che ne hanno più bisogno e che ritengo meritevoli.
Domanda
Avete già provato lo strumento delega?
Post precedenti
https://hive.blog/hive-146620/@stefano.massari/stem73-en-is-hiveworld-still-working
Referral
Il mio referral link di HIVE:
https://hiveonboard.com?ref=stefano.massari