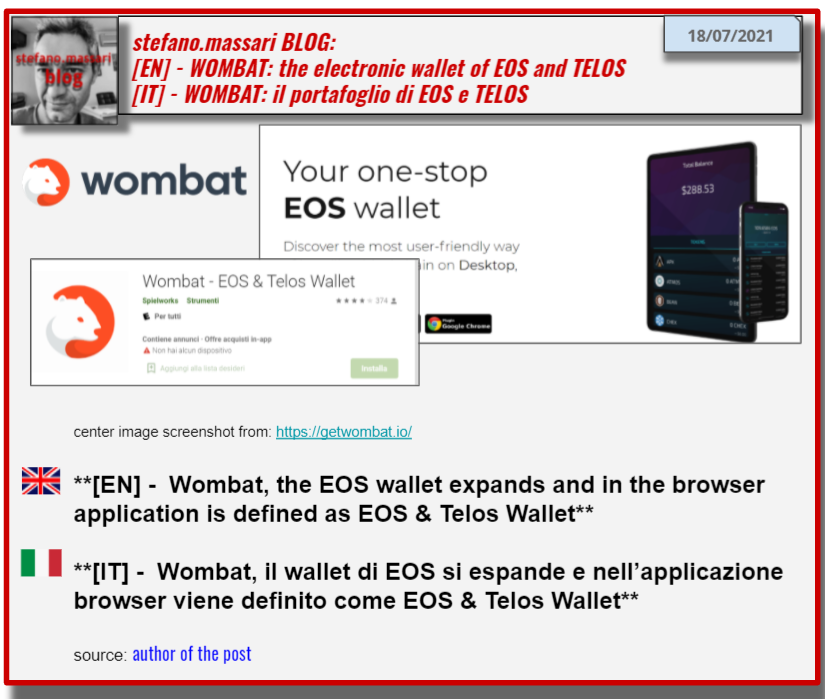 center image screenshot from: https://getwombat.io/
[EN] - Wombat, the EOS wallet expands and in the browser application is defined as EOS & Telos Wallet
[IT] - Wombat, il wallet di EOS si espande e nell'applicazione browser viene definito come EOS & Telos Wallet
source: author of the post
---
ENGLISH
Considerations
The EOS blockchain has never been a favorite of mine. More than a year ago I tried to create an account, but EOS was starting to have big problems. In fact, to activate my account on certain applications I had to invest very high sums of money for the CPU and RAM (parameters of the EOS blockchain). At the time I was interested in a project that was based on EOS and was Everipedia, and due to the problem explained above, I was not even able to access the Everipedia application. Several sources of information told me that Wombat, one of the EOS wallets has recently solved the various problems that were born on EOS.
On the WOMBAT site there are various information and one of them is the following slogan "Goodbye to the EOS CPU. Hello Wombat! ". So it seems that this e-wallet has solved the EOS CPU problem, a problem that, as I wrote, I also had from the beginning and that did not allow me to use any EOS application.
Then followed the link of the Wombat site: https://getwombat.io/
Below is the link to download the web app: https://play.google.com/store/apps/details?id=io.getwombat.android&hl=it&gl=US
The founder of Telos stated that he uses Wombat on a daily basis to enter the various dApps.
Conclusions
If Wombat does what he promises on his website, it would seem that the EOS blockchain can somehow be rehabilitated and have a chance for growth.
Question
Are there any of you who have already used Wombat? If YES, can you tell me your impression?
Previous post
No previous posts about it
Referral
My HIVE referral link:
https://hiveonboard.com?ref=stefano.massari
---
ITALIAN
Considerazioni
La blockchain di EOS non è mai stata una delle mie preferite. Più di un anno fa provai a creare un account, ma EOS iniziava ad avere grossi problemi. Infatti per attivare il mio account su certe applicazioni dovevo investire somme di denaro molto alte per la CPU e la RAM (parametri della blockchain di EOS). A suo tempo ero interessato ad un progetto che si basava su EOS ed era Everipedia, a per il problema spiegato prima, non sono stato in grado nemmeno di accedere all'applicazione di Everipedia. Diverse fonti di informazioni mi hanno riferito che Wombat, uno dei portafogli EOS ha recentemente risolto i vari problemi che erano nati su EOS.
Nel sito di WOMBAT ci sono diverse informazioni ed una tra queste è il seguente slogan "Addio alla CPU di EOS. Ciao Wombat!". Quindi sembra che questo portafoglio elettronico abbia risolto il problema della CPU di EOS, problema che come ho scritto ebbi anch'io sin dall'inizio e che non mi permise di usare nessuna applicazione EOS.
Quidi seguito il link del sito di Wombat: https://getwombat.io/
Qui di seguito il link per scaricare la web app: https://play.google.com/store/apps/details?id=io.getwombat.android&hl=it&gl=US
Il fondatore di Telos ha dichiarato che usa Wombat quotidianamente per entrare nelle varie dApp.
Conclusioni
Se Wombat fa quello che promette nel suo sito, sembrerebbe che la blockchain di EOS si possa in qualche maniera riabilitare ed avere delle possibilità di crescita.
Domanda
C'è qualcuno di voi che ha già usato Wombat? Se SI, potete dirmi la vostra impressione?
Post precedenti
Nessun post precedente a riguardo
Referral
Il mio referral link di HIVE:
https://hiveonboard.com?ref=stefano.massari