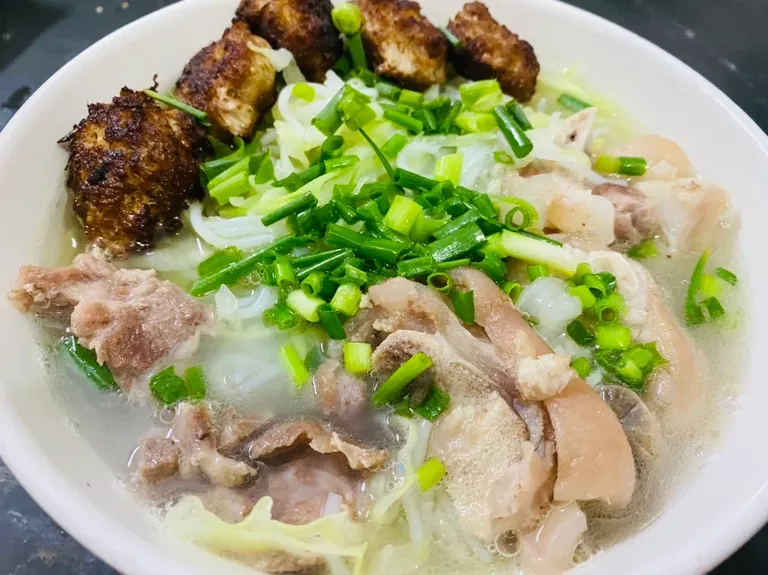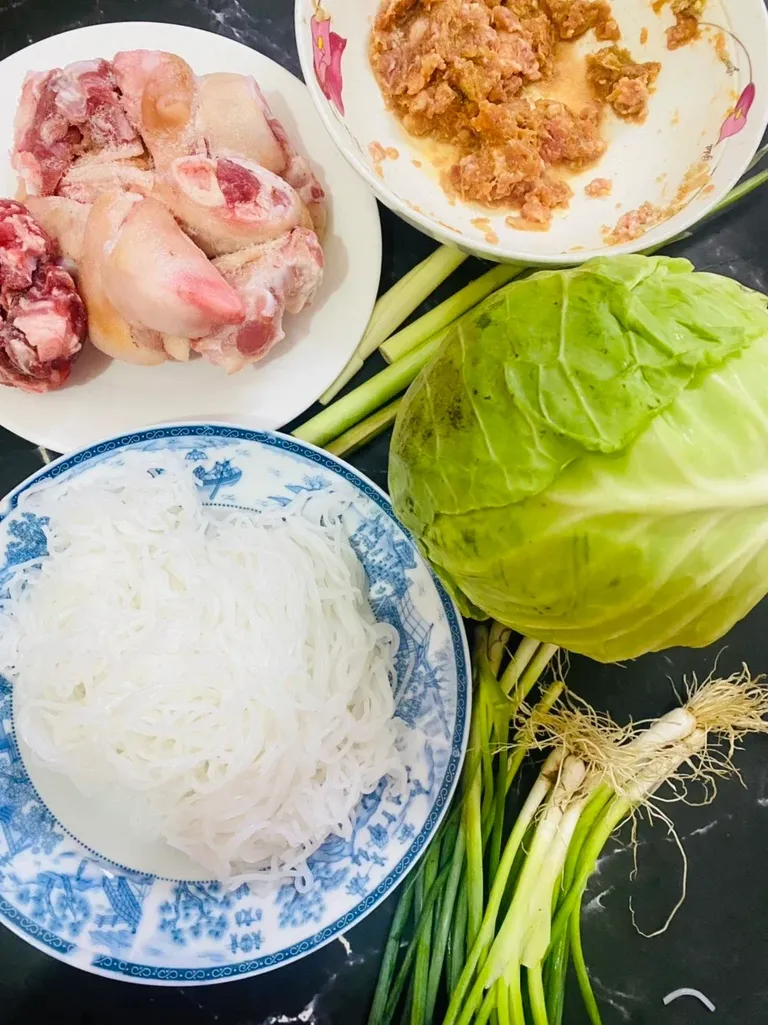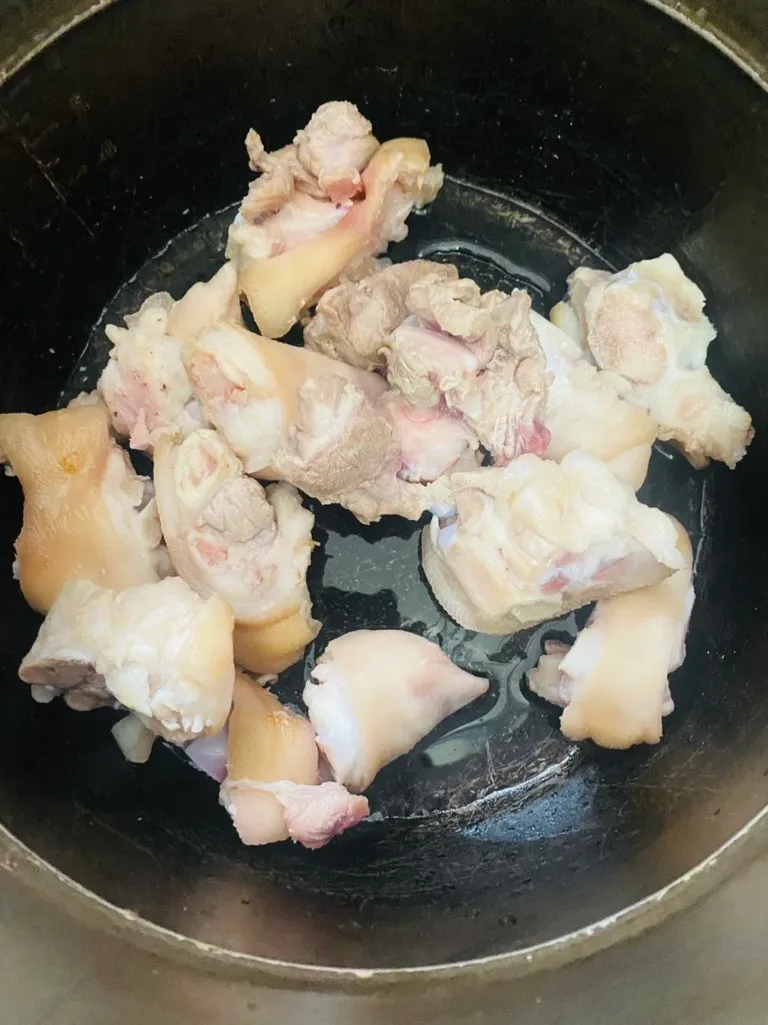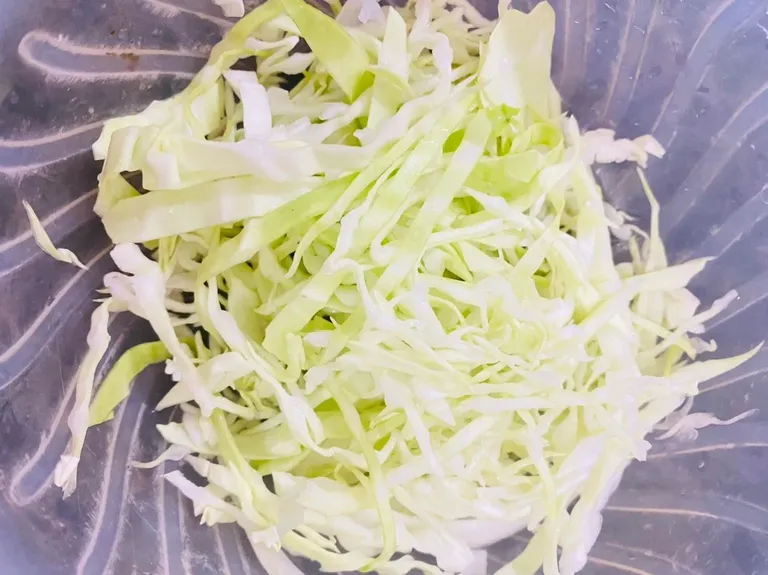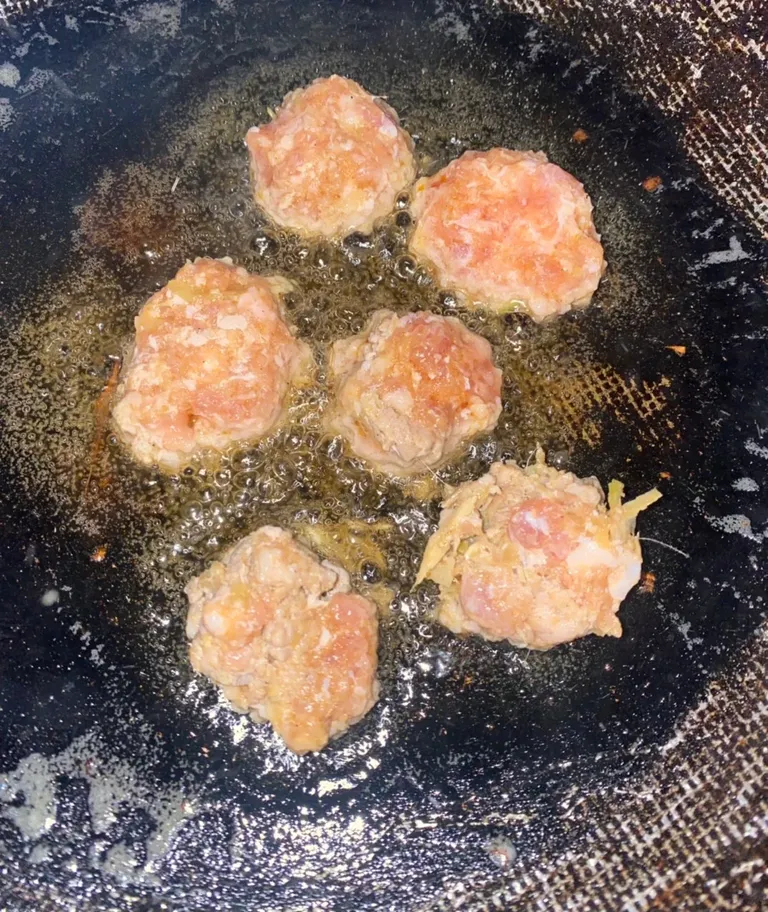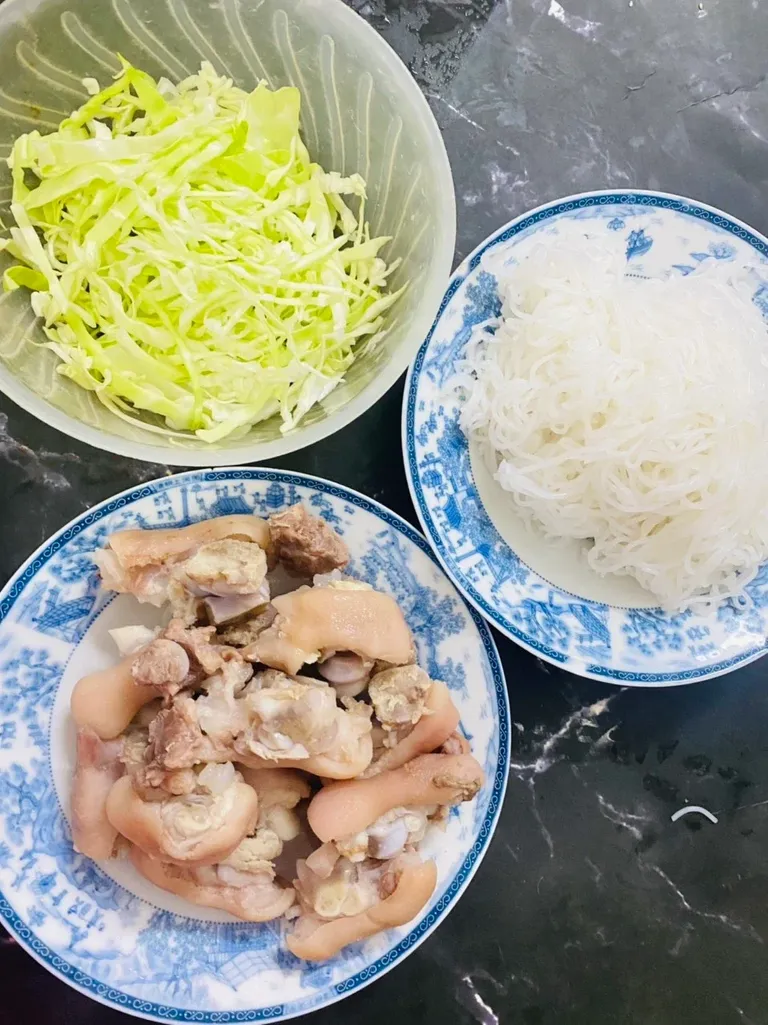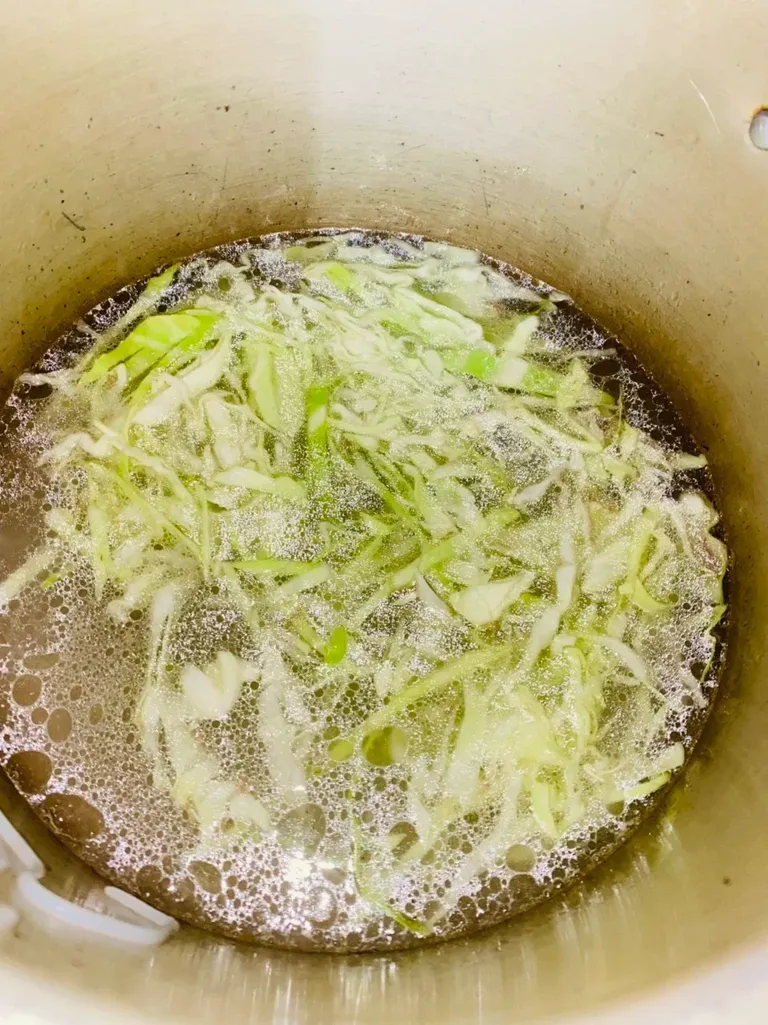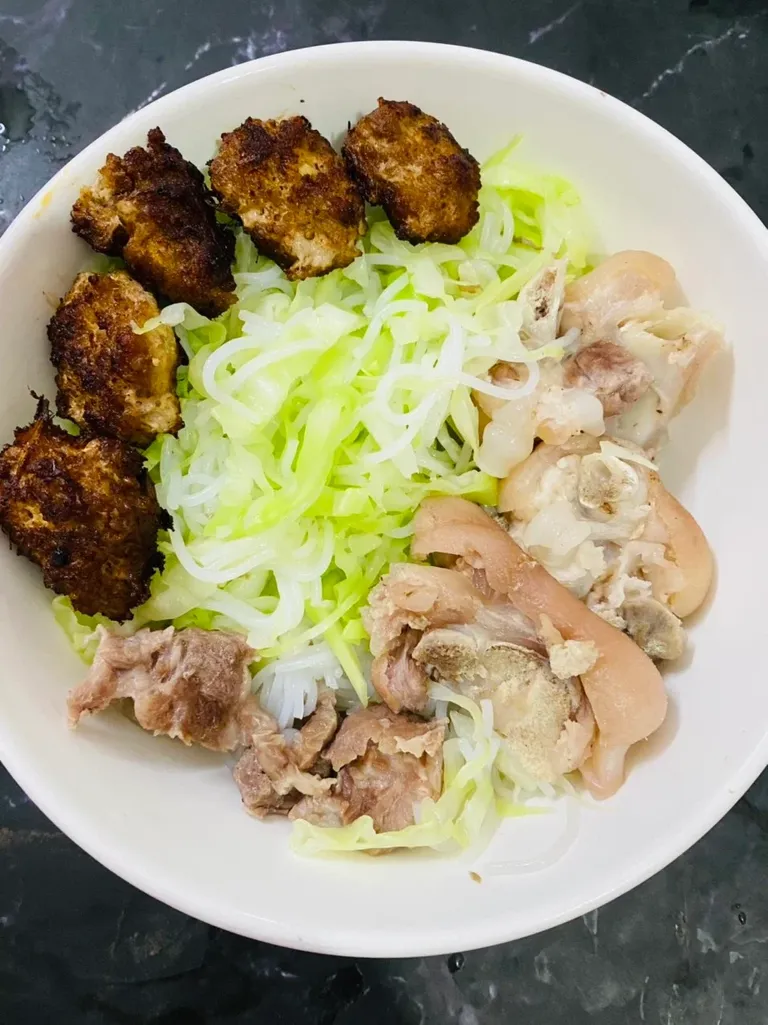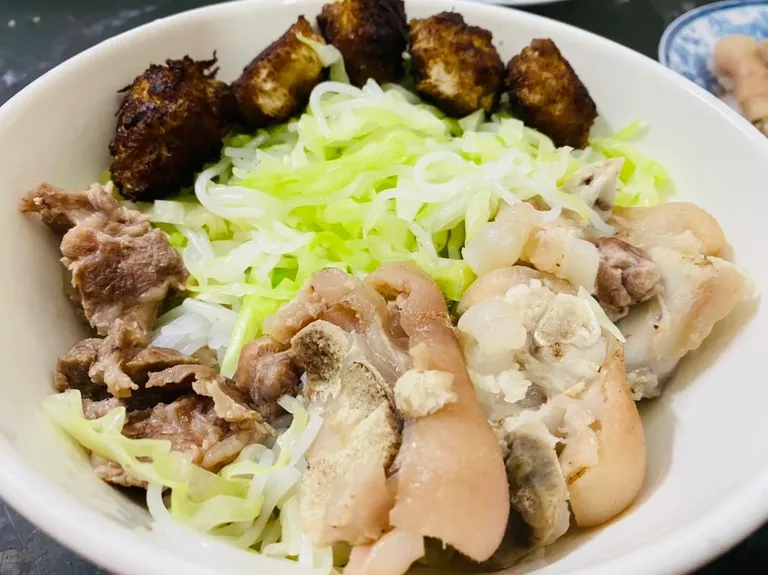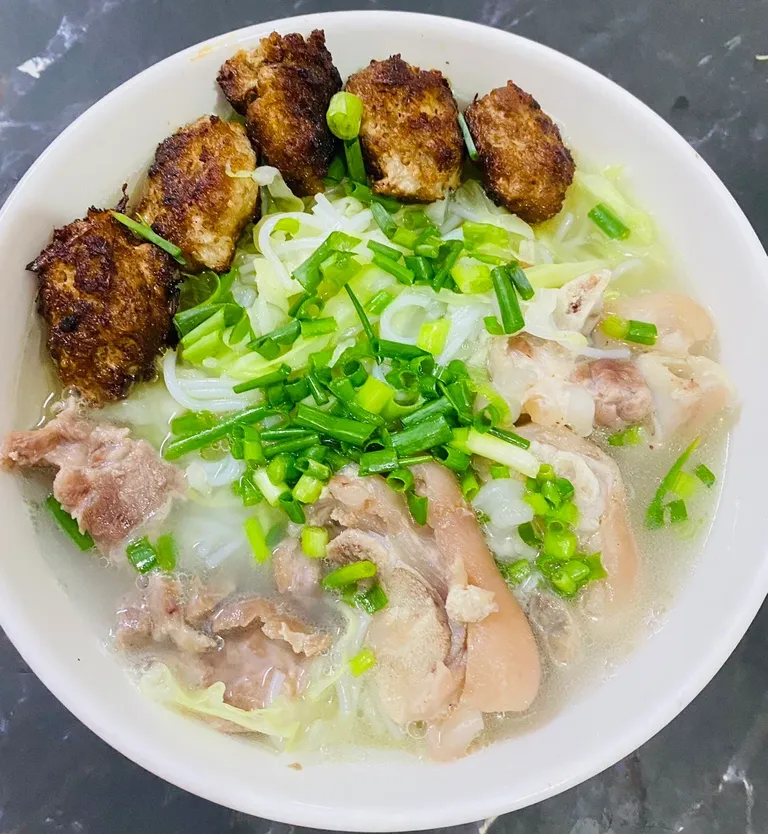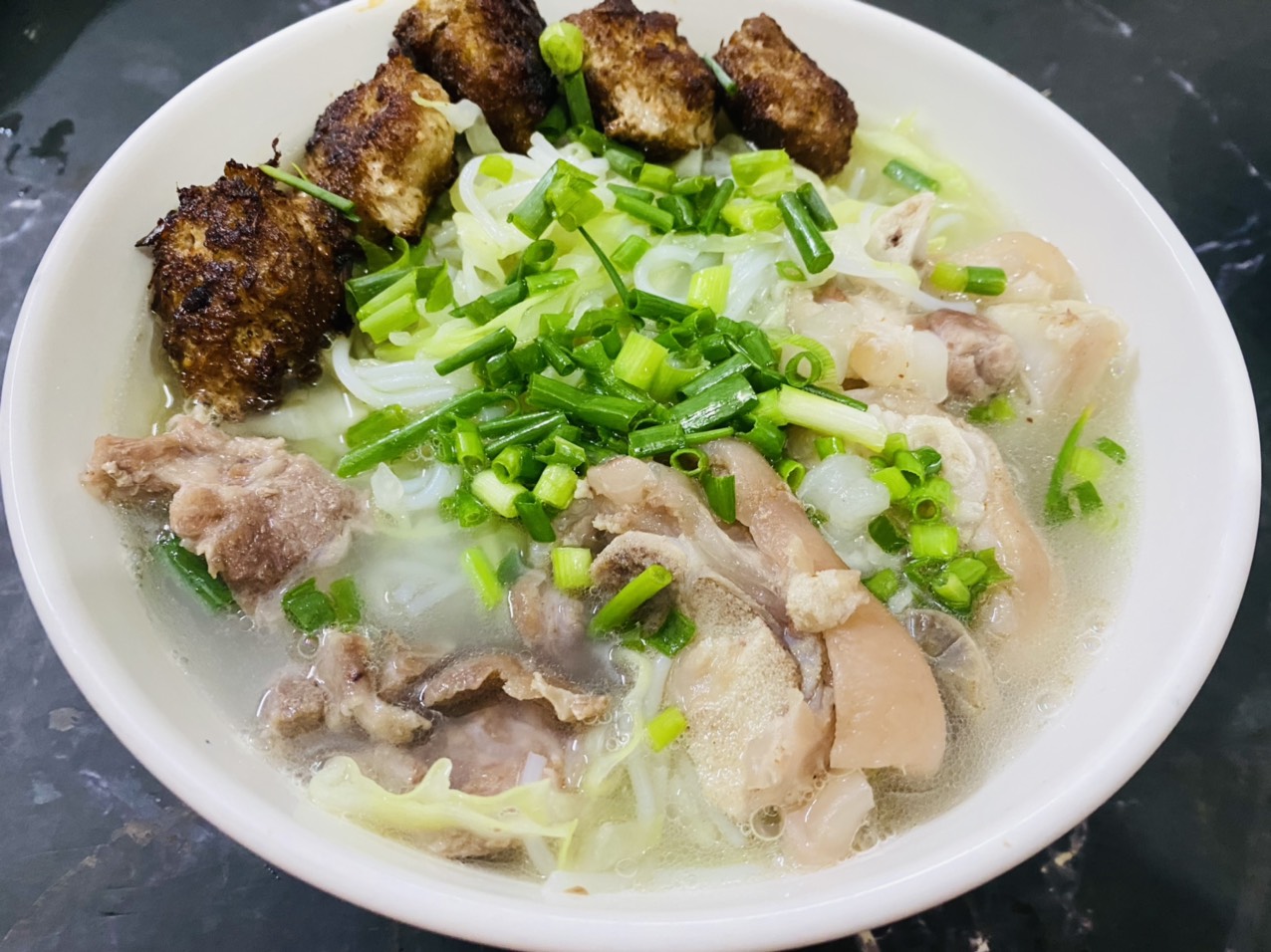 This warm and comforting meat and rice noodle broth is a great start to your Asian meal. This is a popular soup in Vietnam every morning, but we can also eat it for lunch or dinner. Perfect to enjoy this wonderful dish with family or friends or when you want something warm, rich and filling. This soup is a harmonious combination of fatty cuts of meat with rich broth and fresh herbs. A bowl like in my article costs 30000 VND (1.2 dollars), it is so delicious and it becomes the culinary soul of Hanoi people. No need to go to the restaurant anymore because it's so easy to cook at home, it only takes you 1 hour to cook. Today, I will share with you the recipe for the meat rice noodle soup of Northern Vietnam where I grew up.
| English (E) | Vietnamese (V) |
| --- | --- |
| Rice Noodles | Bún |
| Meat | Thịt |
| Pork feet | Chân giò |
| Pork cartilage | Sụn heo |
| Lemongrass | Chân giò |
| Bean sprouts | Giá đỗ |
| Scallion | Hành lá |
| Herbs | Rau thơm |
| English (E) | Vietnamese (V) |
| --- | --- |
| Rinse the meat, then cut meat into small chunks, and add into blender or food processor. Puree until you have a smooth. Peel off the hard outer layers of lemongrass, chop them. Mix minced meat with minced lemongrass, season with oyster sauce, cashew oil, seasoning seeds, soy sauce, and mix well. | Rửa sạch thịt, sau đó cắt thịt thành từng miếng nhỏ, cho vào máy xay sinh tố hoặc máy xay thực phẩm. Xay nhuyễn cho đến khi bạn có một hỗn hợp thịt mịn. Lột bỏ lớp vỏ cứng bên ngoài của sả, băm nhỏ. Trộn thịt xay với sả băm, nêm dầu hào, dầu điều, hạt nêm, xì dầu, trộn đều. |
| English (E) | Vietnamese (V) |
| --- | --- |
| Leave the marinated meat mixture in the refrigerator for about 1 hour to make the meat more delicious. Shape the meat into flat balls and fry until golden brown on both sides. | Để hỗn hợp thịt đã ướp trong tủ lạnh khoảng 1 tiếng để thịt ngon hơn. Nặn thịt thành các viên tròn dẹt rồi chiên cho đến khi thịt chín vàng hai mặt. |
| English (E) | Vietnamese (V) |
| --- | --- |
| Cut the pork cartilage and pork feet into bite-sized pieces, and blanch them in a pot of boiling water for about 10 minutes to remove any dirt. After boiling for 10 minutes, take them out and rinse again with cold water. Plus, you will have a tastier, non-funky-pork-smelling soup. Bring to a boil and then let them simmer on the lowest heat for about 1 hour until very tender. Or you can use a pressure cooker to soften, only takes about 20 minutes. | Sụn ​​và chân giò cắt miếng vừa ăn, chần qua nồi nước sôi khoảng 10 phút để loại bỏ bớt chất bẩn. Sau khi luộc khoảng 10 phút, bạn vớt chúng ra và rửa lại bằng nước lạnh. Thêm vào đó, bạn sẽ có một món súp ngon hơn, không có mùi lợn cợn. Đun sôi rồi để lửa nhỏ nhất trong khoảng 1 giờ cho đến khi chín mềm. Hoặc bạn có thể dùng nồi áp suất để ninh mềm, chỉ mất khoảng 20 phút. |
| English (E) | Vietnamese (V) |
| --- | --- |
| Dip the rice noodle in the broth for about 30 seconds or until the rice noodles is tender, and transfer to a bowl. Blanch the bean sprouts in the broth until tender, about 30 seconds. Arrange pork feet, bean sprouts, pork cartilage and fried meat on top, add chopped scallions, scoop broth on top, and enjoy hot. | Nhúng bún vào nước dùng trong khoảng 30 giây hoặc cho đến khi bún mềm và chuyển sang tô. Chần giá đỗ trong nước dùng cho đến khi mềm, khoảng 30 giây. Xếp chân giò, giá đỗ, sụn lợn và thịt đã chiên lên trên, thêm hành lá cắt nhỏ, múc nước dùng lên trên, thưởng thức nóng. |
This post is 100% written by me, and the pictures are taken by me with my phone. Hope you enjoyed my post, thank you for reading my post. Please share with me your comment under my post. Have a good day.
---
For the best experience view this post on Liketu