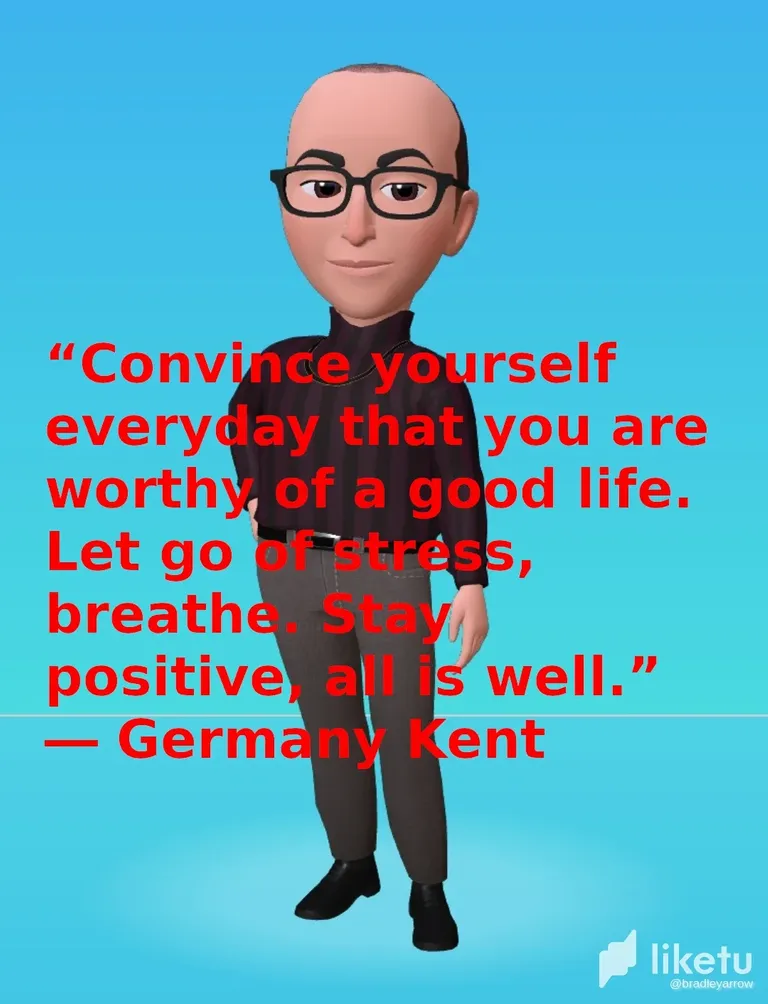 Hello LikeTu'ers and Hivians,
First I want to welcome @letofreitasbank to the Curation Trail. That makes us 128 strong now.
Today I have a little quote for you:
"Convince yourself everyday that you are worthy of a good life. Let go of stress, breathe. Stay positive, all is well."
― Germany Kent
I believe 100 percent in what Germany is saying. I have spoken about it before. People have asked me many times how I turned into Mr. Positive. And in the start it was every single day when I got out of bed, and still some days, I had to convice myself to be Positive. That I am worthy of all the the good out there.
Stress - We all stress to much. Talk is easy but my regular readers will know I practice what I preach. Letting go of stress take work and again you have to convice yourself to do it. It wont all go away, it never does, but more that you can get gone the better.
And yes: STAY FRACKING POSITIVE. And all will be well. No matter what life and this world throws at you.
GOALS
Post on Hive at least once a day
Bring some joy to my wife today
Onboard Vanessa to Hive
Stay positive and keep a good attitude
Promote Hive to someone new
Get Curation Trial to 200 people
Hit 6000 HP by end of 2023
Do 2000 strait days posting on Hive
LPUD every month in 2023
Save 1 Million HBD in my life time
FOOTER
Please check out CTPX
Please check out List Nerds
Don't forget to check out the The PIzza Plan
Don't forget to check out our Curation Trail
Have a super positive day everyone.
All roads lead to Hive.
Bradley
---
For the best experience view this post on Liketu