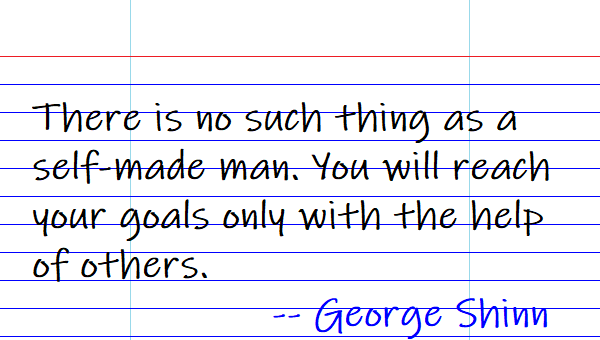 There is no such thing as a self-made man. You will reach your goals only with the help of others.
-- George Shinn
---
About the Quote
No matter how many things we do by ourselves in order to achieve something, we will always need help from others along the way:
For every race car driver, there is a crew of mechanics to keep the race car operational and an ownership team which makes it possible for the driver to drive the race car in the first place.
Phil Collins left the band Genesis to become a solo act, but he still needed a supporting band.
Had Hulk Hogan not had the support of people who encouraged him to pursue a career as a wrestler, we would not know about him, and the history of professional wrestling would be radically different from what it is today.
While it's a stretch to say that we wouldn't be the people we are without public roads built by government, it is truth to say that what we become is possible with help from the people who support us and back us. It starts with family, but it includes teachers and mentors and facilitators give us access to the resources and tools we need.
---
Some Information about George Shinn
George Shinn was born in Kannapolis, North Carolina, US on 1941-May-11.
George Shin is best known as the owner of the first Charlotte Hornets franchise of the National Basketball Association. The NBA approved a replacement franchise for Charlotte (the Bobcats) when George Shinn's Hornets relocated to New Orleans, Louisiana, US. Eventually George Shinn's Hornets were renamed the Pelicans and the Charlotte Bobcats became the Hornets.
George Shinn came from a poor family, and during his early years in school his classmates reminded him of that often. At one point one student, a classmate of Shinn's, who was in charge of collecting cafeteria money publicly announced that Shinn was one of two students who had been receiving free school lunches. From that moment on, Shinn resolved to do all he could to get ahead and succedd, to follow every principle and rule for achieving success in life.
While Shinn barely graduated from college, he kept the primisse he had made to his mother to graduate. For the three years after he graduated from high school he worked in a textile mill. When he worked his next job, as a part-time janitor, it was so that he could pay his way through a small business college. When he speaks of this period, he says
I really didn't have any idea what I wanted to be.... I just had a burning desire to be somebody. I just wanted to be successful.
Still a young man starting out in life, George Shinn had read The Power of Positive Thinking by Norman Vincent Peale. Reading The Power of Positive Thinking gave Shinn confidence in his strengths, abilities, and himself; then he applied the book's principles well enough to become a salesman and recruiter for his business school. By the time George Shin was 23, he was running the business school and had become a partner.
-- Source
---
Post Details
Index4INDEX image made by @magnacarta using MS Paint.
Quotes I use for Index4INDEX are stored in an Excel 2003 spreadsheet. Recently I added database functionality for limited searching.
---
Other Recent Quotes
---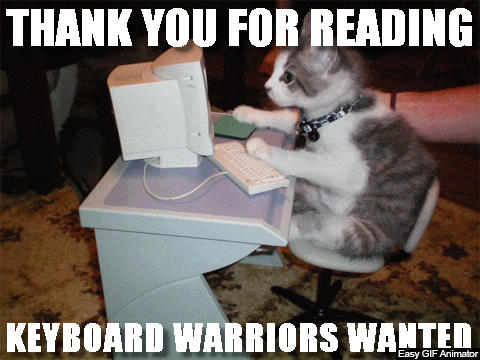 ---
---
Do you like posting short bursts of text? Do it 240-characters at a time at LeoThreads.
---