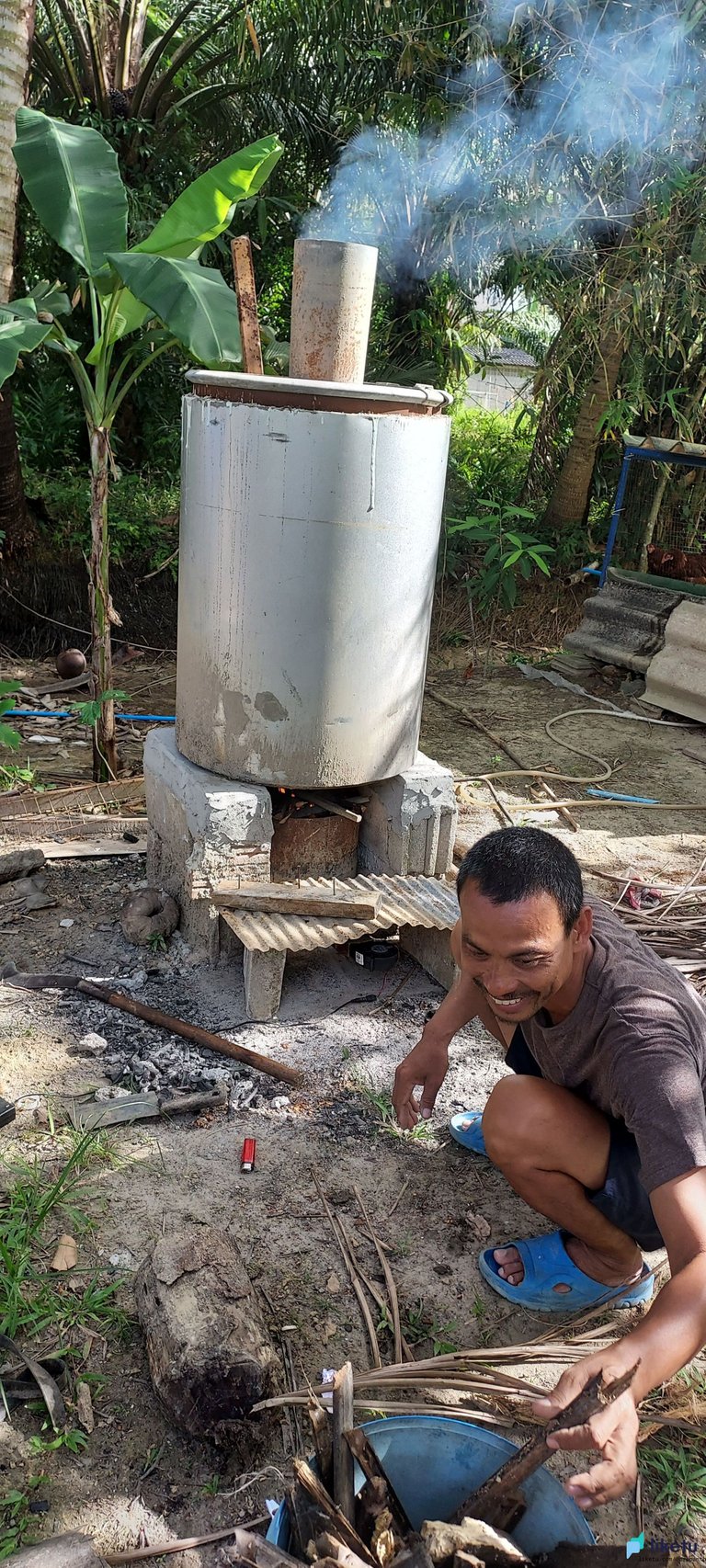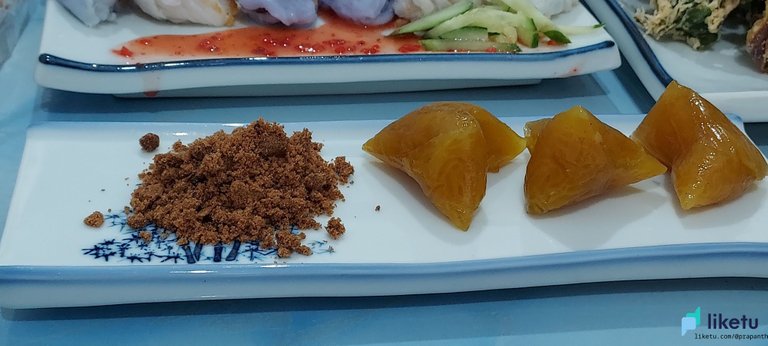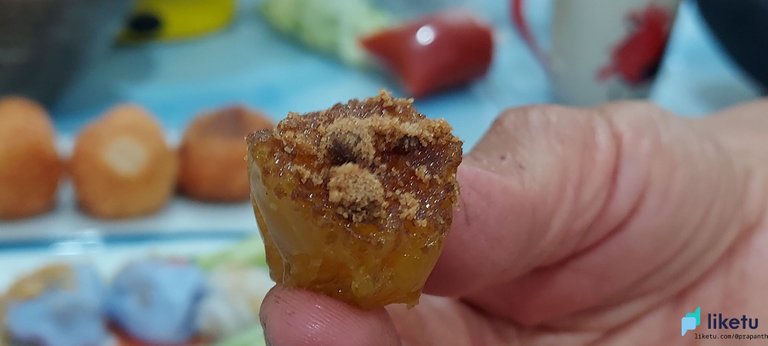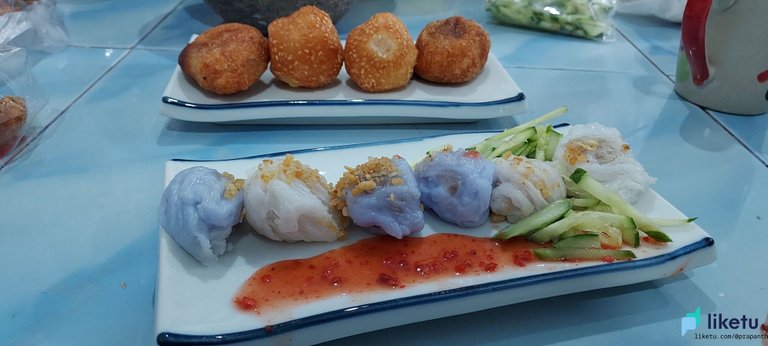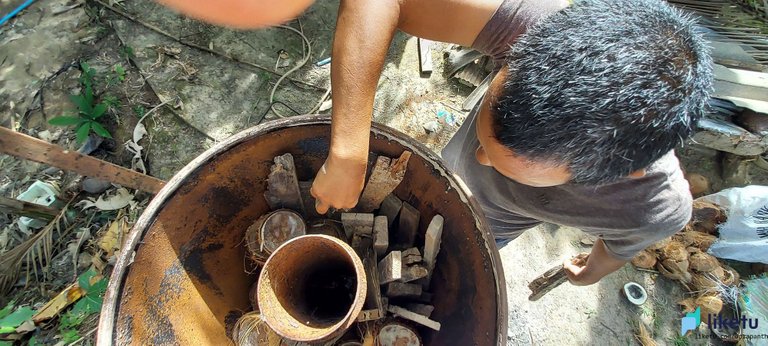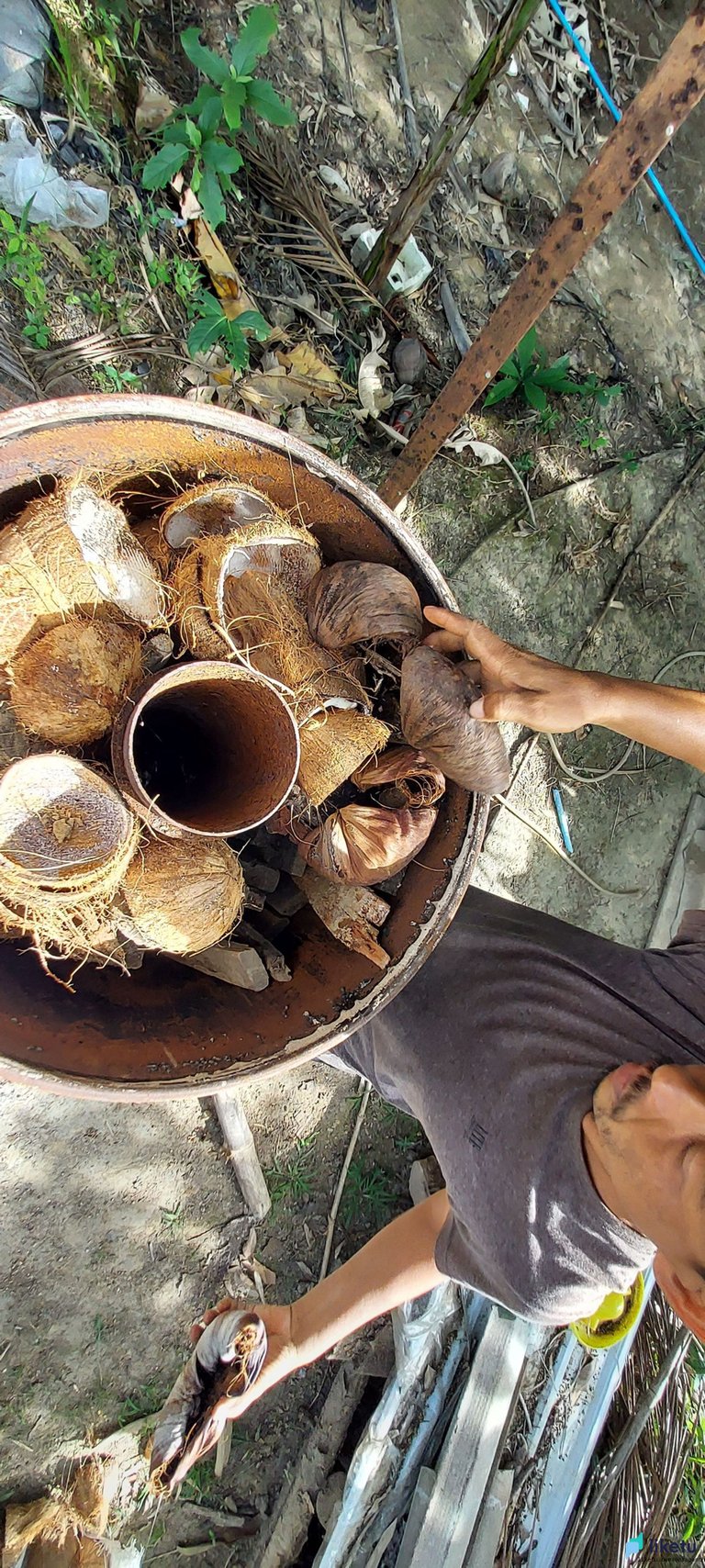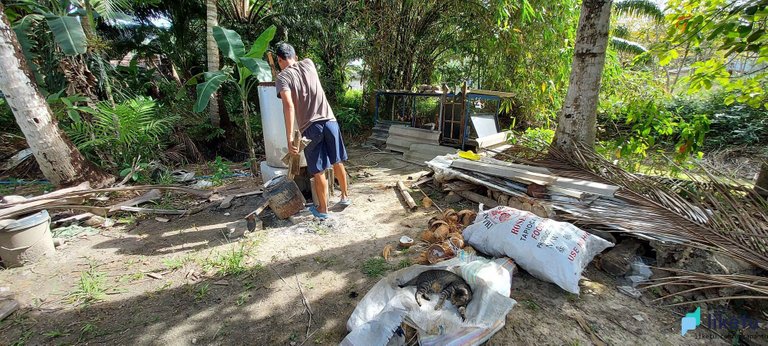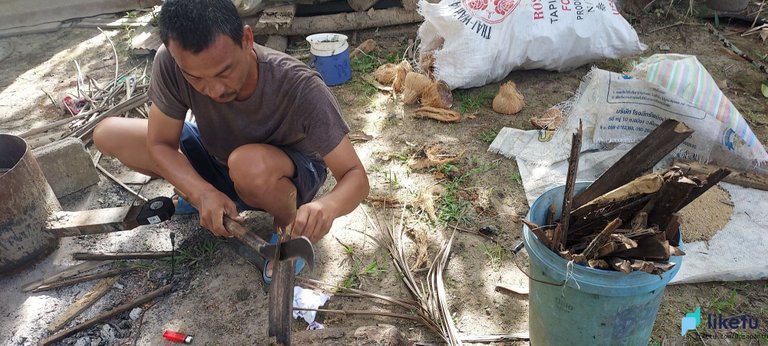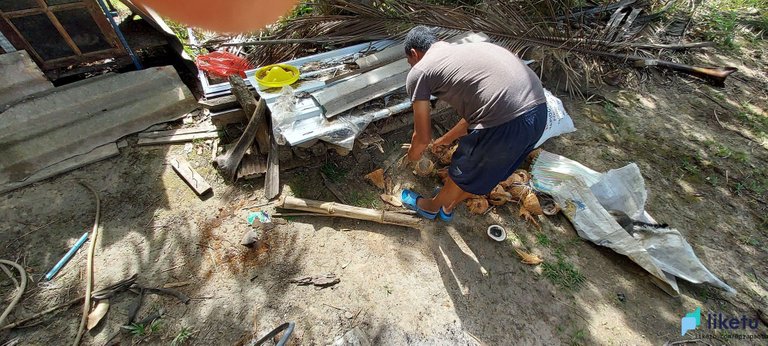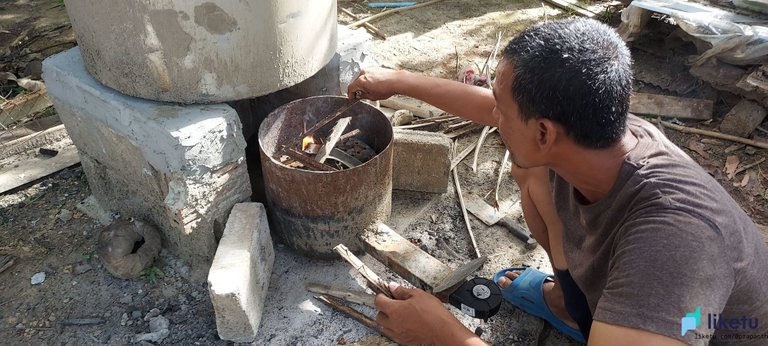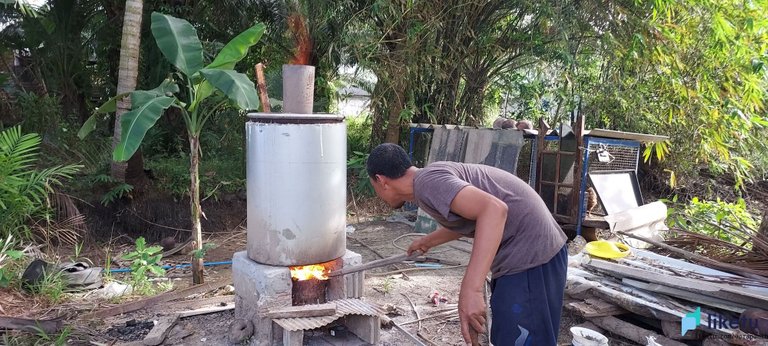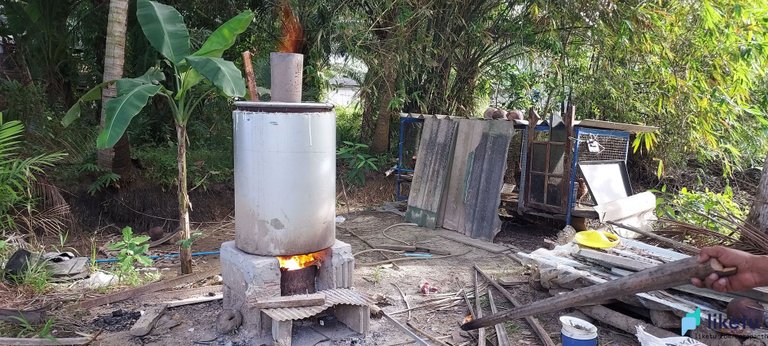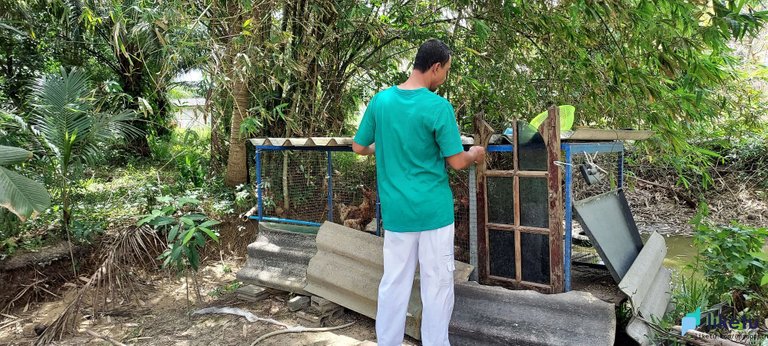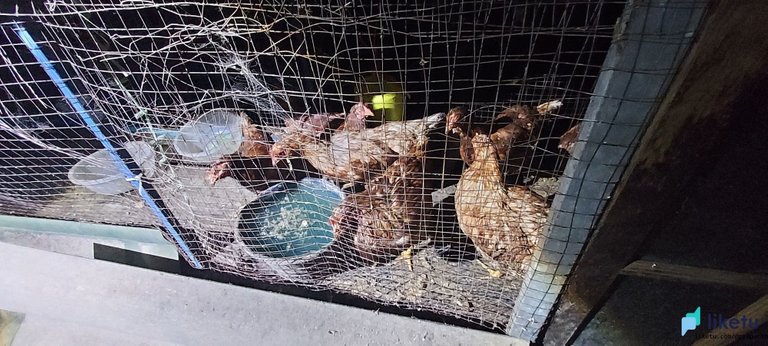 😄🙏🙏🙏😊
---
Hello all respected friends.
This morning my sister came to visit my house. And she bought Thai desserts for me too. It is a popular Thai dessert that can be eaten in the morning or with coffee.
We had breakfast together and then I continued to feed the pigs, ducks and fish. After feeding the animals, we went home. When I arrived at my house, I did an experiment with smokeless charcoal burning. I manage by bringing the wood to arrange in the charcoal stove until it's full. I use many types of wood together including coconut shells. to try to see if What will be the result? between big trees, small trees and coconut shells or whether to burn separately You have to see the results first.
After finishing the arrangement of the wood, I light a fire to burn the charcoal.
I spent about an hour igniting a charcoal fire.
It took me about 2 to 3 hours to burn the coals, then I let the fire go out by itself and waited to see the results. the next day Wait for it to cool down first.
In the afternoon I went to plant a tree in the garden.
and feed the chickens and finish the mission for 1 more day
---
สวัสดีครับเพื่อนๆที่เคารพรักทุกๆท่าน
เช้านี้น้องสาวมาเยี่ยมบ้านเธอซื้อขนมมาฝากด้วยครับ เป็นขนมไทยนิยมทานตอนเช้าครับหรือจะทานกับกาแฟก็ได้
เราทานอาหารเช้าด้วยกันหลังจากนั้นผมก็ ไปให้อาหาร หมู เป็ดและปลา ต่อครับ ให้อาหารสัตว์เสร็จแล้วเราก็กลับบ้าน ไปถึงบ้านผมได้ทำการทดลองเผาถ่านแบบ ไร้ควัน ดูครับ ผมจัดการโดยการนำไม้มาจัดเรียงลงไปในเตาถ่าน จนเต็ม ครับ ผมใช้ไม้หลายประเภทรวมกันครับทั้งกะลามะพร้าวด้วยครับ เพื่อจะทดลองดูว่า ผลจะออกมาเป็นอย่างไร ระหว่างไม้ต้นใหญ่ไม้ขนาดเล็กและกะลามะพร้าว หรือว่าจะเผาแยก ก็ต้องดูผลก่อนครับ หลังจาก จัด เรียงไม้เสร็จเรียบร้อยแล้วผมก็ จุดไฟเพื่อเผาถ่าน ครับ ผมใช้เวลาในการจุดไฟเผาเตาอยู่ประมาณชั่วโมงกว่าๆถึงจะติดไปครับ
ผมใช้เวลาในการเผาถ่านประมาณ 2-3 ชั่วโมง แล้วผมก็ปล่อยให้ไฟมันดับเองแล้วคอยมาดูผลงาน ในวันถัดไปครับ รอให้มันเย็นลงก่อนครับ
ช่วงบ่ายผมไปในสวนเพื่อปลูกต้นไม้ ต่อจากเมื่อวานครับ และให้อาหารไก่เป็นอันว่าเสร็จภารกิจไปอีก 1 วันครับ
---
Thank you for always following and supporting.
---
😊😊😊
---
---
For the best experience view this post on Liketu