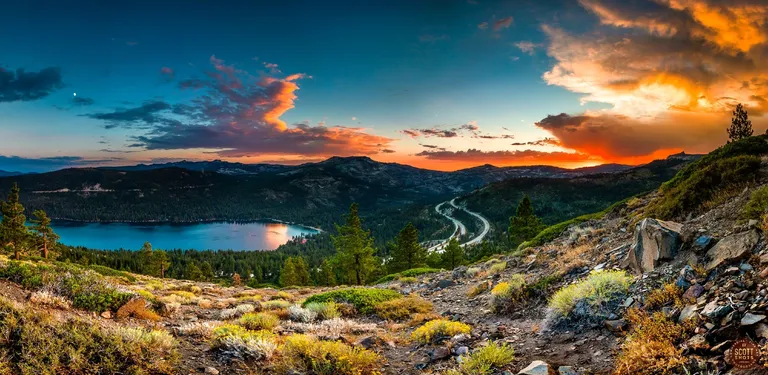 The sunset forecast was looking great yesterday afternoon. So after dinner, I grabbed the camera gear and headed out to a spot above Donner Lake that is great for catching a sunset. I was going to bring Quill dog but my wife heard some thunder, and I didn't want to deal with him in a possible downpour and lightning storm. I packed the rain jacket instead. The weather ended up being great, I should have brought him but hey, it was also nice to enjoy the sunset by myself and not worry about what trouble Quill is up to...
The composition is not what I had in mind, I was hoping for a bit more color above the lake but it didn't really fire off that direction. Looking to the west was beautiful, but it didn't have the best foreground. I found some brush blooming, I was running a bit late, so I quickly set up and went to work. Not my most favorite photo I've ever taken but it still turned out nice and the sunset was worth 30 minute hike out to this spot.
Shot with a Canon 5DS R and a 16-35mm lens. This is a stitched panoramic, many vertical photos were stitched together to create one very wide angle shot. ISO 160, the aperture was f/18, and each shot was 1.3 seconds long. Two graduated neutral density filters were used on the front of the lens in order to darken the sky and balance out the sky exposure with the foreground exposure.
Also, this is my first time trying out @liketu. Seems like an interesting front end for Hive. I usually use @peakd. Just curious, what is your favorite way to access the Hive blockchain?
Thanks for looking and have a great day!
Scott Thompson
Scott Shots Photography
---
For the best experience view this post on Liketu