---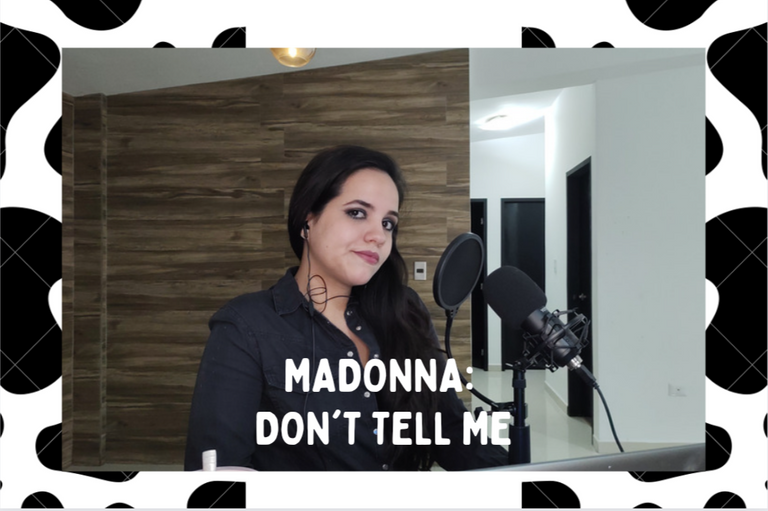 Hello everyone! Today I bring you a new cover for the collection. With this I present Madonna's song, titled "Don't tell me". One of her most peculiar songs and without a doubt one of my favorites.
I have already brought Madonna covers here before and for this occasion I wanted to choose a song that is part of one of Madonna's many musical stages. The song came out in 2000 and I perfectly remember the video of her dancing country style in a cowboy outfit. The mechanical bull and her riding it. A fun and different video.
I leave here the video for you to watch it. I liked the result and I hope you do too. This time I was editing from my phone since I had some problems with the laptop where my partner was working. So, for now this is the new presentation. Thank you very much for stopping by and a kiss and a kiss.
Español
¡Hola a todos! El día de hoy les traigo un nuevo cover para la colección. Con esto presento la canción de Madonna, titulado "Don't tell me". Uno de sus temas más peculiares y sin duda alguna de mis favoritos.
Ya he traído por aquí anteriormente covers de Madonna y para esta ocasión quise elegir un tema que es digamos parte de una de las muchas etapas musicales de Madonna. La canción salió en el año 2000 y recuerdo perfectamente el vídeo de ella bailando al estilo country con una vestimenta vaquera. El toro mecánico y ella montandolo. Un vídeo divertido y diferente.
Les dejo por acá el vídeo para que vayan a verlo. Me ha gustado el resultado y espero que a ustedes también. Esta vez estuve editando desde mi teléfono ya que he tenido algunos problemas con la laptop donde trabajaba mi pareja. Así que, por lo pronto está es la nueva presentación. Muchísimas gracias por pasar por aquí y un beso y un beso.
Lyrics/Letra
Don't tell me to stop
Tell the rain not to drop
Tell the wind not to blow
'Cause you said so, hmm mhm?

Tell the sun not to shine
Not to get up this time, no, no
Let it fall by the way
But don't leave me where I lay down

Tell me love isn't true
It's just something that we do
Tell me everything I'm not
But please don't tell me to stop

Tell the leaves not to turn
But don't ever tell me I'll learn, no, no
Take the black off a crow
But don't tell me I have to go

Tell the bed not to lay
Like the open mouth of a grave, yeah
Not to stare up at me
Like a calf down on its knees

Tell me love isn't true
It's just something that we do
Tell me everything I'm not
But don't ever tell me to stop (Don't you ever tell)

Tell me love isn't true
It's just something that we do (Don't you ever tell)
Tell me everything I'm not
But don't ever tell me to stop (Don't you ever)

Please don't
Please don't
Please don't tell me to stop (Don't you ever tell)
Don't you ever
Don't ever tell me to stop (Tell the rain not to drop)

Tell the bed not to lay
Like a open mouth of a grave, yeah
Not to stare up at me
Like a calf down on its knees

Tell the bed not to lay
Like a open mouth of a grave, yeah
Not to stare up at me
Like a calf down on its knees

Credits/Créditos

Artist/Artista: Madonna
Song/Canción: Don't Tell Me
Album/Álbum: Music
Year/Año: 2000

---
▶️ 3Speak