bienvenidos||welcome
---
sakura flor japonesa = japanese flower sakura
---
Good good to all my readers wherever you see me. Today I come with a very delicate but beautiful painting
Buena buenas a todos mis lectores de donde me vean. Hoy vengo con una pintura muy delicada pero linda
---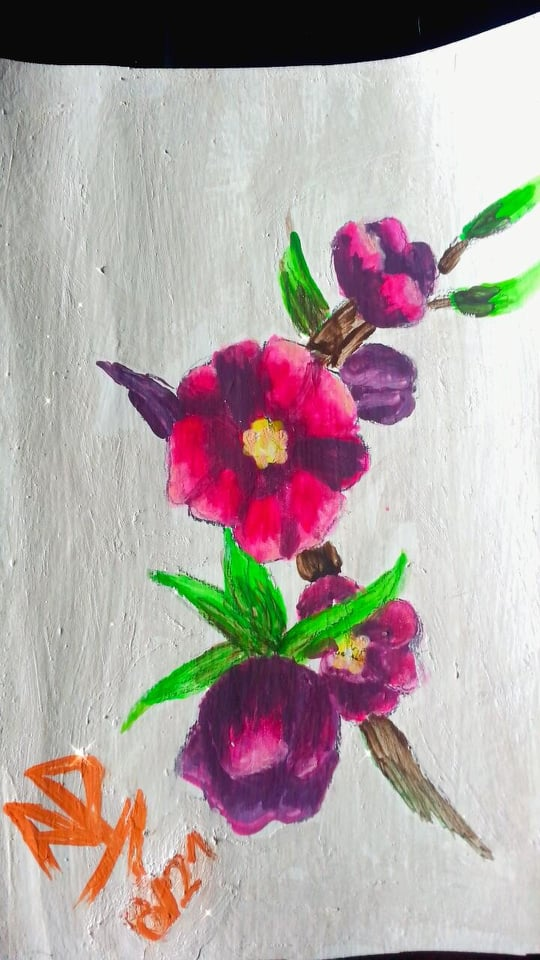 ---
Materials:
Carton in kilo prepared with white glue and cold pingura
Cold paint pink, purple, green and brown tones.
Brush
pencil 4b
rubber eraser
Materiales:
Carton en kilo prerado con pega blanca y pingura al frio
pintura al frio tonalidades rosadas, moradas, verdes y marron.
Pincel
lapiz 4b
borra de goma
---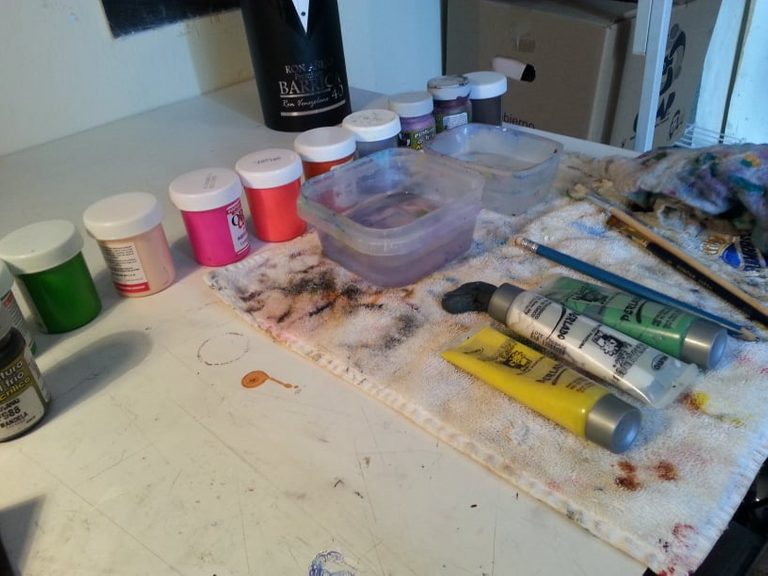 ---
We started our drawing with delicate lines making edges to what would be our drawing. Placing petal by petal
Empezamos nuestro dibujo con lineas delicadas haciendo bordes a lo que seria nuestro dibujo. Colocando petalo por petalo
---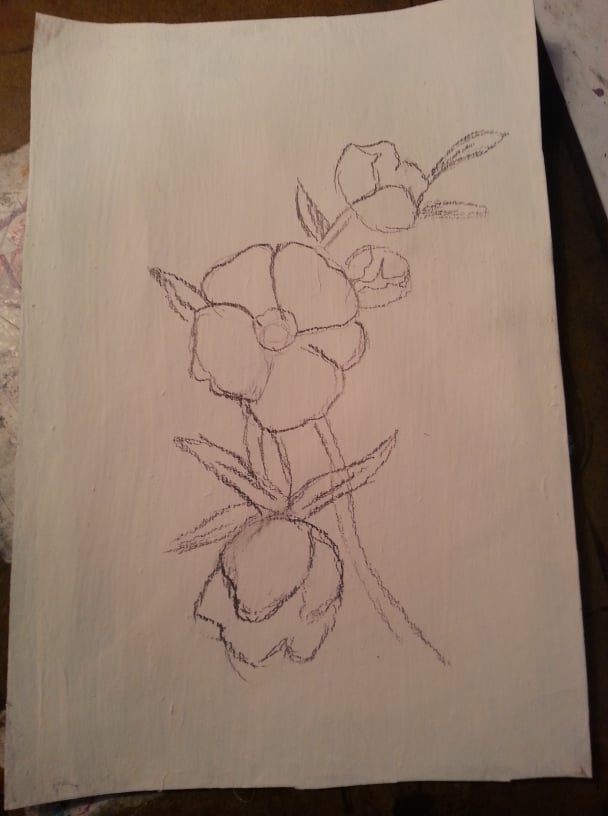 ---
When we have the form ready, we begin to choose which parts will be the dark ones that will be obstructed by petals with more light, which will be pink and purple skin tones and the dark reddish purple
Al tener la forma lista empezamos a escoger que partes seran las oscuras que seran obstruidas por petalos con mas luz que seran tonalidades piel rosada y moradas y las oscuras morado rojizo
---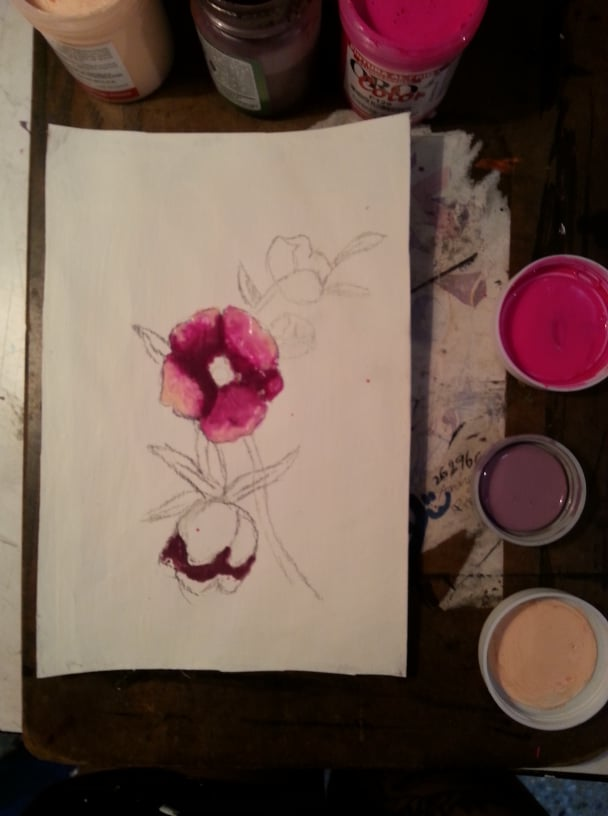 ---
At this point in the second flower what we do is combine two types of purple to generate that degree of darkness given by the angle where it was drawn
Ya en este punto en la segunda flor lo que hacemos es combinar dos tipos de morado para generar ese grado de oscuridad dado por el angulo donde fue dibujado
---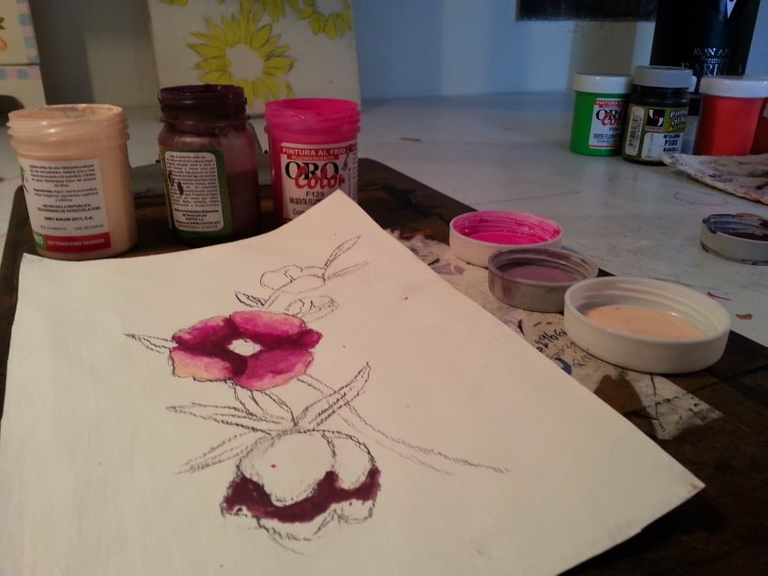 ---
To make the parts clear, take that flesh tone to pamper it on the tips of some petals.
Para hacer las partes clara tomar ese tono carne para consentrarlo en las puntas de algunos petalos.
---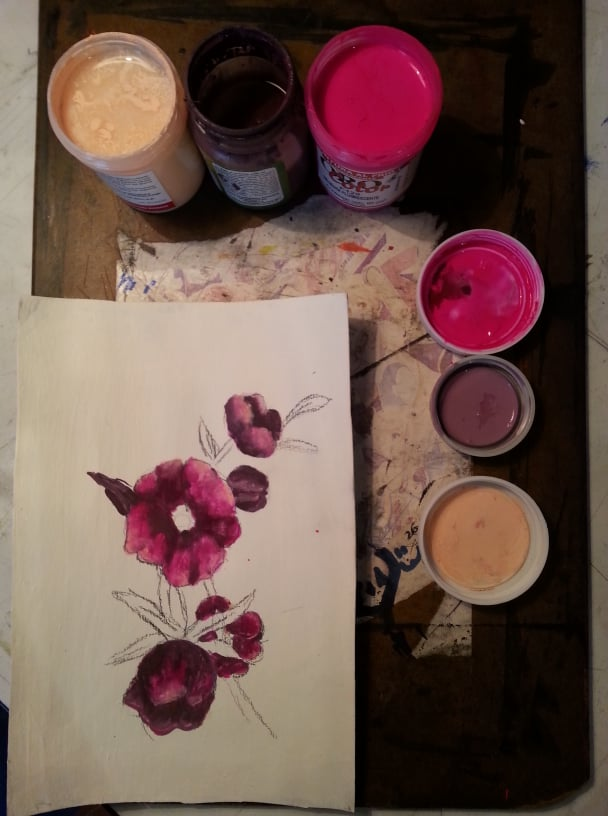 ---
At this step we defined and colored all our sakura flowers. Depending on its angle we grasp its point with more and less light. What would be missing here would be to detail the stem and green leaves.
Ya a este paso definimos y le dimos color a todas nuetras flores sakura. Dependiendo de su angulo agarramos su punto con mas luz y menos. Lo que faltaria aqui seria detallar el tallo y las hojas verdes.
---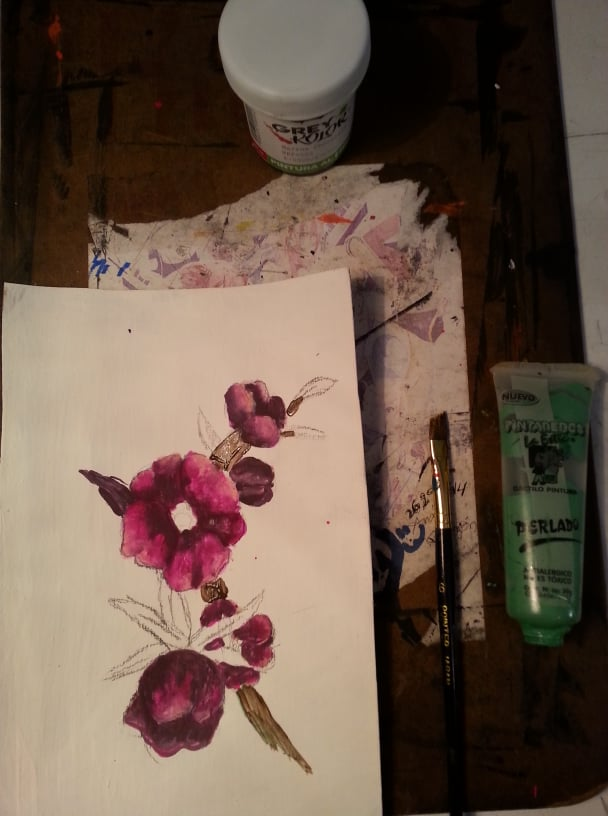 ---
For the stem pass a light green and in the corners or to one side a very dark brown. The leaves take two tones, only one is darker than the other, with the darkest detail it mutates and I gave the appearance that it was not something totally flat
Para el tallo pase un verde claro y en las esquinas o a un lado un marron muy oscuro. El las hojas tome dos tonos solo que uno esta mas oscuro que otro, con el mas oscuro detalle la mutad y di la apariencia que no era algo totalmente plano
---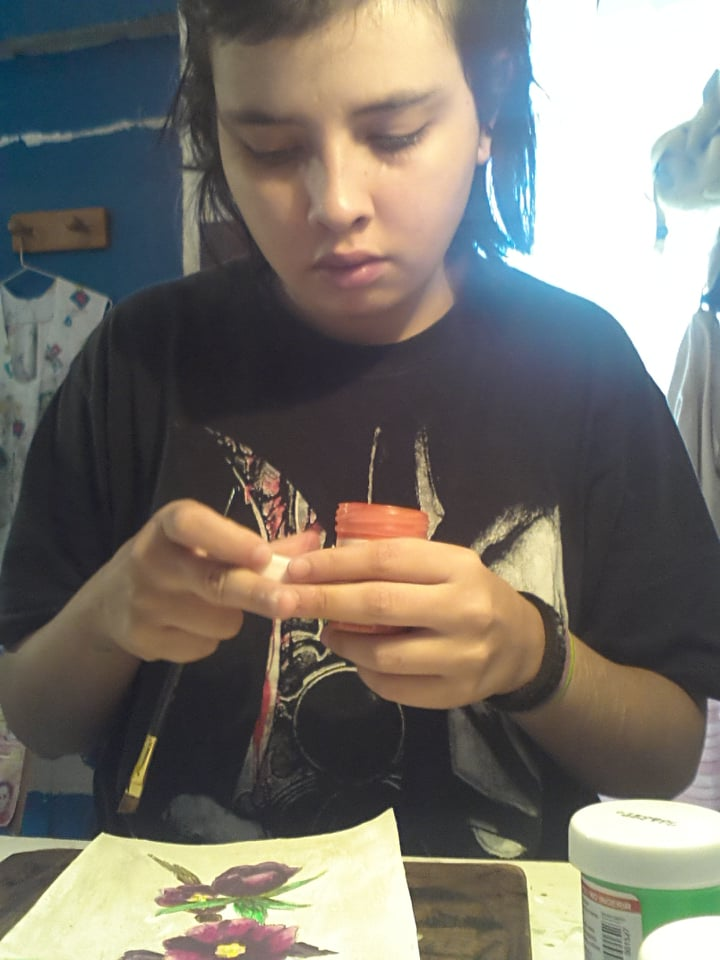 ---
When having everything concluded, place an emerald white tone for the rest of the cardboard and as a highlight I made my signature in orange.
Al tener todo concluido coloque por el resto del carton un tono blanco esmeralda y como resalte hice mi firma en color naranja
---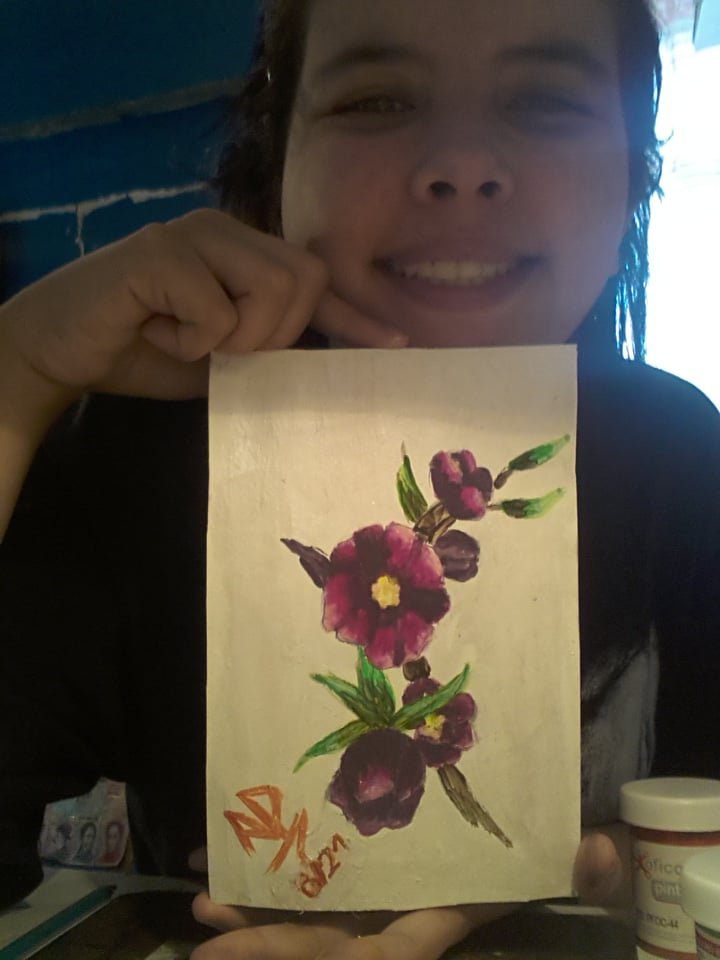 ---
This is how I detail my processor both in my art blog and in my pursuit of drawing.
Asi detallo mi procesor tanto en mi blog de arte como en mi persepcion hacia el dibujo.
---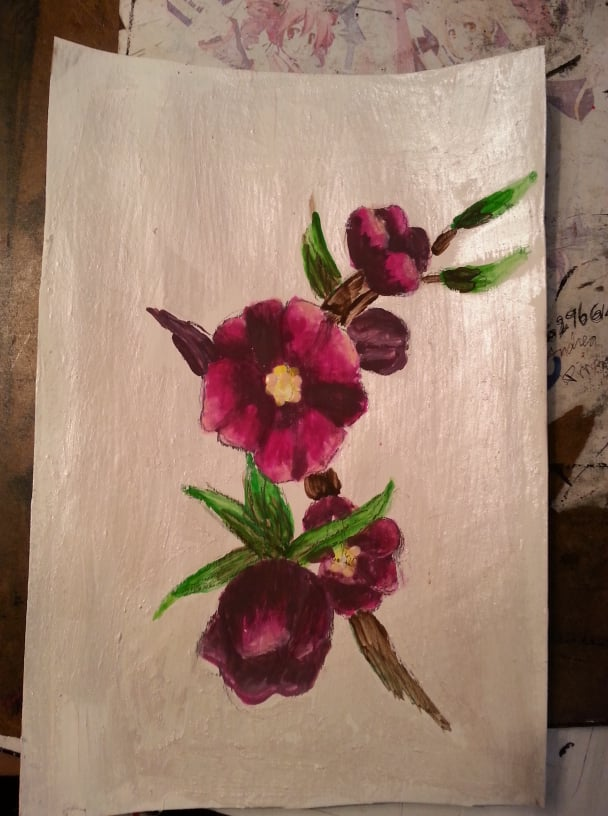 ---
❤️Mis redes sociales||My social networks❤️

---