My initial intention going into this summer was to take a FAT break from cello. I wanted to just sit around and be a degen for a few months but my brother gave me a great opportunity to work for his creative agency, Bento, as a broadcast audio engineer. Coming from a purely musical education, my knowledge of audio stemmed completely from self and classical recording which provided me with a solid base but didn't inform me on the technical side of things. I spent the past few months learning equipment and how to route and patch all of the equipment we were working with.

.....................................................................................
One week of nonstop shows
So leading up to a crazy week of back to back to back shows, there were a bunch of qualifiers for Intel's ICC (Intel Creator Challenge). This was a really sick event hosted by Intel which pairs PC modders with streamers to build their ideal PCs, modded to their ideal specifications. These streamers needed to play thru qualifiers in Apex, Team Fight Tatics, Elden Ring, and Fall Guys. Only 1 streamer from each category would qualify so the competition was fierce but also really quite wholesome.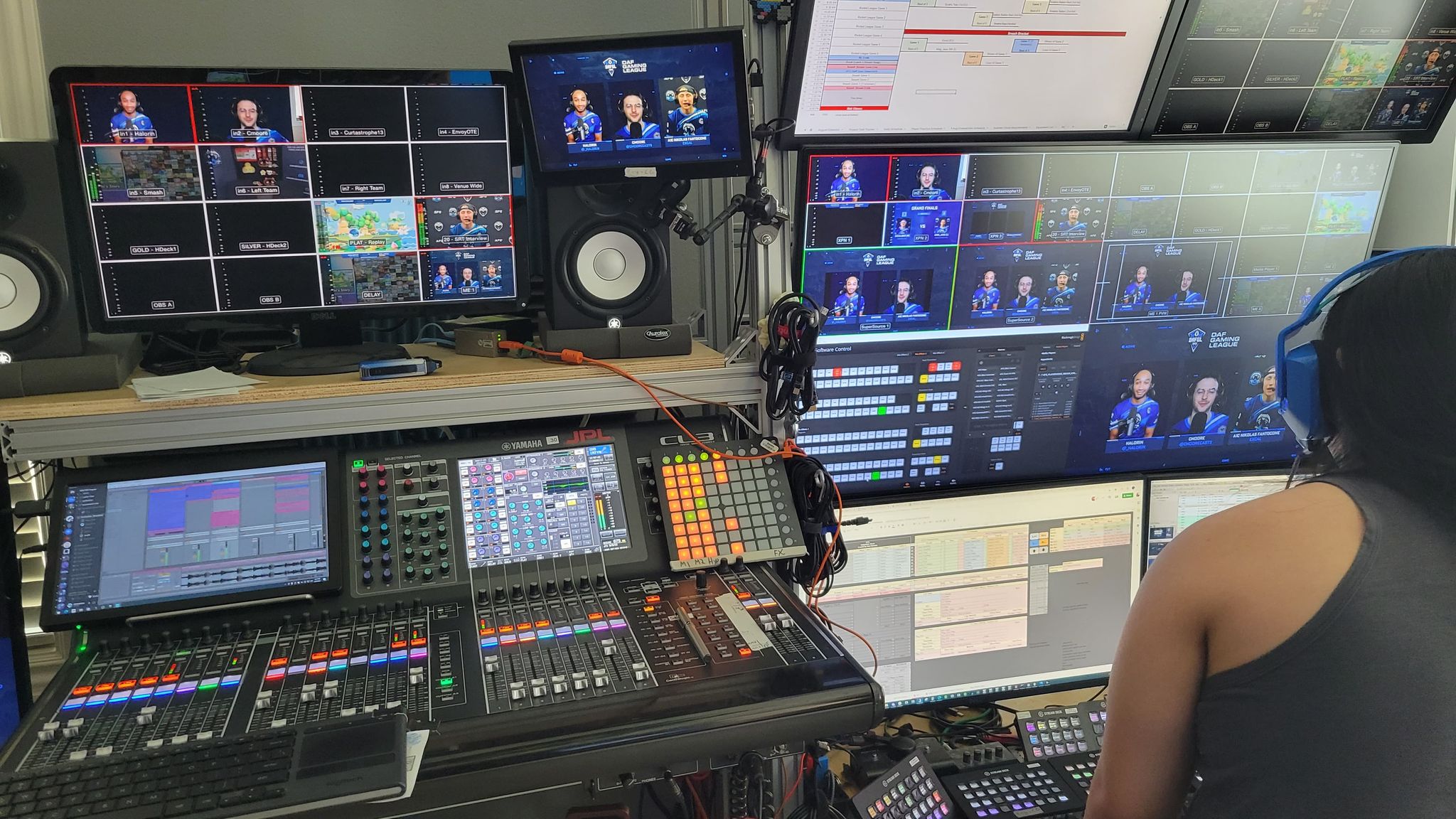 I didn't have a picture of my workstation during the ICC qualifiers so this is a picture I took from a previous event Bento was doing for Air Force Gaming. The fellow in the pic is Koji, who is our insanely rock solid AD/Director.
So almost all of our broadcasts are inhouse and broadcasted onto twitch directly from the Bento house. The board that I was working with for most of the summer was the Yamaha CL3. I had a small board on the side for sound sfx and tracks that was linked to the audio PC running Ableton.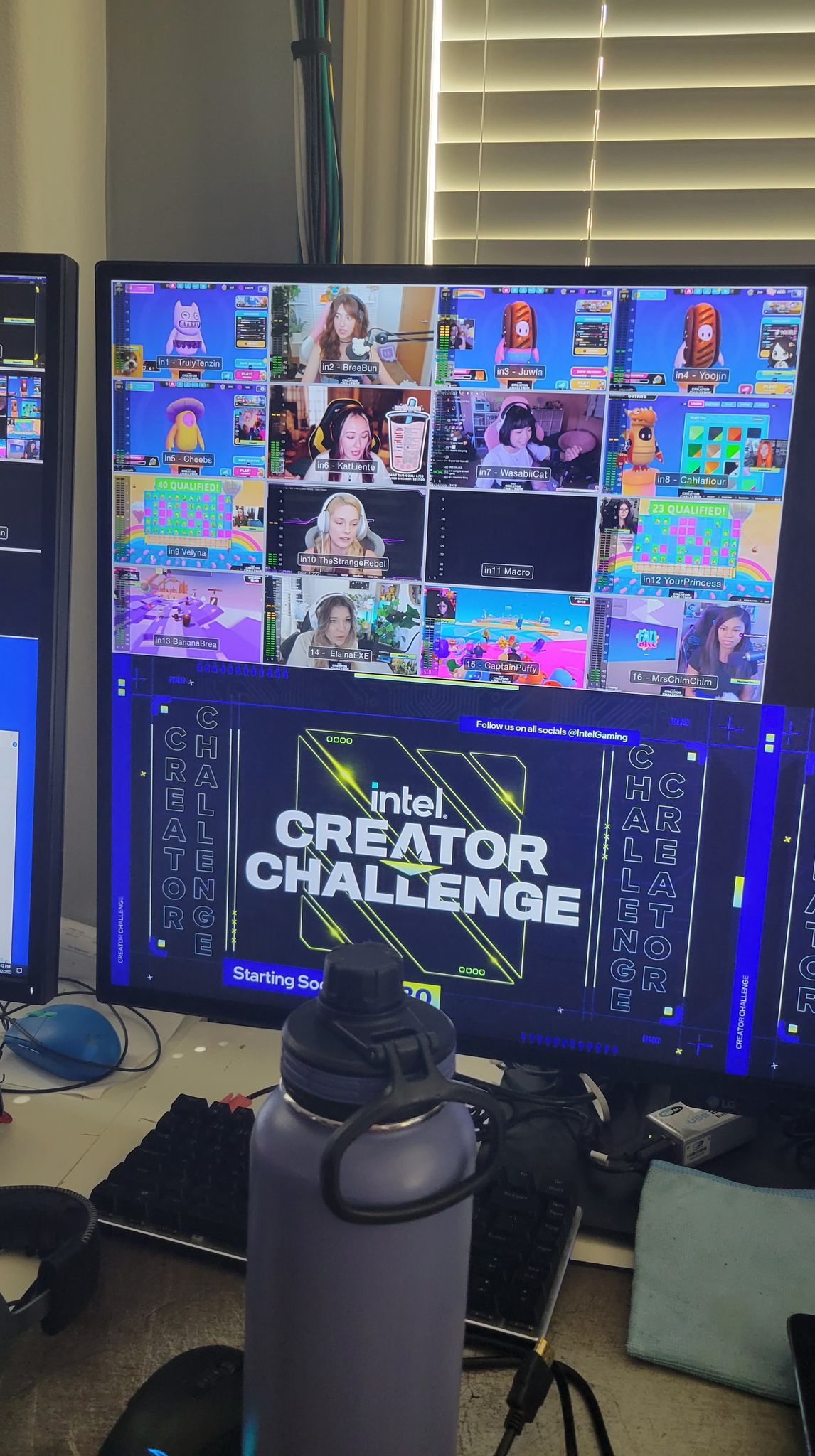 Monitor screen with all of the streamers participating in the Fall Guys challenge. TrulyTenzin was the winner of this category and fun fact, she was the runner up for last years challenge so she finally made it all the way!
After the qualifiers ended we started prepping for the main event that was going to be held in San Diego at the new children's museum. This prep took a while because we were going to be broadcasting ICC and then run over to TwitchCon right after to produce Intel's events during TC.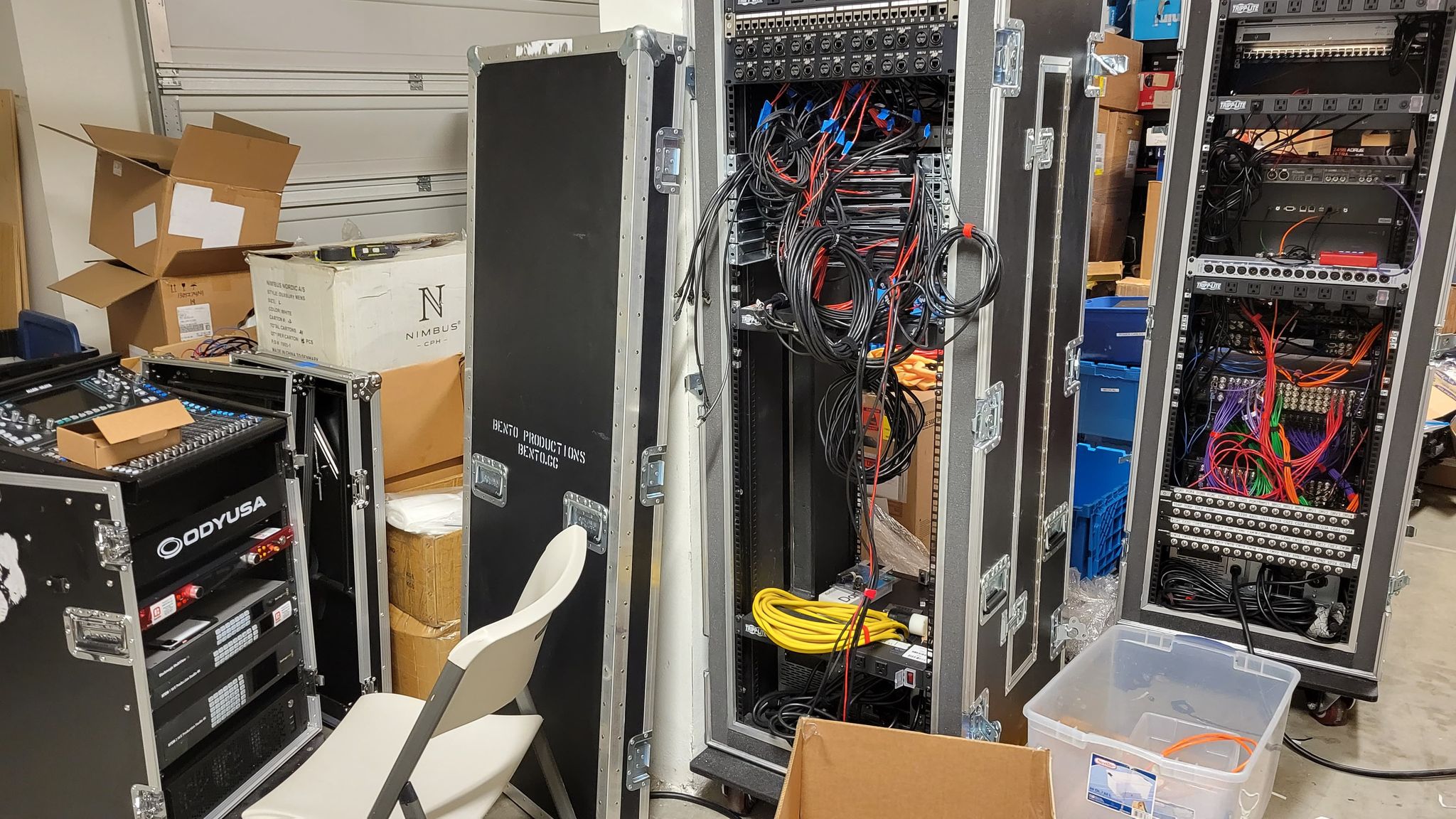 Routing and prepping our racks for the events.
ICC was the largest production that I've been a part of so far. We had 5 streams running at the same time, 4 for each of the individual modding booths and 1 main stream on Intel's channel.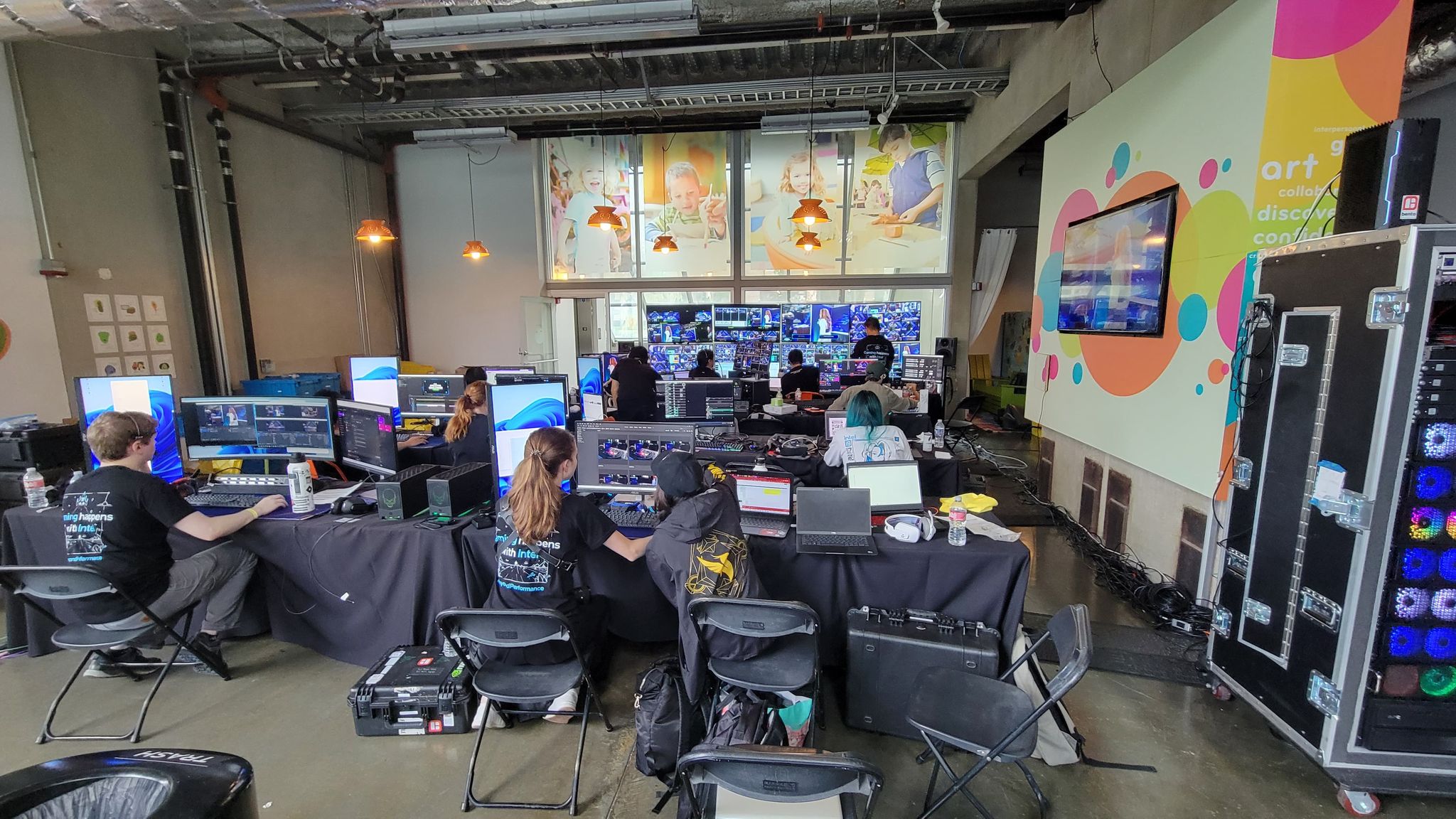 Main production floor with our main production team. We had another setup underneath this floor that had all the broadcasting equipment for the other 4 streams. Audio wise, we had a fiberoptic running down to 4 Yamaha CL1s with two A1s mixing two boards at the same time.
Our entire crew for this event was probably around 60 personnel, many of whom were outsourced to meet the man power we needed to run this particular event. This event was also the release event for Intel's new gen 13th processor so all of the modded PCs were outfitted with i9-13900Ks. There was also a overclocking segment where they overclocked the new gen 13 to a incredible 8.2 Ghz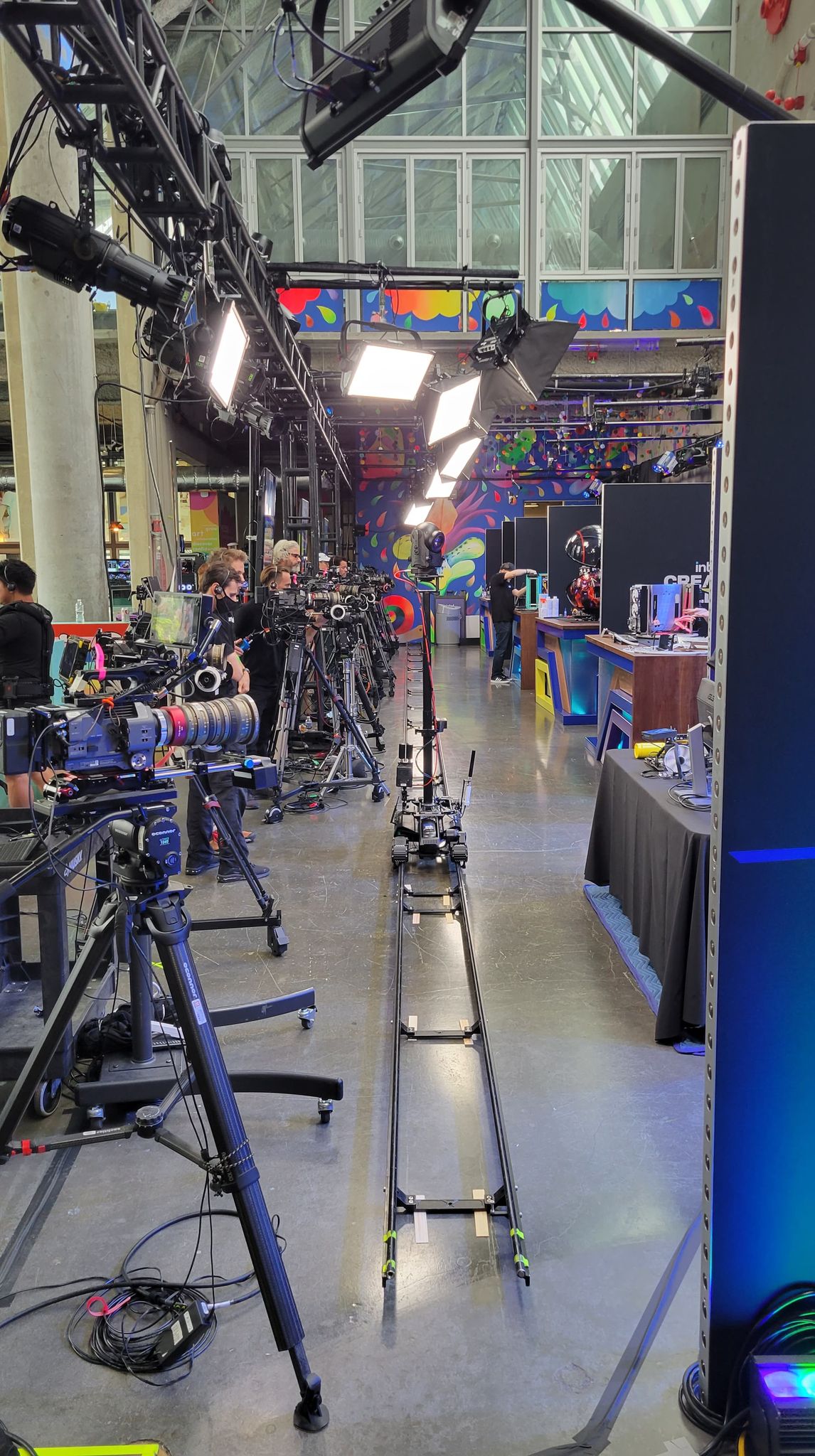 The booth lineup. We had a track cam with a PTZ running down the entire length of the showroom, allowing us to capture the judges as they walked between booths. Each booth also had two primary cams setup to capture feed for the streamer channels.
Due to scheduling issues and talent arriving late, we didn't have a test run or rehearsal going into the event. We went straight into it and I gotta say, it went as smoothly as possible. We had no major hiccups and we were able to finish the event successfully. If you would like to see what happened during the event here's the stream from Intel's main channel.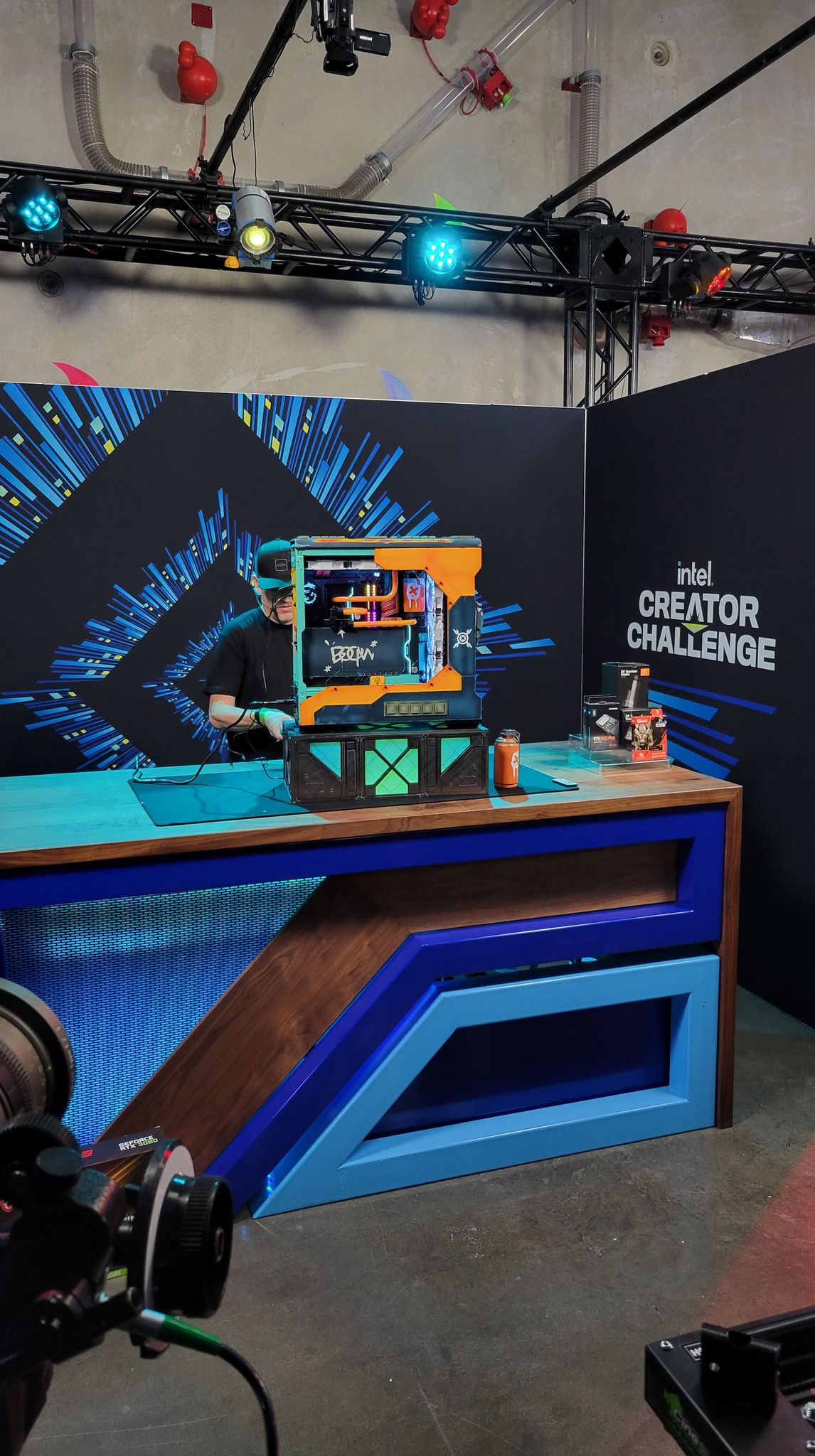 The PC that won the creator challenge. A Raze mod for TrulyTenzin made by Blue Horse Studios.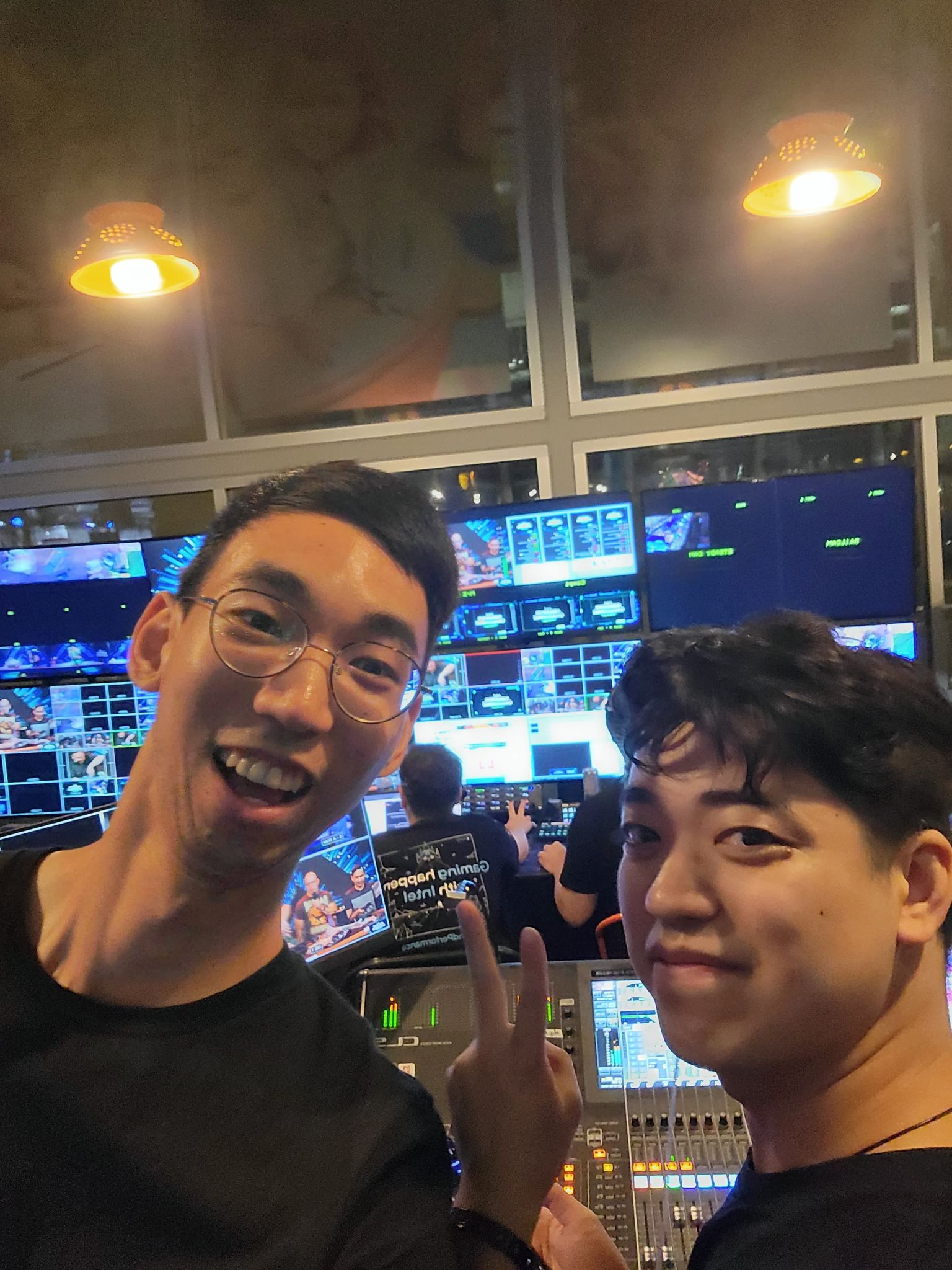 My brother and I at the end of the broadcast. He was the main A1 on the Yamaha CL5 that was mixing for the main stream.
Right after this event we booked it over to TwitchCon which was being held at the San Diego convention center 3 blocks away. Since these events were so close to each other, we were using separate sets of equipment for the two shows. We didn't have any of our primary gear so it felt like a budget production but we made it work and besides feeling stressed out as fuck from producing nonstop events, we had a blast.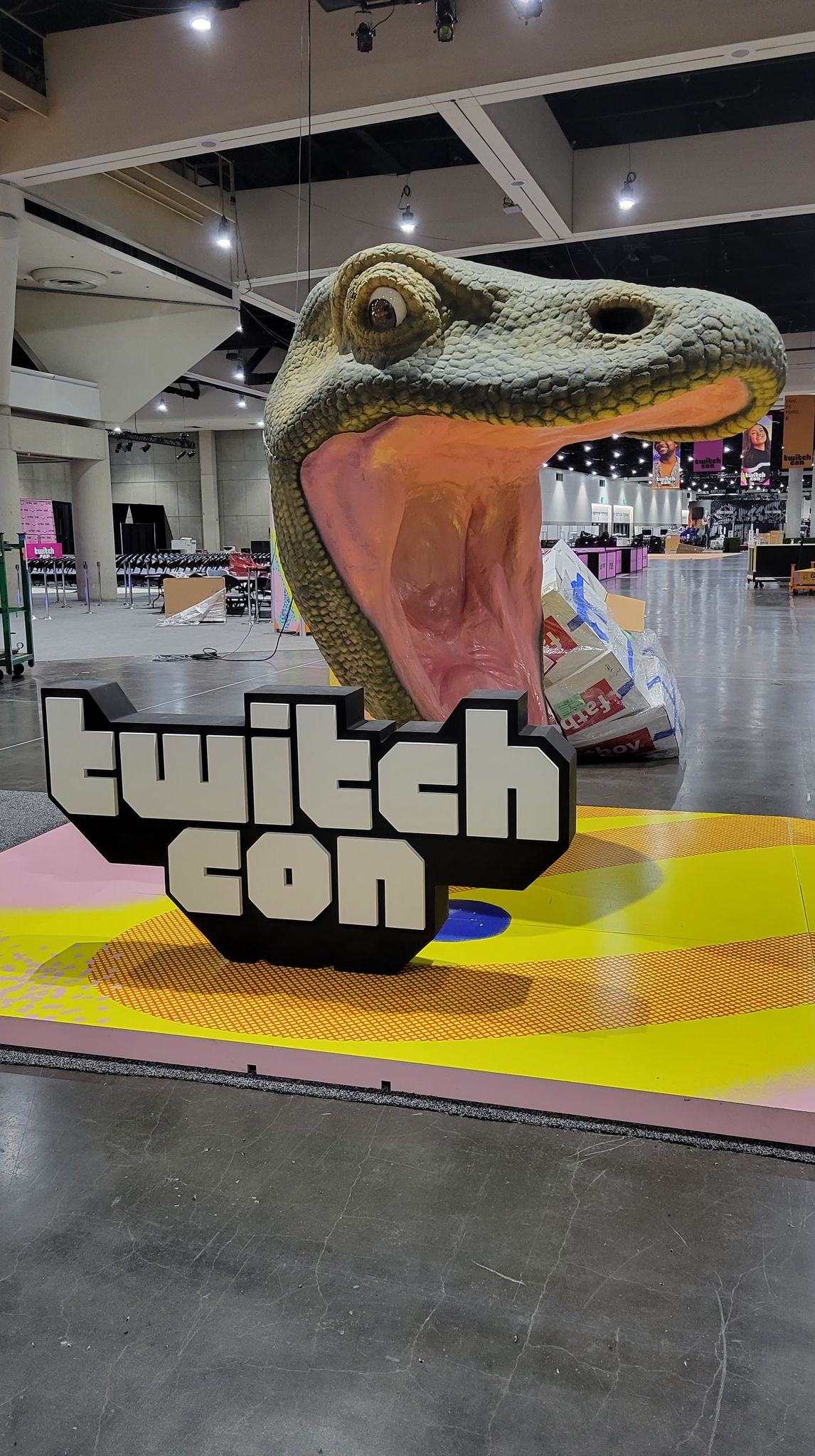 TC dino head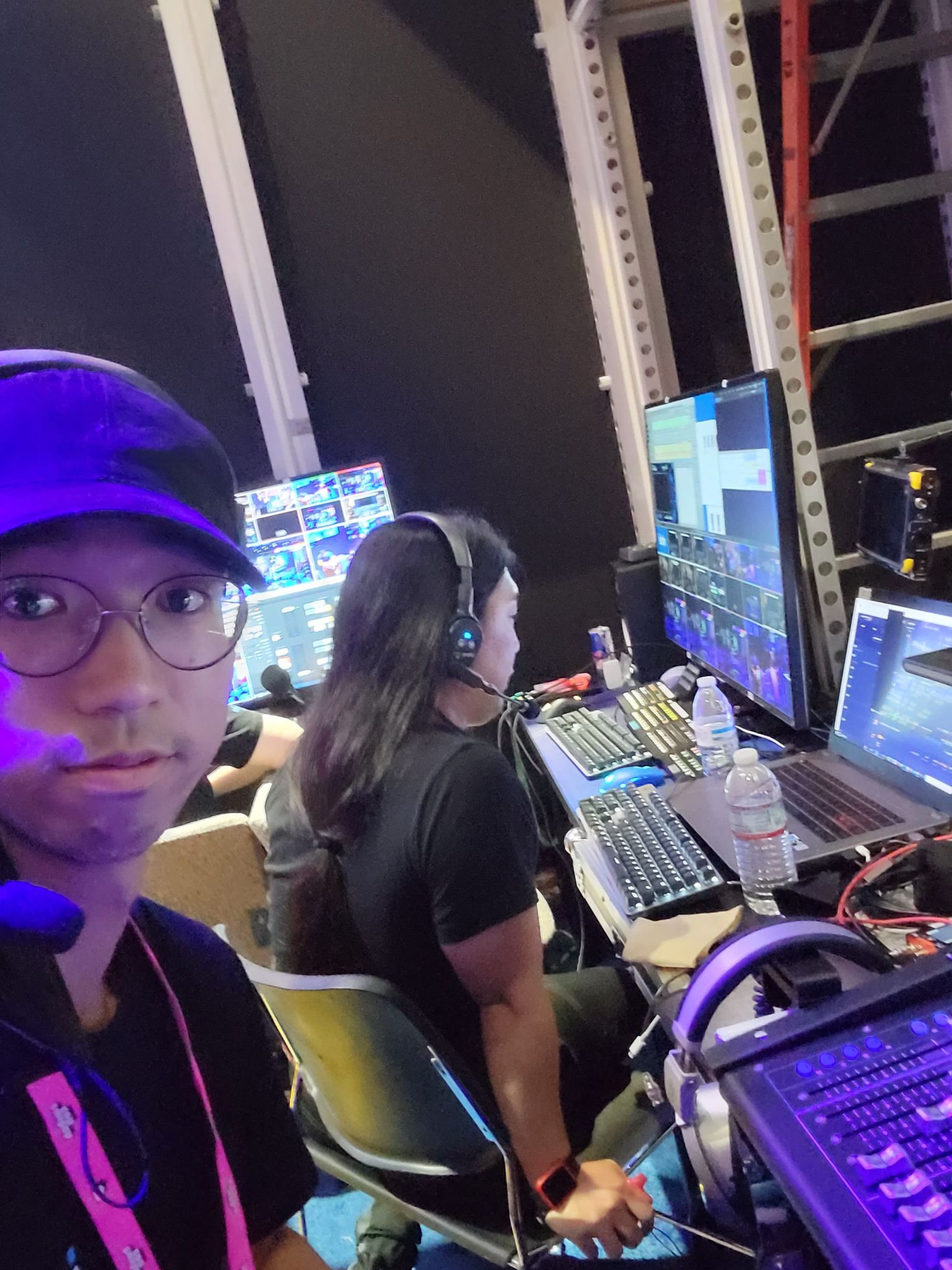 Our extremely cramped production room right behind the Intel stage. I was using the Allen & Heath SQ-5 for this production.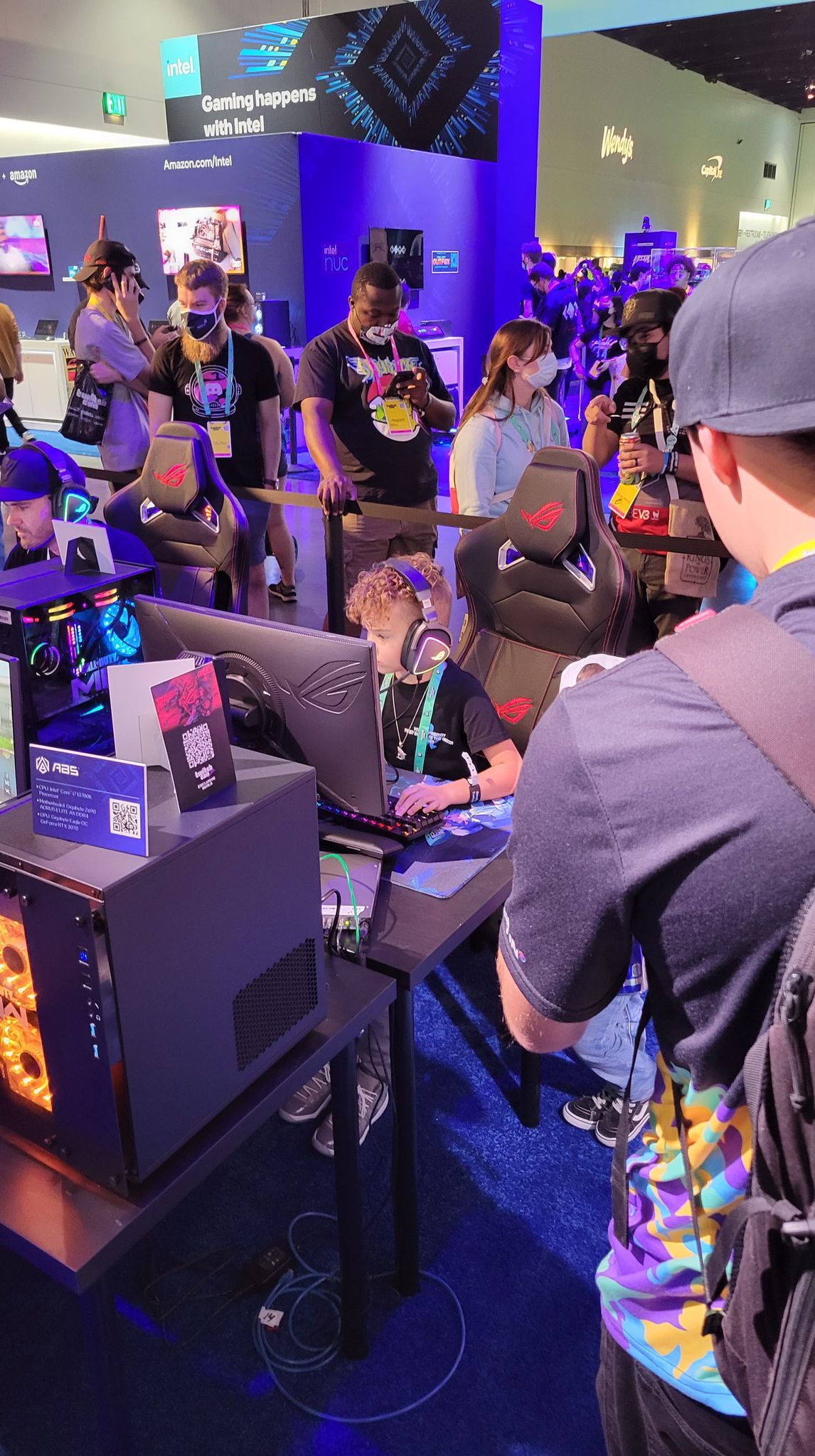 Maybe someone recognizes this kid? hes apparently some famous 10? year old that streams/plays games. He was playing in Intel's Call of Duty: Modern Warfare tourney and we actually had a small problem because we needed to get permission from the Intel execs to allow a kid to be playing a rated M game on live stream.
So after these two events ended I was hit up by one of the audio engineers we worked with at ICC to come help out for a event he was running in Hollywood. He needed a extra hand at the 25th Family Film Awards event and enjoyed working with me. I wasn't allowed to take any pictures at or during the event so all I have is this: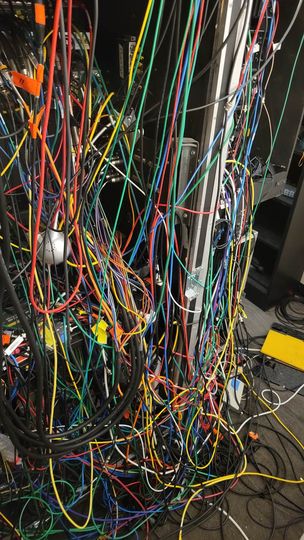 A pic of the wiring in one of the production rooms. It took us 45 minutes to untangle all the cables we needed to route audio -.- Not what I expected going into a production room for a pretty major TV production. This concluded a really long 10 days of nonstop work for me but I learned a lot and got to work with some of the best in the industry.