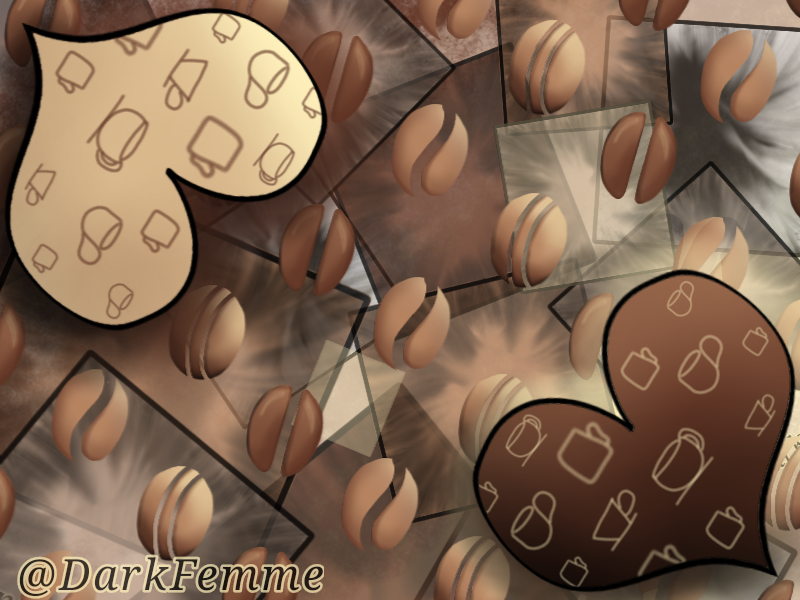 Your aroma still impregnated in my memory,
Marking everything that we do not share today,
Yesterday's desire was as intense as our truths
Intentar movement of threads that fate made.




As vital in my life as pure water, Fluctuating my thoughts like waves in my cup
Because you are the coffee that energizes my mornings,
That which is the addiction that calms life.




So the thoughts were no longer simple,
The latent concern about the complication,
Little by little maturing before reality,
That dose of sugar and salt that I learned to love.




Today you are the warm feeling of a morning,
The reason for my sleepless nights,
The motive that I learned to share,
Share a life of the sweet taste of you.


---
---

When a relationship gives us a wide variety of flavors, it is easy to be seduced by the scent of those lips...

---
---




Tu aroma aún impregnado en mi memoria,
Marcando todo lo que hoy no compartimos,
El deseo de ayer fue tan intenso como nuestras verdades,
Afanado movimiento de hilos que el destino realizó.




Tan vital en mi vida como el agua pura,
Fluctuando mis pensamientos como olas en mi taza,
Porque eres el café que da energía a mis mañanas,
Ese que es la adicción que a la vida calma.




Así los pensamientos ya no fueron sencillos,
La preocupación latente ante la complicación,
Poco a poco madurando ante la realidad,
Esa dosis de azúcar y sal que aprendí a amar.




Hoy eres la sensación caliente de una mañana,
Eres la razón de mis desvelos nocturnos,
Eres el motivo de que aprendiera a compartir,
Compartir una vida del dulce sabor de ti.


---
---

Cuando una relación nos da una gran variedad de sabores, es fácil dejarse seducir por el aroma de esos labios...

---
---

Twitter: https://twitter.com/FemmeDark
Instagram: https://www.instagram.com/dark.femme.box
Discord: DarkFemme#3243
Telegram: @DarkFemme
Facebook: Darkfemme box


Nota:
Todos los separadores y firma son de mi autoría. / All diviser and sign are My own.
La imagen de portada también de mi propiedad realizada con ibispaint. / The cover is My own, maked with Ibispaint.
Contenido original publicado en varias redes con el mismo nombre de usuario. / Original content will be posting in other social media with the same username.

---

---