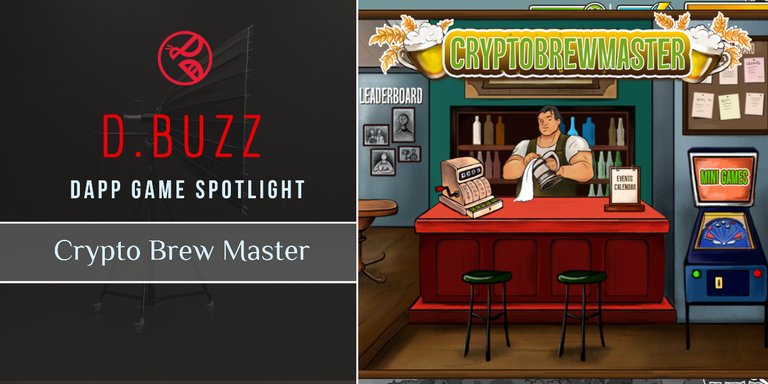 ---
---
Hey Guys and Gals,
Today will be kicking off a new series where we start look at crypto-based games in the decentralized application (DApp) ecosystem. We did a review on the Number one Dapp on HIVE already, (Splinter Lands). As such we thought best to start off looking at the up-and-coming new game that is been taking the HIVE network by storm, Crypto Brew Master.
Web URL: https://www.cryptobrewmaster.io/game
Hive account : @cryptobrewmaster
In Crypto Brew Master you assume the role as a micro pub brewer. Your goal is to craft delectable ales and beers with hops and water. All these supplies have various degrees of quality, that quality determines the quality of the beer you make and at what price you can sell it for. You get the supplies from completing daily quests or through in app purchases. As you progress you unlock and level up your town, complete in mini games, and perhaps even learn how to make beer yourself!
The team that is behind Crypto Brew Master, is composed of actual factual Brewmaster's! They even open investment opportunities into batches of Hive Lager Source, that will pay you a return when the larger sells (In Real Life). This is all gets completed using a Hive based currency that you could either buy on HIVE engine or in game by selling your beer (CBM tokens). Wow, how cool is that,... you could back a batch of beer!!
The leadership team for Crypto Brew Master is composed of :
Full disclosure that I haven't played this game in depth yet. However, I watched a few videos and tutorials on it and currently, working on my first batch of beer. Lol. It does however look like a fun game with opportunities for in real life products and more, also has a public roadmap with a lot of interesting features up-and-coming.
It will be interesting to see how this game develops and matures over time and how the funding of products with in game currency develops too. We recommend you give it a play today!
Cheers!
---
What do you say?
Do you have any thoughts or feelings about Crypto Brew Master
Do you play this Dapp Game?
Do you have a Dapp Game you want us to look at?
Let us know in the comments below!
Over and out.
---
---
Is a censorship-resistant short form microblogging platform that empowers you to share your thoughts in 280 characters or less.
Censorship resistant and built for the community with love.
---
We strive to have a fun and neutral stance on topics. If you have any concerns with the content, please contact @jacuzzi, who writes and generates the content for our articles, or the @dbuzz team for clarification.
---


---