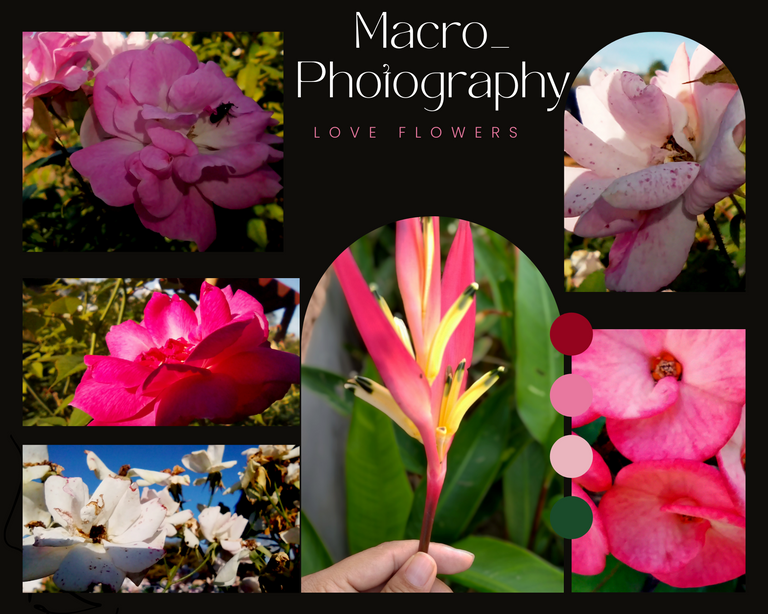 A few days ago I captured these photos that I share with you today, they are of different flowers with similar colors, I chose this collection of photos that show and reflect unique things, very nice details like an insect in one of them, the aging process of one of them, how they change color when they are about to wither and the delicacy expressed by the petals of a flower, these details take me to another dimension every time I capture photos of flowers I think I could spend hours just taking pictures because I am passionate about them.
Hace unos días capturé estas fotos que hoy comparto con ustedes, son de diferentes flores con colores similares, elegí esta colección de fotos que muestran y reflejan cosas únicas, detalles muy bonitos como un insecto en una de ellas, el proceso de envejecimiento de una de ellas, como cambian de color cuando están a punto de marchitarse y la delicadeza que expresan los pétalos de una flor, estos detalles me llevan a otra dimensión cada vez que capto fotos de flores creo que podría pasar horas solo tomando fotos porque me apasiona.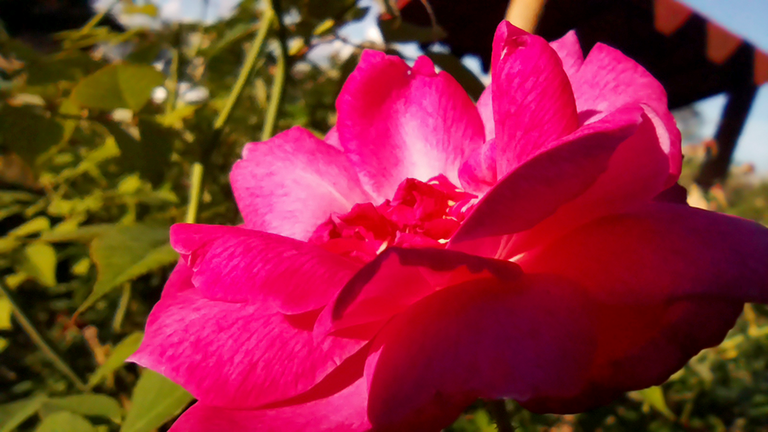 Rosa Floribunda- petals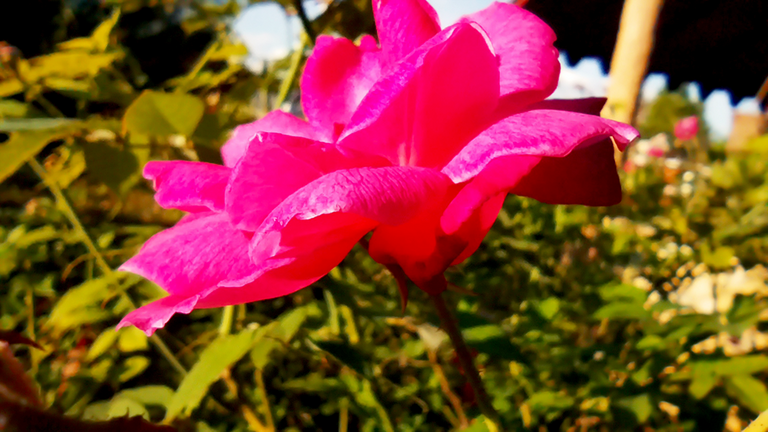 In these two photos above is the same "Rosa Floribunda", but taken at different angles and you can detail the petals in an incredible way and the intense fuchsia color on them with flashes of white showing the separation to each one of them.
En estas dos fotos de arriba es la misma "Rosa Floribunda", pero tomadas las fotos en diferentes ángulos y se pueden detallar los pétalos de una forma increíble y el color fucsia intenso en ellos con destellos de blanco que muestra la separación a cada uno de ellos.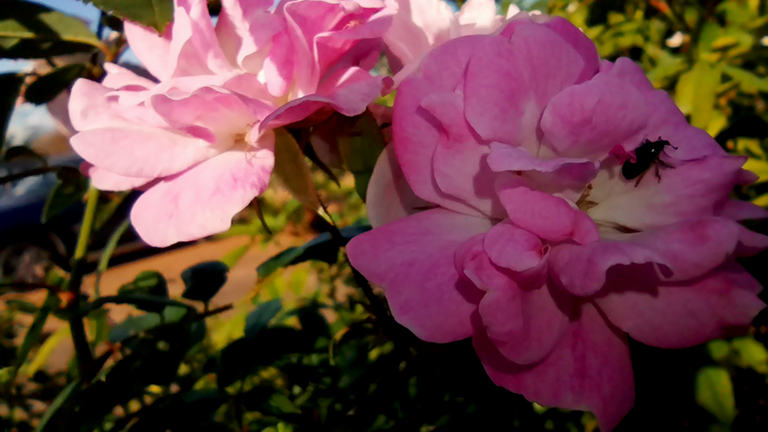 Rosa Floribunda- color change
This photograph was one of my favorites that I captured that day, because I like how that insect looks posed on the "Floribunda Rose" and the color of it is already a pink which means that it is already in the process of withering in a few days.
Esta fotografía fue una de mis favoritas que capture ese día, porque me gusta como se ve ese insecto posado en la "Rosa Floribunda" y el color de esta ya es un rosa quiere decir que esta ya está proceso de marchitarse en unos días.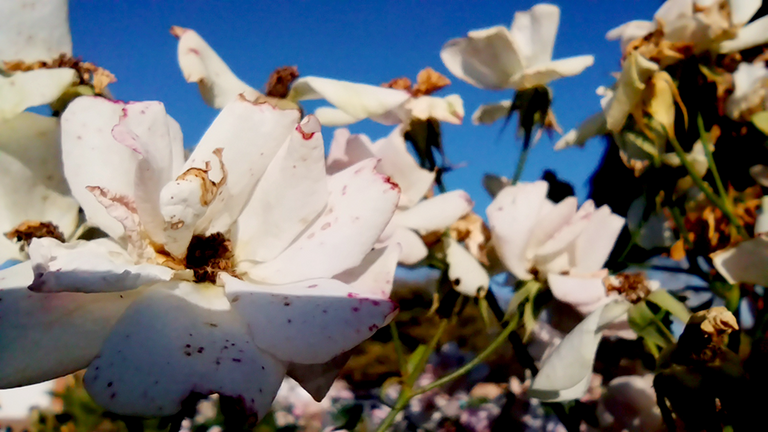 Rosa Floribunda- wilting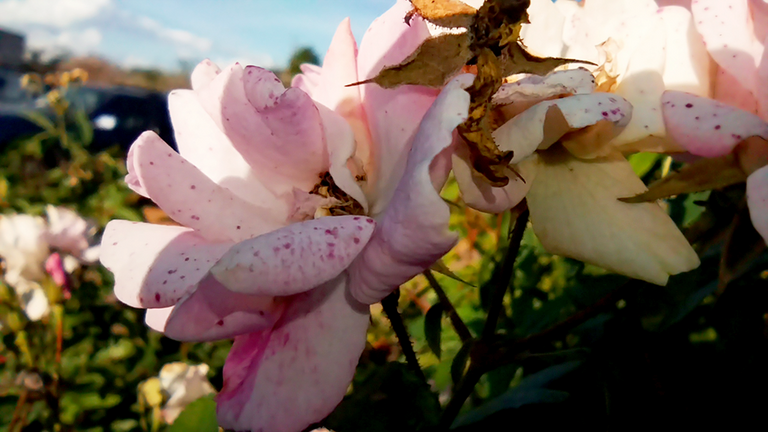 In these two pictures above you can see that the color of the "Rosa Floribunda" is a light pink looking white, and here they are wilting in the photos you can see the brown color between them and despite being in the process of wilting they have a unique beauty.
Ya en estas dos fotografías de arriba puedes apreciar que el color de la "Rosa Floribunda" es un rosa claro buscando a blanco, ya aquí se están marchitando en la fotos se pueden ver el color marrón entre ellas y a pesar de ya estar en el proceso de marchitarse tienen una hermosura única.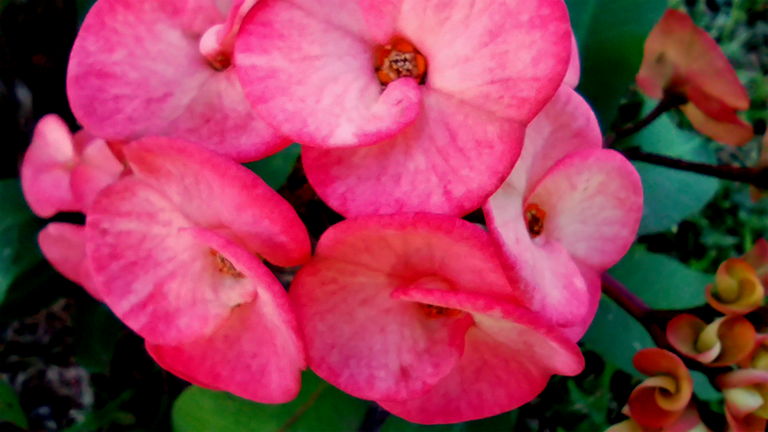 Euphorbia mili - flowers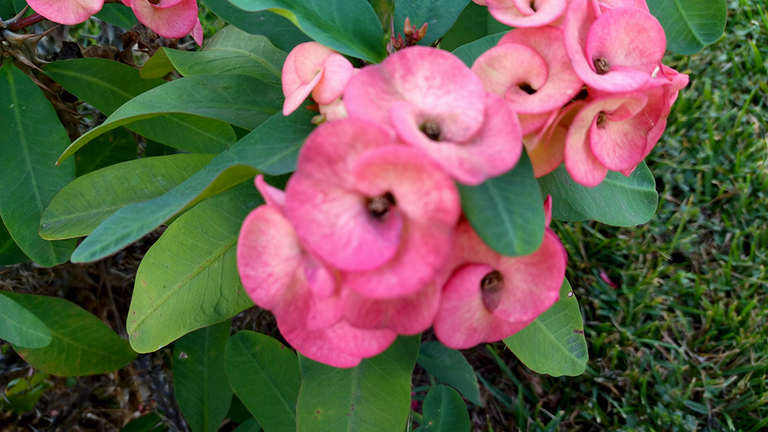 These are other flowers which are called "Euphorbia mili" these are not so delicate they are more robust but they are beautiful they have that pink color with fuchsia that I love.
Estas son otras flores las cuales se llaman "Euphorbia mili" estas no son tan delicadas son más robustas pero son hermosas tienen ese color rosa con fucsia que me encanta.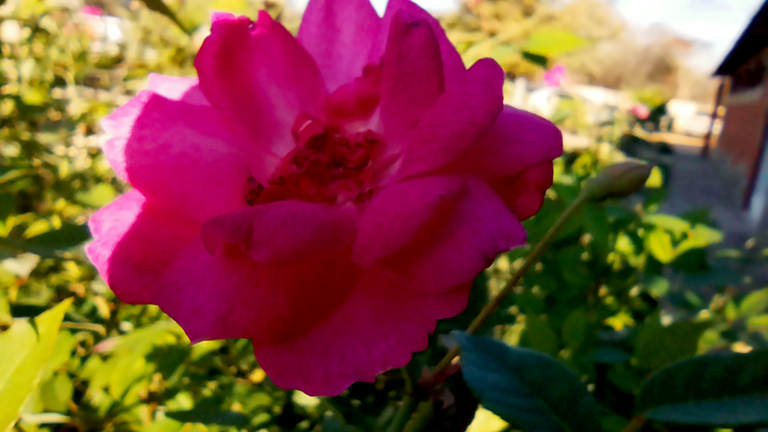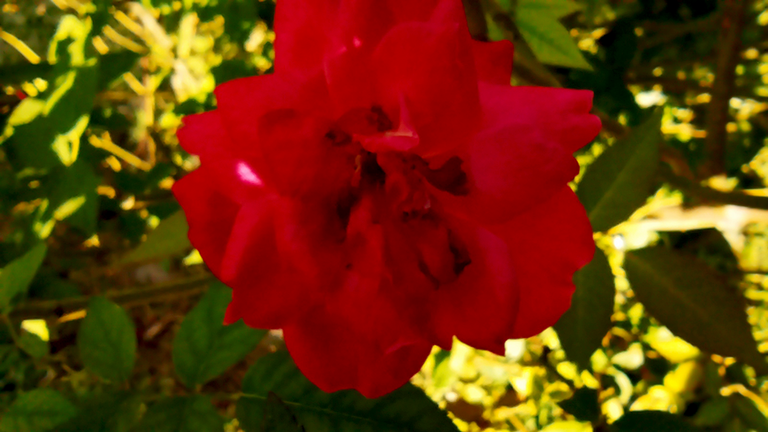 These are the same "Rosa Floribunda" but these are not the same flower since one is where the sunlight hits it more while the other one does not and in the photographs they are seen in different colors, one fuchsia color more intense than the other.
Estas son las mismas "Rosa Floribunda" pero estas no son la misma flor ya que una está donde le pega más la luz del sol mientras a la otra no y en las fotografías se ven en diferentes colores un color fucsia más intenso que el otro.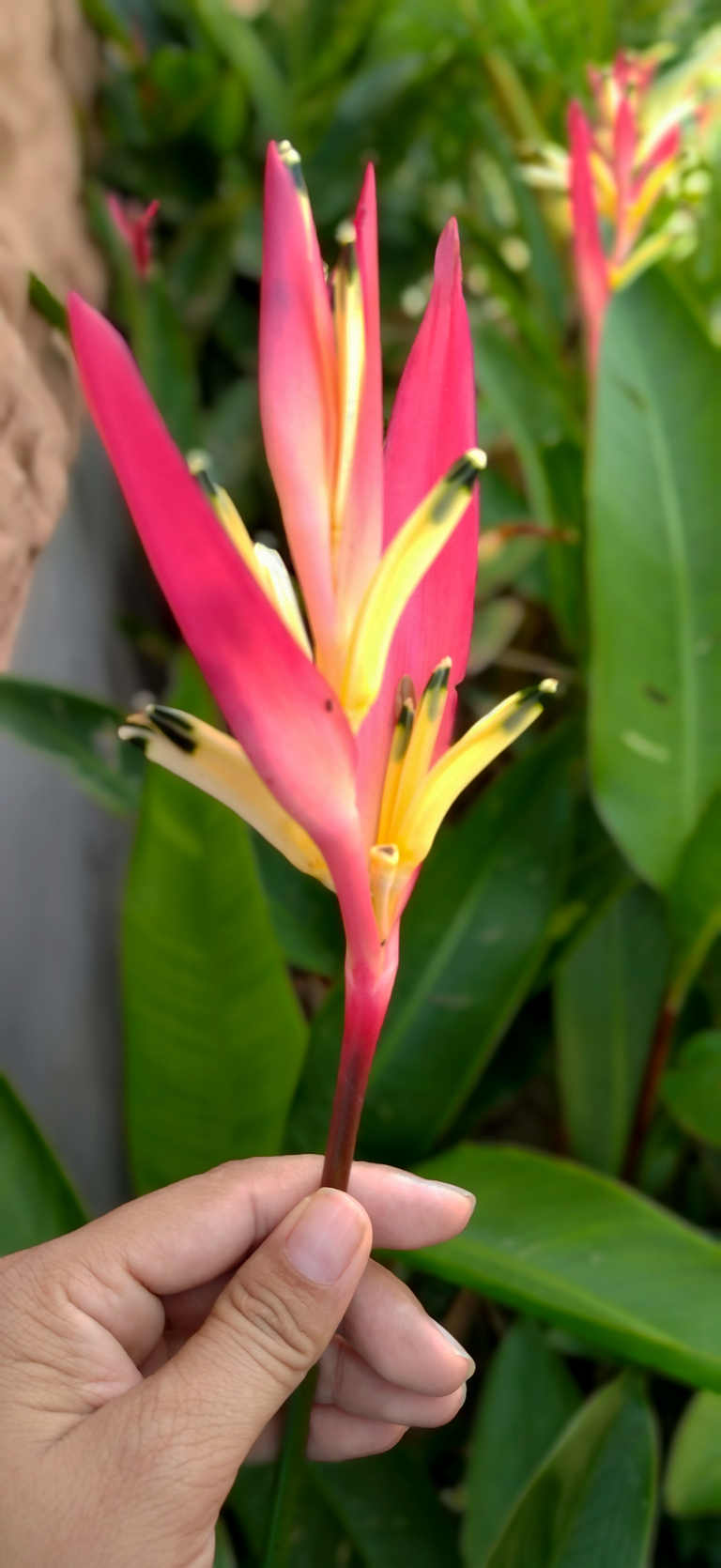 Heliconia - flower
This last flower is from a plant called "Heliconia" I love this photo where I am holding it, for me it is as if I was self-regulating this photo for me.
Esta última flor es de una planta llamada "Heliconia" me encanto esta foto donde salgo agarrándola, para mí es como si me estuviera autorregulando esta foto para mí.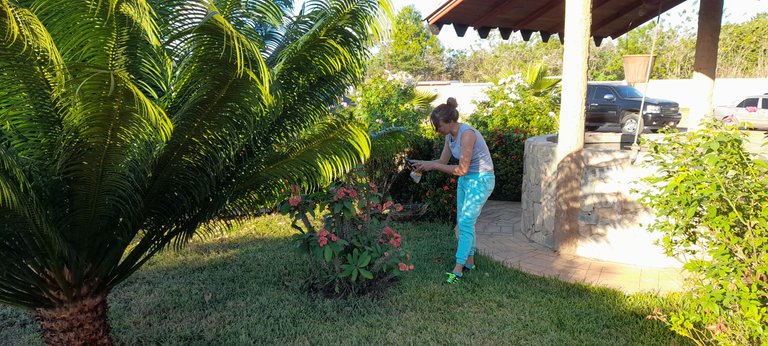 Well this picture was taken by my sister while she was taking pictures that day, I loved this picture because I was entertained and I couldn't leave this picture out of this collection of pictures that I share with you, I hope you like them.
Bueno esta fotografía me capturo mi hermana mientras tomaba fotos ese día, ame esta fotografía al porque estaba entretenida y no podía dejar esta fotografía fuera de esta colección de fotos de que les comparto, las cuales espero que les gusten.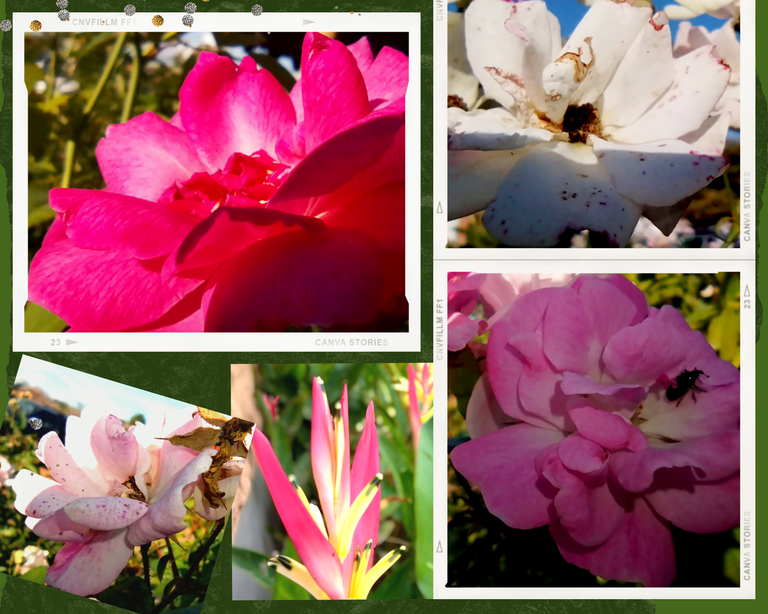 Foto collage, editada en APP CANVA
Thanks for your support, see you in the next post Kisses!

Sígueme para más contenido.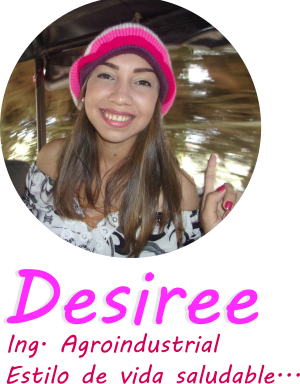 Creador de contenido Original.
Traducido con https://www.deepl.com/