Today I would like to take a break from my rants about human condition just to share my creative pursuit. Honestly I'm not really artistic but how I wish I have some art skill or talent. I envy my artist friends including the one who passed because they are passionate about their craft and I feel like they have no reasons to be lonely anymore. I used to say that if I can draw, I will draw everyday.
I wish to do some art from scratch but I can't even draw straight lines and make Pinterest-worthy art stuff. But hey who's gonna judge? This is me and my world. My creative journey is for me and me only. So I want to forget all these arbitrary rules of neatness and beauty. The least I can do is to make dull things look trippy. So let me color your world with some neon demons, ha!
I know coloring sounds like some kids' art activity but because of our stressful and hectic workaday grind, would you believe that there are now a lot of coloring books out there for adults (Nothing adult or NSFW drawings tho lol)? The signs of our times. The things we do to stay calm and feel better. Anything, anything to cure our isolated tortured souls.
Coloring is now one of the so-called mindful activities for the chronically anxious (ehem...) and deeply stressed individuals. I am actually glad for this invention. These days though, I have this desperate need to stop my mind from overthinking and channel my inner demons elsewhere. Mind you, these demons can be pretty creative when pushed. So I bought some adult coloring books available out there and my life has changed.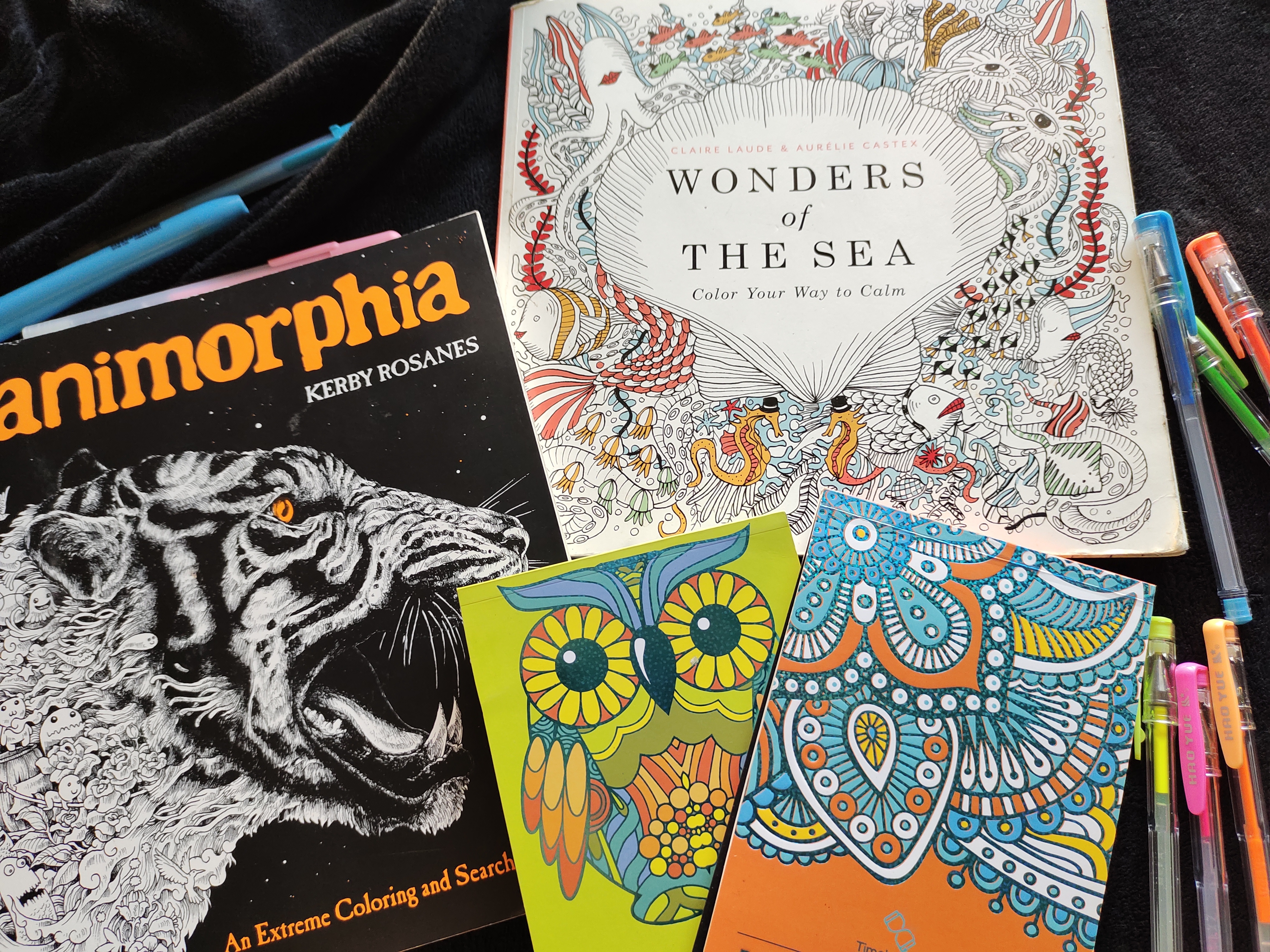 The first Adult Coloring book that I bought was the Wonders of the Sea because I just love the sea and the creatures in it. The drawings are unique and bizarre and I think it is just appropriate to give them neon colors and some psychedelic vibe. Adult coloring books are cool because the drawings are more intricate and the pages are thick (so the markers won't bleed through to the other side of the paper). There are actually serious coloring peeps out there (there's a serious Coloring community on Reddit lol) who use proper gel pens, pencils, and markers. Well, I'm only a beginner so I didn't buy expensive art materials yet for this new hobby. I bought some cheap neon gel pens and colored pencils and for me they work just the same.
Below are some of the pages that I've finished coloring - they are not perfect but who cares? I love them. And I love the whole journey.
These are my psychedelic fish! 😊
I do some coloring while listening to a podcast or some Christian Löffler music (so heavenly!) before I sleep. It is such a relaxing activity - my personal recovery time after another Sisyphean work day. Coloring takes my mind off things for a while and lets me focus on the beauty of the moment.
My psychedelic jellyfish. 😊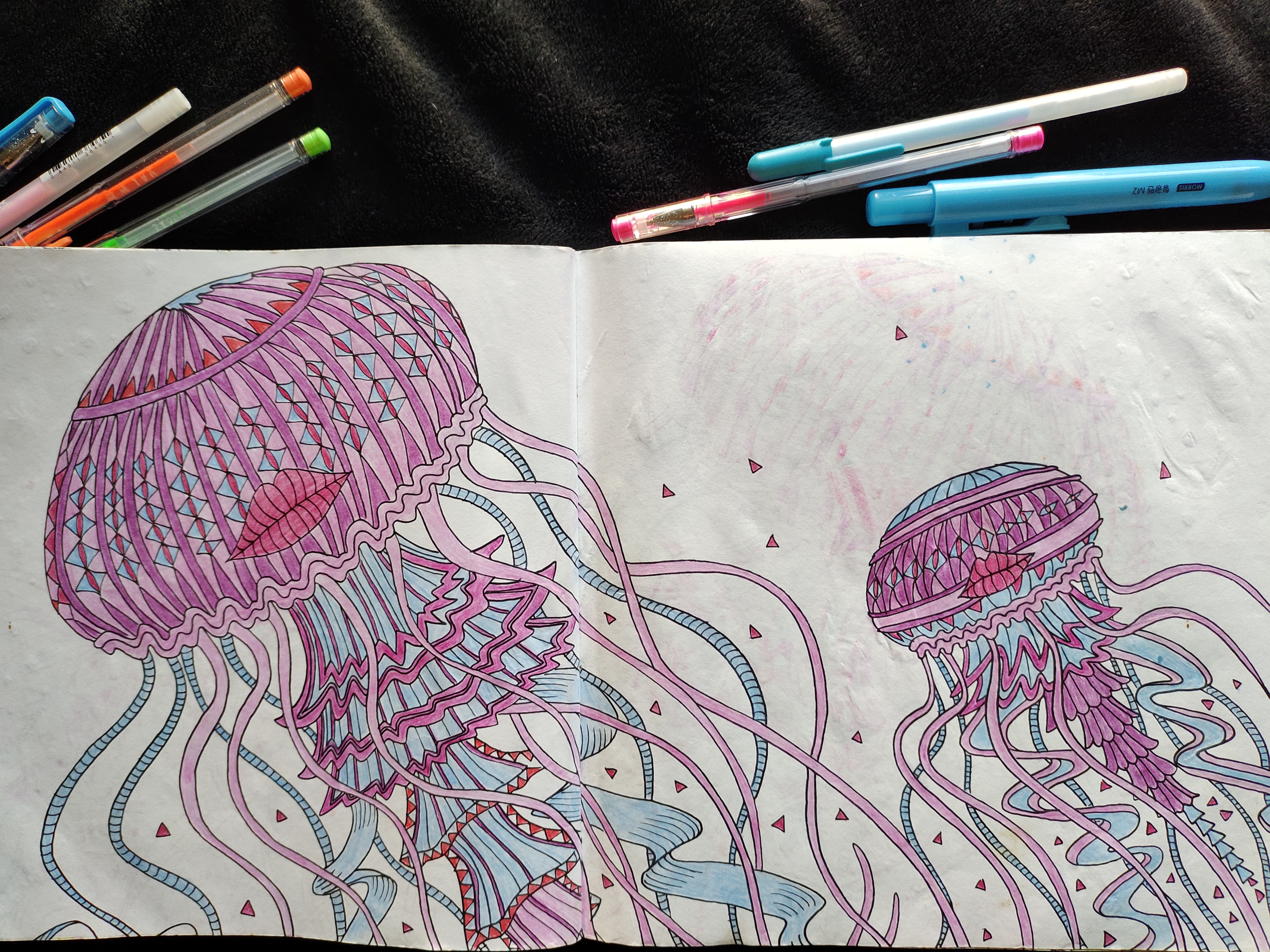 I also bought some mini coloring pads (Mandala and Animals) that I can easily bring anywhere. As you guys know, I've ghosted a lot of people lol and deactivated my social media so I don't have reasons anymore to stare at the screen all day. I think coloring greatly helps with my anxiety - and it works for me so far! So if you're looking for some screen-free / unplugged activity, then you can give coloring a try. There are a lot of insane drawings/ surreal art books by Kerby Rosanes (above) available online. Anyway, overall, I'm happy with this new creative hobby. So yeah, books and coloring books are the best things that I have in my life right now.