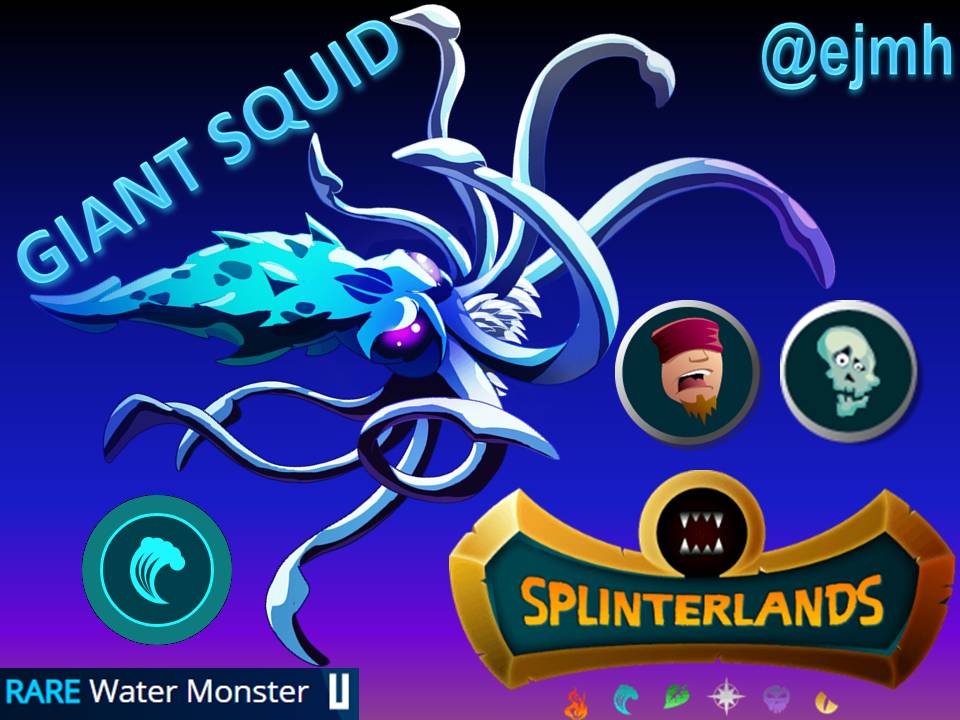 Fuente Editada en PowerPoint
Hola, amigos de splinterlands, segundo monstruo de edición untamed en el cual les comparto mi batalla, en este caso un monstruo de clase rara del equipo de agua, con nivel 5 de mana y muy de gran uso en cualquier colección.
Hello, friends of splinterlands, second untamed editing monster in which I share with you my battle, in this case a rare class water team monster, with level 5 mana and very much used in any collection.

Como dije anteriormente tiene 5 de mana lo que lo excluye de batallas de bajo nivel, pero es un excelente monstruo desde el inicio, que aunque en nivel 1 no posee habilidad no quiere decir que no sea bueno, es mas, con su nivel de vida mas 1 nivel de protección es ideal para cualquier batalla.
Las habilidades aparecen en el nivel 4 con "Blind" una habilidad poco común que hace que el monstruo sea mas difícil de golpear por ataques cuerpo a cuerpo y flechas y en su nivel máximo adquiere "Weaken", habilidad que disminuye un nivel de vida de todos sus adversarios.
As I said before, it has 5 mana which excludes it from low level battles, but it is an excellent monster from the beginning, which even though it has no skill at level 1 doesn't mean it isn't good, in fact, with its level of life plus 1 level of protection it is ideal for any battle.
Skills appear at level 4 with "Blind" a rare skill that makes the monster more difficult to hit by melee attacks and arrows and at its highest level it acquires "Weaken", a skill that decreases a life level of all its opponents.
---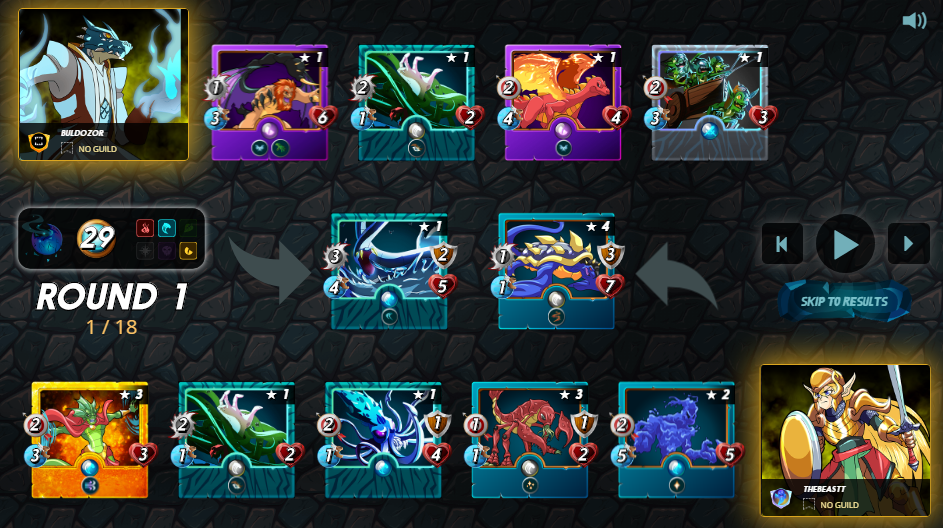 Fuente

En esta batalla con la regla de magia no permitida es el momento propicio para darle el mejor uso a GIANT SQUID. Su nivel de mana lo hace poder usar en muchas reglas y sus 2 en ataques de flechas son ideales para este tipo de batallas, ademas posee un muy buen nivel de vida desde su nivel inicial y como adición 1 nivel de escudo que lo hace aun mas difícil de destruir. Lo único que tal vez pueda tener en contra es su nivel de velocidad pero no todo puede ser perfecto.
In this battle with the rule of no magic allowed is the right time to give the best use to GIANT SQUID. Its mana level makes it possible to use it in many rules and its 2 in arrow attacks are ideal for this type of battles, besides it has a very good level of life from its initial level and as addition 1 level of shield that makes it even more difficult to destroy. The only thing you may have against it is its speed level but not everything can be perfect.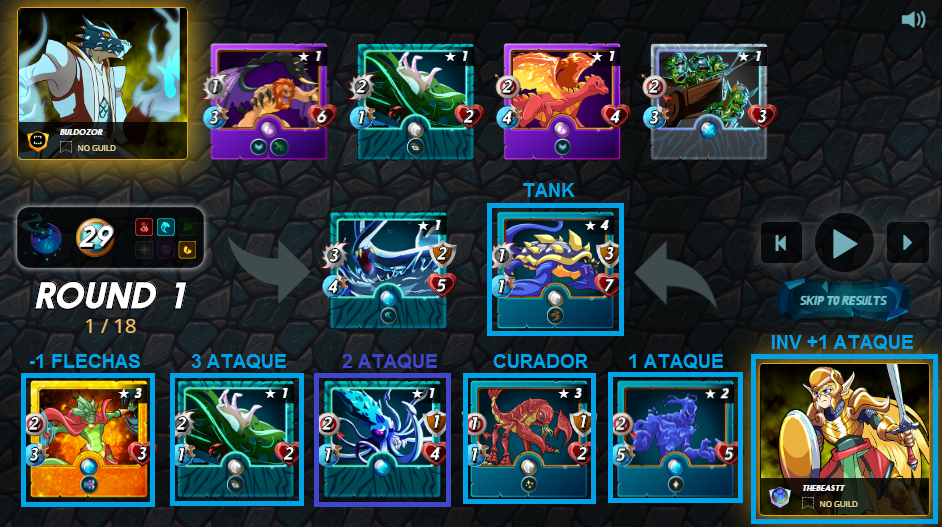 Fuente

Primero coloque un pequeño tanque capas de soporta varios golpes, de segundo coloque al primer atacador que ademas con su habilidad de curación es ideal para recibir ataques snipe. En tercer lugar coloque a el curador para permitir al tanque vivir mucho mas, en cuarto lugar al GIANT, justo en medio para que no sea atacado fácilmente y con su ataque eliminar al tanque contrario. en quinta posición un tercer ataque con habilidad de oportunidad para atacar a los contrarios mas débiles y por ultimo y no menos importante un -1 de flechas que al no haber ataques de magia es una excelente elección.
First place a small tank that can withstand several hits, second place the first attacker who also with his healing ability is ideal for receiving snipe attacks. Thirdly place the healer to allow the tank to live much longer, fourthly place the GIANT, right in the middle so that it is not easily attacked and with its attack eliminate the opposite tank. In fifth position a third attack with the ability to attack the weaker opponents and last but not least a -1 of arrows that as there are no magic attacks is an excellent choice.

ESTE HA SIDO MI VIAJE POR ESTA BATALLA COMPARTIDA, PUEDES MIRARLA AQUÍ, ADEMAS SI TAMBIÉN QUIERES PARTICIPAR EN EL RETO SIGUE LAS INSTRUCCIONES EN ESTE POST Y SI AUN NO JUEGAS SPLINTERLANDS TE INVITO A UNIRTE A ESTE GRAN JUEGO DESDE AQUÍ
THIS HAS BEEN MY JOURNEY IN THIS SHARED BATTLE, YOU CAN LOOK AT IT HERE, AND IF YOU WANT TO TAKE PART IN THE CHALLENGE FOLLOW THE INSTRUCTIONS IN THIS POST AND IF YOU STILL DON'T PLAY SPLINTERLANDS I INVITE YOU TO JOIN THIS GREAT GAME FROM HERE
Traducción realizada en DELP.