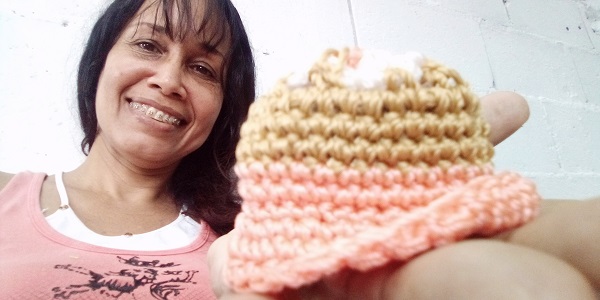 Bienvenido a mi Tutorial Comunidad Hive
¡Saludos!
Welcome to my Hive Community Tutorial

Cheers!
Amigos de #hive, #gems, #needlework, gracias por el apoyo que he tenido con ustedes y me siento muy contenta por eso. Espero la estén pasando bonito.
Friends of #hive, #gems, #needlework, thank you for the support I have had with you and I am very happy about that. I hope you are having a nice time.
Hoy les voy a mostrar como hacer un sombrero miniatura paso a paso. tiene un tiempo de duración de 30 min. Los materiales los puedes conseguir en cualquiera mercería.
Today I am going to show you how to make a miniature hat step by step. It has a duration of 30 min. You can get the materials at any haberdashery.
Este sombrero miniatura sirve para colocárselos a muñecas que le pueda servir, también como llavero. Puedes darle la utilidad que quieras. El objetivo de este tutorial es "Enseñar hacer " tejidos para aportar idea en el arte creativo como lo he venido haciendo. A pesar de que he tejido, no me había propuesto a tejer cosas miniatura, primera vez que lo hago y me gusto mucho. Así que mas adelante estaré mostrando mis creaciones.
This miniature hat is used to put them on dolls that can be used, also as a keychain. You can give it the utility you want. The objective of this tutorial is to "Teach how to make" fabrics to provide ideas in creative art as I have been doing. Although I have knitted, I had not proposed to knit miniature things, the first time I have done it and I really liked it. So later I will be showing my creations.
¿Que necesitamos para elaborar este hermoso sombrero?
Materiales:
Hilo de Nylon N° 12, blanco, naranja y dorado
Aguja para tejer N° 5 ó 6
Tijera
What do we need to make this beautiful hat?
Materials:

Nylon thread No. 12, white, orange and gold
Knitting needle No. 5 or 6
Scissors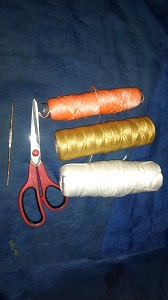 Procedimiento:
Comenzamos a tejer.
Process:
We begin to weave.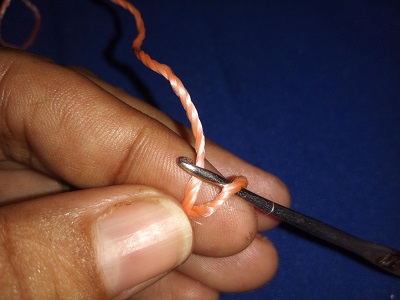 Hacemos un anillo mágico
We make a magic ring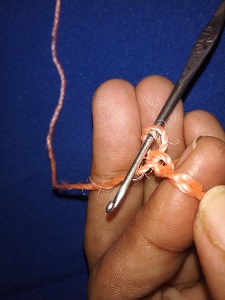 Hacemos tres cadenetas
We make three chains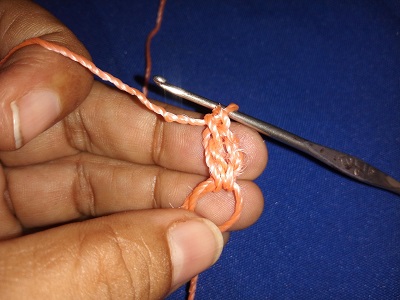 Luego hacemos diez puntos alto
Then we do ten high crochet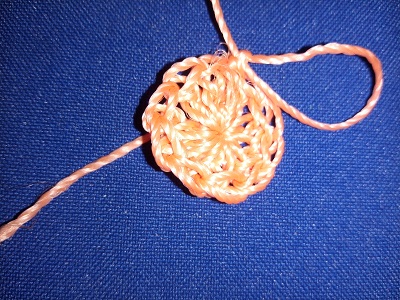 Aquí tenemos terminado los diez puntos bajos.
Here we have finished the ten low points.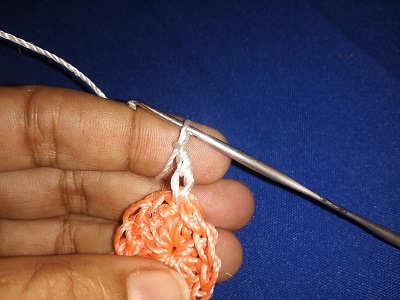 Comenzamos tejer con el hilo blanco
haciendo tres cadenetas
We start knitting with the white thread
making three chains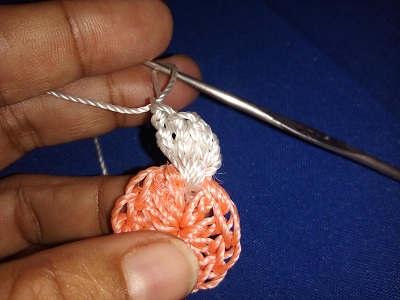 Hacemos cuatro puntos altos
We make four high points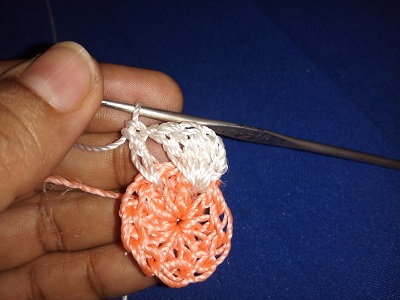 Luego tejemos cuatro puntos altos después
de dos puntos altos del hilo naranja
Then we knit four double crochets after
double crochet orange thread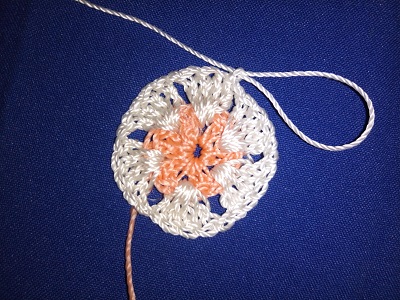 Y así sucesivamente hasta completar seis grupo
de cuatro puntos altos y rematamos
And so on until completing six groups
with four double crochets and we finish off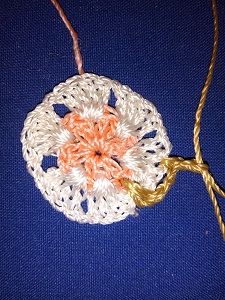 Ahora comenzamos con el hilo dorados. Hacemos dos puntos alto
en la cadeneta del hilo naranja y luego un punto bajo en el blanco
dejando dos puntos alto por el medio, como se ve en la figura
Now we start with the golden thread. We make two high points
in the chain of the orange thread and then a single crochet in the white
leaving two high points in the middle, as seen in the figure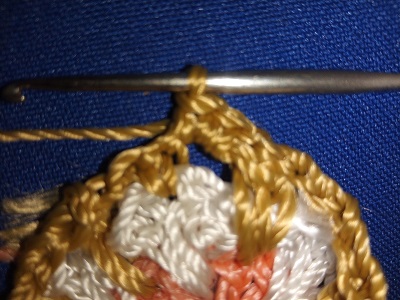 Y así sucesivamente y rematamos
And so on and we finish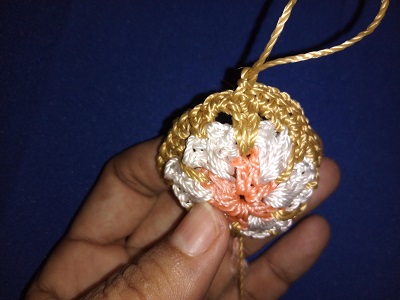 Tejemos 24 punto bajo y rematamos
We knit 24 single crochet and bind off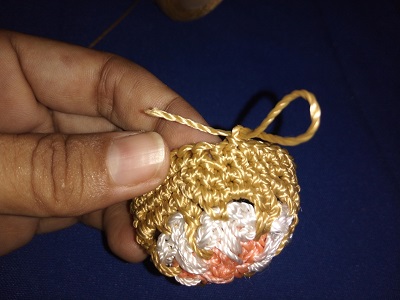 Tejemos cuatro vuelta en cada cadeneta del punto bajo y rematamos
We work four rounds in each chain from the single crochet and bind off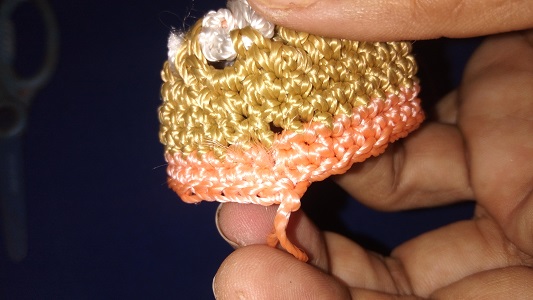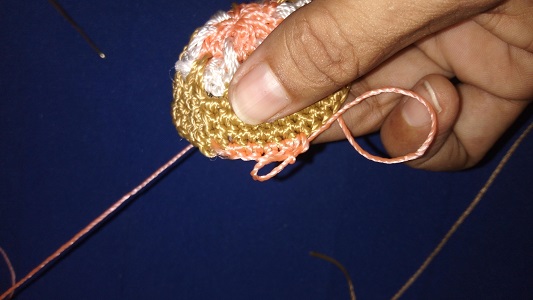 Con el hilo naranja tejemos el punto bajo
With the orange thread we knit the single crochet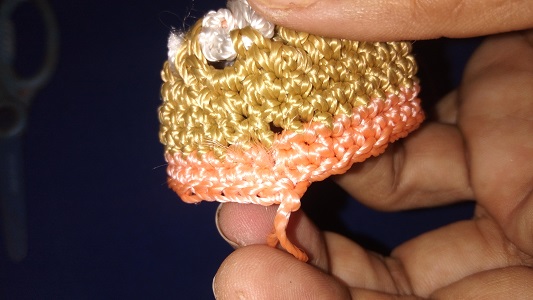 Rematamos y tejemos dos vuelta
We bind off and weave two rounds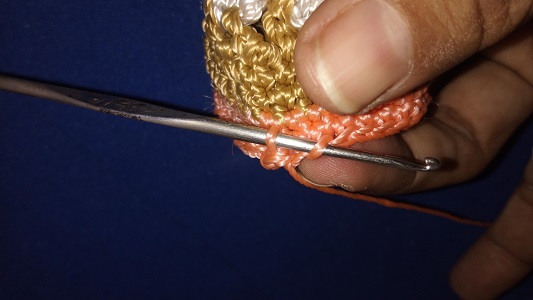 Para hacerle la solapa al sombrero hacia arriba,
tomamos una cadeneta del punto bajo como
se observa en la figura.
To flap the hat up, we take a chain from the low
crochet like can be seen in the figure.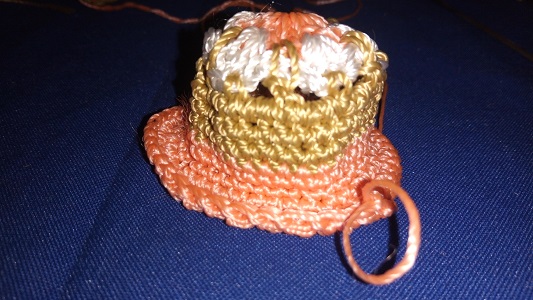 Se continua tejiendo con el punto bajo y se
da tantas vuelta como desee hacerlo
Continue working with single crochet and
turn as many times as you want to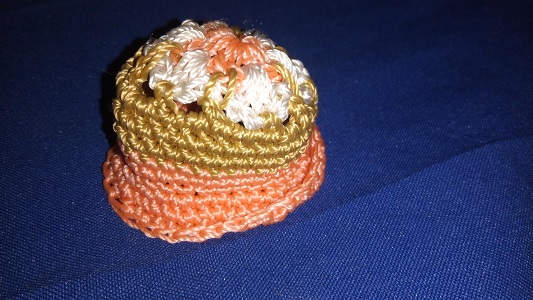 Terminado el hermoso sombrero miniatura
Finished the beautiful miniature hat

Agradeciendo antemano a toda la comunidad, @appreciator, @needlework, @onchainart, @art, @dclub, @community, @ocd, @qurator, @cervantes, @actifit, @upmewhale y otros que de alguna manera me han brindado apoyo en todo momento en el arte creativo.
Thanks in advance to the entire community, @appreciator, @needlework, @onchainart, @art, @dclub, @community, @ocd, @qurator, @cervantes, @actifit, @upmewhale and others who have somehow supported me in every moment in creative art.
Me alegra que hayan disfrutado de mi tutorial
I'm glad you enjoyed my tutorial
Las fotos fueron tomadas por mi persona con cámara Alcatel_5008R Onyx
The photos were taken by me with Alcatel camera_5008R Onyx
¡Gracias por estar aquí!
Thanks for being here!