¡Hola mis estimados amigos de la colmena!… Hoy compartiré con ustedes una pequeña y productiva cosecha de frijoles, apenas fueron tres plantas las que emergieron de la tierra para darme la alegría que pueden ver a continuación.
Hello my dear friends of the hive! ... Today I will share with you a small and productive harvest of beans, there were only three plants that emerged from the earth to give me the joy that you can see below.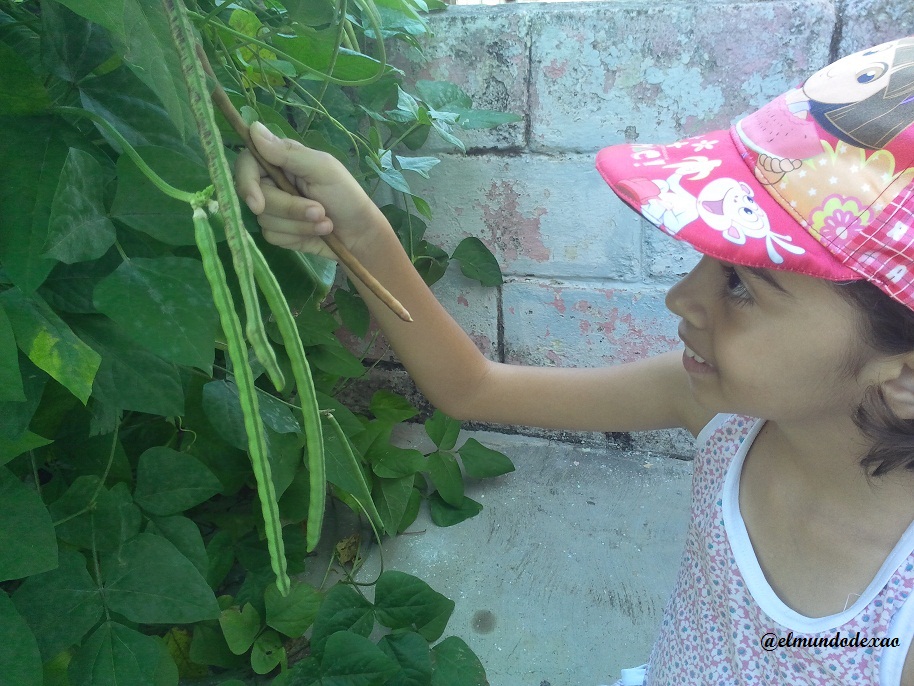 Este pequeño arbusto me sorprendió mucho, cuando comenzaron a brotar las primeras vainas con frijoles, eran más de las que podía contar, cada mañana apreciaba como brotaban nuevas flores, sobre todo esos días que amanecía lloviendo y luego salía el sol calentando rápidamente, y así secando toda la humedad que dejaba la noche.
This little bush surprised me a lot, when the first pods with beans began to sprout, they were more than I could count, every morning I appreciated how new flowers sprung up, especially those days when it dawned raining and then the sun came out quickly heating up, and so on. drying up all the moisture left by the night.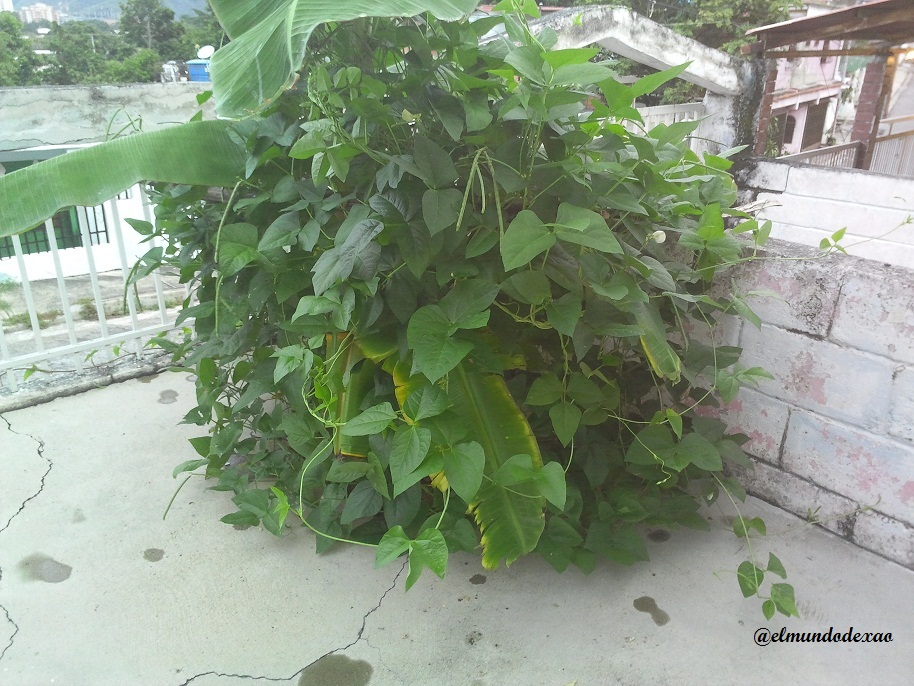 Las flores son bastante extrañas, ¡A que me refiero con esto!... Tienen un aspecto muy sencillo y una tonalidad suave, es un color morado claro, son pequeñas y casi imperceptibles, lo más curioso es que la flor como tal no atrae los abejorros sino una sustancia que brota en el tallo de la flor.
The flowers are quite strange, what do I mean by this! ... They have a very simple appearance and a soft tone, it is a light purple color, they are small and almost imperceptible, the most curious thing is that the flower as such does not attract bumblebees but a substance that sprouts on the stem of the flower.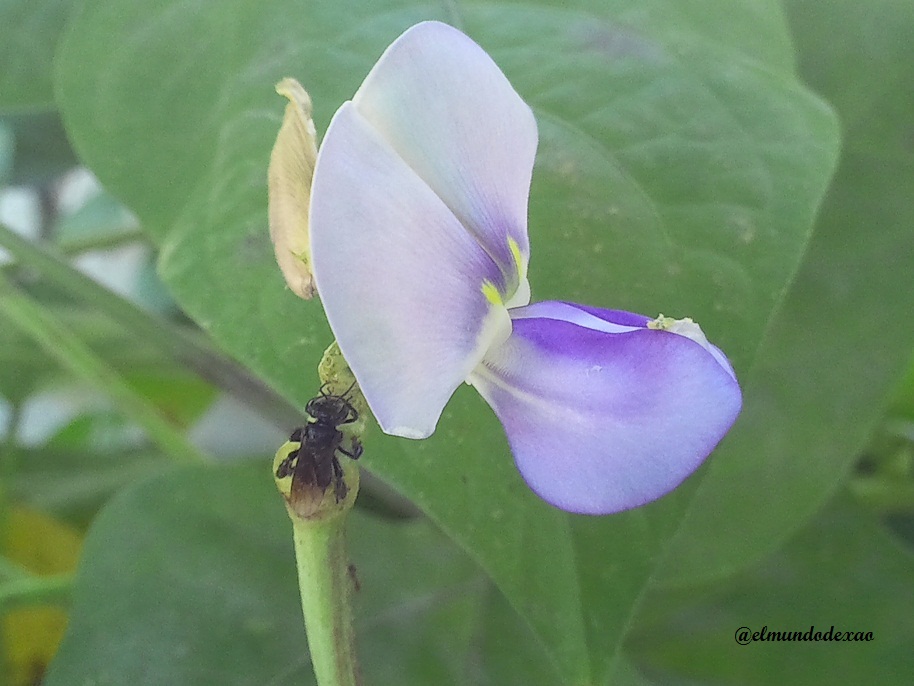 Como podrán apreciar en las siguientes fotografías los abejorros suelen recolectar esta sustancia a la que me refiero, la cual es como un melado transparente y aunque la flor se marchite, la sustancia sigue brotando.
As you can see in the following photographs, bumblebees usually collect this substance to which I refer, which is like a transparent honey and although the flower withers, the substance continues to sprout.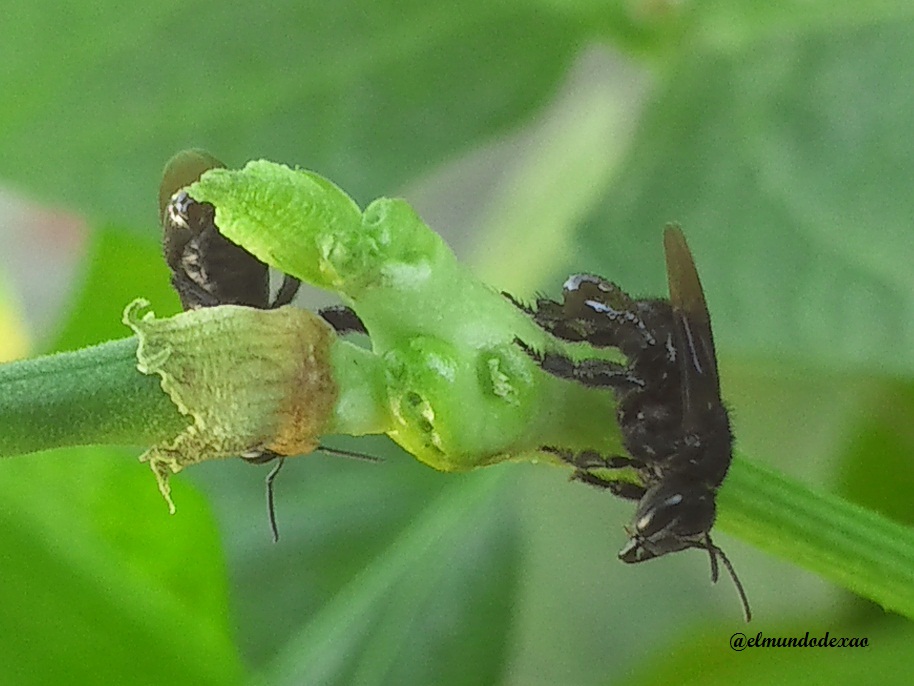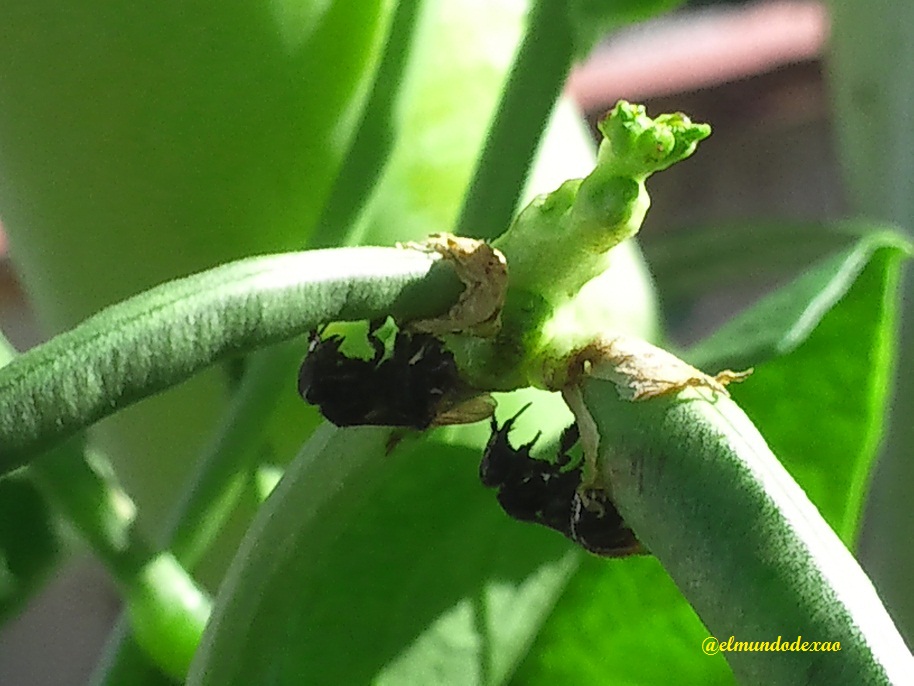 Temprano en las mañanas dedicaba un rato a oler estas flores, es algo bastante relajante ese olor dulce que imagino es lo que atrae los abejorros, suele brotar durante las primeras horas del día y a pesar de secarse con el calor del sol los insectos siguen hurgando y raspando el tallo.
Early in the morning I spent a while smelling these flowers, it is something quite relaxing that sweet smell that I imagine is what attracts bumblebees, it usually sprouts during the first hours of the day and despite drying in the heat of the sun the insects continue to rummage and scraping the stem.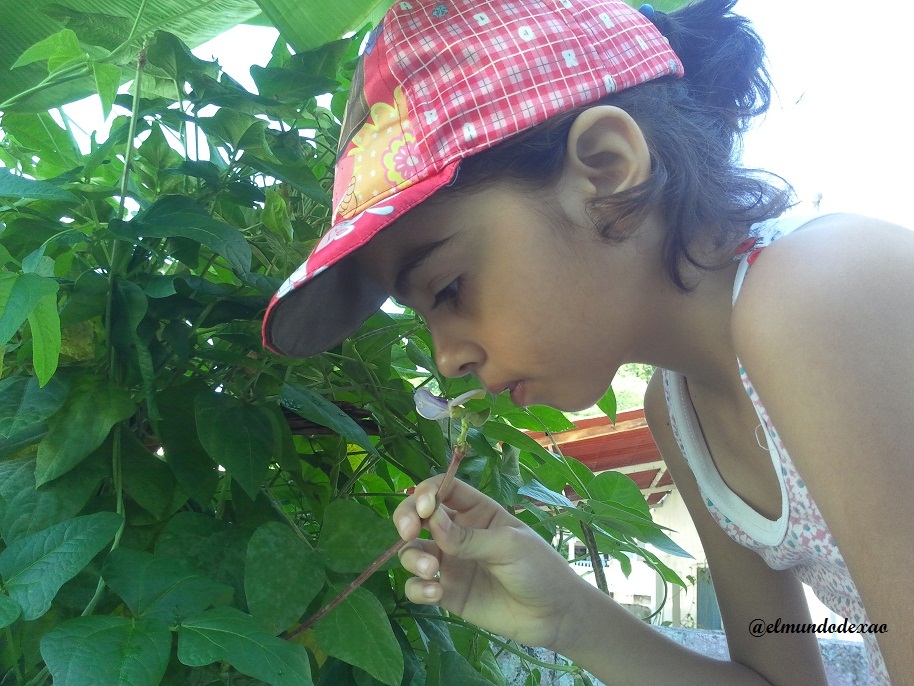 El recolectar las vainas secas es un trabajo lento ya que a diario solo se pueden recolectar unas pocas, los días que hace bastante sol, son los que resultan mejor ya que son más las que puedo recoger, las voy acumulando hasta tener suficiente como para poderlas cocinar.
Collecting the dry pods is slow work since only a few can be collected daily, the days when it is quite sunny are the ones that are better since there are more that I can collect, I accumulate them until I have enough to be able to Cook.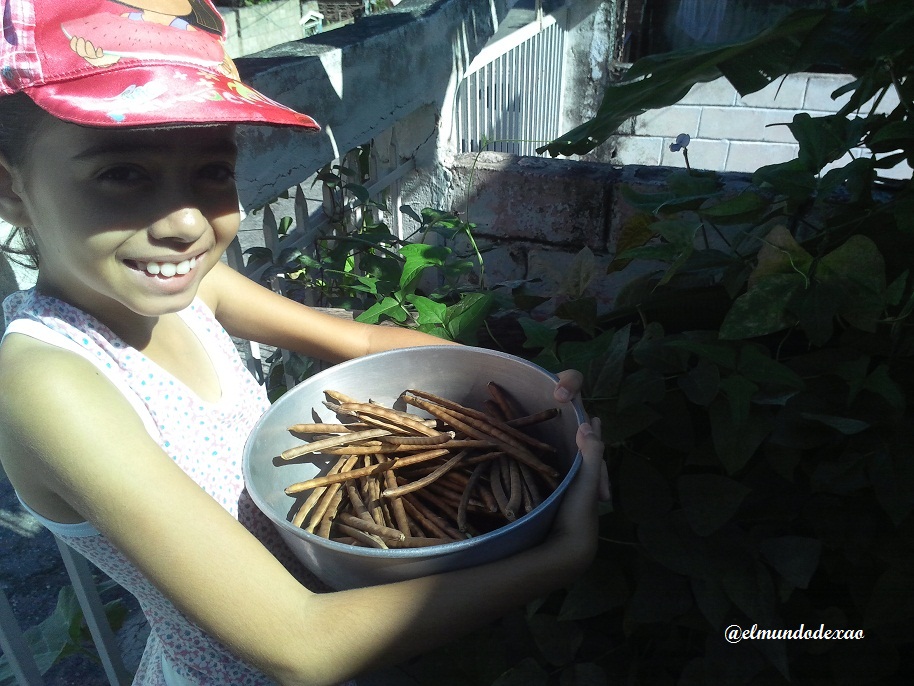 Por lo general las recojo en las tarde después que el sol ha bajado su intensidad… Sé cuándo están listas porque con simplemente apretarlas un poco "Estallan" es decir se abren violentamente liberando los frijoles de su interior.
I usually pick them up in the afternoon after the sun has lowered its intensity ... I know when they are ready because simply by squeezing them a little they "explode", that is, they open violently, releasing the beans inside.

Fuente de Fotos: Propias capturadas con una cámara Síragon.
Modificado el tamaño: Con el Programa Paint.
Photo Source: Own photos captured with a Síragon camera.
Modified size: With the Paint Program.
Gracias por visitar mi Blog… ¡AH! No se olvide de votar, reblogear y comentar.
Thanks for visiting my blog... Ah! Don't forget to vote, reblogear and comment.
Traducido con / Translated with: