Una de las cosas más bonitas que nos puede regalar la vida, es el tiempo de calidad con nuestros seres queridos. No importa que día de la semana sea o cuál sea el plan, lo importante es estar juntos, reír, pasarla bonito y por supuesto comerse un delicioso helado que puede alegrarte la semana entera. Soy de las que piensa que un dulce puede calmar cualquier tristeza, angustia o preocupación que sintamos y estar con los que amo me hace feliz.
One of the most beautiful things that life can give us is quality time with our loved ones. It doesn't matter what day of the week it is or what the plan is, the important thing is to be together, laugh, have a good time and of course eat a delicious ice cream that can cheer you up the whole week. I am one of those who thinks that a sweet can calm any sadness, anguish or worry that we feel and being with those I love makes me happy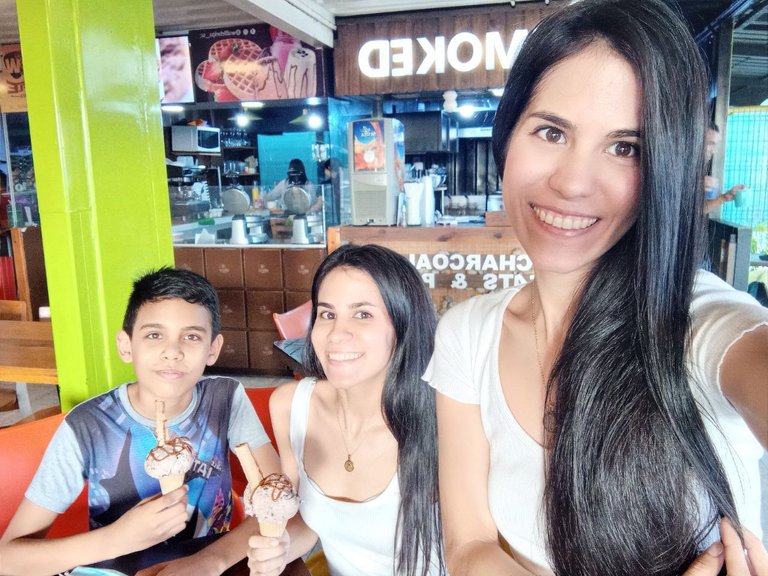 Así que tratando de convencer a mis hermanos de ir a caminar un poco para ejercitarnos, les dije que sería una buena idea comernos un delicioso helado en una nueva heladería por la que habíamos pasado el día anterior. Se veía genial, además de que se notaba la calidad de sus productos y eso para mí es muy importante, incluyendo la atención. Todos estaban animados a ir, así que nos vestimos con ropa deportiva y salimos cuando bajó el sol.
So trying to convince my brothers to go for a walk to exercise, I told them that it would be a good idea to have a delicious ice cream in a new ice cream parlor that we had passed by the day before. It looked great, besides the quality of its products was noticeable and that for me is very important, including the attention. Everyone was excited to go, so we dressed in sportswear and headed out as the sun went down.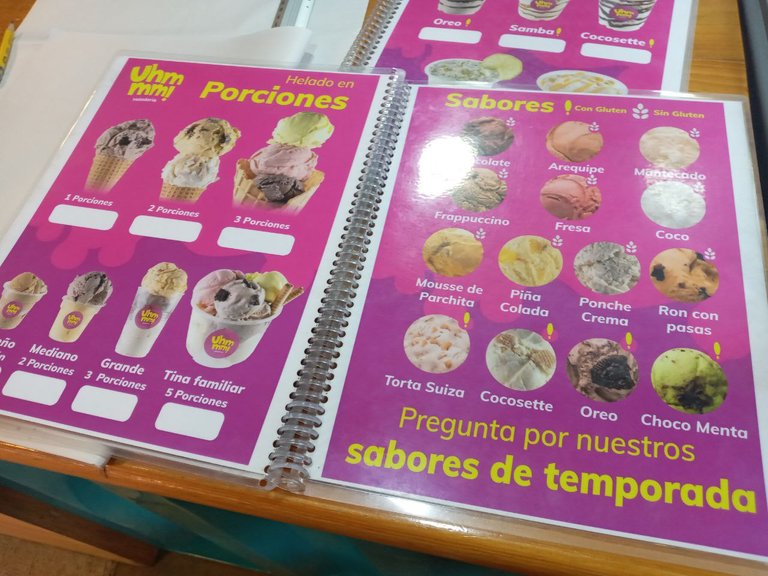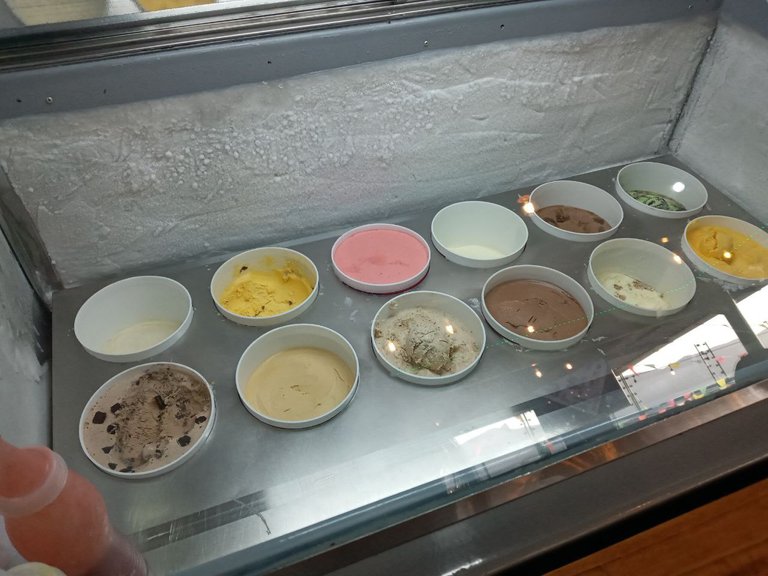 Caminamos mucho más de la mitad del camino que siempre solemos tomar y llegamos justamente a Plaza Container, un lugar en mi ciudad donde ubicas un montón de restaurantes sabrosos. Aquí consigues casi de todo, desde pizzas, sushi, waffles y otros. Nosotros entramos y lo primero que hicimos fué observar precio y sabores. La verdad me parecen bastante bien a comparación de otros lugares. Cómo mencioné anteriormente, la calidad de sus productos se notaba en primer lugar.
We walked much more than half of the way we usually take and we arrived right at Plaza Container, a place in my city where you have a lot of tasty restaurants. Here you get almost everything from pizzas, sushi, waffles and others. We entered and the first thing we did was look at the price and flavors. The truth seems to me quite good compared to other places. As I mentioned before, the quality of their products was noticeable in the first place.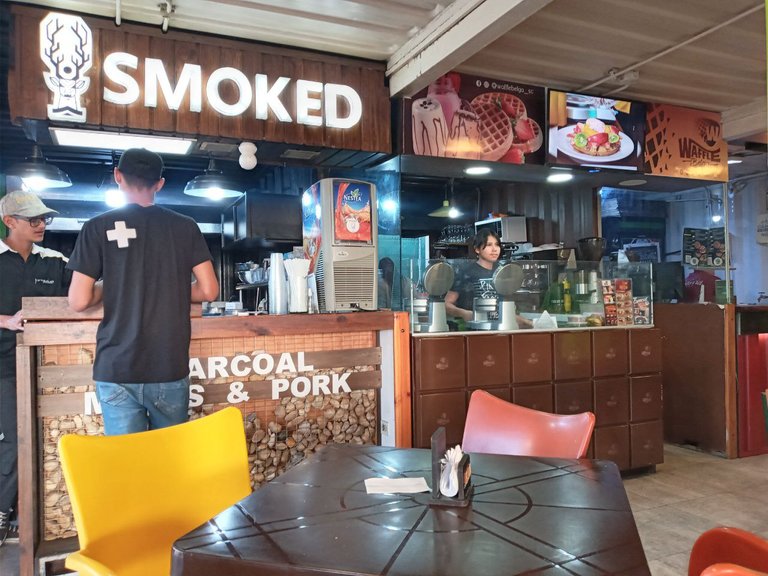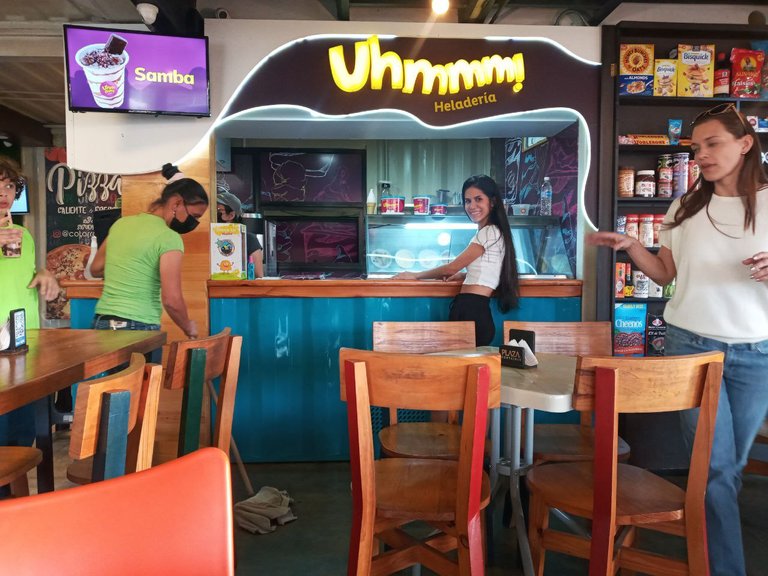 Yo hice el pedido mientras mis hermanos me esperaban en la mesa para llevarles sus barquillas. Aunque no tenían mucha variedad de sabores, los que tenían en su congelador eran la mayoría los preferidos por las personas. Así que nosotros pedimos de oreo con topping de arequipe. Cada barquilla de un solo sabor costaba 7000 mil pesos colombianos, pero de acuerdo a tu presupuesto, podías ordenar de 2 e incluso de 3 sabores. Pero con uno solo era suficiente para nosotros.
I placed the order while my brothers waited for me at the table to bring them their trays. Although they didn't have much of a variety of flavors, the ones they had in their freezer were most people's favorites. So we ordered oreo with arequipe topping. Each tray of a single flavor cost 7,000 thousand Colombian pesos, but according to your budget, you could order 2 or even 3 flavors. But just one was enough for us.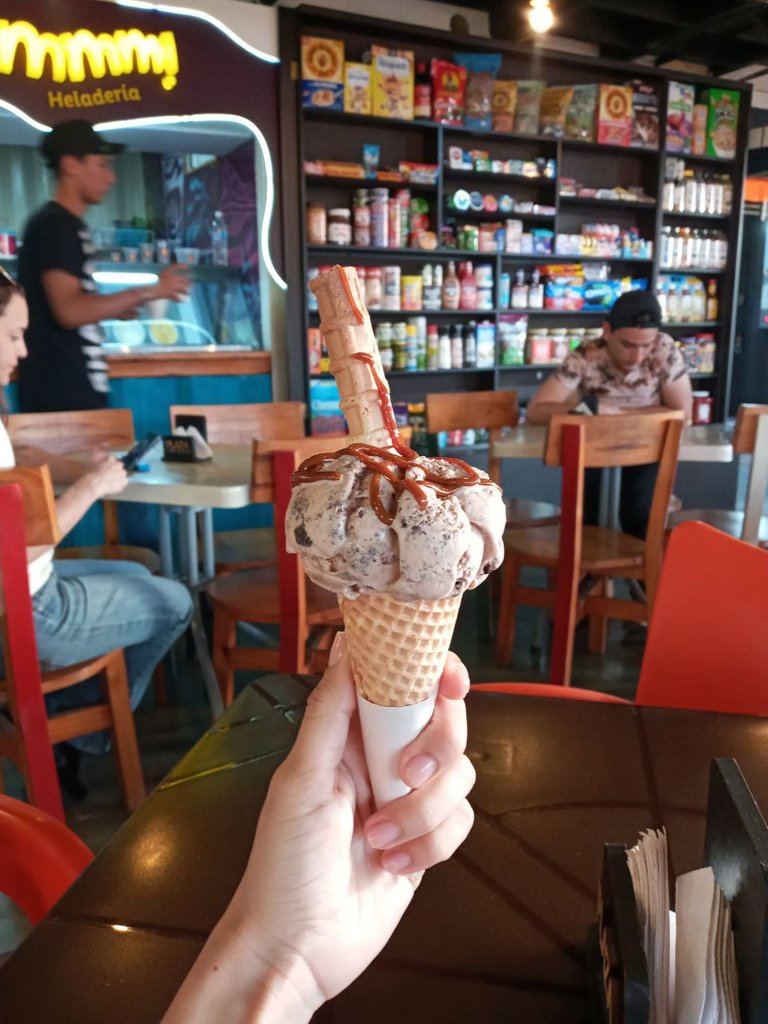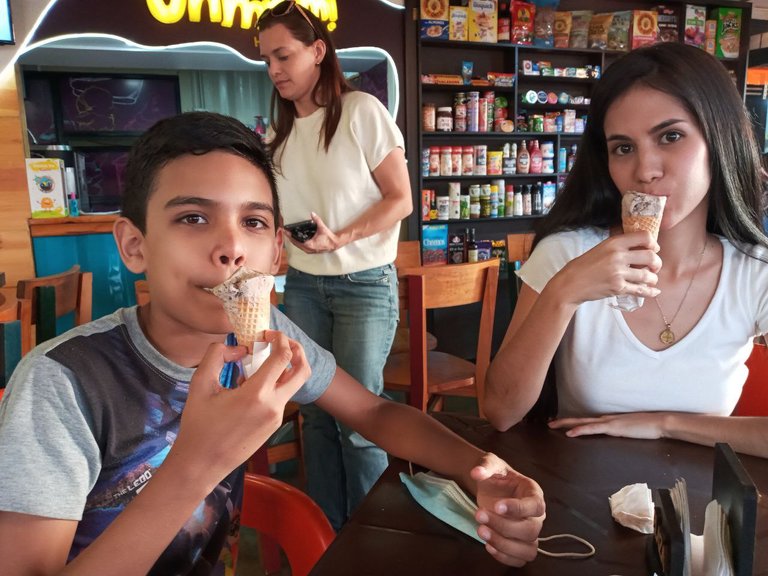 Me encantó esta heladería llamada "uhmmm heladería" ellos también venden malteadas o barquillas de máquina, además de sandwich de galleta con helado. Mis hermanos estaban encantados con el lugar. La atención también fue muy buena. La dueña del establecimiento se nos acercó al ver que hacíamos muchas fotos y muy amable nos dijo que podíamos etiquetarlos en las redes sociales. También nos preguntó si nos había gustado. Obviamente la respuesta fué positiva.
I loved this ice cream parlor called "uhmmm ice cream parlor" they also sell milkshakes or ice cream cones, as well as cookie sandwiches with ice cream. My brothers were delighted with the place. The attention was also very good. The owner of the establishment approached us when she saw that we were taking many photos and very kindly told us that we could tag them on social networks. He also asked us if we liked it. Obviously the answer was positive.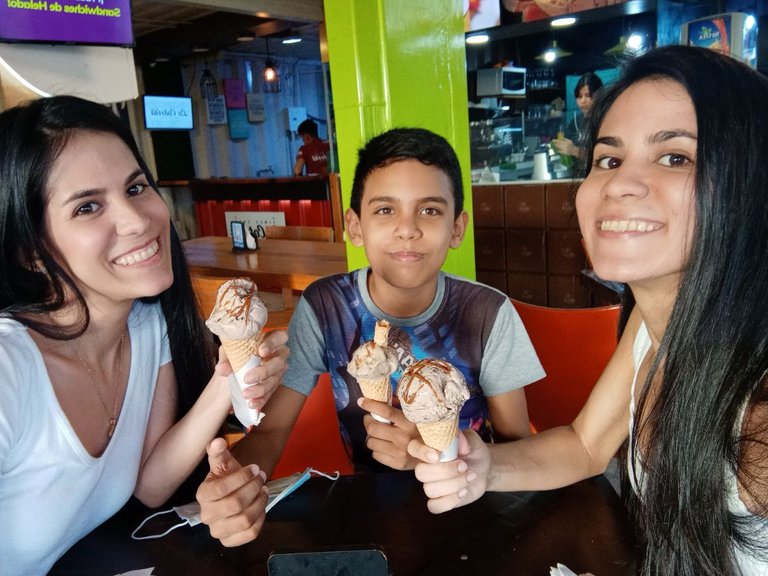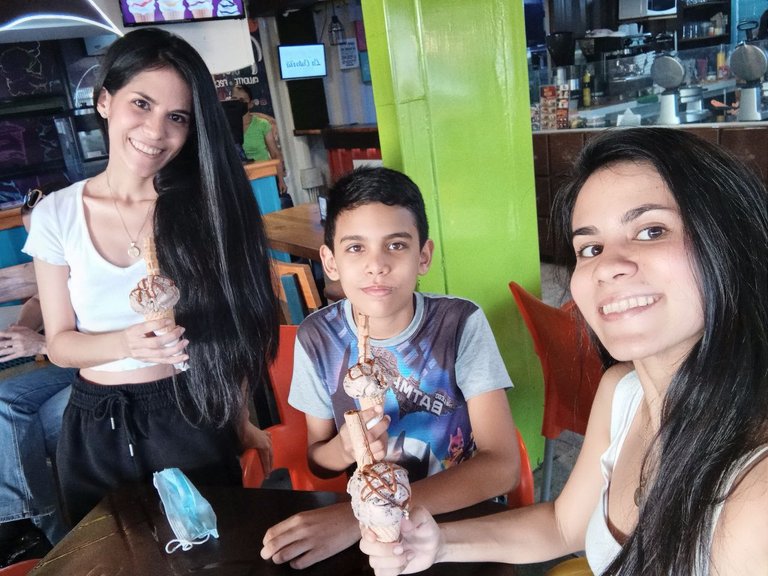 Y así terminó nuestro día, comiendo helados y haciendo un poco de ejercicio. De esta manera aprovecho los días que me quedan aquí porque pronto regresaré a Medellín y ya les estaré contando sobre mis días allí. Así que sonriamos, seamos felices y compartamos con los que más queremos, esos son momentos valiosos. Y si, vayan por un helado. El dulce repara el alma. Esto fue todo por hoy, espero que les haya gustado. Un abrazo.
And so our day ended, eating ice cream and getting some exercise. In this way I take advantage of the days that I have left here because soon I will return to Medellín and I will be telling you about my days there. So let's smile, be happy and share with those we love most, those are valuable moments. And yes, go for an ice cream. The sweet repairs the soul. This was all for today, I hope you liked it. A hug.
Todas las fotos fueron tomadas con un Xiaomi Poco X3 Pro | All the photos were taken with a Xiaomi Poco X3 Pro