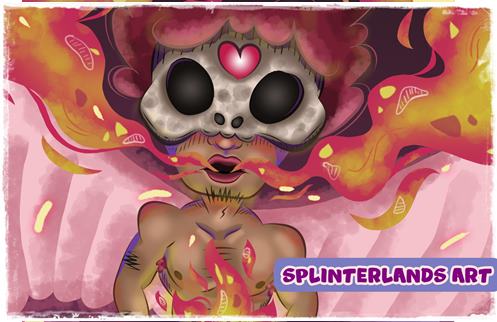 💥A NEW CARD IN THE FIRE SPLINTER 💥



I am very excited to show you the process of this illustration that has been going through my head.
Until recently it was that I came carrying it out and fell in love with the process and result, I hope you do too ♥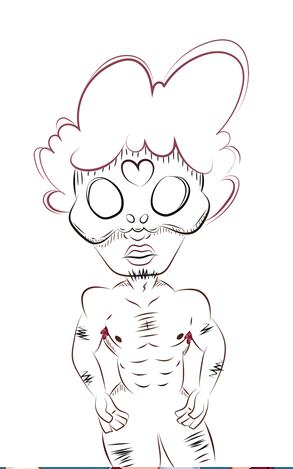 One of the things that I have been testing and I liked a lot, is the fact of handling 2 or 3 colors within the illustration.
So with this in mind I decided to make that art, I did not want to saturate it with different colors, but they all harmonized.
At first I had no idea how I wanted to paint it, it hardly ever happens to me because I always do a preview of what I plan to paint.
But there is always a first time. In this sense, the colors you see there are what defined the illustration.
So, let's see the process ...

THE PROCESS:
| | |
| --- | --- |
| As this is the color palette I would have, I just had to guide myself from here to the future and look for the shades at the end. | At first I thought to make the fire red, as usual, but to integrate it more in harmony of colors I decided to use magenta. |
Really, with every step I took I felt totally at ease, since I was super in love with the result and wanted to finish it now.
What I liked the most was the design of the fire, of all the little things I did and it looks very original.

ILLUSTRATION COMPLETED!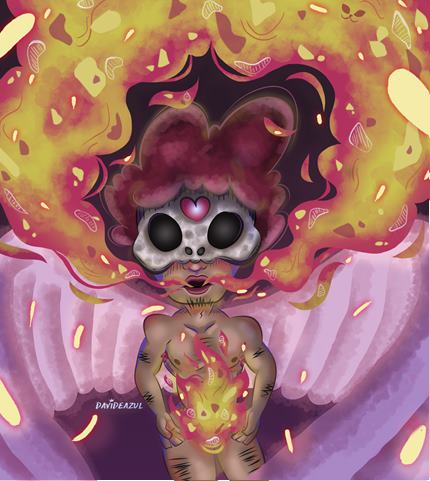 TIME: 6 hours
PROGRAM: Adobe Photoshop ♥
NOW THE DESIGN AS IF IT WAS A @SPLINTERLANDS CARD: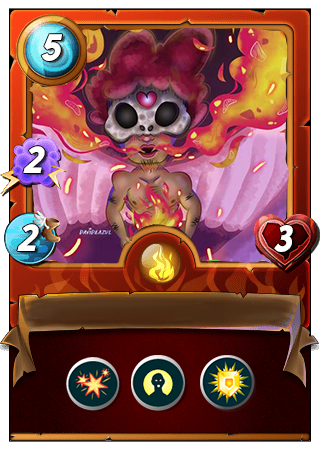 I chose explosion because of the fact that I controlled the fire like a pyrotechnician. It also has the quality of reviving a friend and finally it has a divine shield. What would you put on them?

You like me? Follow me on my social networks:
Greetings to all! Have a nice day / afternoon / night 💝



---
POST EN ESPAÑOL:
---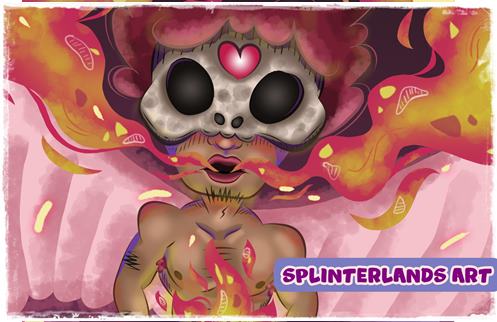 💥UNA NUEVA TARJETA EN EL SPLINTER DE FUEGO 💥



Estoy muy emocionado por mostrarle el proceso de esta ilustración que me ha venido rondando por la cabeza.
Hasta hace poco fue que vine llevandola a cabo y quedé enamorado del proceso y resultado, espero que ustedes también ♥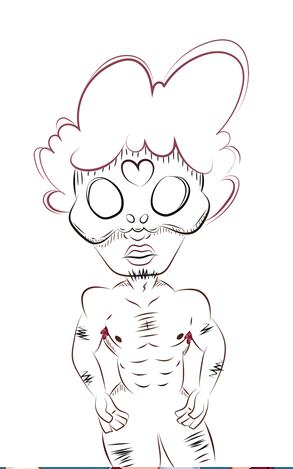 Una de las cosas que he venido probando y me ha gustado un montón, es el hecho de manejar 2 o 3 colores dentro de la ilustración.
Así que con esto en mente decidí hacer ese arte, no quería saturarla de diversos colores, sino que todos armonizaran.
Al principio no tenía ni idea de cómo quería pintarlo, casi no me suele suceder pues siempre me hago una previsualización de lo que pienso pintar.
Pero siempre hay una primera vez. En este sentido, los colores que vez allí son los que definieron la ilustración.
Entonces, veamos el proceso....

EL PROCESO:
| | |
| --- | --- |
| Al ser esta la paleta de colores que tendría, solo debía guiarme de aqui para adelante y buscar las tonalidades a fines. | Al principio pensé hacer al fuego de color rojo, a lo habitual, pero para integrarlo más en armonía de colores decidí utilizar magenta. |
De verdad que a cada paso que daba me sentía totalmente a gusto, puesto que estaba super enamoradísimo del resultado y quería terminarlo ya.
Lo que más me gustó, fue el diseño del fuego, de todas las cositas que le hice y se ve muy original.

¡ILUSTRACIÓN TERMINADA!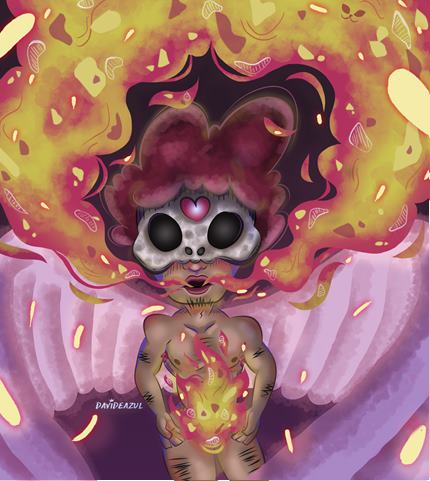 DURACIÓN: 6 horas
PROGRAMA: Adobe Photoshop ♥
AHORA EL DISEÑO COMO SI FUESE UNA TARJETA DE @SPLINTERLANDS: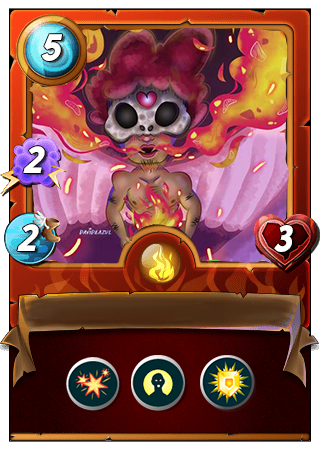 Elegí explosión por el hecho que controlaba el fuego como un pirotécnico. También tiene la cualidad de revivir a un amigo y por último tiene escudo divino. ¿Cuál les pondrías tú?

¿Te gustó? Sígueme en mis redes sociales:
¡Saluditos a todos! Que tengan un buen día / tarde / noche 💝