¡Saludos comunidad! Hoy quiero compartir con ustedes un dibujo que hice hace años de Slash, famoso por haber sido el guitarrista principal de la banda de rock Guns & Roses. Como ya hice mención, es un dibujo viejo por lo que no tengo registro del paso a paso, sin embargo, trataré de contarles como fue el proceso, o lo que recuerde de él jaja. Lo primero es que esta hecho en cartulina de block de dibujo y además, utilicé lápices de grafito, borra y colores normales y metalizados. Debo decir que es uno de los pocos dibujos que he hecho de cuerpo entero o casi entero, porque por lo general hago retratos, animales, cosas, paisajes y dibujos abstractos, sin embargo no tuve mayores complicaciones.
Greetings community! Today I want to share with you a drawing I made some years ago of Slash, famous for have being the leader guitarist of rock band Guns & Roses. As I mentioned, is an old drawing so I don´t have registry of the making of, however I will try to tell you how was the process or at least what I remember of it haha. The first thing is that is made on bristol board and that I used graphite pencils, eraser, normal and metalic crayons. I must say that is one of the few full-length drawings I have made because generally I make portraits, animals, things, landscapes and abstract drawings, besides that, I think that I didn´t have much complications with it.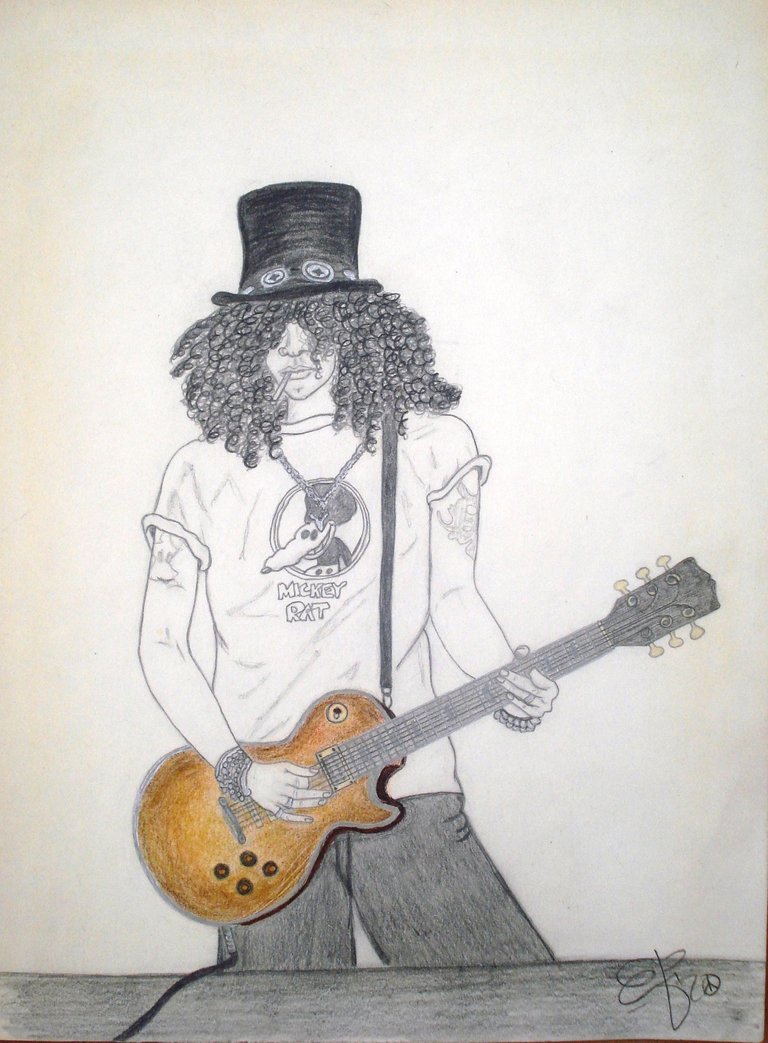 La cartulina luce ya bastante amarillenta / The bristol board looks already a little yellowish
Comencé dibujando el rostro, le di una forma sencilla al cabello, lo suficiente para marcar sus líneas y agregué el sombrero. Continué con la franela y sus detalles y dibujé los brazos hasta el antebrazo para tener espacio de trabajar en la guitarra. Slash es un amante de las guitarras Gibson Les Paul y es las que utiliza casi siempre, su estilo y su sonido está ligado a ella. Hacer la guitarra fue lo que más tiempo me tomó porque tiene muchos detalles de líneas rectas que deben ser medidas y dibujadas con delicadeza y minuciosidad como los trastes y las cuerdas.
I started with the face, I gave a simple shape to the hair, enough to mark the lines and I added the hat. I followed with the t-shirt and its details and I draw the arms till the forearm, this, to have space to work in the guitar. Slash is a Gibson Les Paul guitars fan and he uses them the almost always, his style and sound are related to them. The thing that took me more time was draw the guitar because it has many straight lines details that must be measured and draw with calm and minuteness like the frets and the strings.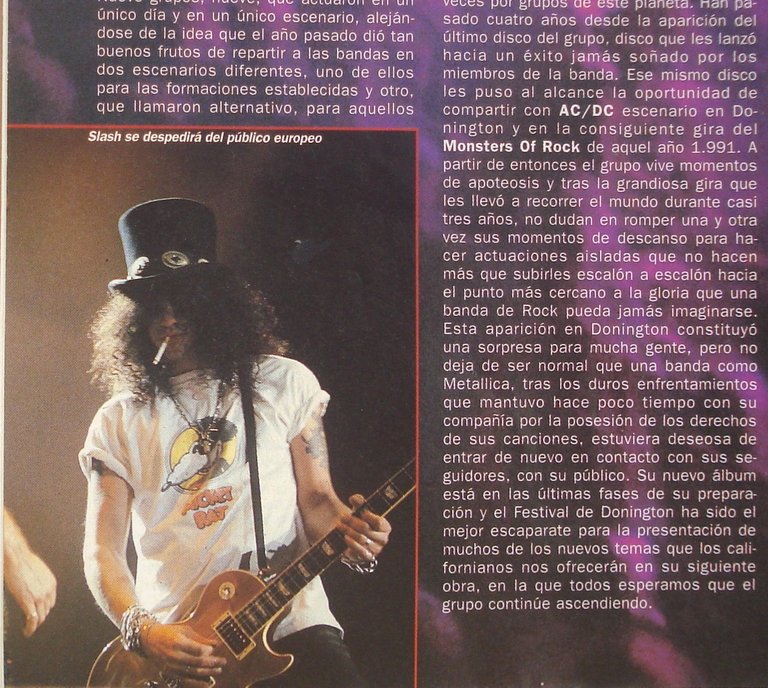 Saqué mi dibujo de esta foto / I use this photo to make my drawing
(Foto de la revista Heavy Rock N° 145 / Photo from Heavy Rock magazine N° 145)


Una vez que tenía la guitarra terminada, procedí a dibujar el resto de los brazos y las manos, agregando detalles como las uñas y las prendas que Slash gusta mucho de usar como anillos y pulseras de oro y plata. Terminé con las piernas y se me ocurrió poner parte de una tarima.
Once the guitar was finished I proceed to draw the part of the arms that was missing including the hands and adding details like the nails, and the silver and gold rings and bracelets that Slash likes so much to wear. I finished with half part of the legs and it occured me to put part of a stage.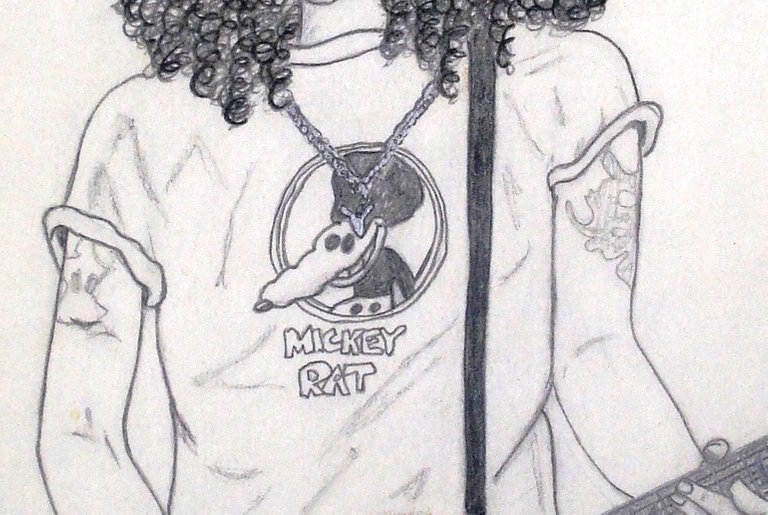 La rata Mickey jaja / The Mickey rat haha


Cuando ya tenía todo el dibujo listo, llegó la parte divertida, darle más vida al Slash que estaba en el papel. Empecé por darle al cabello sus abundantes y característicos rizos. Fueron muchos trazos de ondas para darle un aspecto natural, una vez obtenido el resultado se me ocurrió remarcar con lápiz de colores negro algunos rizos para destacarlos y darle más volumen a la cabellera del guitarrista. El sombrero de copa tan icónico que Slash siempre usa lo dibuje con lápiz de colores negro y coloreé lo detalles del mismo con un color plateado. El color plateado también lo usé para destacar las prendas (Collar, pulseras y anillos).
When I had all the drawing finished was time for the most fun part, give life to the Slash that was on the paper. I started giving to the hair his typical and characteristic curls. There were a lot of curly lines to give him a natural look, when I was happy with the hair I wanted to set off more the curls so I marked some of them again but now with a black crayon to stand Slash´s hair out and make it look with more size. The iconic top hat that Slash always wears I draw it with black crayon and in silver crayon the details on it. I used the silver crayon too to mark Slash´s jewelry (Necklace, rings and bracelets).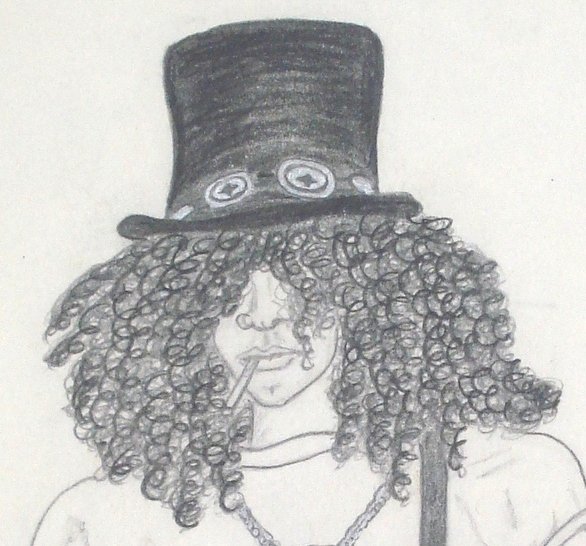 ¿Quién no reconoce esa cabellera rizada y ese sombrero de copa? / Who doesn´t recognize that curly hair and that top hat?


Admito que soy un poco temerosa de usar colores cuando hago retratos pero me parecía que le faltaba algo y como no quise dejar el dibujo en blanco y negro me atreví y decidí ponerle color a la guitarra. La verdad es que al final me gustó como quedó porque al darle color a la guitarra y colorear con negro el cabello y su sombrero, logré destacar la esencia de Slash por lo que mi osadía fue una decisión correcta ya que me dio un resultado mejor al que esperaba lograr. Por supuesto que viendo este dibujo ahora, con las técnicas que he ido aprendiendo y la experiencia que he adquirido con la práctica, veo que le faltan muchas luces y sombras pero está bien. ¿Ustedes que opinan?
I admit that I am always a little afraid to use colors when I make a portrait but I felt that something was missing and as I didn´t want to let the drawing in black and white I dare and decided to put color to the guitar. The truth is that I liked the result because colouring the guitar and putting black crayon on his hair and hat I get to stand out Slash´s essence so I think that my daring was the right decision because at the end the result was better than my expectations. Of course that seeing this drawing now, with the techniques and practice I have learned, I see that this drawing needs more lights and shades but that´s ok. What you think?
Slash sobre las guitarras / Slash about guitars
"Reconocía mi propia voz creativa filtrada a través de esas seis cuerdas, pero había claramente algo más. Notas y acordes se han convertido en mi segunda lengua y, cada vez más a menudo, ese vocabulario expresa lo que siento cuando el lenguaje me falla. " Slash (2007) por Anthony Bozza & Mason Segal / "I recognized my own creative voice filtered through those six strings, but it was also something else entirely. Notes and chords have become my second language and, more often than not, that vocabulary expresses what I feel when language fails me. " Slash (2007) by Anthony Bozza & Mason Segal
Gracias por leer, compartir, comentar y votar.

Hasta la próxima.
¡Miau!
Thanks for read, share, comment and vote.
Till next time.
Meow!