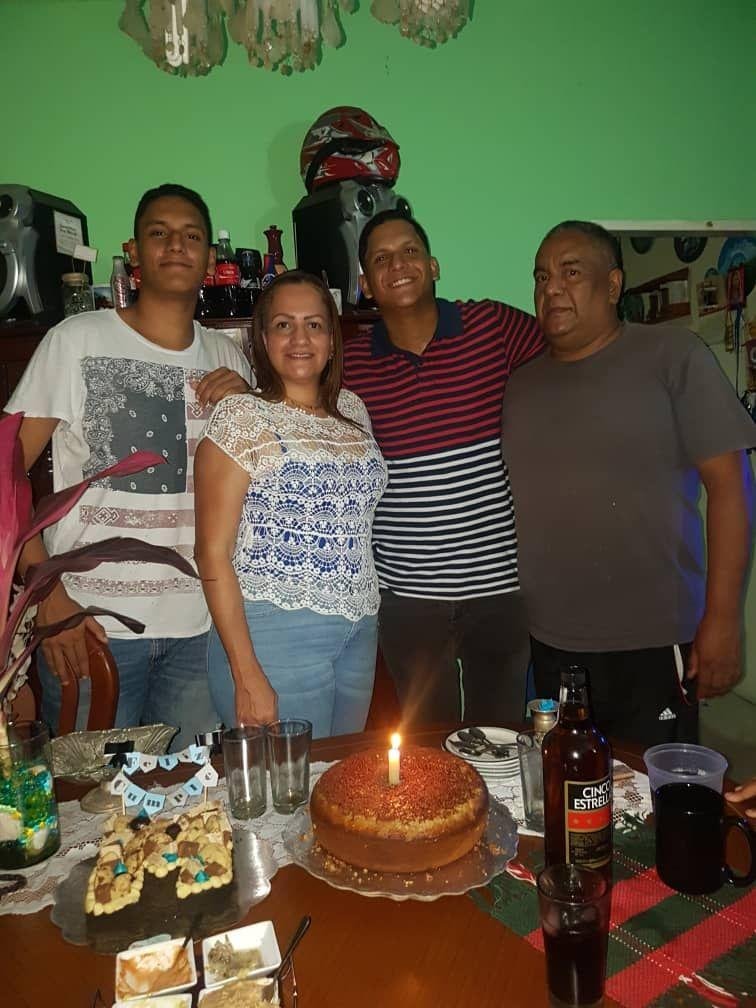 Greetings, Gems community.

Saludos, comunidad de Gems.
A birthday, a celebration, a party, a gathering... Many names have for this type of congregation of people, for me it is Happiness the fun of the moment, the good times and the great stories that are developed in a day or a night in this case was one of the things that more has cheered up these moments, the happiness of being with my family and friends for the birthday of my brother was one of the things that more I cheered up in those moments.
Un cumpleaños, una celebracion, una fiesta, una reunion... Muchos nombres tienen para este tipo de congregacion de personas, para mi es Felicidad la diversion del momento, los buenos ratos y los grandes cuentos que se desarrollan en un dia o una noche en este caso fue una de las cosas que mas ha alegrado estos momentos, la felicidad de estar con mi familia y amigos por el cumpleaños de mi hermano fue una de las cosas que mas me alegro en esos momentos.
Their happiness is my life
Su felicidad es mi vida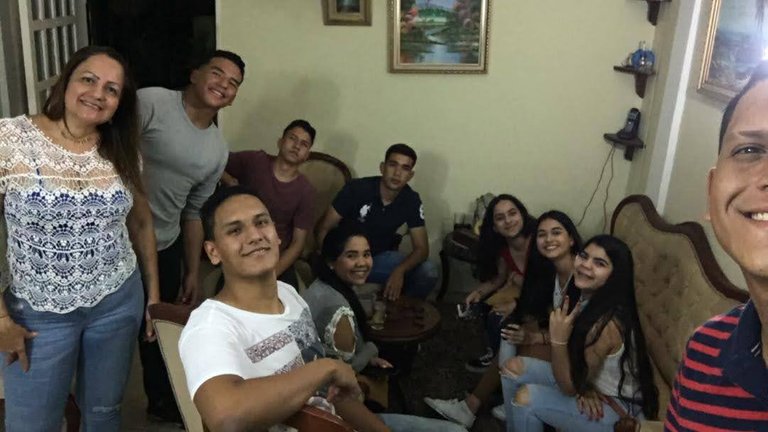 Our friends and neighbors could not miss, so many moments together and one more to add, all we have always shared must be more than just a memory, must be a great experience
Nuestros amigos y vecinos no podian faltar, tantos momentos juntos a ellos y uno mas que añadir, todos los que siempre hemos compartido han de ser mas que un solo recuerdo, deben ser una gran experiencia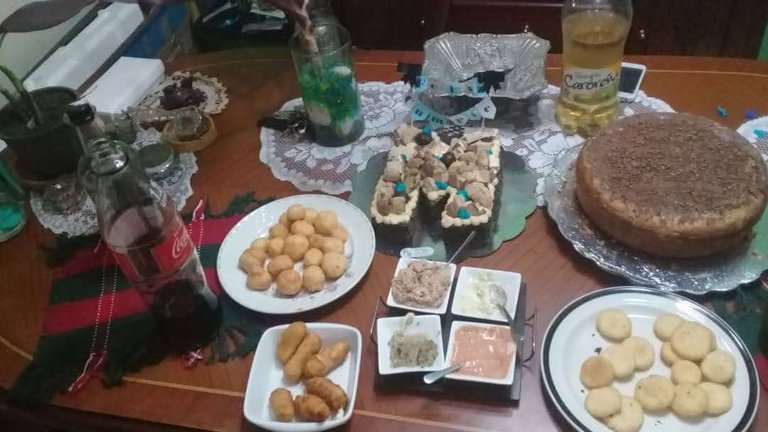 When it comes to sharing food it is varied no matter where we are, we share what we can. No one looks down on any food made with love, but they do know that it tastes great.
A la hora de compartir la comida es variada sin importar en donde estemos, compartimos lo que podemos. Nadie mira mal ninguna comida hecha con amor, mas si saben que tiene un gran sabor.
The games were just an excuse to have some alcohol
Los juegos fueron una simple excusa para tomar algo de alcohol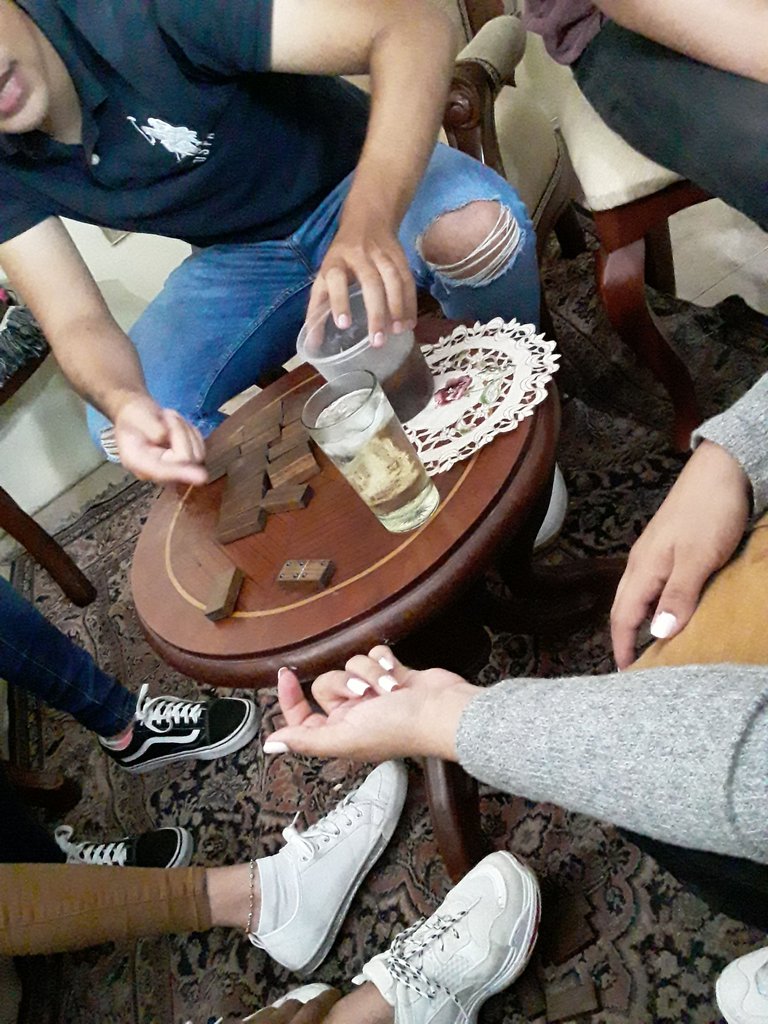 We could not miss a game for fun for a while, one that is very well known where I live and everyone plays ¨ trident ¨ where we will have to drink depending on the type of chip that is playing at the time of taking it out.
No podía faltar un juego para divertinos un rato, uno que se conoce mucho en donde vivo y todos juegan ¨ trident ¨ donde tendremos que beber dependiendo del tipo de ficha que vaya tocando a la hora de sacarla.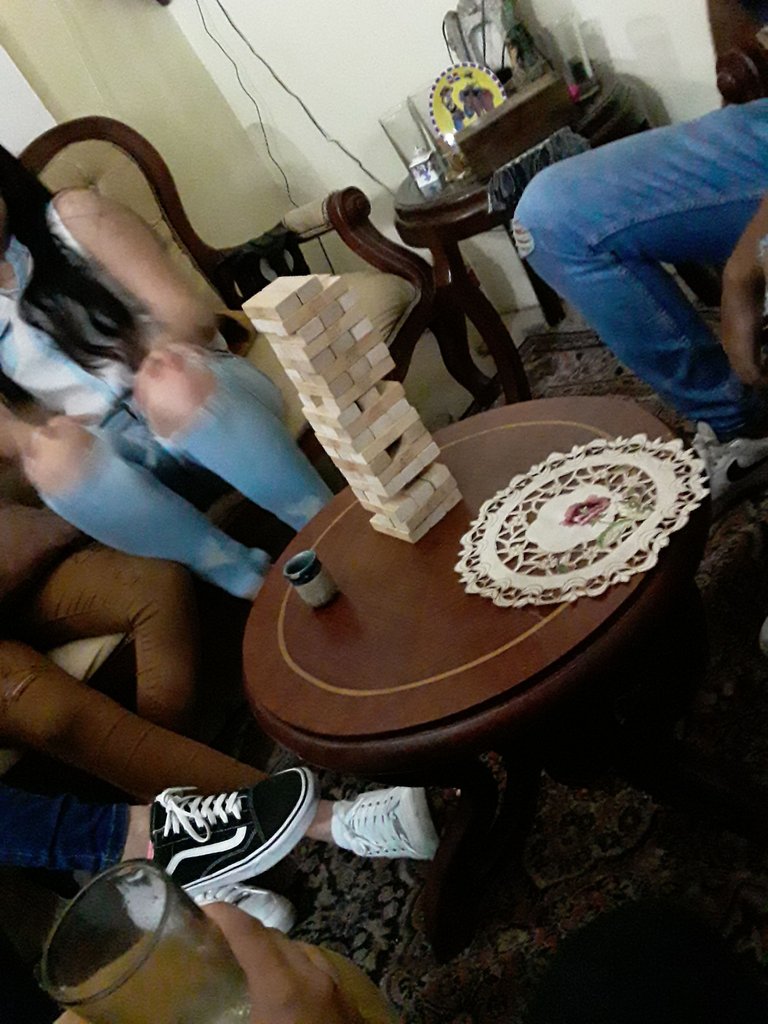 Something already more known by all, the jenga, although each time that we removed a piece of the same one, we took a shot of rum, really one of the amusing things is to see the face of who this removing the piece, seems that it was going to lose the life if it does not do it well, thing that is very amusing.
Algo ya mas conocido por todos, el jenga, aunque cada vez que sacabamos una pieza del mismo, tomabamos un shot de ron, de verdad una de las cosas mas divertidas es ver la cara de quien esta sacando la pieza, parece que fuera a perder la vida si no lo hace bien, cosa que es muy divertida.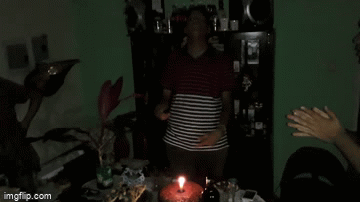 When it comes to singing birthdays, we Venezuelans have a slightly different song that is much longer than the better known version, it really is a poetry to sing it, it comes out so natural and with such great love that everyone does it without hesitation.
A la hora de cantar cumpleaños los Venezolanos tenemos una cancion un poco diferente que es mucho mas larga a la version mas conocida, de verdad es una poesia el cantarla, sale tan natural y con tan grande amor que todos lo hacen sin dudar.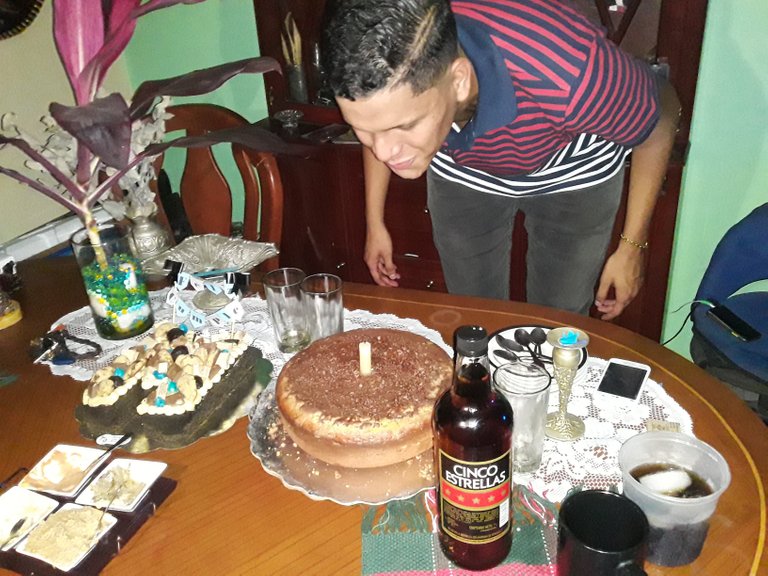 The picture that everyone wants to be taken at the time of the birthday, when you are blowing out the candle of the same, is something that many like and well I could not miss the opportunity to do it with my brother.
La foto que todos quieren que le tomen a la hora de el cumpleaños, cuando estas soplando la vela del mismo, es algo que a muchos le gusta y bueno yo no podia perder la oportunidad de hacerlo junto a mi hermano.
Singing birthdays wasn't the end of it all
El cantar cumpleaños no era el final de todo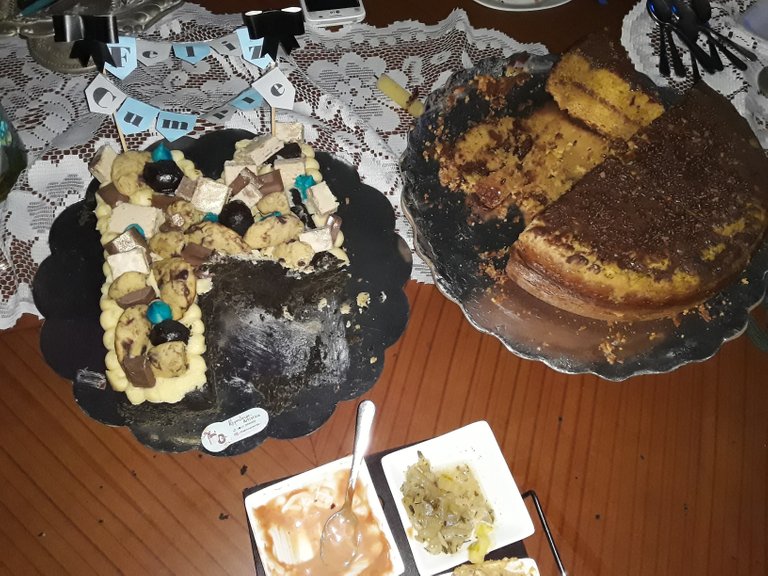 The cakes were delicious, there was no way to explain their good taste, or maybe more than that it was the great desire to eat a lot because of the alcohol, I'll never know but I enjoyed them both with pleasure.
Las tortas estuvieron deliciosas, no había forma de explicar su buen sabor, o tal vez mas que eso fueron las grandes ganas de comer mucho por culpa del alcohol, nunca lo sabre pero yo me las disfrute ambas con mucho gusto.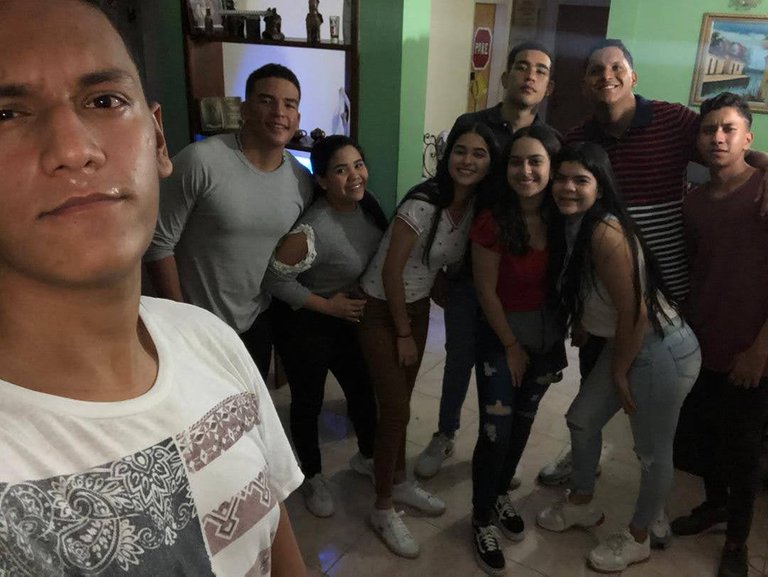 After all, we decided to take some group pictures, where is my specialty, whenever you ask for a picture where you want to go out all without any problem I will be there to take it, it's the best and I feel very comfortable doing it.
Luego de todo, decidimos tomar unas fotos grupales, donde esta mi especialidad, siempre que pidan una foto donde quieran salir todos sin ningun problema yo estare ahi para tomarla, es lo mejor y me siento muy comodo haciendolo.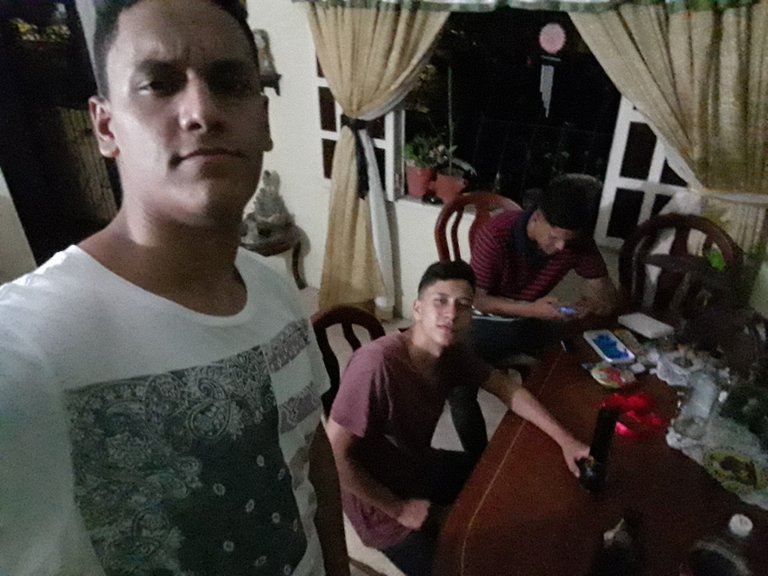 With everyone having already left our house, only our neighbor and we were left, we always ended up talking so much craziness until the early hours of the morning that the hours become minutes, I still wonder where we got so much to talk about that it seems that we knew each other from 0.
Ya con todos habiendose ido de nuestra casa, solo quedabamos nuestro vecino y nosotros, siempre terminamos hablando tantas locuras hasta altas horas de la mañana que se hacen minutos las horas, aun me sigo preguntando de donde sacamos tanto para hablar que parece que nos conocieramos cada vez desde 0.
At the end of the day, no matter what situation you are in, happiness is what you do, what gives you the pleasure of knowing that you are with your loved ones and my happiness is the pleasure of seeing you every day without any health problems. I hope you have enjoyed my publication, I wish you all a happy day and thank you for coming here
Al final del dia, sin importar la situacion que estes viviendo la felicidad es lo que tu haces, lo que te da el placer de saber que estas con tus seres queridos y mi felicidad tengo el placer de verla todos los dias sin ningun problema de salud. Espero hayan disfrutado de mi publicacion, les deseo un feliz dia a todos y gracias por llegar hasta acá