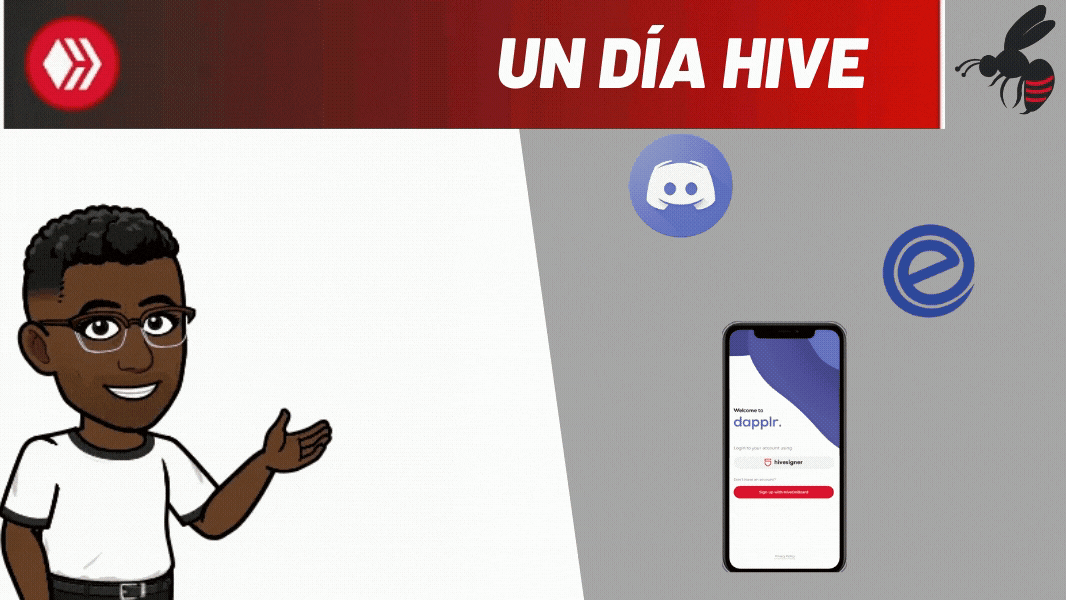 Saludos, Hivers, siento la imperiosa necesidad de compartir una serie de gratas experiencias que viví el día antes de ayer, martes, referentes al grandioso ecosistema de Hive. Así que, te invito a acompañarme porque, quién sabe, también podrían ser útiles para ti.
El día comenzó con la expectativa de cómo hacer para participar en la curaciones matutinas que se realizan en vivo en el servidor de Discord de @votovzla, ya que tenía que salir y no iba a poder estar en la computadora, donde normalmente me conectaba.
Fue la oportunidad para descargar la aplicación para celular de Discord, lo cual fue la solución no sólo para esta ocasión sino para las demás, ya que por este medio telefónico la experiencia en este programa de chat es más intuitiva y, por lo tanto, más agradable y práctica.
Además, me permitió dar a conocer mi voz ante mis hermanos venezolanos, ya que como tengo averiado el micrófono de mi computadora, en las actividades previas no lo había podido hacer.
Discord no forma parte de Hive pero muchas comunidades que aquí hacen vida usan sus servidores, por eso, te invito y animo a que descargues su aplicación (Puedes acceder aquí), como complemento de la experiencia desde el escritorio.
Greetings, Hivers, I feel the imperative need to share a series of pleasant experiences that I lived the day before yesterday, Tuesday, referring to the great ecosystem of Hive. So, I invite you to join me because, who knows, they might be useful for you too.
The day started with the expectation of how to participate in the morning healings that are done live on the @votovzla Discord server, since I had to go out and I wouldn't be able to be on the computer, where I normally connect.
It was the opportunity to download Discord's cell phone application, which was the solution not only for this occasion but for the others, since by this phone means the experience in this chat program is more intuitive and, therefore, more pleasant and practical.
In addition, it allowed me to make my voice known to my Venezuelan brothers, since I have a broken microphone on my computer, which in previous activities I had not been able to do.
Discord is not part of Hive but many communities that make life here use their servers, so I invite and encourage you to download their application (You can access here) as a complement to the experience from the desktop.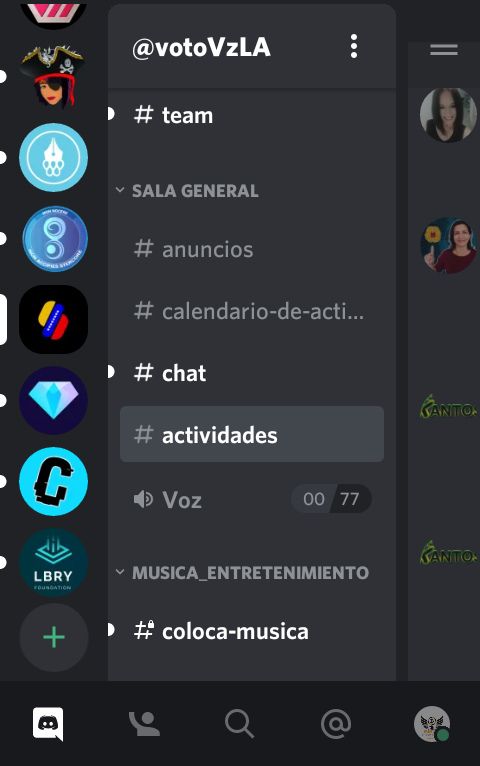 Screenshot of the Discord application


La segunda experiencia está muy unida a la anterior, ya que quería tener un acceso más cómodo al blockchain de Hive desde mi celular, ¿cómo hacerlo? Me dije. Investigué y me conseguí con dos fabulosas Dapp del ecosistema. Éstas son:
Ecency Antiguamente conocida como esteem, me permitió compartir la publicación en la curación matutina en vivo en la que estaba participando. Luego, en el transcurso de la misma a medida que cada participante exponía su post yo podía chequearlo al instante aquí y darle mi voto o dejarle un comentario.
Luego de terminada la actividad seguí indagando en la aplicación, encontrándome con que hace más práctico mi acercamiento a los post en la blockchain de Hive, lo cual me ayuda a su respectiva curación.
También puedo escribir un post desde ella y tengo la posibilidad de ganar puntos por usarla; puntos que posteriormente puede gastar en la plataforma para promocionar mis post o regalarlos a otro usuario para que lo haga. Interesante, ¿no?
La aplicación también tiene su versión para escritorios y realmente te la recomiendo como una alternativa más – pero muy práctica si estás mucho tiempo en tu celular – para hacer vida dentro de la gran familia Hive.
The second experience is very close to the previous one, since I wanted to have a more comfortable access to the Hive blockchain from my cell phone, how to do it? I said to myself. I researched and got myself two fabulous Dapp's of the ecosystem. These are:
Ecency Formerly known as esteem, it allowed me to share in the live morning healing I was participating in. Then, in the course of it as each participant exposed his post I could instantly check it out here and give him my vote or leave him a comment.
After the activity was over I continued to dig into the application, finding that it makes my approach to the posts on the Hive blockchain more practical, which helps me in their respective healing.
I can also write a post from it and I have the possibility of earning points for using it; points that I can later spend on the platform to promote my posts or give them away to another user to do so. Interesting, isn't it?
The application also has its desktop version and I really recommend it as one more alternative - but very practical if you spend a lot of time on your cell phone - to make life within the great Hive family.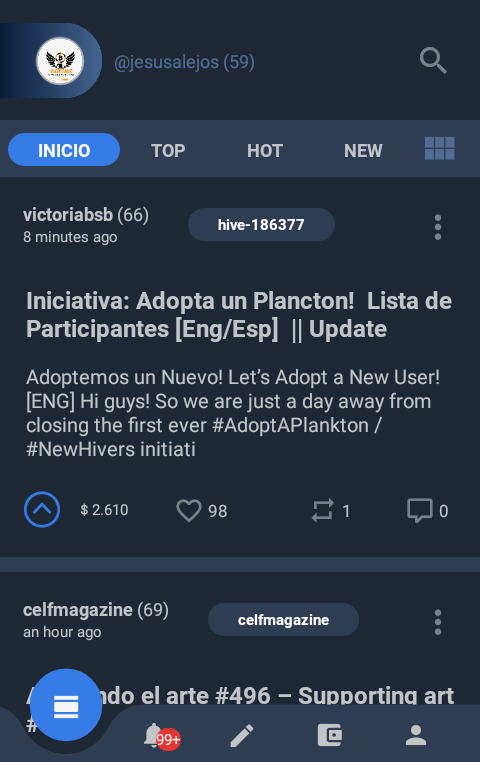 Screenshot of the Ecency application


Dapplr De esta segunda aplicación ya había escuchado hace unos días atrás porque está recién lanzada como prueba para los usuarios, por eso, no la pude descargar ya que tenía que llenar un formulario para que me liberaran el acceso a la misma. Ya lo hice, por lo cual pronto espero poder compartir mis experiencias al respecto.
No obstante, según mis investigaciones, es también otra excelente opción, sobre todo porque está enfocada en la parte del diseño (parecido a instagram), lo cual en el mundo de hoy donde las imágenes y su presentación ocupan el centro de interés, resulta una grandiosa oportunidad para que muchas personas tengan un acercamiento más amigable a la blockchain de Hive.
Dapplr I had already heard about this second application a few days ago because it was just released as a test for users, so I couldn't download it since I had to fill out a form to be released. I already did it, so I hope to share my experiences soon.
However, according to my research, it is also another excellent option, especially because it is focused on the design part (similar to instagram), which in today's world where images and their presentation are the center of interest, is a great opportunity for many people to have a more friendly approach to the Hive blockchain.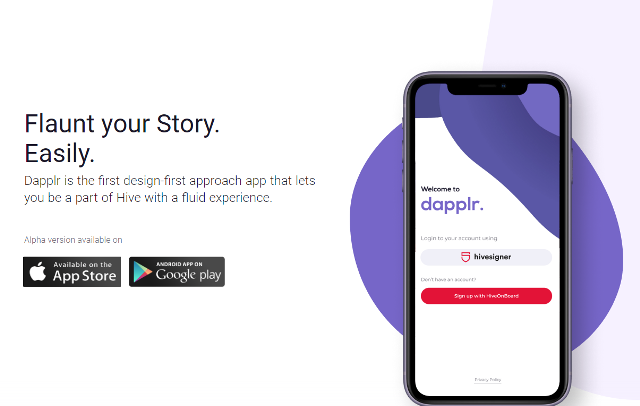 Screenshot of dapplr website


Para culminar, como titulé este post, mi día Hive, tuve un encuentro con unas personas que pronto van a ingresar a la plataforma y, como comprendo que en principio no es fácil desenvolverse en ella, les estuve dando una asesoría al respecto.
Fue una clase básica pero completa desde cómo suscribirse en la página - desde las múltiples aplicaciones que van surgiendo – hasta los elementos fundamentales para interactuar en ella: la importancia de las comunidades, el uso de las etiquetas, la criptomoneda Hive y cómo hacer una publicación.
Esta experiencia fue fundamental para mí ya que considero que es necesario dar a conocer siempre que tengamos ocasión no sólo los beneficios de estar dentro de la comunidad de Hive sino cómo empezar y crecer poco a poco en ella.
To finish, as I titled this post, my Hive day, I had a meeting with some people who will soon enter the platform and, as I understand that in principle it is not easy to develop in it, I was giving them advice about it.
It was a basic but complete class from how to subscribe in the page - from the multiple applications that are emerging - to the fundamental elements to interact in it: the importance of the communities, the use of the tags, the cryptocurrency Hive and how to make a publication.
This experience was fundamental for me since I consider that it is necessary to make known whenever we have the opportunity not only the benefits of being within the Hive community but also how to start and grow little by little in it.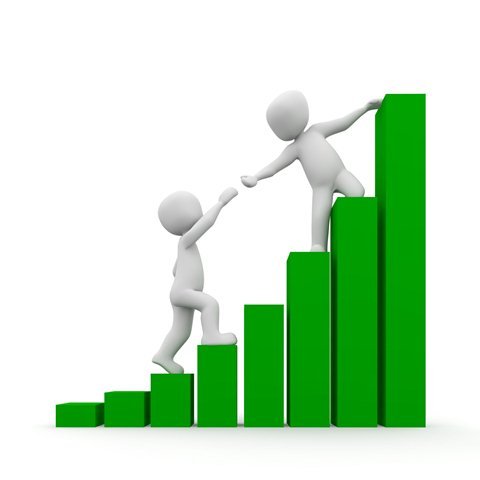 Imagen de Peggy und Marco Lachmann-Anke en Pixabay


Espero que estas experiencias hayan sido de tu agrado y que así como yo saqué grandes enseñanzas de ellas, tú puedas hacer lo mismo. Gracias por llegar hasta aquí y leerme. Hasta luego.
I hope that these experiences have been to your liking and that just as I drew great lessons from them, you can do the same. Thank you for coming here and reading to me. See you later.


---
---
Traducido con www.DeepL.com/Translator || Translated with www.DeepL.com/Translator
Translated with www.DeepL.com/Translator
Los emojis se hacen con Bitmoji.com || The emojis are made with Bitmoji.com
Todas las fotos son de mi propiedad, excepto las que se indican las fuentes || All the photos are my property, except for the ones showing the sources
Portada editada en Canva || Cover edited in Canva
---
Este Post será compartido en Twitter con hastags #hive y #posh para promover la iniciativa "Prueba de Compartir" de Hive y @ocd || This post will be shared in Twitter with hastags #hive and #posh to promote Hive and @ocd "Proof of Share" initiative.
---

---