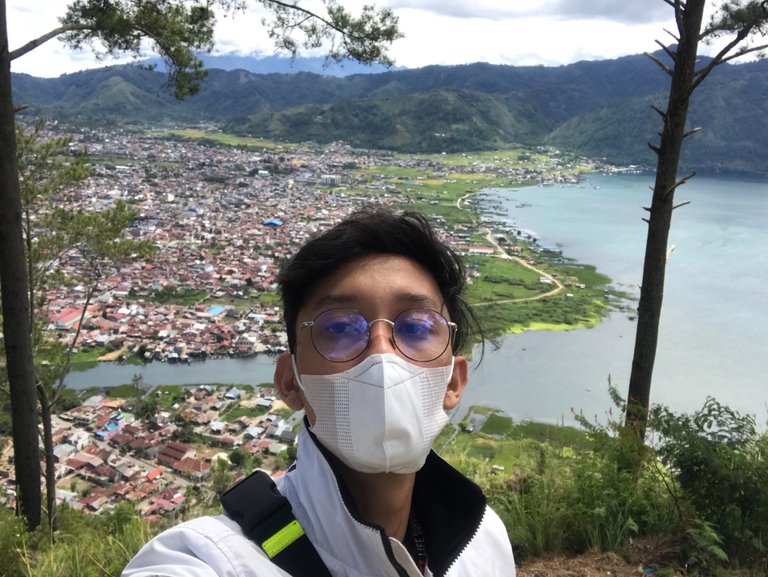 photo by me
Yoo hello my fellow hivers and the entire hive blockchain community. Come back again with me Jodi Pamungkas. Thank you for those of you who have supported my previous post part 5 regarding our journey to the Pantan Terong tourist spot. Happy Wednesday to all of you and I hope you are always healthy and kept away from the Corona virus. Today, my friends and I are planning to go to a tourist spot that is no less cool and has a really beautiful view. Before heading to that place, we went around the city of Takengon to look for the next lodging place and we did not find the place of worship. We immediately rushed to the tourist attractions Burtelege.
photo by me
Welcome to the tourist attractions of Burtelegee. This place is a tourist spot that is quite liked by people who visit Takengon. To get to this place is not too extreme. It's just that we have to pass a lot of uphill roads. You have to be careful and don't get sleepy. Prioritize safety first for those of you who are touring. Arriving at Burtelegee, all our trips paid off. Very beautiful view from the top of this place.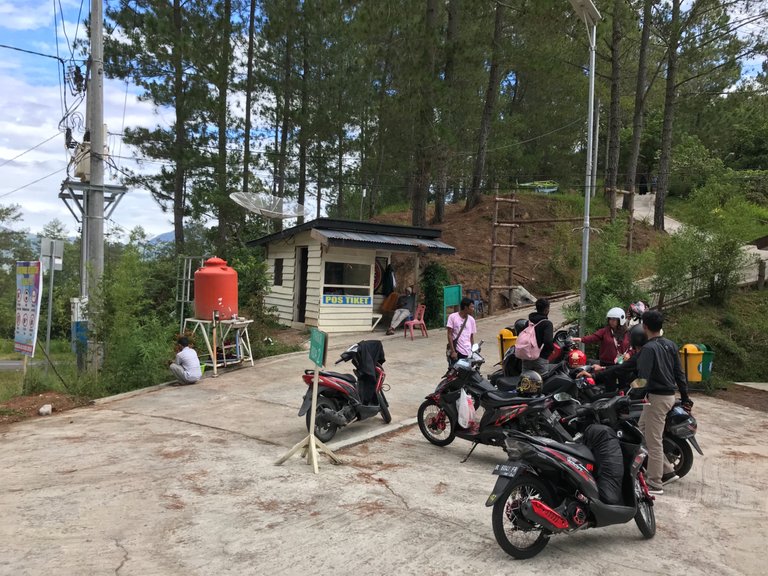 photo by me
Everyone looked very happy and excited. We immediately parked our motorbikes in the space provided by the parking attendant. To enter the Burtelegee tourist spot, we have to pay for motorbike parking around 0.5$ and we can only go up to the top of the place. Our motorbikes have been well taken care of and all valuable items must be brought. Now we are getting ready to walk up to the sights.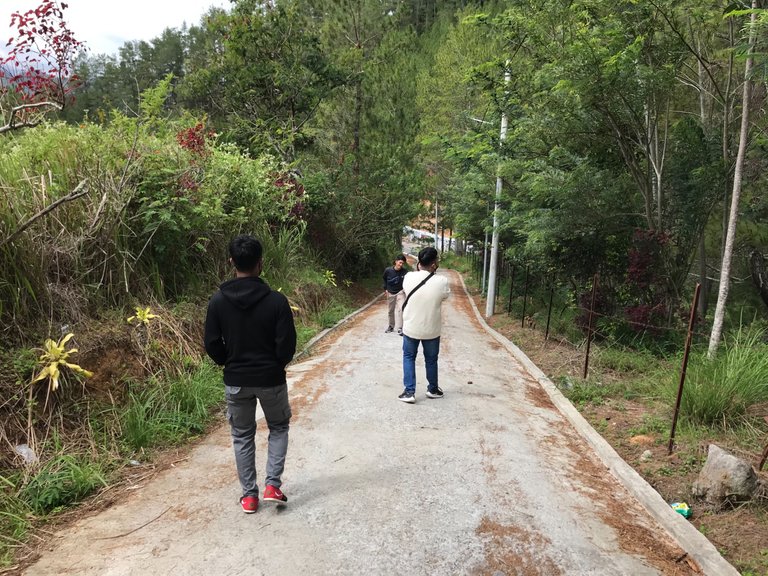 photo by me
we have to walk uphill about 500 meters. Every few meters there is a photo spot with a view of the fresh water lake of the city of Takengon. We are a little tired of the uphill road like this. Because our energy has been drained by the journey to this place. The hot weather with the air so cold made me dehydrated and my skin peeled off due to not being suitable for the weather in the city of Takengon. All this tiredness will pay off when we get to the top and enjoy the view of the city of Takengon from the height of Burtelegee.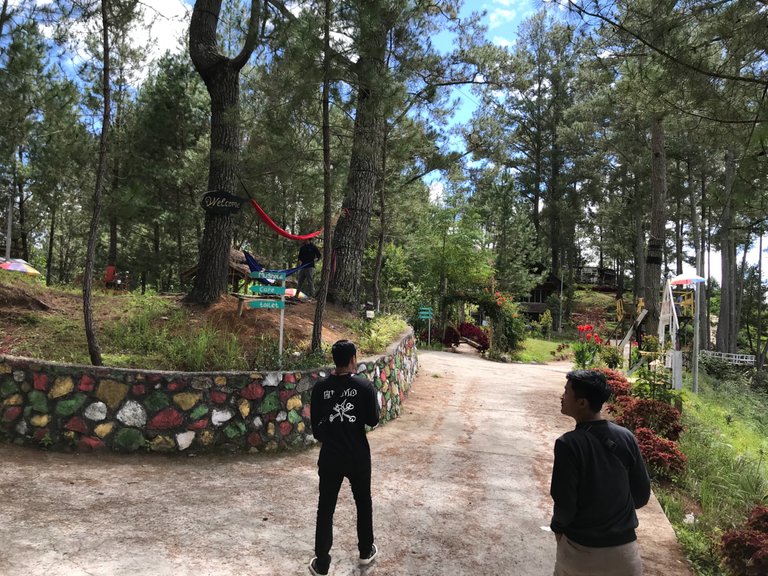 photo by me
Once we got there, we were confused by the various branching roads. Luckily there were several signs telling us the direction of each of these roads. In this place there are inns, restaurants, cafes and also a place to relax. Our goal is to find a photo spot with a view of the entire city of Takengon. Now we head up to reach the photo spot I mean.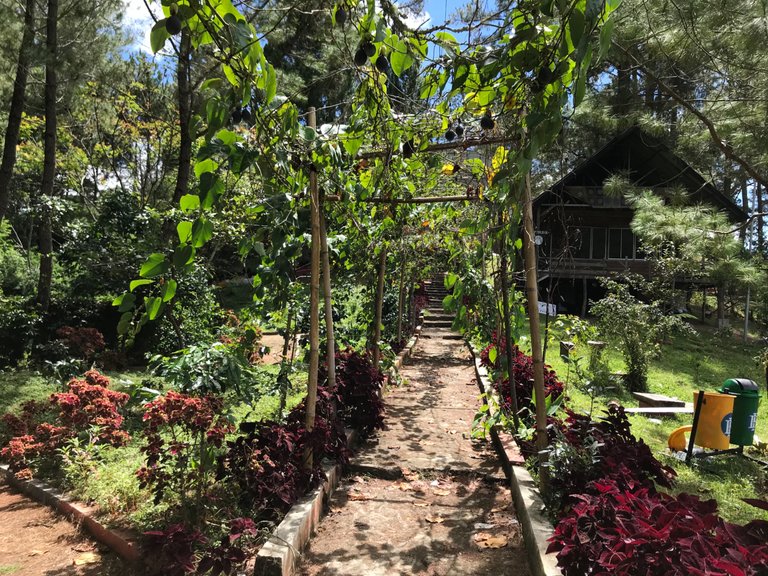 photo by me
There are so many shady trees that are so big, the flowers are arranged beautifully and everything looks so beautiful. The place is very clean and there is almost no trash lying around. Before we headed to the photo spot, I rested for a while in one of the places that had tree swings. Me and my friend Dafi went to the swing place and some of my friends bought mineral water.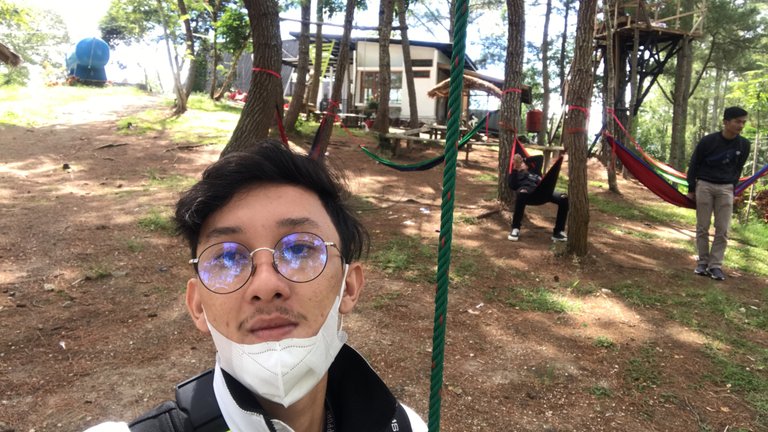 photo by me
Well, this resting place is different from before. We are very happy because this place is not so crowded. We can freely choose a swing and take a nap from the fatigue of today's journey. Me and my friend tried to take some really cool photos. The wind was blowing very hard which made my eyes drowsy and fell asleep. After a few minutes of closing my eyes, I went straight to the next photo spot.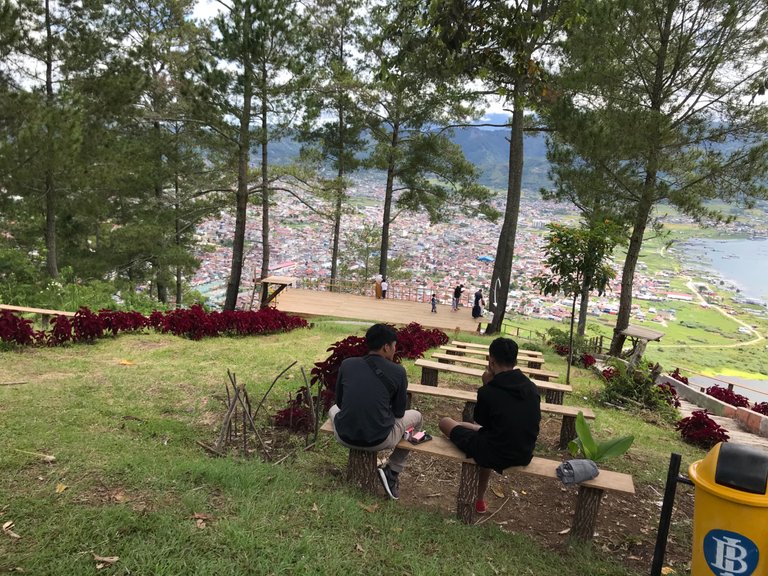 photo by me
In the end, it all paid off with a truly amazing view. There were quite a few people who had already reached here and were relaxing. We started to take some photos and relax together and took the initiative of the next lodging place for the second day. We have been relaxing in this place for a long time. It didn't feel like it was already noon and we had to go back to town to look for restaurants and lodging. Thank you for reading and stopping by my post today. Give your advice and support. See you in the next part.