The website said it is a comfortable family hike ... but you shouldn't leave the path 😎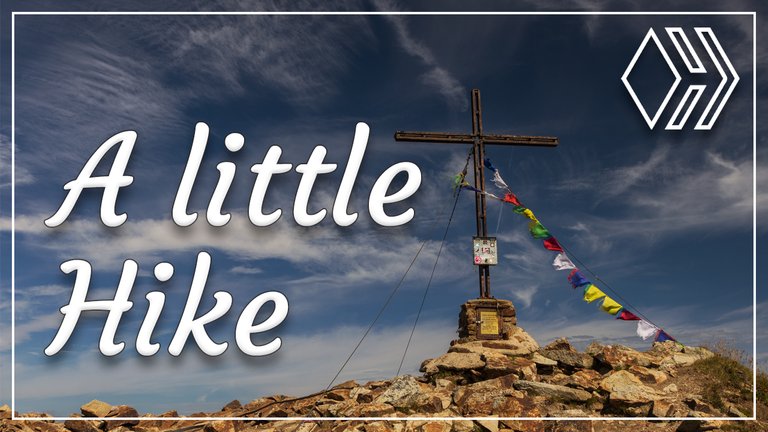 A comfortable family hike
Nock Mountains . Carinthia . Austria
Last week I have been off work and because the weather was great I was able to do a few trips on the motorbike. Of course, my camera was always with me, and in this post I want to tell you about one of my trips.

In this Pano you can see my starting point.
As mentioned in the beginning, the website said it is a quite comfortable hike for families from a place called Eisentalhöhe (2,042 m / 6,699 ft), which is the highest point of the Nockalm High Alpine Road to a mountain Peak called Großer Königstuhl (2,336 m / 7,664 ft). As you can see, there's not a lot difference in altitude from my starting point to the peak and they say it's a 2 hours hike (if you don't leave the path).
The Nockalm High Alpine Road is a beautiful road through the Nock Mountains here in Carinthia and it is a very well visited road during the tourist season. It is open only from about May to the end of October.
Especially motorbike and bicycle riders love the many curves up and down the mountains. That means on beautiful days you might meet hundreds of motorbikes and bicycle riders as well as literally thousands of other people there who enjoy the mountains and the other things that are offered along the road.
Motorbikes are not allowed on the road between 6pm and 8am because the area belongs to the UNESCO Biosphere Reserve in Carinthia. So I took this hike as a scouting trip only, because usually I start a hike very early to be on the peak before sunrise.
When I arrived at the Eisentalhöhe parking area at about 8:30, where they have lockers for helmets and other things you don't want to carry with you on a hike, there have already been about 6 cars, but they have been on the hike and I couldn't see anybody. This should change later ;)
Of course, as usual I didn't follow the normal path and hiked to a peak called Eisentalhöhe (2,180 m / 7152 ft) first. It wasn't much of a detour and after taking a few photos on this little peak I didn't use the path to hike down again, but went just straight down along a fence till I met the path again.
At the little lake Friesenhalssee I made a short break and hiked then straigth up the mountain, instead of using the comfy path that didn't go half as steep.
Later I was at the path again and went on it up to the peak - there was no other way.
Quite some other hikers have arrived in the meantime and the people, who have been at the parking space before I arrived, were already on their way back. So I haven't been alone anymore and on the peak it wasn't quiet at all, to say it nicely ;)
I didn't spend long on the top of the mountain, took just a few photos and headed back down again.
My next target was the Rosaninsee, a nicely shaped lake in a small valley below the mountain peak. This hike was additionally to the comfortable family hike, as well as the straight up hike I did later wasn't mentioned in the guides, of course.
The Rosaninsee is a small lake with some kind of marshland or better said very wet alpine meadow around ... and people were everywhere now, but luckily not where I was - nobody else was off the path :)
I took a rest a little above the lake and shot some photos. This place must be very nice at sunrise, I thought, maybe I'll come back one day by car and early enough for the sunrise.
After the short break I went along the left side of the lake, where's no path of course, and then I hiked straight up the slope to get to the other side of the Friesenhalssee where I had been a few hours ago.
Arriving at the top of the slope I saw the Friesenhalssee with quite a few people around, so I decided to walk on the hill far above them around the lake and then back to my starting point at the Eisentalhöhe.
The rest of the path was really nice to hike and much more like the promised comfortable family hike :)
About 5 hours after my start at the parking area Eisentalhöhe I came back and the place was full of cars, motorcycles and people, of course. I got my things from the locker and made my way further the road and back home what meant another 2.5 hours of riding nice curvy alpine roads.
You may believe me that although this hike wasn't a hard hike at all, I have been quite tired when I got home in the evening.
Well, that was one of my last week's trips. I hope I can find some time to make a post about the other trips too and I hope you have enjoyed my little hike.
---
Information
All photos were taken with the Canon EOS R and one of these lenses: Canon RF 24-105mm f/4 L IS USM, Canon EF 70-200mm f/4 L IS II USM, Canon EF 16-35mm 1:4 L IS USM, Canon EF 50mm 1:1.8 L STM, SIGMA 105mm 1:2,8 DG MACRO HSM, Sigma 100-400mm F5-6,3 DG OS HSM C.
If you are interested in the image data, I leave all EXIF and IPTC information stored in the pictures.
---
If you like my work I would appreciate an upvote, nice comment or maybe you want to share my post on your blog 😊 ... and maybe you would like to follow me, so that you never miss a post from me.
Thank you so much for visiting my blog
take care, stay safe and healthy,



Photos and Text: @johannpiber | Johann Piber | All rights reserved - do not use without my permission
> Have a look at my NFT's on the Foundation Plattform
> My Photos are listed at the OpenSea NFT Marketplace
>>> See my posts on my Pinmapple Profile Map <<<
>>> Not got a Hive account yet? Sign up free here! or here <<<
2021-08-21
[//]:# (!pinmapple 46.943597 lat 13.784684 long 20210821-koenigstuhl d3scr)
#hive5 from Austria 🖐️