| | |
| --- | --- |
| I called this post "Almost a moon landing" because these words came to my mind when I was watching and photographing this scene: the moon could now land on the mountain top ;) | Ich habe diesen Beitrag "Fast eine Mondlandung" genannt, weil mir das eingefallen ist, als ich diese Szene beobachtet und fotografiert habe: der Mond könnte jetzt auf dem Berggipfel landen ;) |
Pink Supermoon - April 8, 2020
Mittagskogel . Carinthia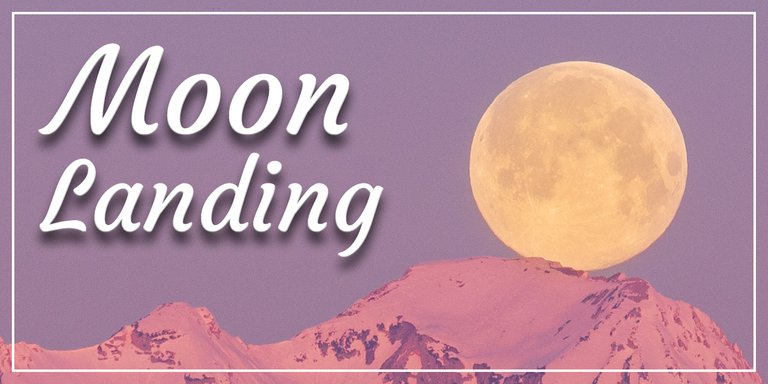 | | |
| --- | --- |
| In my last post I showed a few photos of the Supermoon from April 8, 2020 and a photo montage with a tree in front of the moon: Pink SuperMoon... | In meinem letzten Beitrag habe ich ein paar Fotos des Supermondes vom 8. April 2020 und eine Fotomontage mit Baum gezeigt: Pink SuperMoon... |

❖ please click the image for fullsize view ❖
Canon EOS R | EF 70-200mm f/4 L IS II USM
ISO 100 . f/4 . 1/160 sec . @200 mm
| | |
| --- | --- |
| Later on the way home I was able to watch a pink morning sky with the super moon over the Mittagskogel mountain ... and the moon apparently landed on the mountain for a short time before it disappeared behind it. | Später auf der Heimfahrt konnte ich dann noch einen rosa Morgenhimmel mit dem Supermond über dem Mittagskogel beobachten ... und der Mond ist scheinbar kurz auf dem Berg gelandet bevor er dann dahinter verschwunden ist. |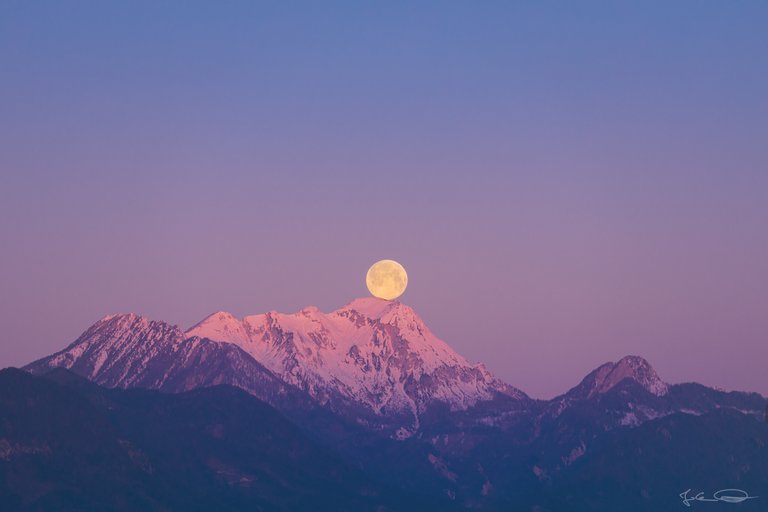 ❖ please click the image for fullsize view ❖
Canon EOS R | EF 70-200mm f/4 L IS II USM
ISO 400 . f/5.6 . 1/400 sec . @200 mm
Moon, so Round and Yellow
Moon, so round and yellow,
Looking from on high,
How I love to see you
Shining in the sky.
Oft and oft I wonder,
When I see you there,
How they get to light you,
Hanging in the air:

Where you go at morning,
When the night is past,
And the sun comes peeping
O'er the hills at last.
Sometime I will watch you
Slyly overhead,
When you think I'm sleeping
Snugly in my bed.

by Matthias Barr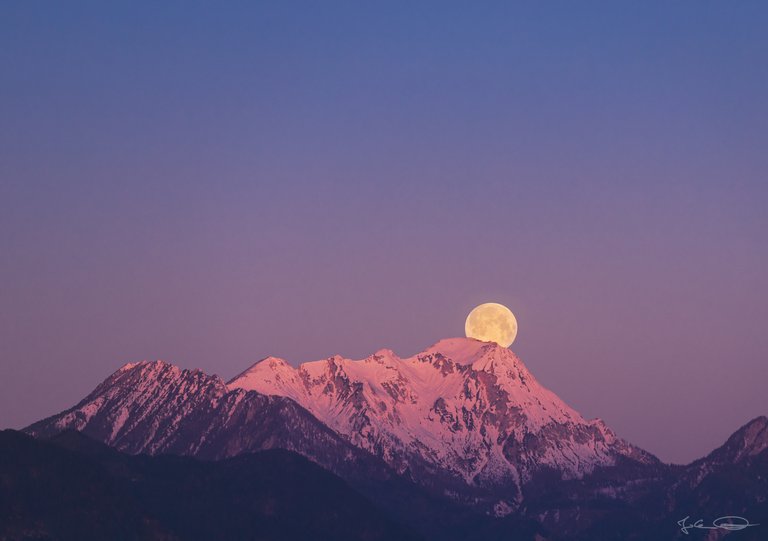 ❖ please click the image for fullsize view ❖
Canon EOS R | EF 70-200mm f/4 L IS II USM
ISO 400 . f/5.6 . 1/640 sec . @200 mm
| | |
| --- | --- |
| I was 17 and in the army when Maggie Reilly sang Mike Oldfield's song "Moonlight Shadow", and this is one of the few songs from my youth that I remember well to this day. | Ich war 17 und gerade beim Bundesheer, als Maggie Reilly das Lied "Moonlight Shadow" von Mike Oldfield gesungen hat, und es ist eines der wenigen Lieder aus meiner Jugend, die mir bis heute gut in Erinnerung geblieben sind. |
If the video does not play, here's the link to Youtube
Information
All photos were shot hand held with the Canon EOS R and the Canon EF 70-200mm f/4 L IS II USM lens. I shoot in RAW format and use Adobe Lightroom and Photoshop to edit the images.
I leave all EXIF and IPTC information stored in the pictures.
---
Stay at home, take care and stay healthy!
Bleibt zu Hause, passt auf und bleibt gesund!
---
If you like my photos I would appreciate an upvote, nice comment or maybe you want to share my post on your blog 😊 ... and maybe you would like to follow me, so that you never miss a post from me.
Thank you so much for visiting my blog,
have a wonderful weekend,



Photos and Text: Johann Piber | All rights reserved - do not use without my permission




2020-04-17
[//]:# (!pinmapple 46.545781 lat 14.251660 long 202004-Supermoon-Mittagskogel d3scr)