He vuelto!!! y aunque no haya vuelto del todo porque tengo algunas cosas que hacer durante la semana, quise hoy escribir un post ya que tengo este pequeño espacio de tiempo para compartir con nuestra linda comunidad de Hive.
hoy quisiera hablar de mis guitarras, y mostrarles la marca de cada una, la historia de cada una, entre otras cosas. No se preocupen no tengo muchas actualmente solo tengo 3 guitarras así que sin nada mas que añadir empecemos.
---
I'm back!!! and even if I'm not back at all because I have some things to do during the week, I wanted to write a post today since I have this little time to share with our beautiful community of Hive.
Today I would like to talk about my guitars, and show you the brand of each one, the history of each one, among other things. Don't worry I don't have many at the moment, I only have 3 guitars so without anything else to add let's start.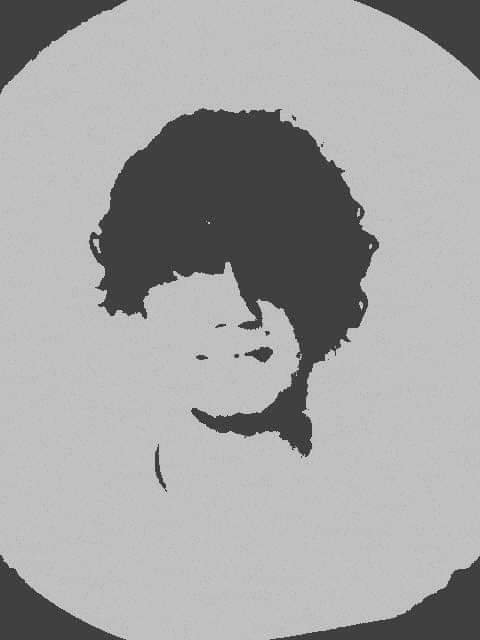 Primero hablemos de mi primer guitarra a la cual yo llamo "Kimberly"
Kimberly es una guitarra clásica de marca "Madrileña", una marca que proviene de Colombia. Fue un regalo de mi padrino de confirmación. Sus cuerdas de nailon fueron mi mejor compañía durante muchos años hasta que un día se la presté a uno de mis mejores amigos para que tuviera una manera de ganar dinero o entretenerse fuera del país ya que tenía que emigrar por la situación que vivimos actualmente, el no ha vuelto y por ende mi guitarra tampoco pero aun sigo extrañándola, y sigo esperando que algún día mi guitarra y mi amigo regresen.
La decidí llamar "Kimberly" por una chica que me gustaba mucho en mi niñez, y aunque duré mucho tiempo enamorado de esa mujer nunca fui correspondido. Aun así siempre había dicho que mi guitarra se llamaría como la primera mujer de la que me enamoré, y aunque no haya tenido un romance con ella o algo parecido, la bautice con el nombre de ella indiferentemente de todo lo que viví haya sido bueno o malo.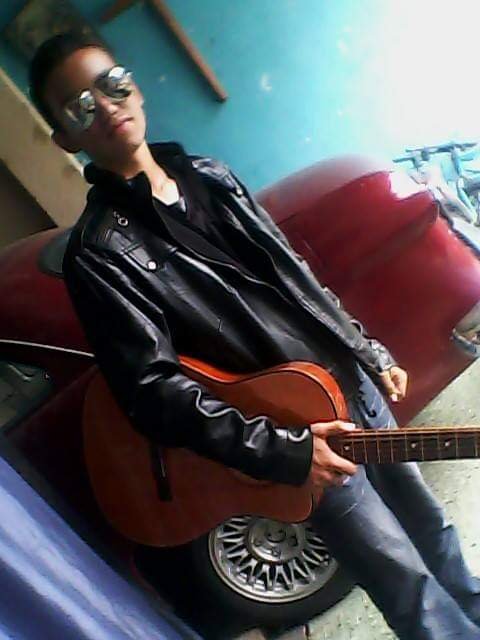 First let's talk about my first guitar which I call "Kimberly"
Kimberly is a classic guitar from "Madrileña", a brand that comes from Colombia. It was a gift from my confirmation sponsor. Its nylon strings were my best company for many years until one day I lent it to one of my best friends so that he could have a way to earn money or entertain himself outside the country since he had to emigrate because of the situation we are living now. He has not returned and therefore neither has my guitar but I still miss it and I still hope that someday my guitar and my friend will return.
I decided to call her "Kimberly" after a girl I liked very much in my childhood, and although I lasted a long time in love with that woman I was never reciprocated. Even so I had always said that my guitar would be named after the first woman I fell in love with, and even though I didn't have an affair with her or anything like that, I named it after her regardless of everything I lived through, whether it was good or bad.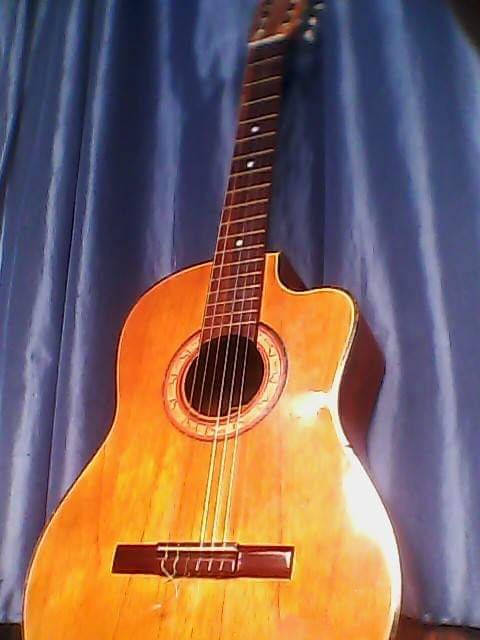 Pasemos a mi segunda guitarra, mi guitarra acústica llamada "Daniela"
Daniela fue un regalo de mi padre y de mi madre al ver que de verdad quería adentrarme en el mundo de la música y profundizarme con las guitarras. La compramos en la ciudad de San Cristóbal y es de marca "Fretmaster". la marca no es de las mejores pero aun así me gustó mucho su sonido y aún la tengo, les mostraría una foto actual pero ahorita no está en las mejores condiciones. se ha venido desgastando un poco y tengo que comprarle piezas nuevas.
El nombre viene de una chica que me enamoré profundamente en mi adolescencia por unos 3 años. tuvimos encuentros que para mí fueron mágicos pero nunca ocurría nada por ciertos miedos y situaciones que fui superando. Aun seguimos escribiéndonos y somos muy buenos amigos, ella está fuera del país y curiosamente es hermana de mi amigo que mencioné anteriormente xD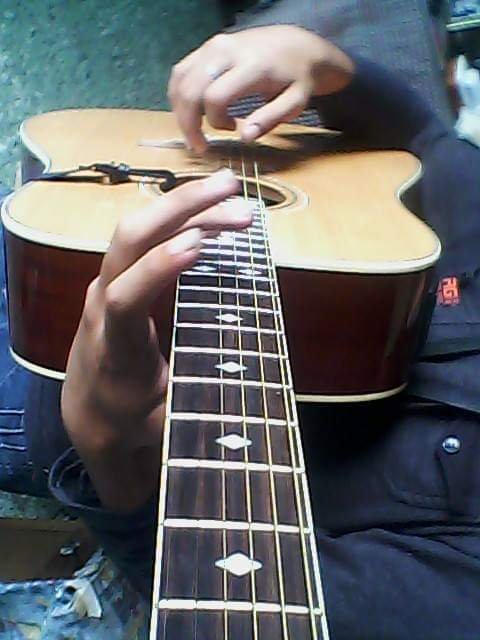 Let's move on to my second guitar, my acoustic guitar called "Daniela"
Daniela was a gift from my father and mother when they saw that I really wanted to get into the world of music and go deeper into it with the guitars. We bought it in the city of San Cristobal and it is a "Fretmaster" brand. The brand is not one of the best but I still liked its sound and I still have it, I would show you a current picture but right now it is not in the best condition. It has been wearing out a little and I have to buy new pieces.
The name comes from a girl that I fell in love deeply in my adolescence for about 3 years. We had encounters that for me were magical but nothing ever happened because of certain fears and situations that I was overcoming. We still keep writing to each other and we are very good friends, she is out of the country and curiously she is the sister of my friend that I mentioned before xD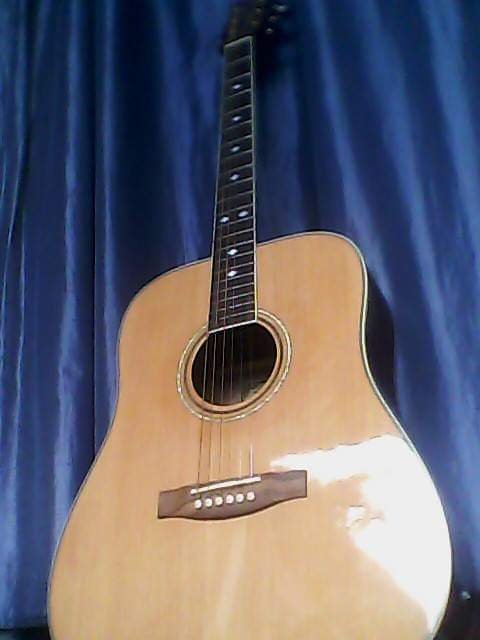 Y ahora pasemos a mi favorita de todas mis guitarras... mi guitarra eléctrica
a diferencia de mis guitarras anteriores esta no tiene nombre y no porque no me haya vuelto a enamorar o algo así xD
si no que quisiera que el nombre de esta guitarra sea mas especial...
mi guitarra eléctrica la obtuve cuando me gradúe de bachillerato y fue un regalo de mis padres, es de marca Washburn y su modelo es Rx22. Como había mencionado antes ellos me habían dicho que escogiera entre una guitarra eléctrica y un teléfono de ultima generación pero yo a pesar de que necesitaba un teléfono dije: "algún día tendré mi teléfono inteligente, todos tienen un teléfono pero pocos tienen su pasión a la mano" así que con todo el dolor de adolescente dije que quería mi guitarra eléctrica y así fue. Hoy en día no me arrepiento de mi decisión y gracias a eso he mejorado increíblemente en mi instrumento. Con el tiempo ahorré y compré un pedal de efectos y con eso me defiendo actualmente.
Uno de mis grandes sueños es poder tener una familia y tener una hija, quisiera que mi guitarra eléctrica tenga el nombre de mi primera niña y así siempre recordarla cada vez que no esté con ella y tenga mi guitarra a mi lado.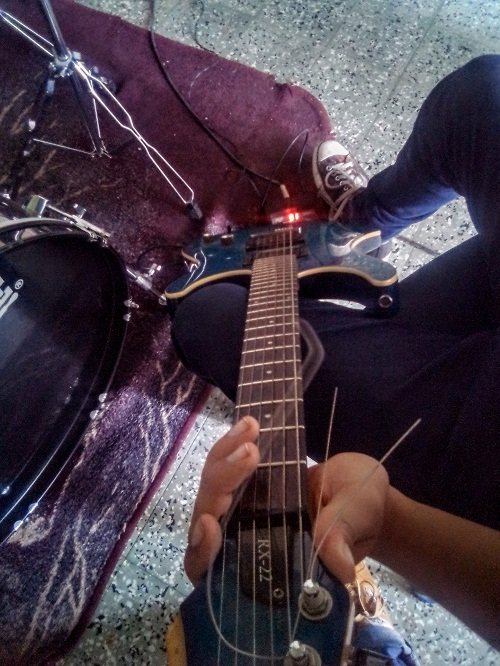 And now to my favorite of all my guitars... my electric guitar
unlike my previous guitars this one doesn't have a name and not because I haven't fallen in love again or anything like that xD
but I would like the name of this guitar to be more special...
I got my electric guitar when I graduated from high school and it was a gift from my parents, it's a Washburn brand and its model is Rx22. As I had mentioned before they had told me to choose between an electric guitar and a last generation phone but I even though I needed a phone I said: "someday I will have my smart phone, everybody has a phone but few have their passion at hand" so with all the pain of a teenager I said I wanted my electric guitar and that's how it was. Today I don't regret my decision and thanks to that I have improved incredibly in my instrument. With time I saved and bought an effects pedal and with that I defend myself nowadays.
One of my big dreams is to have a family and to have a daughter, I would like my electric guitar to have the name of my first girl so I can always remember her every time I'm not with her and have my guitar by my side.
Disculpen si utilicé algunas fotos viejas de mis guitarras acústicas, es que no tenía mas... sin embargo todas son tomadas y editadas por mí y mi novia. muchas gracias por leer y nos veremos en un próximo post.
---
Sorry if I used some old pictures of my acoustic guitars, I didn't have more... however they are all taken and edited by me and my girlfriend. Thanks a lot for reading and we'll see you in a next post.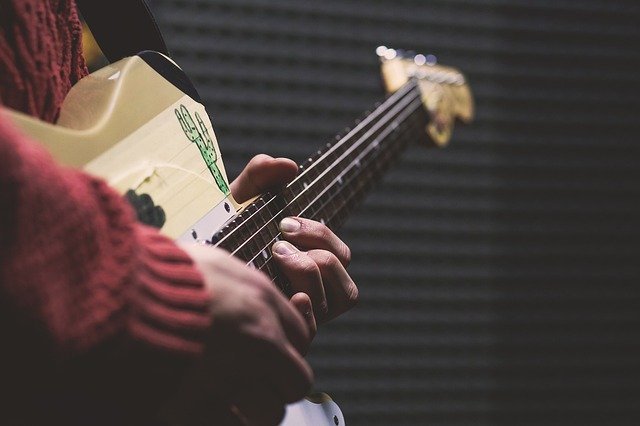 Fuente - Source
Redes/Networks:
Redes de mi banda/My band's networks:
Traducido con DeepL (versión gratuita)
Translated with DeepL (free version)