This is my entry for #thaiphotocontest110 on sky photography hosted by @thaiteam. Sometimes by the time I could get out for my walk along the river was rather late and I had missed the sunset. But Mother Nature did make sure that I would have lovely sky for my photography. So, I was quite surprised to see special light show on the limitless sky. The air became cooler and the atmosphere was very quietly reserved. I had to walk softly as I was afraid of disturbing the sleepy river ready for her slumber.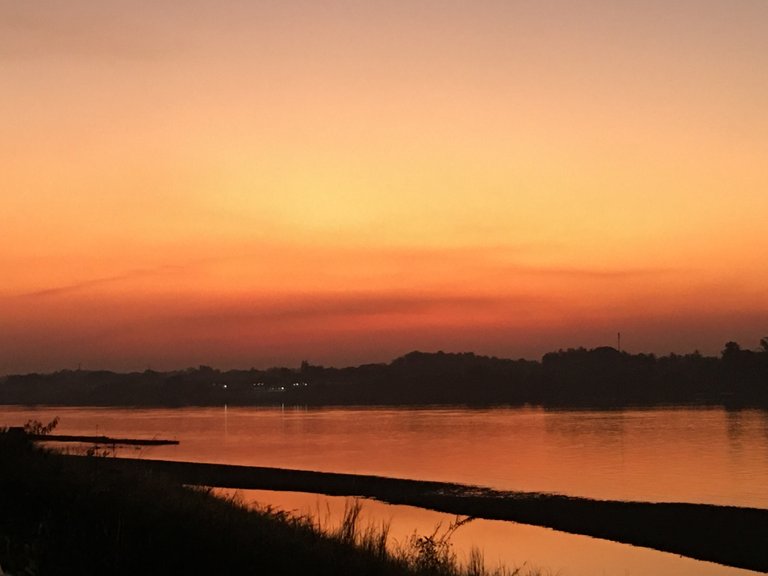 It was nice to be walking quietly alone by the river during the evening. It was like having a private audience with the guardian spirit of the river and the land. So many invisible spirits and beings were gathering by the river for their procession through a secret portal in the river to meet up in the sacred hall in the underground cave for a chanting ceremony. That's probably why I could hear traditional Thai musical instruments floating by the river once or twice. I thought I was just having a day dream but the atmosphere was so thick and crowded with waiting 'people'. I tried not to intrude into their private space and I quickly walked to the farmhouse.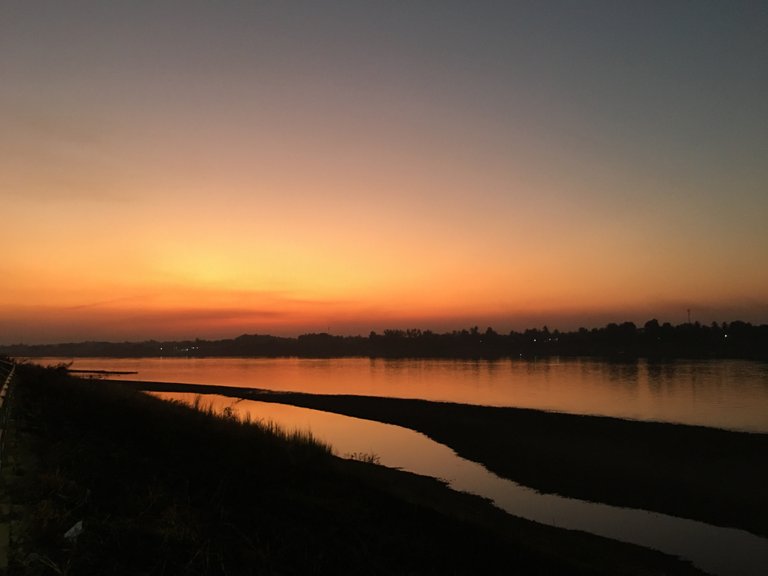 There's something special about this stretch of the long river. Old villagers told me that their ancestors used to find gold nuggets in the river. The tiny gold dusts or pebbles came all the way from mountains in Laos. Old trays for prospecting gold could still be found in some villagers' houses. Some old villagers used to see Naga and bright fireballs rising from the river when they were children. I had a dream about the underground cave and city of Nagas several years ago. So, this river still maintained her secrets and mysterious vibes which attracted my attention and curiosity. One day, I would hire a fishing boat to have a trip along this river.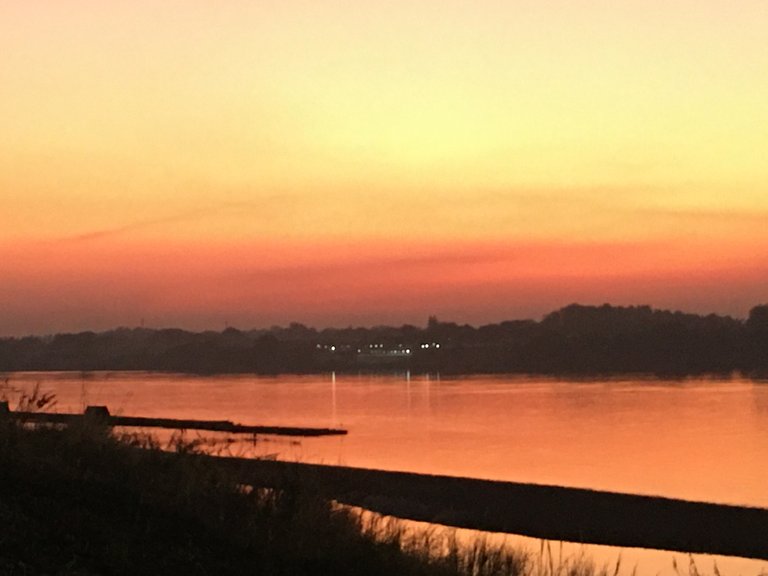 Several years ago, after studying Dr. Steven Greer' s instructions on how to meditate and get in touch with UFOs, I proceeded to put theories into practice. Nothing seemed to happen for two weeks and I thought I didn't manage to get it right. But two weeks later, I was followed by a long silver stick looking craft floating high up in the sky. The following day, I was followed by two silver balls in the sky. But nothing unusual happened, no passengers came down on the ground which was quite disappointing.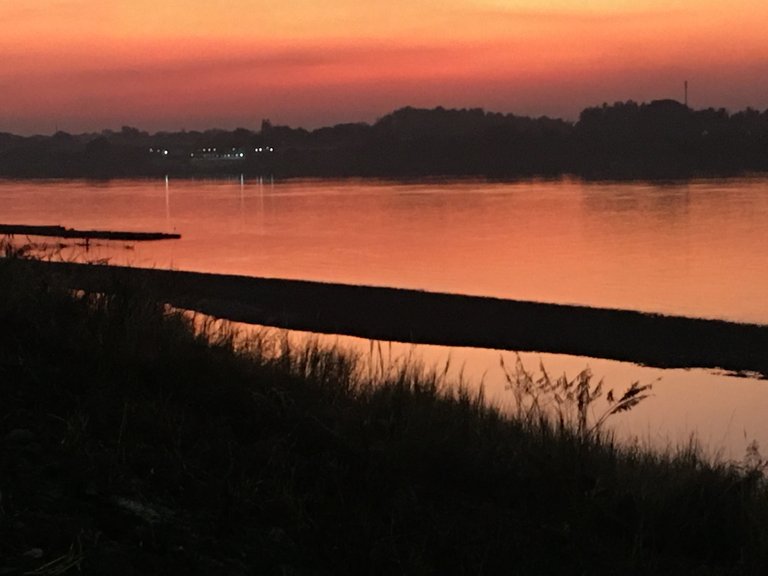 Then one night while I was walking in the garden, I heard a voice asking me whether I really wanted to meet them. I thought for a while and replied that there was no point in meeting them at the moment as I had nothing worthwhile to discuss with them. I didn't want to waste their time and make them disappointed with silly earthling. These people came from super advanced dimension so I felt undeserving in their presence. I would have to become highly spiritual and pure minded to be able to communicate with these higher vibration beings.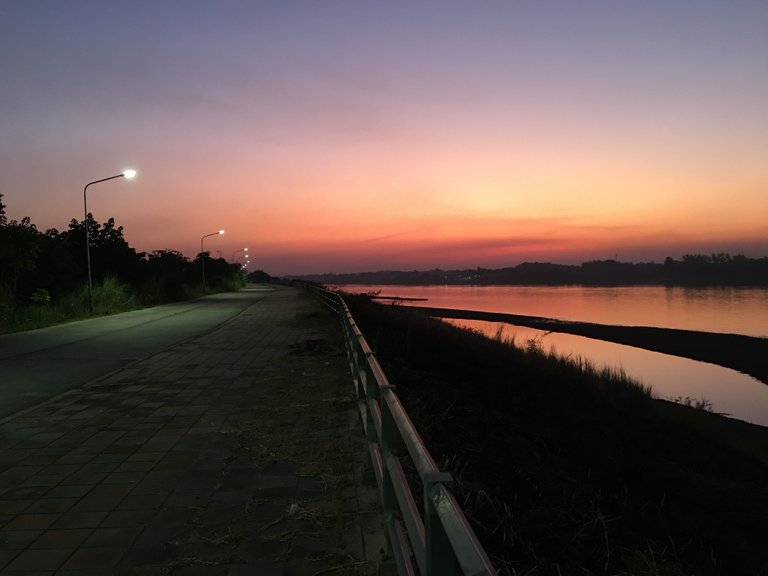 I always wanted to meet some of these visitors from far away galaxies one day, but I wouldn't expect them to condescend to my earthly level. Several days ago, I did my walking meditation and prayer as usual. I was asking the sky for some urgent help with the dire situation around the world due to the plandemics of bioweapons. The following night as I was about to do my walking meditation, I noticed a big lantern floating in the sky. It seemed the candle was burning very brightly in red colour, the flame was unusually strong and the lantern was heading towards my garden. I was afraid of the lantern falling on the roof or tree top which could cause a small fire. So, I was waiting for the lantern to drop to the ground as the candle should soon be burnt out. To my surprise, the lantern turned into a bright red ball vibrating and spinning with wings or plasma shaped like two wings.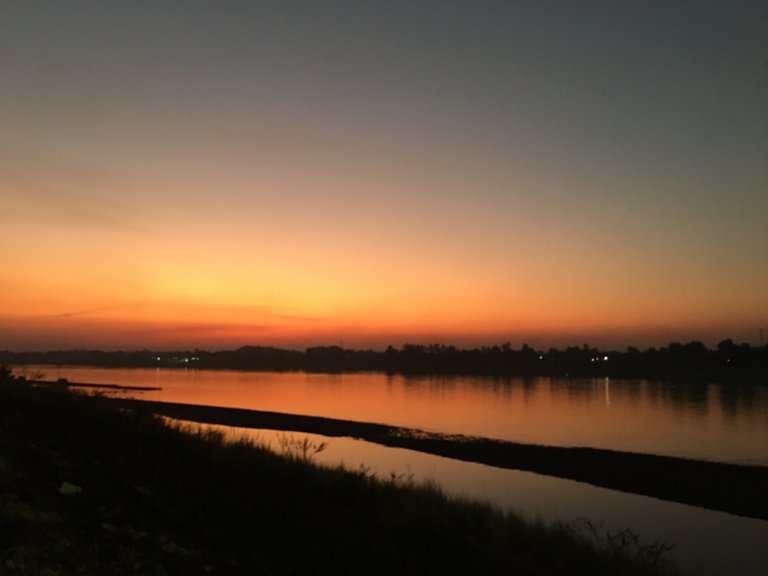 This red spinning ball just hovered above my garden without moving for a few minutes. Then, I realised that someone had responded to my yesterday's prayer to help saving the world. I stood still and meditated while thanking them for responding so fast to my call for help. I closed my eyes in meditation for three minutes, the red ball or orb was still hovering high above. The two orange cats ran from the house to sit by my feet. They could feel some special energy from the red orb, they were quite excited and gave out soft crying sounds. The red orb moved around a bit then went vertical slowly for a few seconds, then it just went straight up into the sky and disappeared into the dark universe. They traveled in straight line up to the sky in a second! I felt something did happen to my energy field. A sense of hope and healing energy went through my mind. There was a new lightness in my heart, the heavy burden in my mind seemed to have disappeared. But the impact on my mind and feeling would take some time to be manifested later on. I am just beginning to notice changes from within my psyche on a daily basis; my reactions and moods seemed to become more dynamic and fluid which was very beneficial for my well being.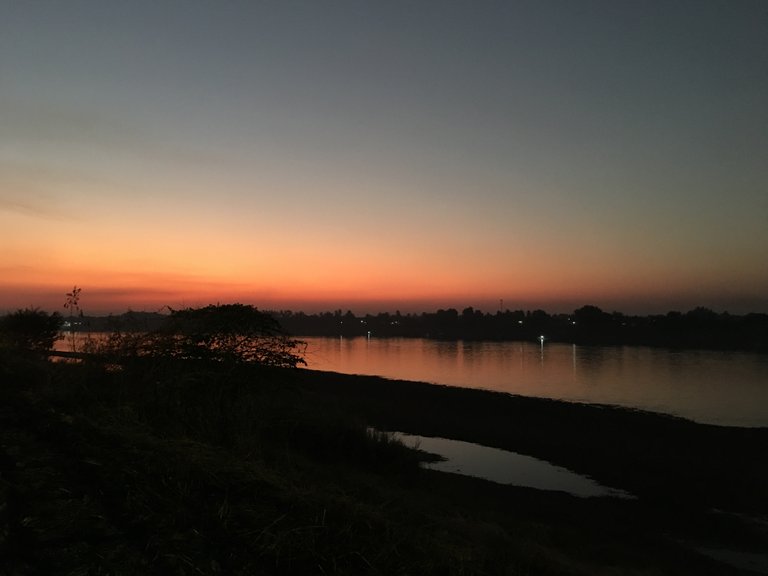 บางวันเรายุ่งมากจน เกือบลืมไปเดินเที่ยวเล่นริมแมนํ้าโขง กว่าจะได้ออกไปเดินเล่น พระอาทิตย์ตกดินไปเรียบร้อยแล้ว แต่ธรรมชาติก็ใจดี ส่องแสงสีสวยงามบนท้องฟ้าให้เราดูเล่น และถ่ายรูปด้วย เราชอบมากที่ได้ไปเดินเล่นตอนที่ไม่มีคนอยู่ริมแม่น้ำ เราเหมือนได้อยู่ตามลำพังกับธรรมชาติ และสิ่งที่มองไม่เห็น เราคิดจินตนาการไปว่า มีคนมากมายกำลังยืนคอยเวลาที่จะเดิน ผ่านประตูเวลาลงไปสู่เมืองบาดาลใต้แม่น้ำ เพื่อไปรวมตัวกันในท้องพระโรงใต้น้ำ พวกเขาจะมีการสวดมนต์ทำพิธีทางศาสนาบางอย่างทุกเดือน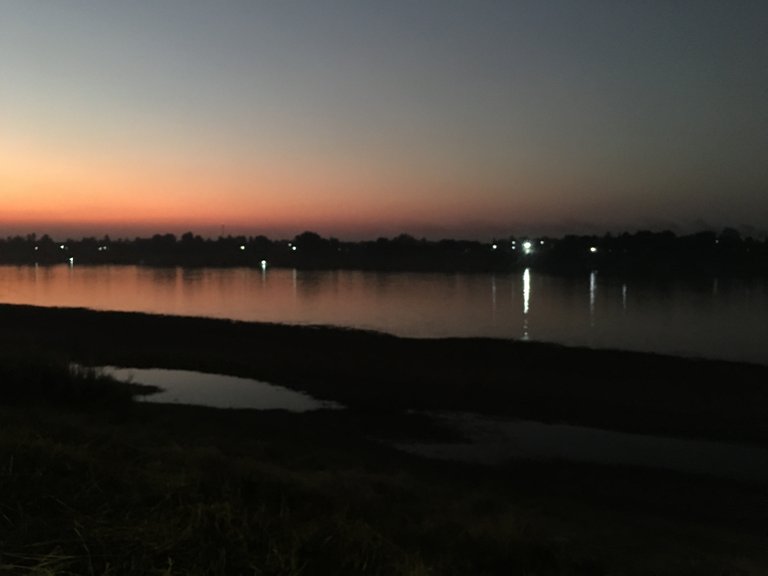 เรารู้สึกได้ว่าที่ริมแม่น้ำแห่งนี้ มีอะไรพิเศษบางอย่าง ชาวบ้านเก่าแก่บอกเราว่า สมัยก่อนคนจะมาร่อนหาทองคำในแม่น้ำ และตอนสมัยเขาเป็นเด็ก เขาก็เห็นลูกไฟพญานาคขึ้นมาจากแม่น้ำโขงบ่อยๆ เราเองก็ได้แต่ฝันเรื่องพญานาค แต่ไม่เคยเจอของจริงแบบกลางวันแสกๆ แต่เราเคยเห็นยานของมนุษย์ต่างดาวในท้องฟ้าสองสามครั้งแล้ว หลายปีก่อนเราเห็นแท่งโลหะสีเงินยาวมาก ลอยอยู่บนท้องฟ้า เราก็คิดว่าทำไมยานของเขามีรูปร่างยาวเหมือนบุหรี่เลย วันต่อมาเราก็เห็นลูกบอลสีเงินสองลูก ลอยอยู่บนท้องฟ้า และลอยตามเราไปมาพักใหญ่ เราก็ได้แต่สงสัยว่าพวกเขามีหน้าตาเป็นอย่างไรกัน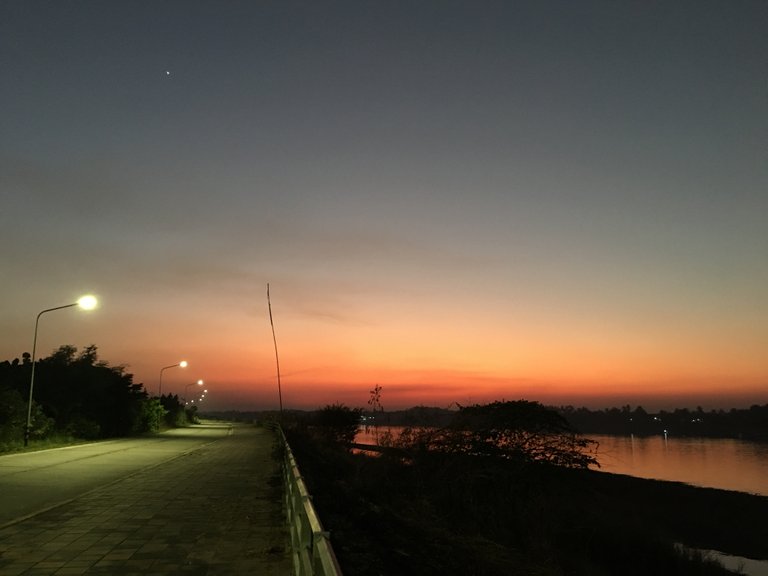 สัปดาห์มี่ผ่านมาเราเดินทำสมาธิ และสวดมนต์ที่ทางเดืนหน้าบ้าน เราก็ส่งกระแสจิตบอกให้มนุษย์ต่างดาวมาช่วยพวกเราด้วย เพราะว่าตอนนี้มนุษย์กำลังทำลายล้างพวกเดียวกันและโลกใบนี้ วันต่อมาเรากำลังจะเดินทำสมาธิ เราก็เห็นเหมือนโคมใบใหญ่สีแดงเข้ม ลอยมาจากฝั่งลาว เราก็สงสัยว่ามีคนจุดโคมเล่นริมแม่น้ำ แต่มีอยู่ใบเดียวเอง. เราก็คอยดูว่าโคมจะดับ หรือบินมาตกที่ไหนในบ้าน เราจะได้คอยดับไฟไม่ให้เป็นอันตราย เราเฝ้าอยู่สักพักก็รู้ว่า เป็นยานพาหนะของมนุษย์ต่างดาว เขามาถึงเร็วมาก เราดีใจมากที่เขาตอบคำขอร้องของเราเร็วมาก. เขาคงสงสารเราจึงมาช่วยให้กำลังใจเรา เราก็ยืนทำสมาธิและขอบคุณเขา. แมวสองตัวก็วิ่งมานั่งอยู่ปลายเท้า สักพักลูกบอลสีแดงนี้ก็พุ่งขึ้นไปในท้องฟ้าเป็นเส้นตรง แล้วหายไปในจักรวาลนั่นเอง. เราหวังว่าพลังพิเศษที่ดีนี้ จะช่วยทำให้สถานการณ์ที่ย่ำแย่เรื่องไวรัส จะหายไปโดยเร็ว และช่วยให้ความหวังว่าทุกอย่างจะค่อยๆดีขึ้นเรื่อยๆ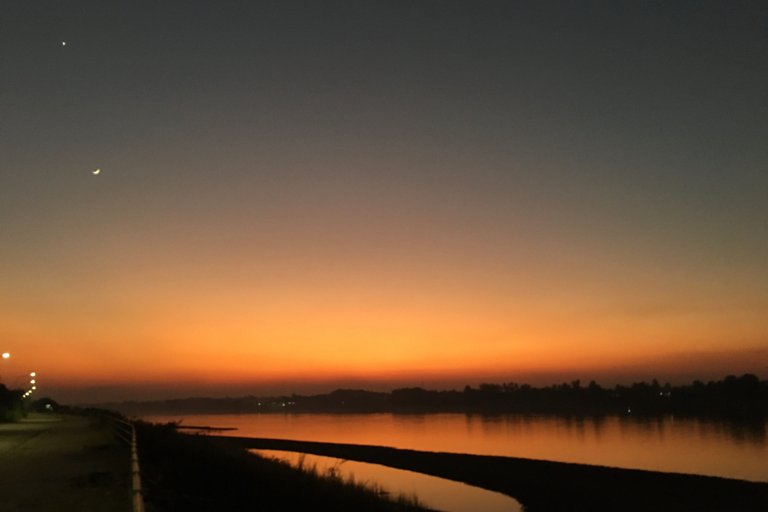 Wishing you peace, good health and prosperity.
Stay strong and cheerful.