Good morning friends of hive!!!! I hope you are well today, as I said in my previous post, today I come to tell you a mini story time of an event that happened on Monday 01/08/2022 , regarding my orchestral family my musical family as you prefer to call, having said that and introducing ourselves, let's start with the tour.
¡¡Muy buenos días amigos de hive!! Espero se encuentren bien el día de hoy, como dije en mi publicación anterior, hoy les vengo a relatar un mini story time de un evento ocurrido el día lunes 01/08/2022 , con respecto a mi familia orquestal mi familia musical como prefieran llamar, dicho esto y presentándonos, comencemos con el tour.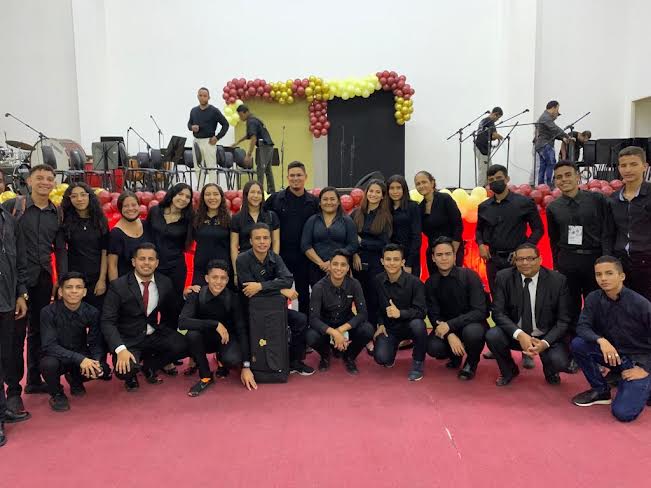 First of all I start explaining the theme of the event, it was assigned for the day 01/08/2022 because that day was the anniversary of the National Guard of Venezuela, so the event would be held that day at night and could not be filmed.
We agreed even when we had already officially left on vacation in the orchestra, that is, having completed the period 2021-2022 on 30/07/2022 with a nice concert in our musical headquarters, even so we agreed without problems to play as the main event on the anniversary of the Guard as professional musicians that we are.
Primero que nada comienzo explicando el tema del evento, fue asignado para el día 01/08/2022 ya que ese día cumplía aniversario la Guardia Nacional de Venezuela, por lo que el evento se realizaría ese día por la noche y no se podía rodar.
Nosotros accedimos aun cuando ya habíamos salido oficialmente de vacaciones en la orquesta, es decir, haber culminado el periodo 2021-2022 el día 30/07/2022 con un lindo concierto en nuestra sede musical, aun así accedimos sin problemas tocar como evento principal en el aniversario de la Guardia como músicos profesionales que somos.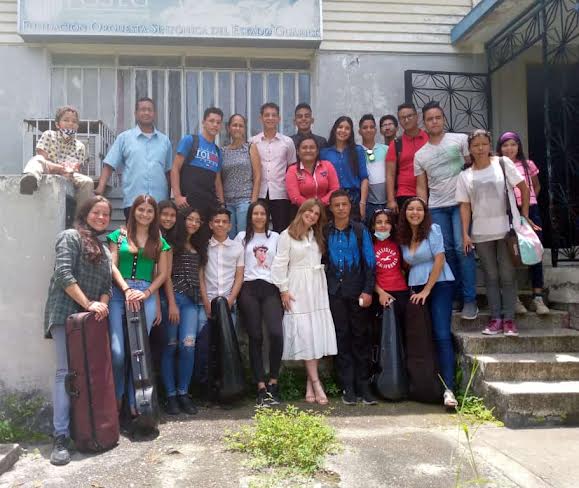 Well, we continue with the day of the event.... the day arrives, as it was a "night event" we usually rehearse or "all day" or "half day", since we must rehearse the given repertoire, accommodate it, and set up the sound system with microphones and graduate their voices to please to hear, in this case we had to rehearse all day because another group of musicians would accompany us in that event, called "the Latin Caribbean orchestra" they are from "Valle de la Pascua", until the time of the event that was scheduled at 7: 30pm.
The rehearsal started at 9:00 am that day, we would all go to breakfast and prepared with our lunches for the afternoon, since we could not go home to eat because of the break time, that is, 9:00 am rehearsal, 1:00 pm break for lunch and resume at 2:00 pm, so we anticipate lunch ... the rehearsal of the day went very well, we managed to assemble the entire repertoire without adjusting the sound and microphones, just rehearsal, we went out to rest and have lunch.
Bueno, seguimos con el día del evento… llega el día, como era un "evento nocturno" se suele ensayar o "todo el día" o "medio día", ya que se debe ensayar el repertorio dado, acomodarlo, y montar el sistema de sonido con micrófonos y graduar sus voces para que agrade al oír, en este caso nos tocó ensayar de todo el día porque otra agrupación de músicos nos acompañarían en ese evento, llamados "la orquesta latino caribeña" ellos son de "Valle de la Pascua", hasta la hora del evento que estaba programado a las 7:30pm.
El ensayo comenzaba a las 9:00 am de ese día, todos iríamos desayunados y preparados con nuestros almuerzos para la tarde, ya que no podíamos por la hora de descanso salir a nuestras casas a comer, es decir, 9:00 am ensayamos, 1:00 pm descanso para almorzar y retomamos a las 2:00pm, por eso prevemos el almuerzo… el ensayo del día fue muy bien, logramos montar todo el repertorio sin ajustar el sonido e micrófonos, solo ensayo, salimos a descansar y a almorzar.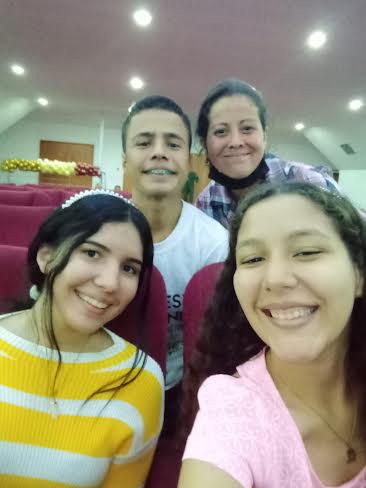 I would like to say that everything was going well, but not everything is rosy and things do not always go well, you see, at lunch time we could not leave the rehearsal place for lunch, as I already said, because of our short time, so we had to eat there, but when we rested and ate, we were not allowed to eat inside the place, because the environment was closed, cold and "the smells of the food could be stored in the place", that was what they told us, we agreed and they found us a small place where we could "eat quietly", it was the part that connected a back external exit to the internal part of the place, we had lunch almost quietly until they begin to remove objects to "decorate the place of the event", just when we were eating. Yes, it was a disrespectful act because we could not eat quietly as we were moving from one side to another with the food cups to give permission, even so we did not decide to give importance because it can happen and be quiet.
By 2:00 in the afternoon we were back to rehearsal, this time with the Latin Caribbean orchestra and the microphones on, despite how exhausted we were, not only because of that day, but also because that week was very active with respect to us and events that occupied us all day without rest, despite that we really enjoyed the rehearsal and the repertoire to present.
Quisiera decir que todo iba bien, pero no todo es color de rosa y las cosas no siempre salen bien, verán, a la hora de almorzar no podíamos salir del lugar de ensayo para almorzar, como ya conté, por nuestro corto tiempo, entonces nos tocaba comer allí, pero al nosotros descansar y a comer, no nos permitían comer dentro del lugar, ya que el ambiente era cerrado, frio y "se podían almacenar los olores de la comida en el lugar", eso fue lo que nos dijeron, accedimos y nos encontraron un pequeño lugar donde podíamos "comer tranquilamente", era la parte que conectaba una salida externa trasera a la parte interna del lugar, almorzamos casi tranquilamente hasta que comienzan a retirar objetos para "decorar el lugar del evento", justo cuando comíamos. Si, fue un acto irrespetuoso porque no podíamos comer tranquilos ya que estábamos moviéndonos de un lado a otro con las tazas de comida para dar permiso, aun así no decidimos dar importancia porque puede pasar y estar tranquilos.
Ya para las 2:00 de la tarde estábamos retomando el ensayo, esta vez con la orquesta latino caribeña y los micrófonos puestos, a pesar de lo exhaustos que estábamos, no solo por ese día, también porque esa semana estuvo muy activa con respecto a nosotros y eventos que nos ocupaban todo el día sin descanso, a pesar de eso nos disfrutamos mucho el ensayo y el repertorio a presentar.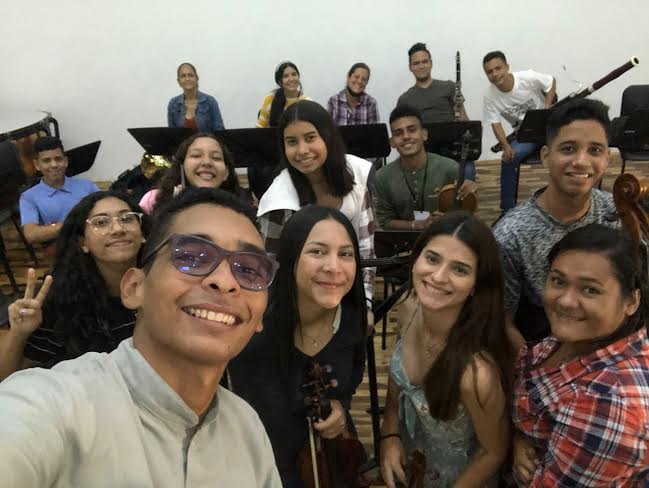 We continued the rehearsal until its due time at 5:30pm, all good, some problems with the microphones and the people in charge of them, because they had a lot of resonance in each voice and could not be heard well, we could accommodate it by degrading the intensity of each instrument and increasing in others, to give a good mix and thus give a good event, we are going to change so that at 6:30 we were all in the place of the event as we were told, personally I went to a friend's house that lived super close and there we arranged three people.
Continuamos el ensayo hasta su hora debida las 5:30pm , todo bien, unos problemas con los micrófonos y la gente encargada de ellos, porque tenían mucha resonancia en cada voz y no se escuchaba del todo bien, lo pudimos acomodar degradando la intensidad de cada instrumento y aumentando en otros, para poder dar una buena mezcla y así dar un buen evento, nos vamos a cambiar para que a las 6:30 todos estuviésemos en el lugar del evento como nos indicaron, personalmente me fui a casa de una amiga que vivía súper cerca y allí nos arreglamos tres personas.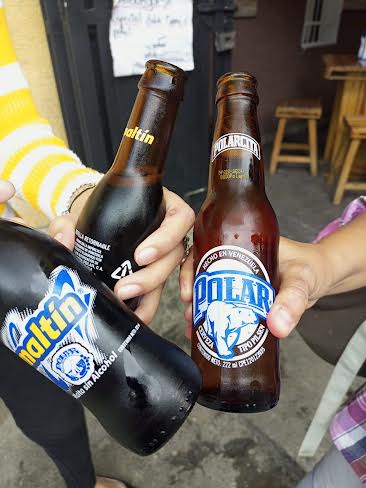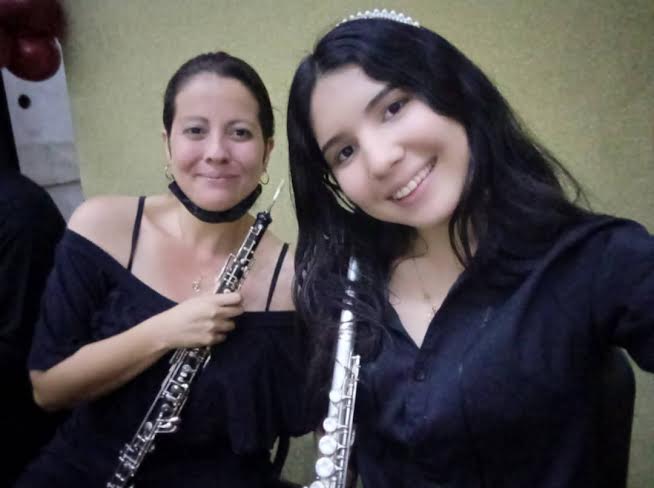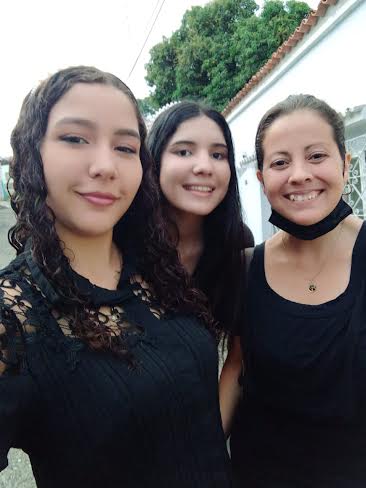 When we arrived at the place we waited to start the activity, it was proposed to begin at 7:30pm, after waiting we could start the whole show and everything went very well thank God, the event ended at 9:40pm, and here comes something interesting...
Al llegar al lugar esperamos a dar inicio a las actividad, se tenía propuesta a comenzar a las 7:30pm, tras esperar pudimos dar inicio a todo el show y todo salió muy bien gracias a dios, el evento culmino a las 9:40pm, y aquí viene algo interesante…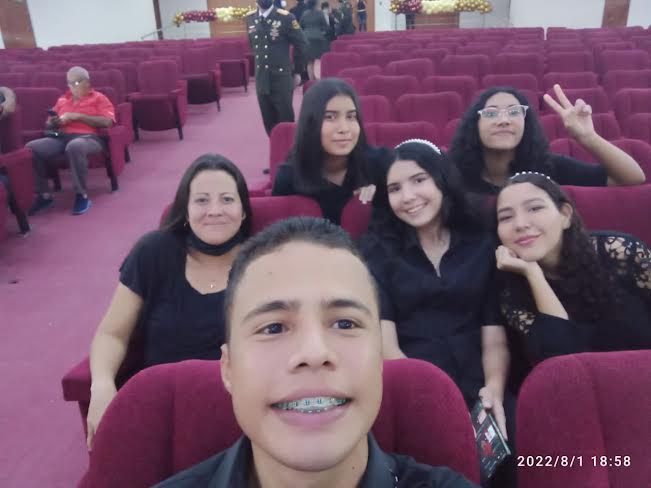 At the end of the event we were supposed to have "dinner" or "snack" to feed us for the arduous hours of rehearsal, also a transport to take each musician to his home, none of the proposals given to us were fulfilled, they did not give us dinner, throughout the day they did not give us water or gave us transportation, it was a bit alarming news mainly because we wanted to get home to sleep and well, to eat, The Guards spoke with my coordinator and offered to take us home, as a "snack" they gave us a cotillion to each musician (it is a gift bag or decorated where it is filled with candy and sweets, or what we call "chucheria"), even so we were grateful for everything, and we resisted until we reached our homes to eat and most importantly "sleep" knowing that we were officially on vacation.
Al terminar el evento a nosotros nos tenían supuestamente "cena" o "refrigerio" para alimentarnos por las arduas horas de ensayo, también un transporte para llevarnos a cada músico a su casa, pues ninguna de las propuestas dadas a nosotros nos cumplieron, no nos dieron cena, en todo el día no nos dieron agua ni nos otorgaron transporte, fue una noticia un poco alarmante principalmente porque queríamos llegar a casa a dormir y bueno, a comer, los Guardias hablaron con mi coordinador y se ofrecieron a llevarnos a casa, de "refrigerio" nos dieron un cotillón a cada músico ( es una bolsa de regalo o decorada donde se llena de caramelos y dulces, o lo que llamamos chuchería), aun así agradecimos por todo, y resistimos hasta llegar a nuestras casas a comer y lo más importante "dormir" tranquilos de saber que salimos oficialmente de vacaciones.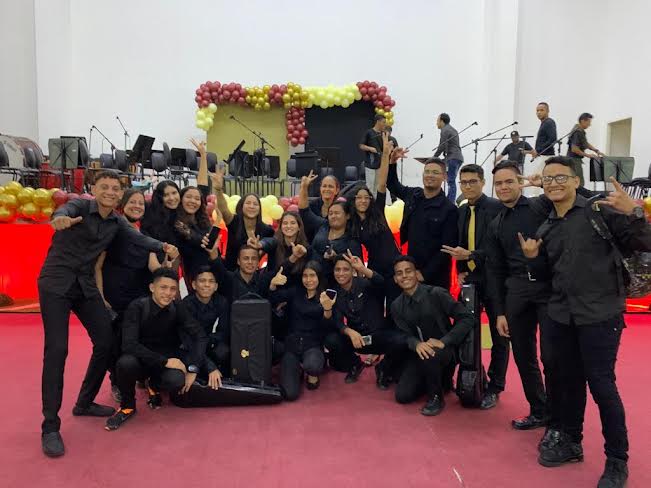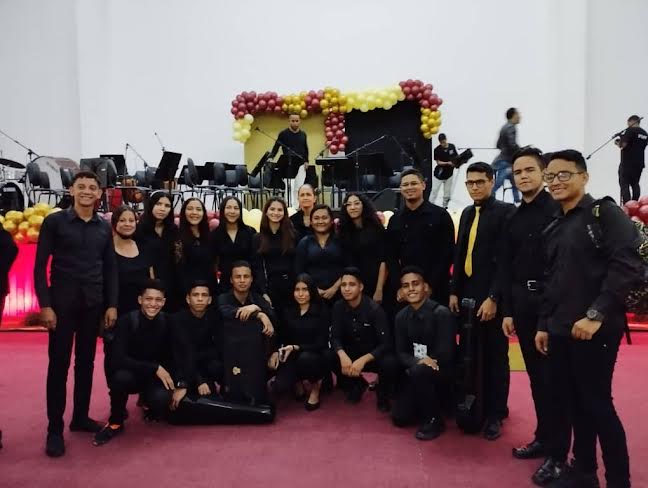 Perhaps a part of the event was not as estimated, even so we are professional musicians, we resist and we are happy to always give the best of us to bring a quality concert to the public, I am proud to be a musician and to be able to show my passion to the public who watches me, although perhaps behind the scenes are not given what is estimated and no one knows the treatment we endure in certain events, but still we continue to move forward and always giving the best of us .... **I thank you very much for joining me in this story time of that day, I wanted to show you a little of certain cases where not everything is a respectable treatment, but still we face the road so that people and our public always get the best of us, take care, if you go out use your mouth cover, and if not stay at home doing wonderful makeup styles, we meet later in another post to share, I love you very much and without more to say I say goodbye. Bye!**
Quizás una parte del evento no fue como se estimaba, aun así somos músicos profesionales, resistimos y estamos contentos de dar siempre lo mejor de nosotros para aportar un concierto de calidad al público, estoy orgullosa de ser músico y poder mostrar mi pasión ante el público que me observa, aunque quizás detrás de cámaras no se den lo que se estima y nadie sepa del trato que soportamos en ciertos eventos, pero aun así continuamos avanzando y dando siempre lo mejor de nosotros… Les agradezco mucho el haberme acompañado en este story time de ese día, quería mostrarles un poco de ciertos casos donde no todo es un trato respetable, pero aun así afrontamos el camino para que la gente y nuestro público siempre obtenga lo mejor de nosotros, cuídense mucho, si saldrán usen su cubre bocas, y si no quédense en casita realizando maravillosos estilos de maquillaje, nos encontramos luego en otro post para compartir, los quiero mucho y sin más que decir me despido. Adiós.!!