¡Hola! amigos de Hive.
Hello! Hive's friends.

---
Hace poco tiempo comencé a trabajar en una panadería y pastelería que abrieron dos de mis tíos. La verdad me alegra ser participé de este nuevo proyecto, más aun siendo de familiares tan cercanos. Por eso, mi responsabilidad y entrega aumenta cada día. Debido a que ellos enfrentaron muchos desafíos para poder abrir su negocio, pero gracias a la ayuda mutua supieron salir adelante. Por lo tanto, cada día me esfuerzo por dar lo mejor de mí y siempre ponerle pié ante cualquier dificultad que se pudiese presentar.
A short time ago I started working in a bakery and pastry shop that two of my uncles opened. I'm really glad to be part of this new project, even more so since I'm from such close family members. That's why my responsibility and dedication increases every day. Because they faced many challenges in order to open their business, but thanks to the mutual help they knew how to get ahead. Therefore, every day I strive to give the best of me and always stand up to any difficulty that may arise.
---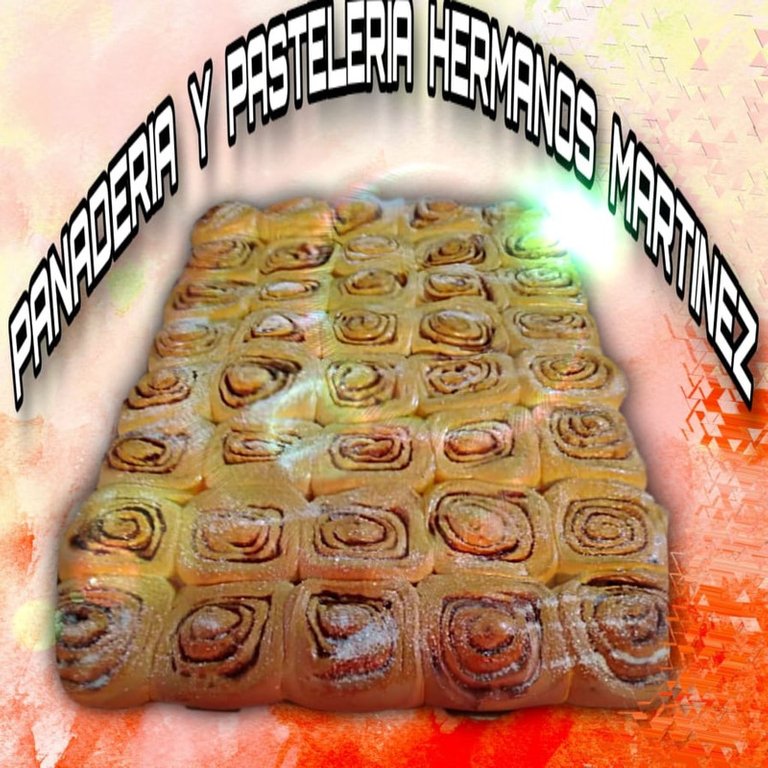 ---
En el poco tiempo que llevo trabajando la experiencia ha sido maravillosa, porque he aprendí muchas cosas nuevas. La verdad es que soy muy dulcera y no podía desaprovechar la oportunidad de adquirir estos nuevos conocimientos. Por lo que el día de hoy les voy a enseñar a recrear esta deliciosa receta con ingredientes para una bandeja de 40 bombones. Así mismo, más adelante estaré compartiendo con ustedes más de las recetas que se elaboran en la panadería.
In the short time I have been working the experience has been wonderful, because I have learned many new things. The truth is that I am very sweet and I could not miss the opportunity to acquire this new knowledge. So today I am going to teach you how to recreate this delicious recipe with ingredients for a tray of 40 chocolates. Also, later on I will be sharing with you more of the recipes that are made in the bakery.
---

---
Ingredientes:
2500 gr de Harina de Trigo.

1750 cc de Agua Potable.

600 gr de Azúcar Refinada.

50 gr de Manteca Vegetal.

250 gr de Papelón.

40 gr de Sal.

30 gr de Levadura.

5 gr de Canela en polvo.

10 cc de Esencia de Naranja.

10 cc de Esencia de Mantecado.

10 cc de Esencia de Vainilla.

5 gr de Anís Dulce.

5 gr de Colorante.
Ingredients:
2500 gr of wheat flour.

1750 cc of drinking water.

600 gr of Refined Sugar.

50 gr of Vegetable Butter.

250 gr of baking paper.

40 gr of Salt.

30 gr of Yeast.

5 gr of Cinnamon powder.

10 cc of Essence of Orange

10 cc of Essence of Butter.

10 cc of Essence of Vanilla.

5 gr of Sweet Anise.

5 gr of Colouring.
---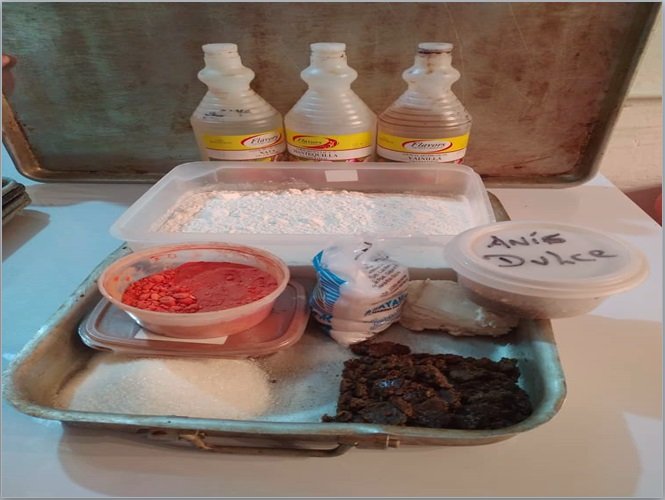 ---

---
Preparación – Preparation
---
Lo primero que haremos es agregar en un recipiente el agua, azúcar, papelón, sal, levadura, canela en polvo, las esencias, el anís dulce, la manteca y el colorante. Luego, mezclaremos todo e iremos agregando la harina de trigo poco a poco, para obtener de esta manera una mezcla homogénea. Además, para que la masa tenga una consistencia firme, es necesario pasarla por una sobadora artesanal o en su defecto hacerlo con un rodillo.
The first thing we will do is add in a container the water, sugar, paper, salt, yeast, cinnamon powder, essences, sweet anise, butter and coloring. Then, we will mix everything and we will add the wheat flour little by little, to obtain this way a homogeneous mixture. In addition, so that the mass has a firm consistency, it is necessary to pass it by a handmade kneading machine or in its defect to do it with a roller.
---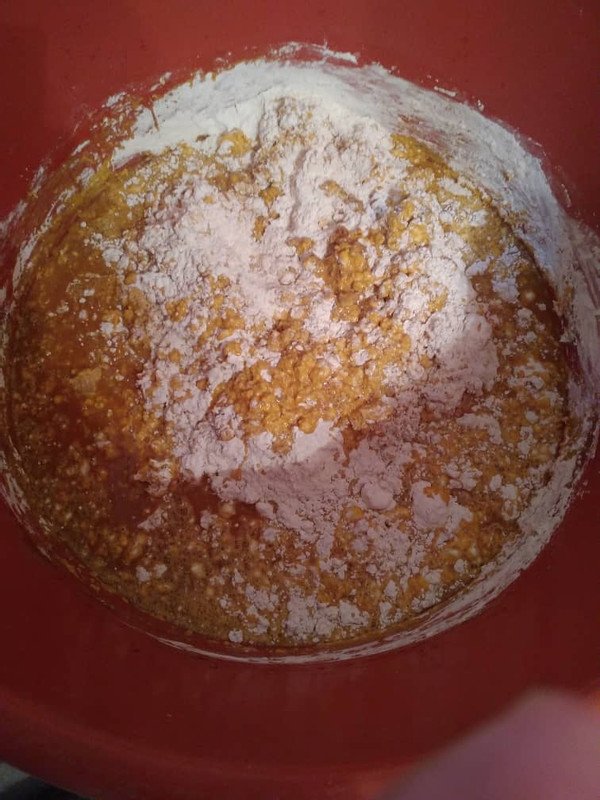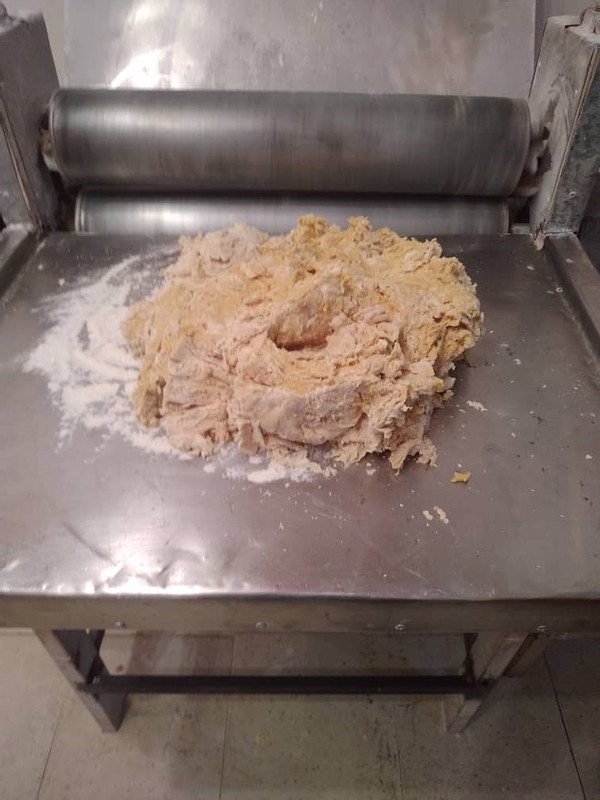 ---
Una vez que la masa esté lista, se comienza a estirarla con un rodillo para poder agregar el papelón. Pero en uno de los bordes de la masa dejaremos 10 cm aproximadamente sin colocarle papelón.
Once the dough is ready, you start stretching it with a roller in order to add the paper. But in one of the edges of the dough we will leave approximately 10 cm without adding paper.
---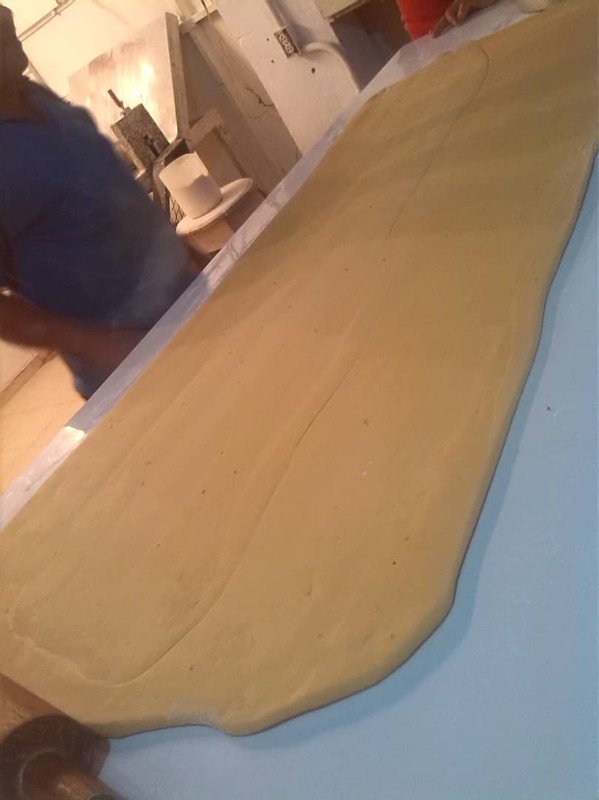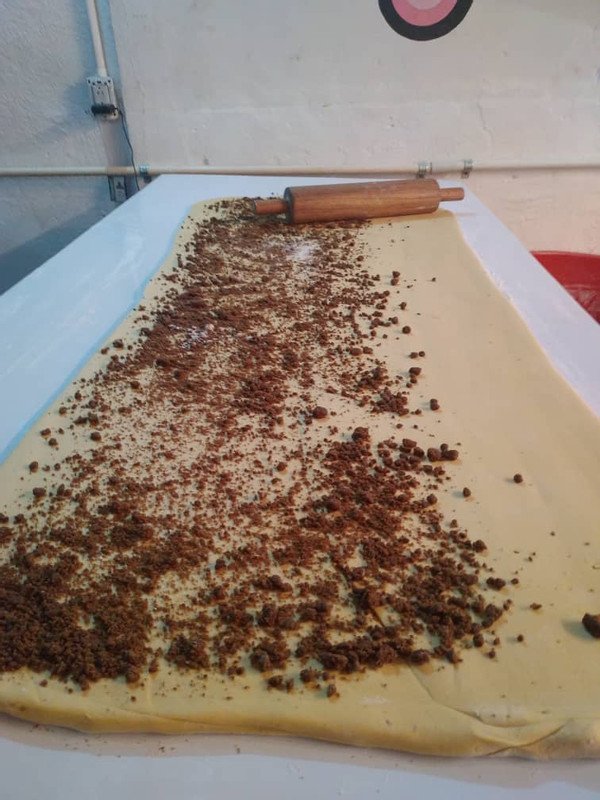 ---
Se irá enrollando lentamente la masa y en la parte donde no colocamos papelón, agregamos un poco de agua para adherir la masa. Posteriormente, la cortaremos en trozos iguales.
The dough will be slowly rolled up and in the part where we don't put paper, we add a little water to adhere the dough. Later, we will cut it in equal pieces.
---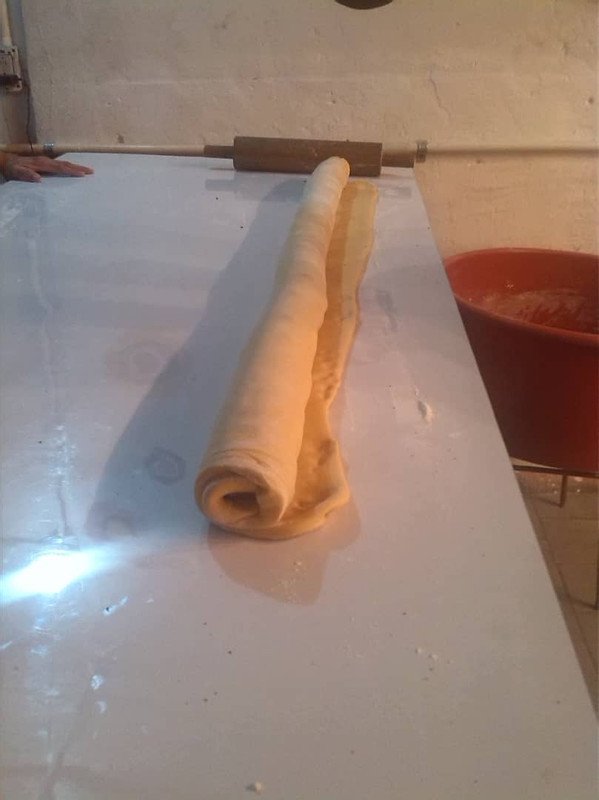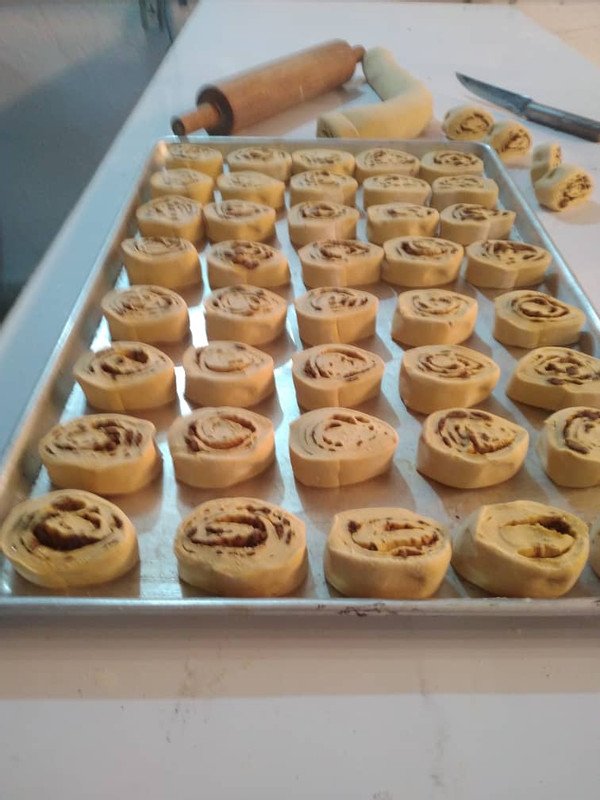 ---
Ahora, se colocan los bombones a reposar y lo cubriremos con un plástico para que comience el proceso de crecimiento.
Now, the chocolates are placed to rest and covered with plastic to start the growth process.
---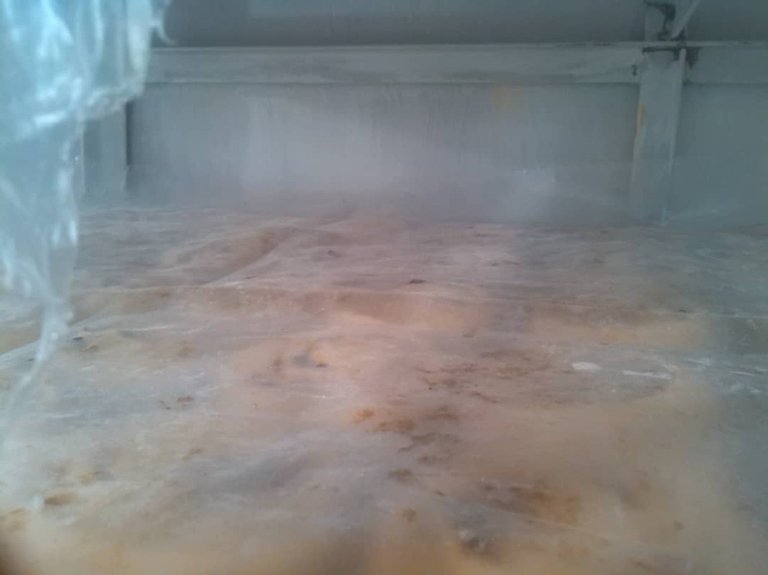 ---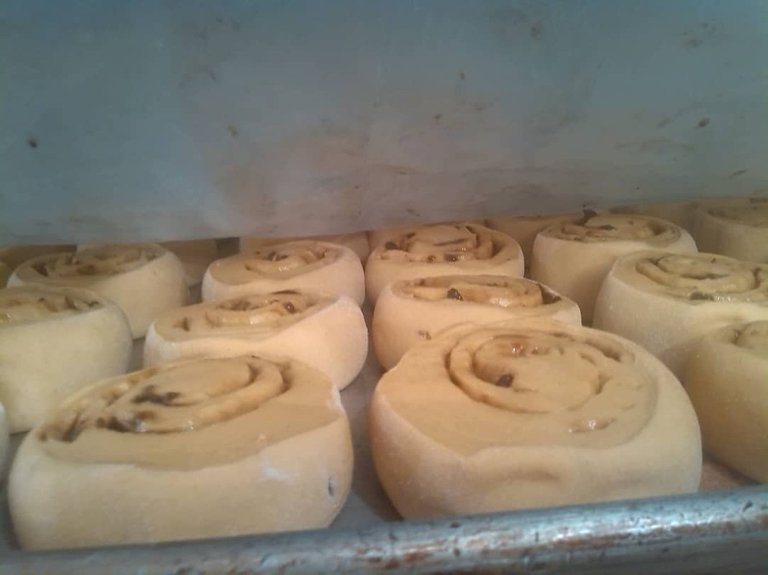 ---
Posteriormente, antes de hornear los bombones durante 20 minutos aproximadamente, se les coloca un poco de agua encima con la ayuda de una brocha, para el proceso de hidratación. Una vez horneados se procede a pasar una brocha con una mezcla de agua, azúcar y colorante encima de los bombones. Finalmente, esperamos que se enfríen y listo ya pueden ser consumidos.
Then, before baking the chocolates for approximately 20 minutes, a little water is placed on them with the help of a brush, for the hydration process. Once baked, a brush with a mixture of water, sugar and coloring is passed over the chocolates. Finally, we wait for them to cool down and they are ready to be eaten.
---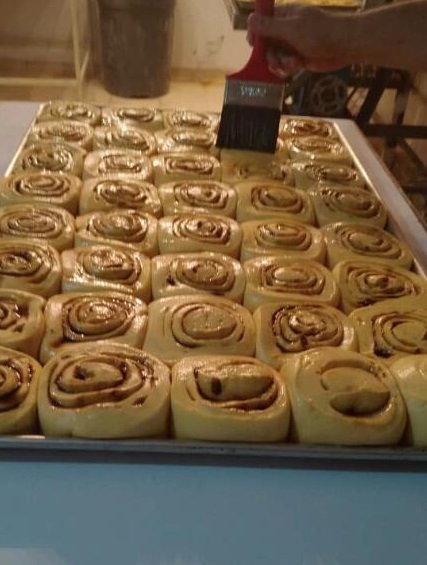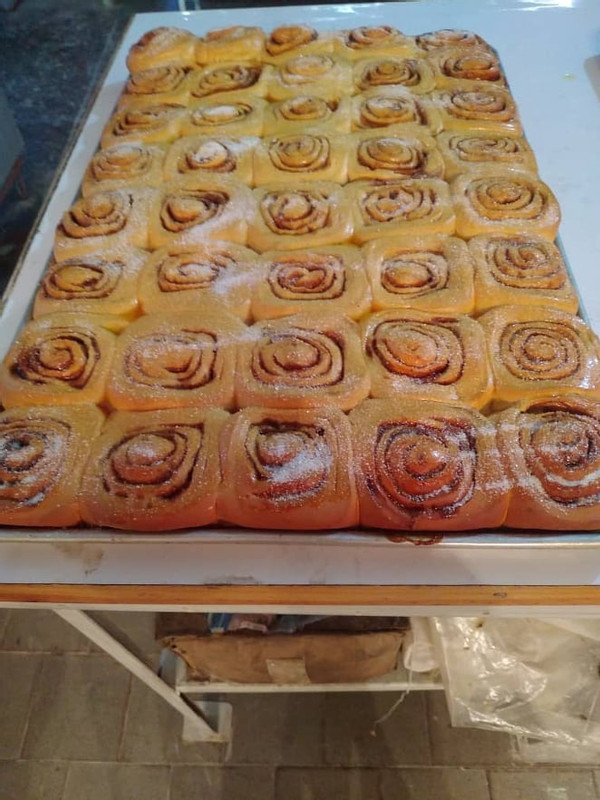 ---
¡Gracias por leer mi post!
Thanks for reading my post!
---
Fotos de mi propiedad.
Pictures of my property.
---