Un saludo a toda la comunidad, hoy me toca responder a la invitación que me hicieron en esta iniciativa de @engerbertms y contar la historia detrás de estas 4 fotografías que escogí. Poco a poco me voy acostumbrando a escribir y compartir parte de mi vida en esta plataforma y espero les guste.
Greetings to the entire community, today I have to respond to the invitation they made me in this @engerbertms initiative and tell the story behind these 4 photographs that I chose. Little by little I am getting used to writing and sharing part of my life on this platform and I hope you like it.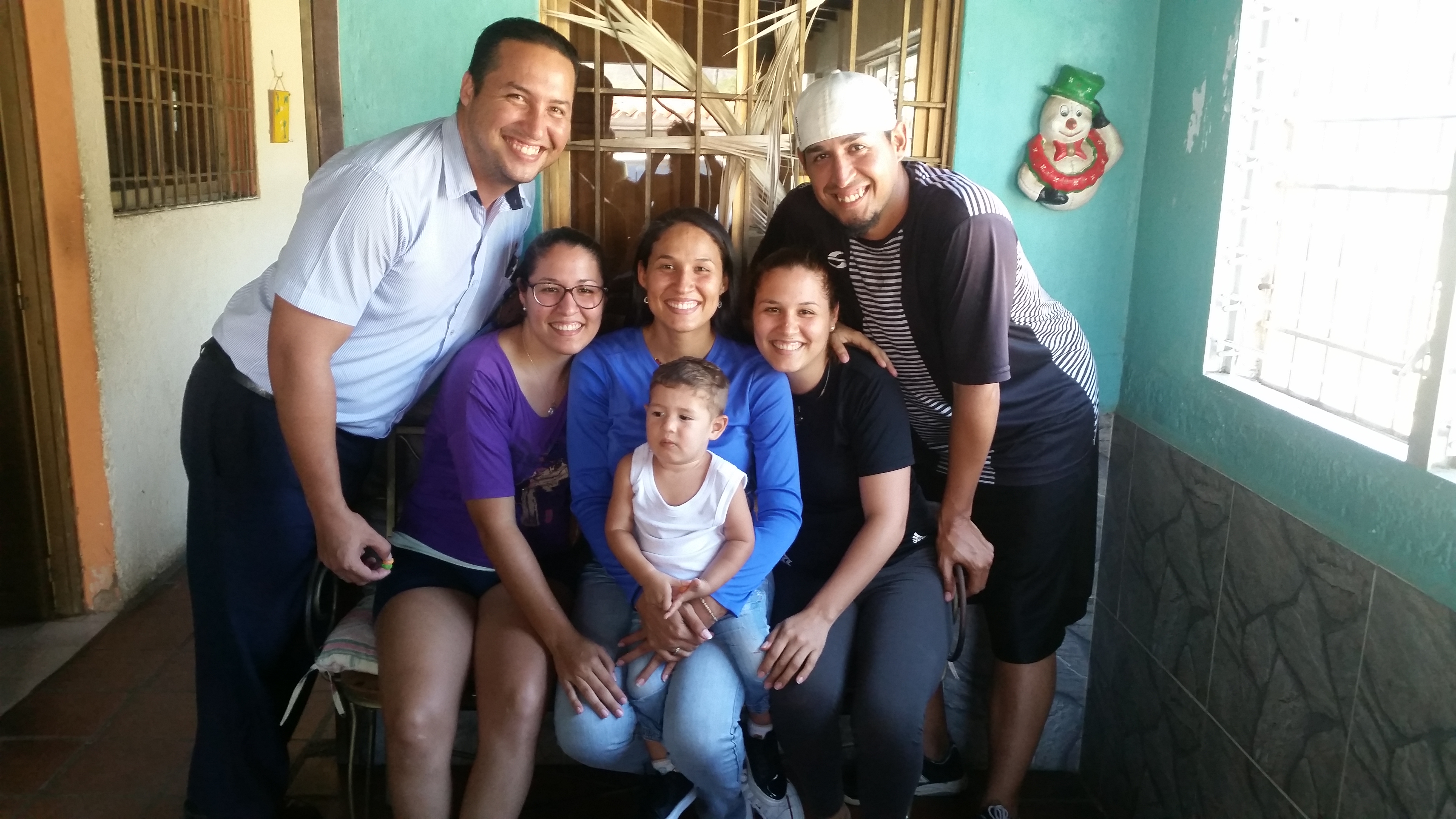 Mi primera foto es junto a todos mis hermanos, es la ultima foto que nos tomamos antes de que mi hermana Dalia, la del centro con el bebé, emigrara a Ecuador hace 2 años. Esta foto me recuerda la felicidad y me da un poco de nostalgia porque los extraño, siempre fuimos muy unidos y aunque esta foto es de una despedida, me hace sonreír porque recuerdo lo bonito que era nuestra vida cuando todos estábamos aquí juntos. Ese día lloramos mucho y fue muy difícil despedirnos pero esta foto me gusta mucho porque estamos juntos.
My first photo is with all my brothers, it is the last photo we took before my sister Dalia, the one in the center with the baby, emigrated to Ecuador 2 years ago. This photo reminds me of happiness and makes me a little nostalgic because I miss them, we were always very close and although this photo is of a goodbye, it makes me smile because I remember how beautiful our life was when we were all here together. That day we cried a lot and it was very difficult to say goodbye but I really like this photo because we are together.
---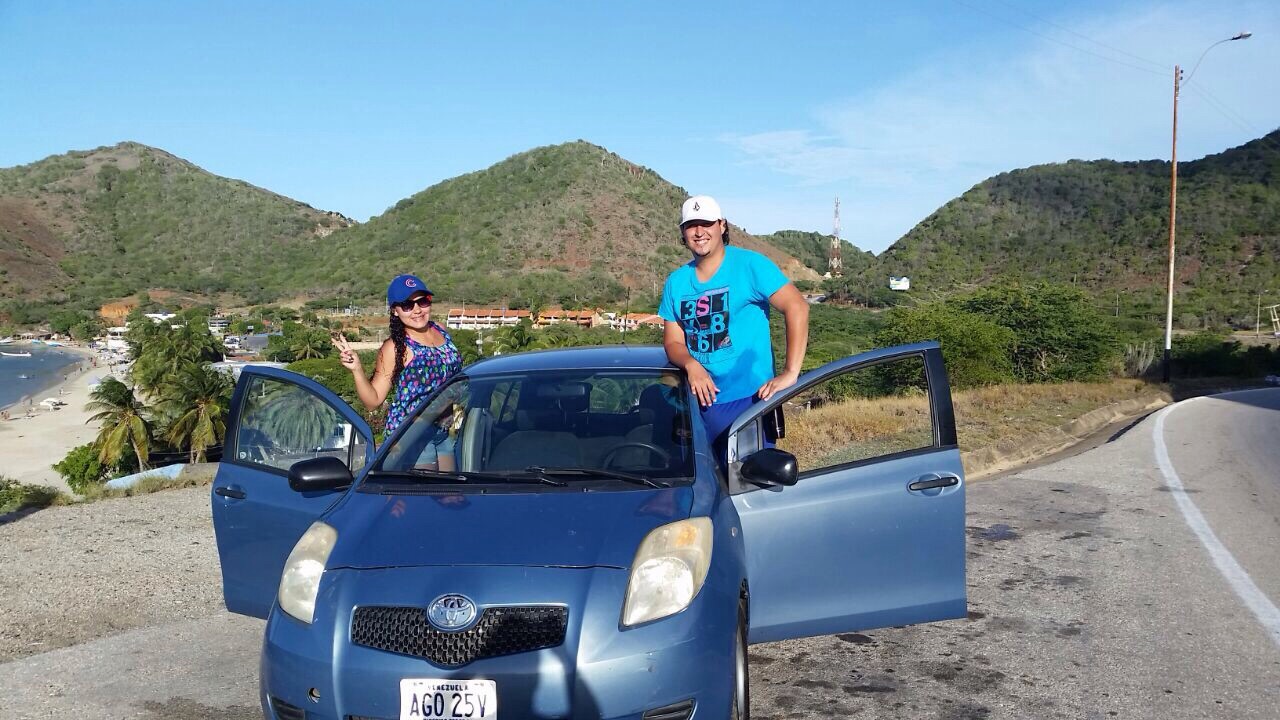 La segunda foto es de un bonito recuerdo con mi novia cuando me recibió luego de pasar 8 meses en el exterior. Ese día después de visitar y saludar a mi familia nos escapamos a la playa y a pasear por casi toda la Isla de Margarita. Fuimos a diferentes playas, yo estaba extrañando el sol y la playa porque vivía en Connecticut y hacia mucho frío así que este día fue espectacular porque aprovechamos de hablar de estar solos y de disfrutar de nuestra relación.
The second photo is of a beautiful memory with my girlfriend when she received me after spending 8 months abroad. That day after visiting and saying hi to my family, we escaped to the beach and strolled through almost the entire Isla de Margarita. We went to different beaches, I was missing the sun and the beach because I lived in Connecticut and it was very cold so this day was spectacular because we took advantage of talking about being alone and enjoying our relationship.
---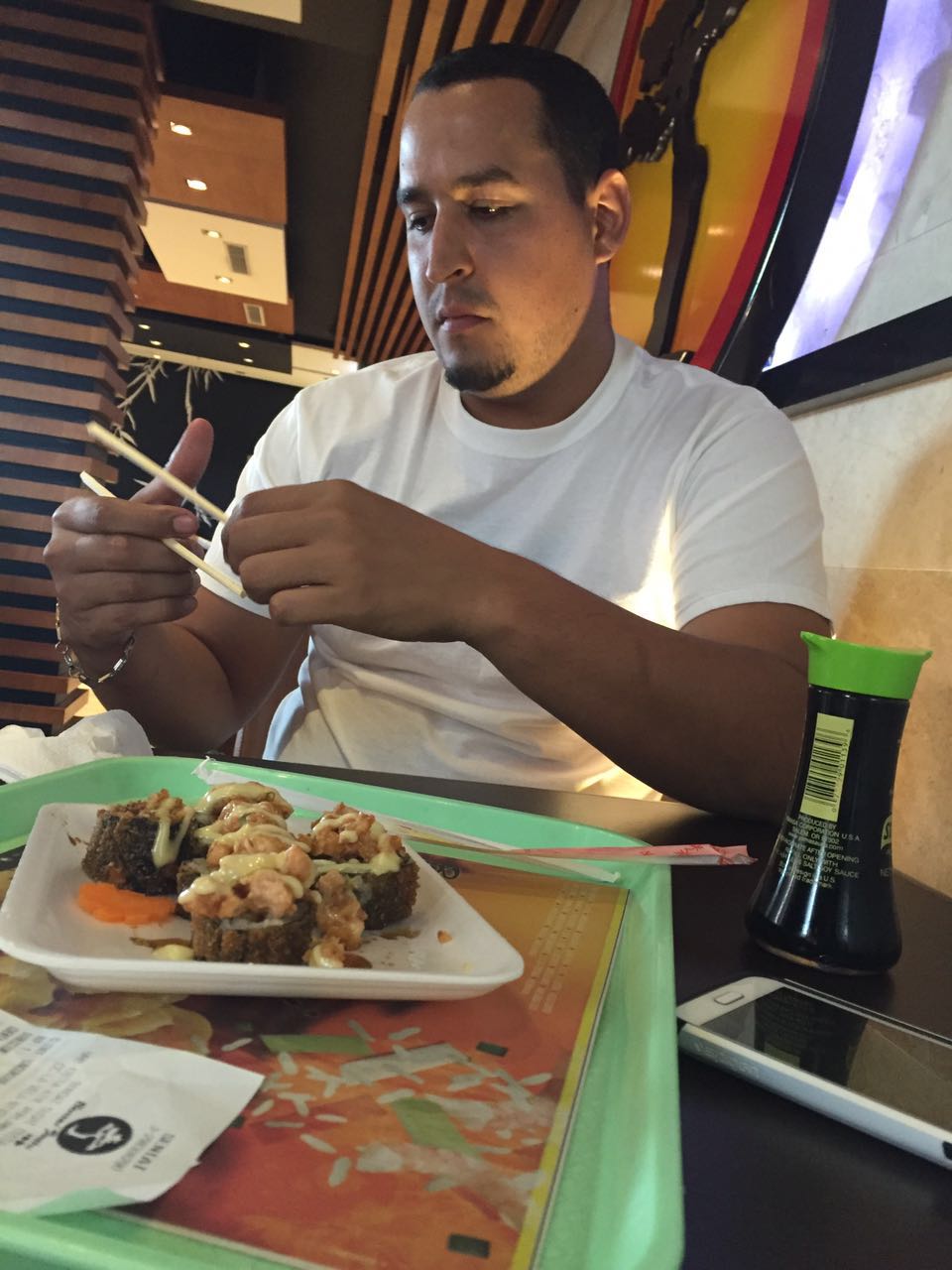 Esta foto les va a parecer rara, es la primera vez que comí sushi después de que mi novia me insistiera mil veces para ir a cenar a este lugar. Nunca lo había probado y nunca había usado palitos chinos así que fue una experiencia donde pase vergüenza y pena. Tampoco estaba seguro de si quería probarlo pero a la final comimos MUCHO y me gusto tanto que logramos ir varias veces después. Ahora se lo agradezco porque no sabia de lo que me perdía.
This photo will seem strange to you, it is the first time I ate sushi after my girlfriend insisted me a thousand times to go to dinner at this place. I had never tried it and had never used chopsticks so it was an embarrassing and embarrassing experience. I wasn't sure if I wanted to try it either, but we ate a LOT in the end and I liked it so much that we managed to go several times afterwards. Now I thank you because I did not know what I was missing.
---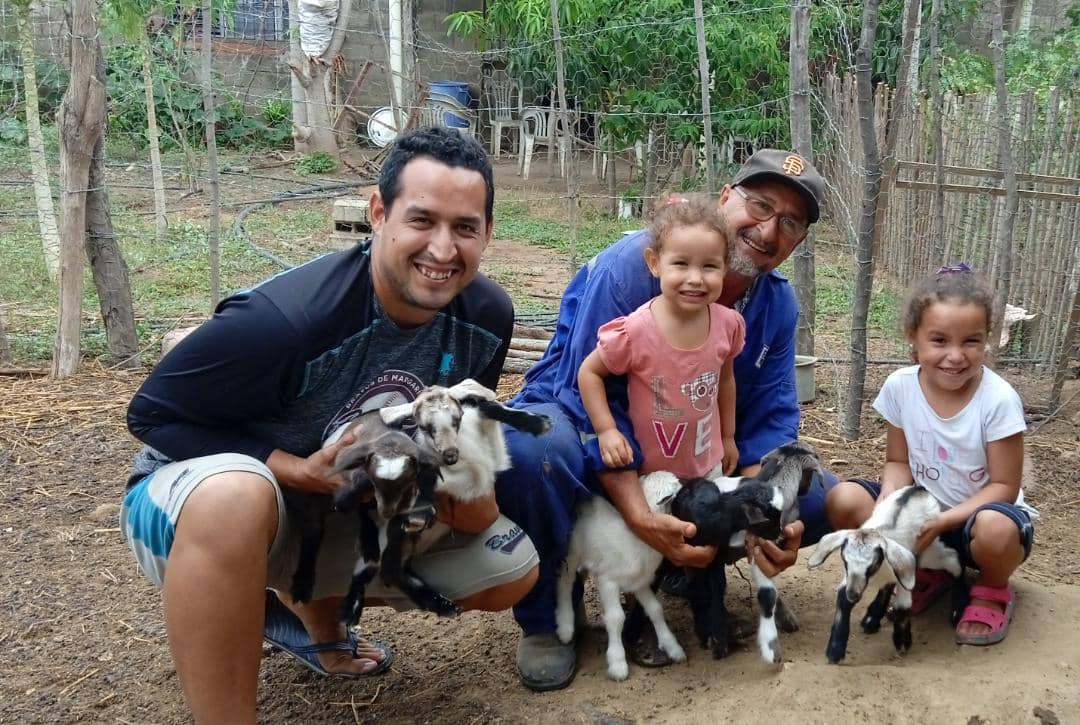 Y esta ultima foto es junto a mi papa y mis hijas, es de la última vez que fuimos a visitar al abuelo y lo encontramos llenos de animales recién nacidos. Las niñas estaban felices y querían llevarse uno de estos a la casa. Tomamos la foto para recordar el día que los visitamos y para recordar el tamaño de las niñas y de las nuevas mascotas del abuelo que seguramente no serán las únicas cabras que tenga. También se les pusieron nombre a todas las cabras bebés y fue muy cómico verlas jugar con ellas y tratarlas como perritos.
And this last photo is with my father and my daughters, it is from the last time we went to visit grandfather and we found him full of newborn animals. The girls were happy and wanted to take one of these home with them. We took the photo to remember the day we visited and to remember the size of the girls and grandfather's new pets that surely will not be the only goats he has. All the baby goats were also named and it was hilarious to watch them play with them and treat them like little dogs.
---
Gracias por leerme y llegar hasta aquí. Saludos. // Thanks for reading me and getting here. Greetings.