I have an awesome recipe for Sun Dried Tomato Marinara to share with you, as well as a recipe for vegan Parmesan Cheese that will make you squeal with joy (I don't know if anyone actually squeals nowadays, but I definitely did). Pair these two with some kelp noodles or zucchini spirals and you've got an amazing raw spaghetti dish!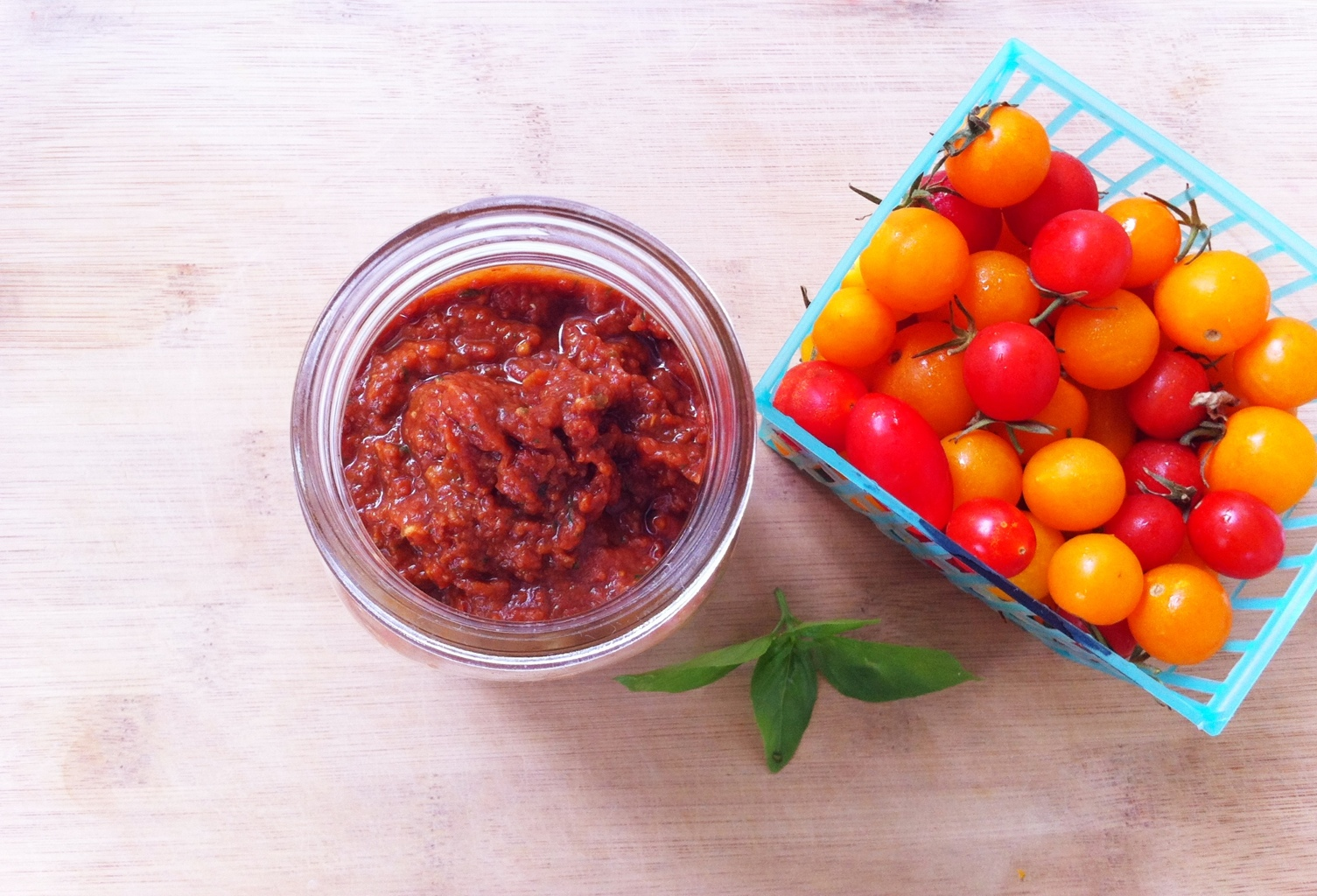 I've mentioned before but I can't stress enough that the most drool-worthy recipes are often also the easiest. I can't even begin to count the number of times that I've labored over a ridiculously hard recipe only to find that the end result is just sub-par. I get so frustrated: all of that effort for nothing!! Not to mention, groceries aren't cheap. So, because I refuse to waste energy and groceries, I end up forcing myself to finish sub-par, blah-tasting food. No bueno.
Not long ago, I slaved over the stove trying to create the world's best marinara sauce. I thought I could devise the perfect sauce to go along with my Quinoa Pizza Crust. My goals were lofty and in the end my marinara was good, but nowhere near "world's best."
So, yesterday I started over and began with simple, whole ingredients like these vibrant, colorful cherry tomatoes…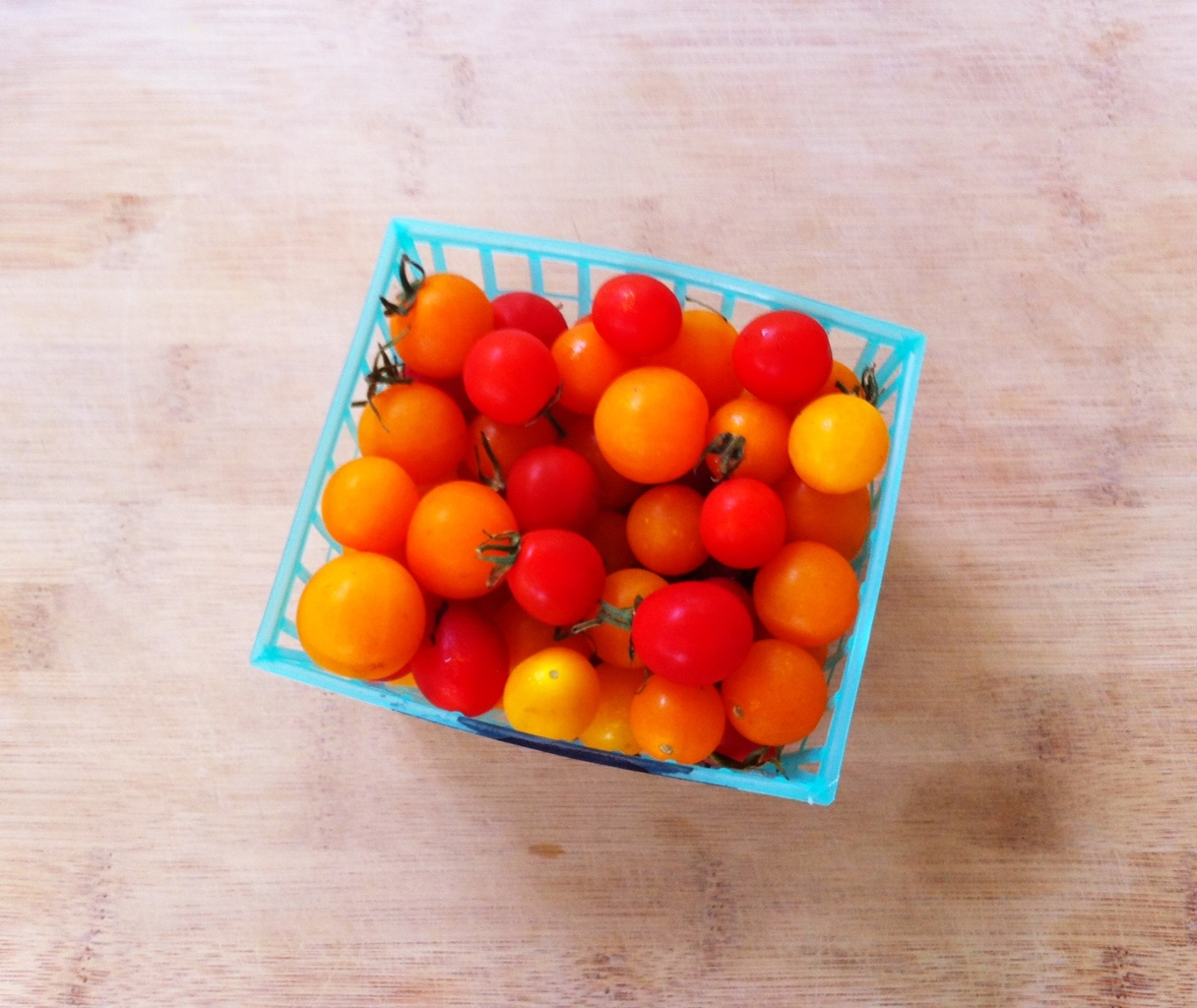 I just thought these cherry tomatoes were so bright and cheerful :) I also like the slightly sweet undertones they lend to the sauce.
This time, I decided not to sweat my tushy off so I didn't even go near my stove. Instead, I pulled out my handy-dandy food processor and set to work. Honestly, this sauce could not be more simple and tastes just like my favorite store-bought marinara, but fresher!
After I was done whipping up a batch of the sauce (and spooning some straight into my mouth), I decided that I absolutely had to have spaghetti–and when those pesky cravings hit, I'm forced to listen. So, of course, I had to make some Parmesan "Cheese" to go along with my sauce, too.
I've decided that these two–the marinara and the parmesan "cheese"–are a marriage made in heaven. Not only did I end up eating the spaghetti for lunch, I ate another huge bowl for dinner, too. And the best part: I have leftovers to make a pizza tonight! Ah, life is good…
Marinara Sauce with Sun Dried Tomatoes Recipe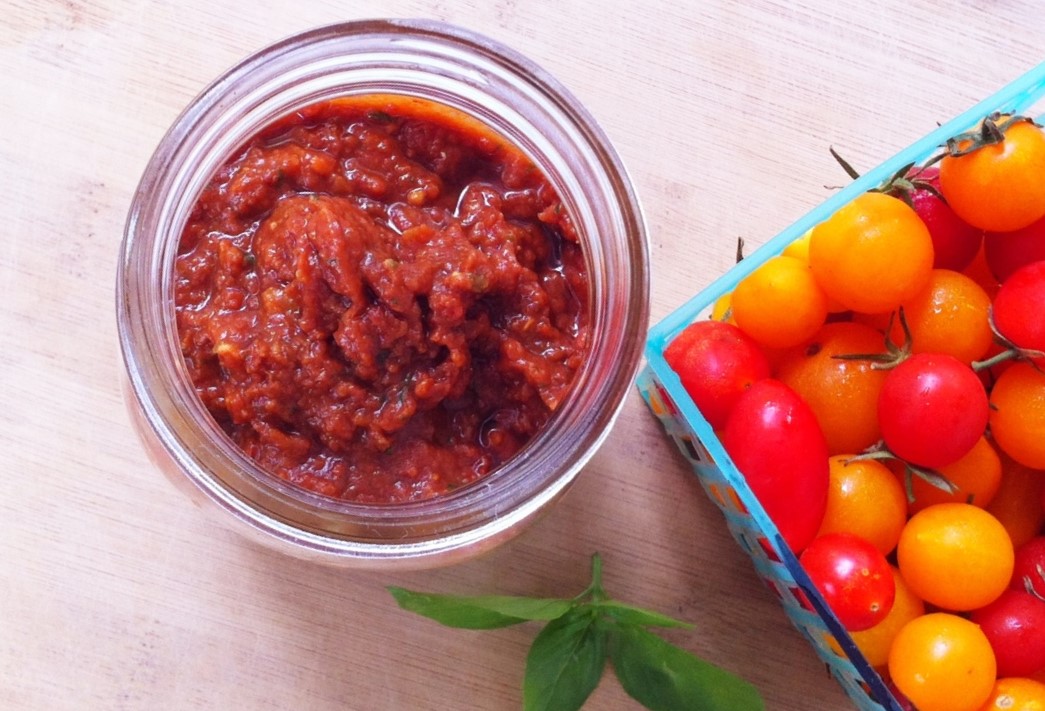 Ingredients
~~Sun Dried Tomato Marinara:
1/2 cup sun-dried tomatoes
1 Medjool date, pitted and chopped
1 cup hot water
2 cups ripe tomatoes (I used a combination of vine-ripened and cherry tomatoes)
1/2 cup fresh basil
1 clove garlic
1/4 tsp. sea salt
red chili pepper flakes, to taste
2 Tbs. extra virgin olive oil
~~Parmesan "Cheese":
1/3 cup walnuts
1 level Tbs. nutritional yeast
1/8 tsp. sea salt
1/4 tsp. Italian seasoning
Instructions
Soak the date and sun-dried tomatoes in hot water for at least 30 minutes.
Roughly chop the ripe tomatoes, basil, and garlic and add them to your food processor. When the sun-dried tomatoes and date have softened, drain them from the soaking water and add them to the processor along with the salt and red chili pepper flakes. (You may want to reserve some of the soaking water if you prefer a thinner sauce or if you want to add it to the noodles later). Blend well until you've reached the desired consistency, then slowly add the olive oil in a steady stream while the food processor is running.
Serve immediately or store in the refrigerator in an airtight container for a few days. If not using right away, be sure to stir the sauce before you plan to use it as the olive oil tends to settle on the top.
To make the Parmesan "Cheese": place all of the ingredients in the bowl of your food processor, give it a whiz, and you're done! That simple!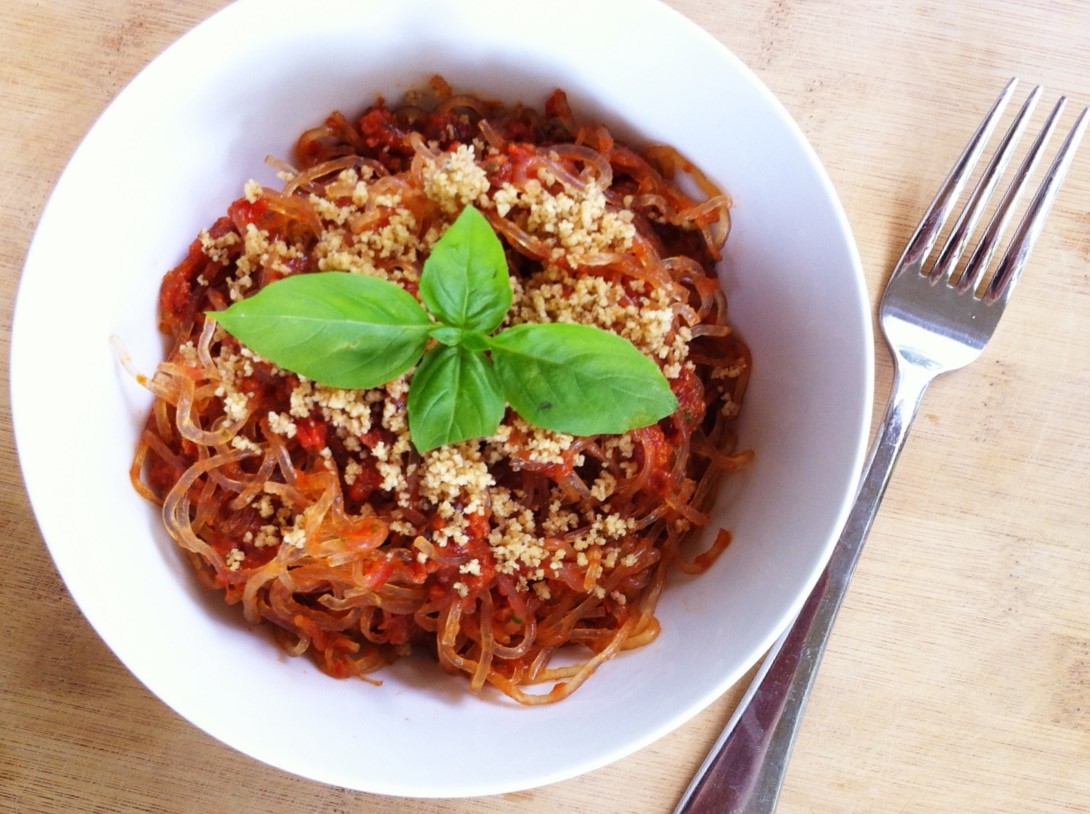 To serve: place prepared noodles of choice in a large bowl (The noodles don't have to be gluten-free, but some of my favorite GF versions are rice noodles, kelp noodles, and zucchini spirals). Pour marinara on top (adding reserved soaking water, if needed) and toss the noodles until completely coated by the sauce. Top with parmesan "cheese" and any other toppings, such as olives, capers, sliced basil, etc. Enjoy!