---
---
Hello friends of Hive, greetings to all. !!
Hola amigos de Hive, un saludo a todos.!!
Welcome to my blog, happy once again to be able to share with you and to participate in one more initiative of the friend @cami.rojas, in this opportunity to talk about 3 things that we do not like about other content creators and the reality is that not always everything is rosy, and what better way than to be able to express what sometimes bothers us.
Bienvenidos a mi blog, feliz una vez más de poder compartir con ustedes y de participar en una iniciativa más de la amiga @cami.rojas, en esta oportunidad para hablar de 3 cosas que no nos gustan de otros creadores de contenido y la realidad es que no siempre todo es color de rosa, y que mejor que poder expresar aquello que a veces nos incomoda.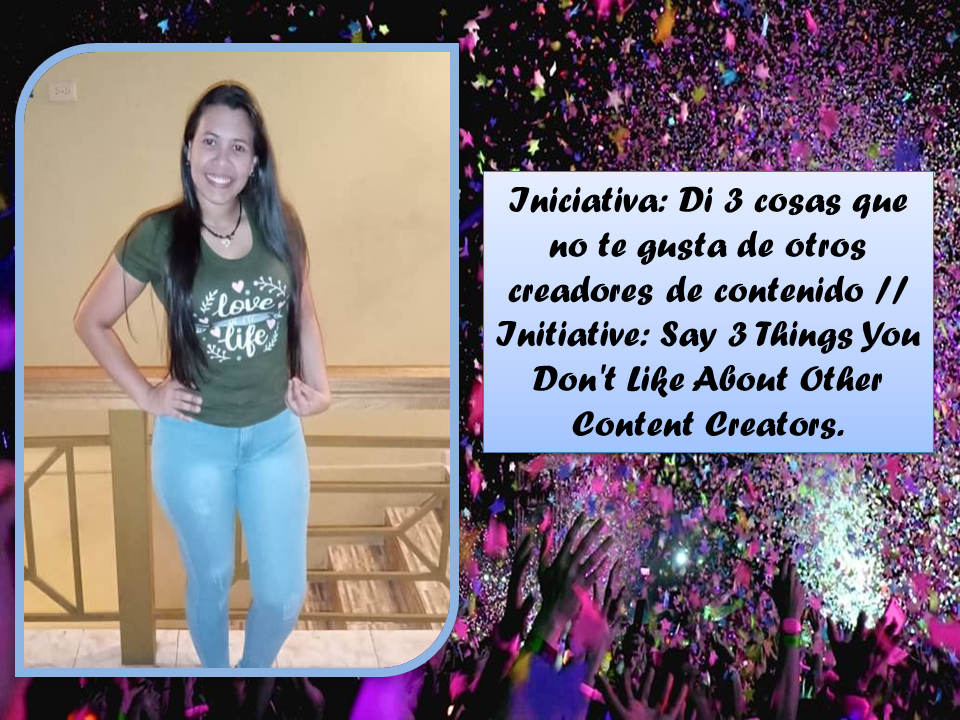 ---

1. El plagio o copia del contenido de otros autores // Plagiarism or copying of the content of other authors.
---
I have been seeing this with great concern for a few weeks on the platform and it seems really unacceptable because as well all of us who have been working on the platforms for years know the initiatives, contests and crafts, you can do them all, but the content is our own of each one. And I have seen how several new users are browsing the platform copying the introductions of the initiatives (case that just happened to me with the initiative 3 islands that I would like to know, because they copied me) but also every word about the step by step of crafts , meals and others.


I am not at all happy with this because I believe that everyone is able to explain their content and because they like or not everything, it is not necessary to copy or live behind the other users seeing that they publish to do the same the next day (in the case of crafts). Hive is about creating quality content, it is a social network to share the content that we like the most, to be able to express ourselves freely and much more, in addition to being rewarded, then you have to work and strive in a real way and without abuse.
Esto lo estoy viendo con gran preocupación desde hace unas cuantas semanas en la plataforma y me parece realmente inaceptable pues como bien todos los que tenemos años trabajando en las plataformas sabemos las iniciativas, los concursos y las manualidades puedes hacerlas todos, pero el contenido es propio de cada quien. Y he visto como varios nuevos usuarios van navegando en la plataforma copiando las introducciones de las iniciativas (caso que me acaba de pasar con la iniciativa 3 islas que me gustaría conocer, pues me copiaron) sino también cada palabra sobre el paso a paso de manualidades, comidas y demás.


No estoy para nada contenta con esto pues creo que cada quien está en la capacidad para explicar su contenido y porque le gusta o no cada cosa, no es necesario copiarse ni vivir detrás de los demás usuarios viendo que publican para hacer lo mismo al día siguiente (en el caso de las manualidades). Hive se trata de crear contenido de calidad, es una red social para compartir el contenido que más nos guste, podernos expresar libremente y mucho más, además de poder ser recompensados, entonces hay que trabajar y esforzarse de manera real y sin abusos.
---
2. Que toquen temas sensibles para llamar la atención de otras personas // Touching sensitive topics to get other people's attention.
---
I agree with @cami.rojas I do not like at all that they touch sensitive topics to attract attention, that does not result in my personal opinion anything real or sincere. I fully understand the situations that we all go through many times but I think it is much better and more beautiful if we try to leave the positive that that moment or circumstance left in our life. I believe that transmitting the best of each situation is the best way to combat adversity.
Concuerdo con @cami.rojas no me gusta para nada que toquen temas sensibles para llamar la atención, eso no me resulta en mi opinión personal nada real o sincero. Entiendo perfectamente las situaciones por la que muchas veces pasamos todos pero creo que es mucho mejor y más bonito si intentamos dejar lo positivo que dejo ese momento o circunstancia en nuestra vida. Creo que transmitir lo mejor de cada situación es la mejor forma de combatir las adversidades.
---
3. Comentarios maliciosos // Malicious comments
---
So far it has not happened to me, but I have seen the posts of many colleagues and friends within the platform with certain comments sometimes very out of place. I understand that the content is varied and the opinion is their own, but sometimes how to make these comments must be measured, if we want to contribute and help someone improve, what better way to do it than with constructive criticism and in a good way. Not trying to make a fool of other people.
Hasta los momentos no me ha pasado, pero si he visto los post de muchos compañeros y amigos dentro de la plataforma con ciertos comentarios a veces muy fuera de lugar. Entiendo que el contenido es variado y la opinión es propia de cada quien pero se debe medir a veces como realizar estos comentarios, si queremos aportar y ayudar a alguien a mejorar que mejor manera de hacerlo que con críticas constructivas y de buena manera. No intentado dejar en ridículo a las demás personas.
---

Well friends I hope you liked this initiative because I loved it, quiet @ cami.rojas Troy did not burn but it has been a good relief. That is why I want to invite my friends @nathyortiz, @lorennys, @litzismar, @delvallecedeno, @daysiselena, @ yumelys25 and @lucianav to participate in this great initiative.
Bueno amigos espero les haya gustado esta iniciativa pues a mí me encanto, tranquila @cami.rojas no ardió Troya pero ha sido un buen desahogo. Es por eso que quiero invitar a mis amigos @nathyortiz, @lorennys, @litzismar, @delvallecedeno, @daysiselena, @yumelys25 y @lucianav a participar en esta genial iniciativa.
---

Thank you once again dear friends for reading and visiting my blog. !!

---
---