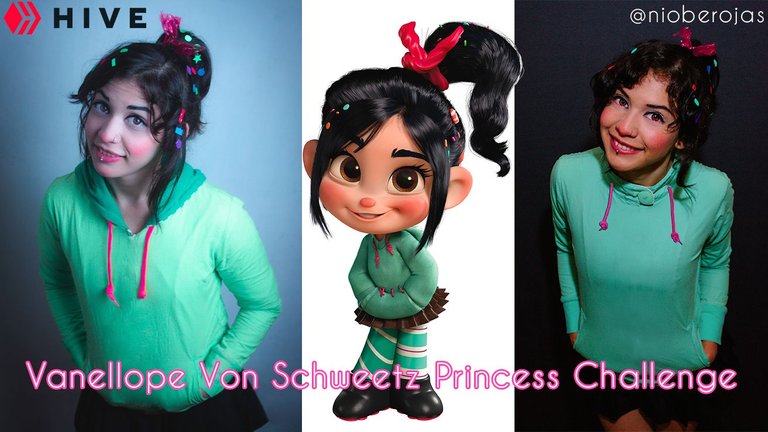 Hello dear Hivers!
Today I want to show you my participation in the popular and fun Princess Challenge.
Hola queridos amigos de Hive!

Hoy les quiero mostrar mi participación en el popular y divertido Princess Challenge (Reto de princesas).
This challenge consists of becoming a Disney character (preferably a princess, but it gradually expanded to include all kinds of characters). The goal is to represent it as faithfully as possible, through makeup and costumes.
Este reto consiste en convertirte en un personaje de Disney (preferiblemente una princesa, pero se fue expandiendo a personajes de todo tipo). La meta es representarlo lo más fiel posible, a través de maquillaje y vestuario.
Taking into account my physical characteristics, such as my chubby face and black hair, I decided to represent the cute little Vanellope Von Schweetz, from the movie Wreck-it Ralph.
Tomando en cuenta mis características físicas, como mi carita cachetona y mi cabello negro, decidí representar a la ternurita de Vanellope Von Schweetz, de la película Ralph el Demoledor.

Creative process
Proceso creativo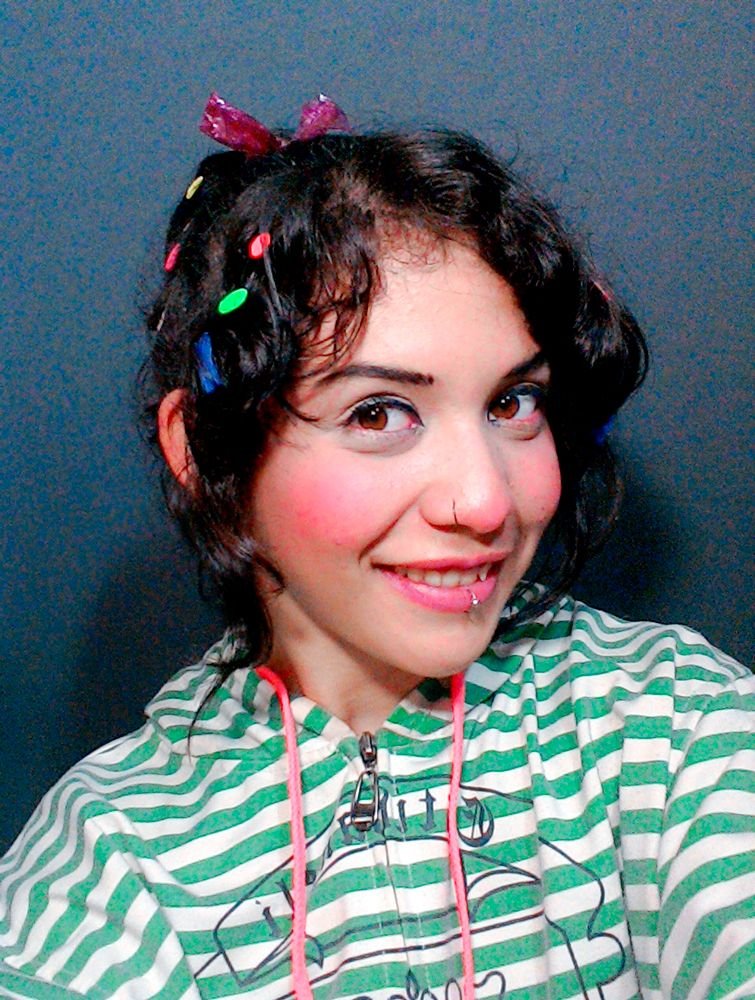 My intention was to accomplish this challenge without spending a penny out of my pocket, so I had to make magic with what I had in my closet.
Mi intención era lograr este reto sin gastar un centavo de mi bolsillo, así que tocó hacer magia con lo que tenía en el closet.
I found two green sweaters: one that had a hood and strings like Vanellope's, but had a striped design 😒 And another that was one-color and had front pockets, like Vanellope's, but had a flashy front zipper and no strings. 😞
Conseguí dos suéteres verdes: Uno que tenía capucha y cordones como el de Vanellope, pero tenía diseño a franjas 😒 Y otro que era unicolor y tenía bolsillos frontales, como el de Vanellope, pero tenía un llamativo cierre frontal y no tenía cordones 😞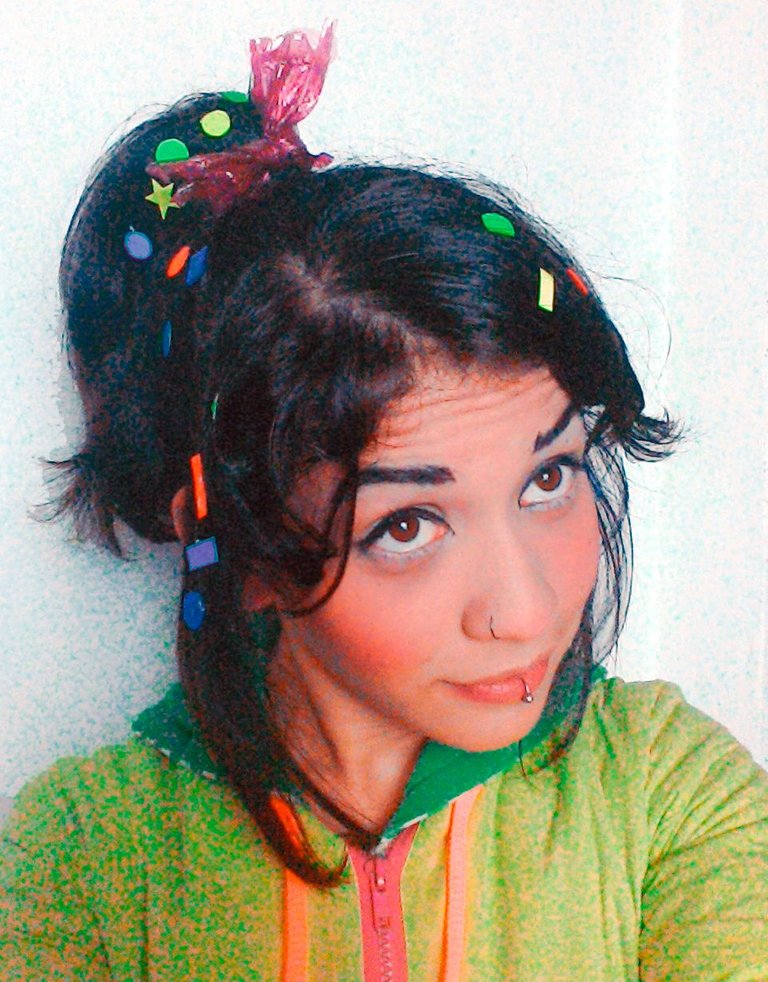 I showed my options to @enderlouis and he said he could fix those issues and make my sweater look like the character's using Photoshop, so that didn't stop me!
Le mostré mis opciones a @enderlouis y me dijo que él podía arreglar esos desperfectos y asemejar mi suéter al del personaje usando Photoshop, así que esto no me detuvo!
Luckily, the other aspects were covered: I had an identical black pleated mini skirt, and I made the candy for the hair by cutting out colored cardboard.
Por suerte, los demás aspectos estaban cubiertos: Tenía una mini falda negra plizada idéntica, y fabriqué los dulces del cabello recortando cartulinas de colores.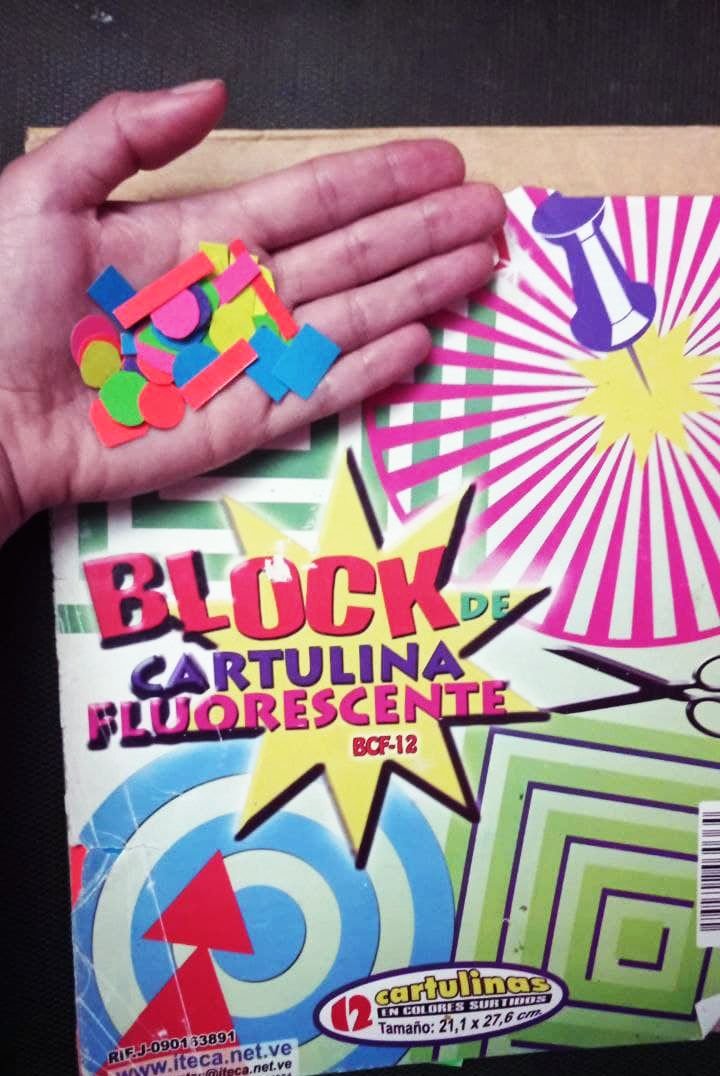 The candy wrapper bow I made with cellophane paper, and I glued the cardboard candy to my hair with styling cream.
El lazo de envoltura de caramelo lo hice con papel celofán, y pegué los dulces de cartulina a mi cabello con crema de peinar.

Results
Resultados
With Ender's help, I made two attempts to get the final photos, using different sweaters and different background and lighting. Here are the best ones! (And its respective comparison to the character).
Con ayuda de Ender, hice dos intentos para conseguir las fotos finales, usando distintos suéteres y distinto fondo e iluminación. He aquí las mejores! (Y su respectiva comparación al personaje).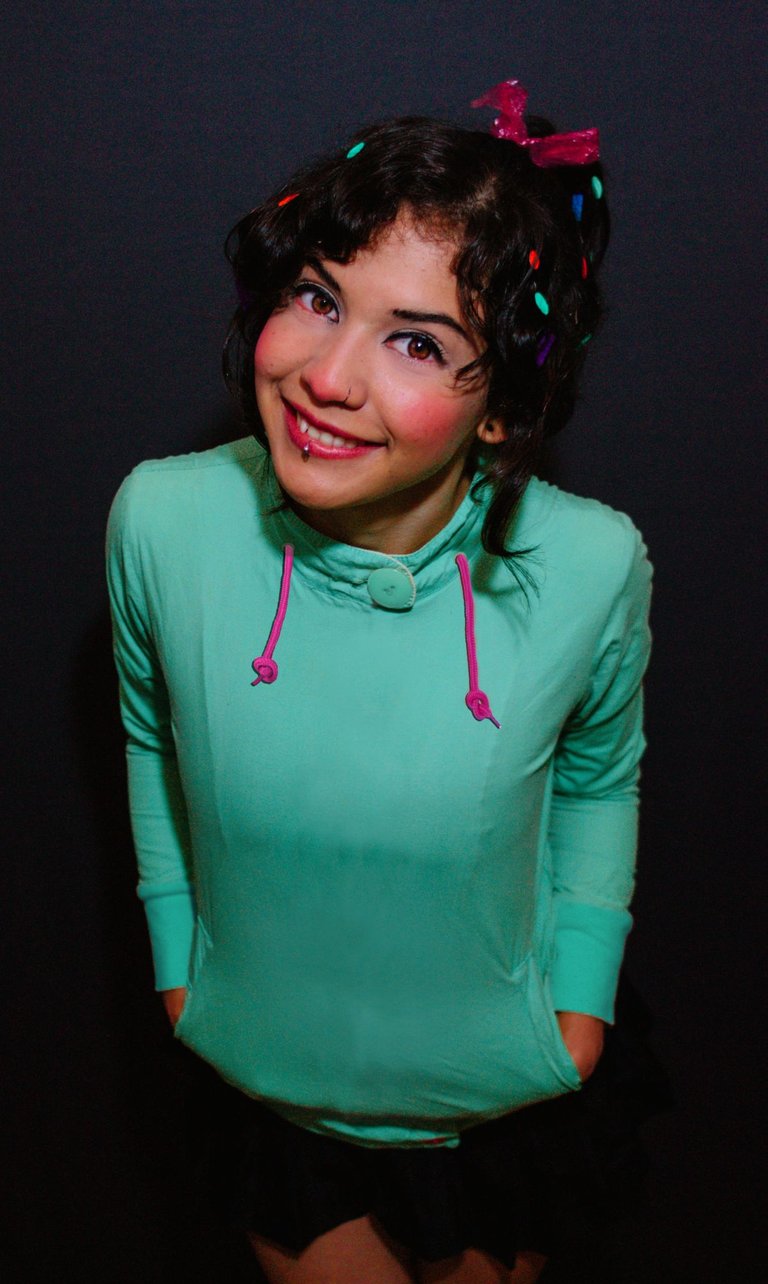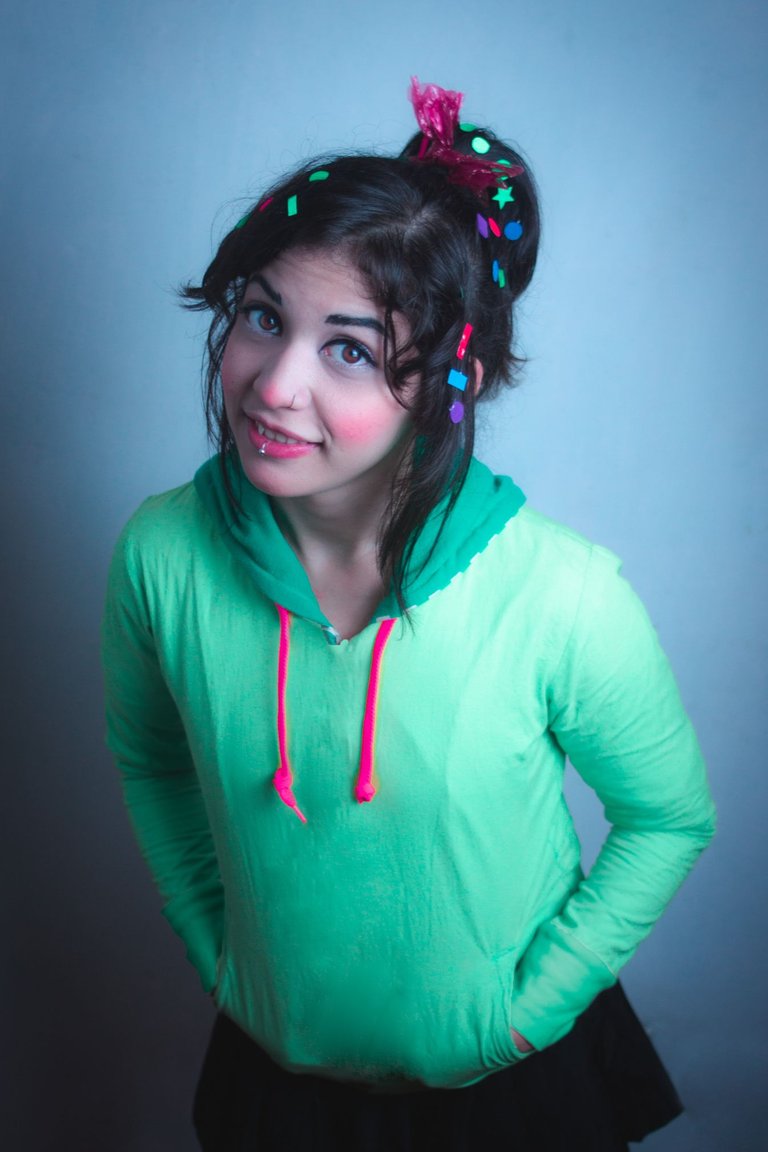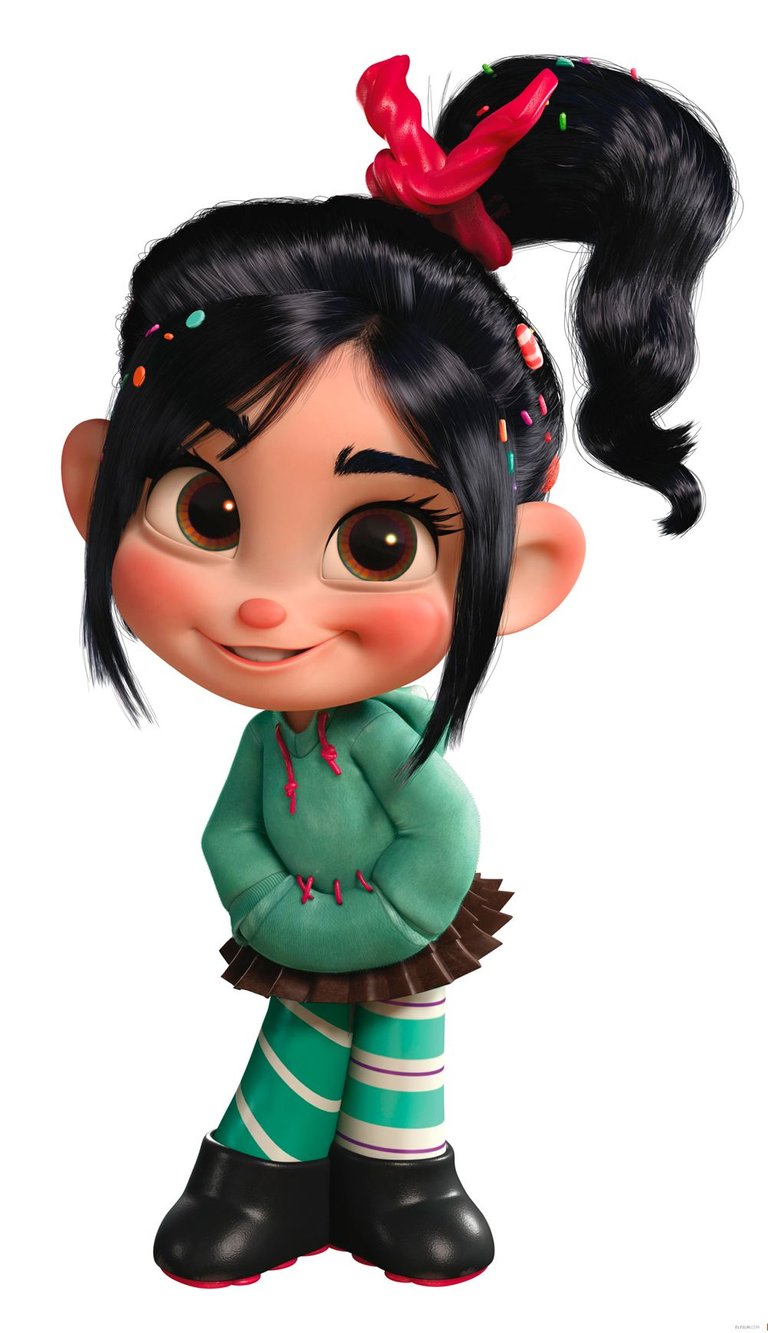 Source / Fuente
---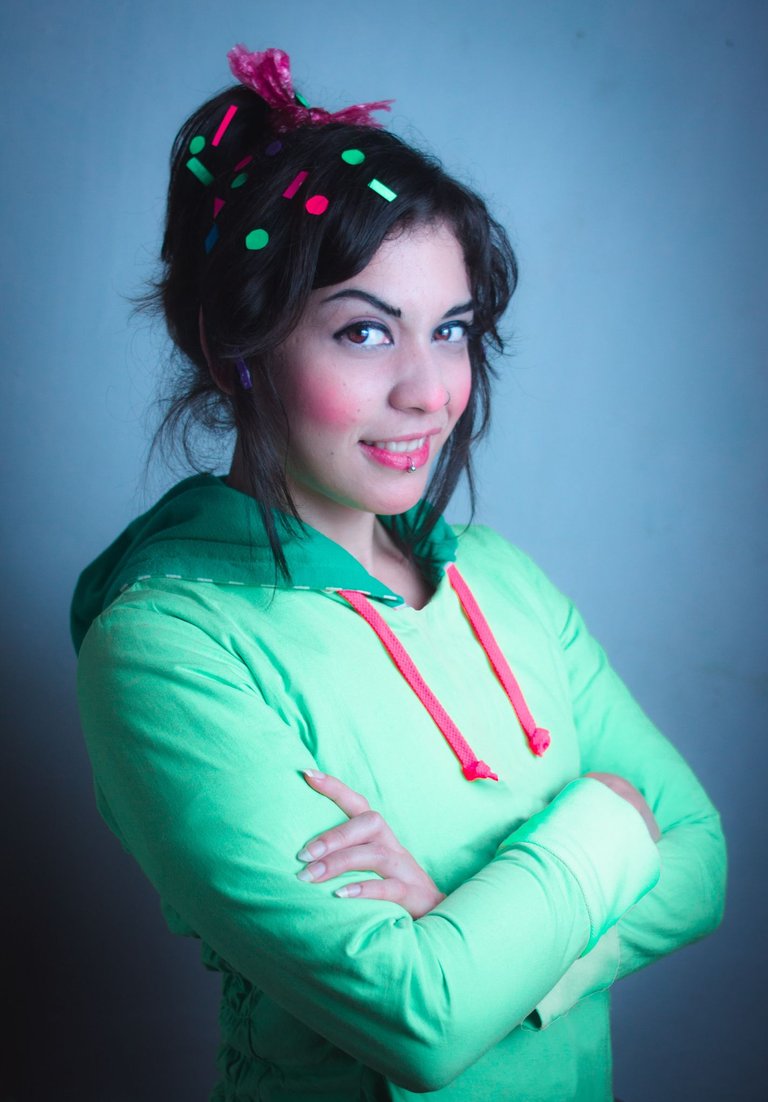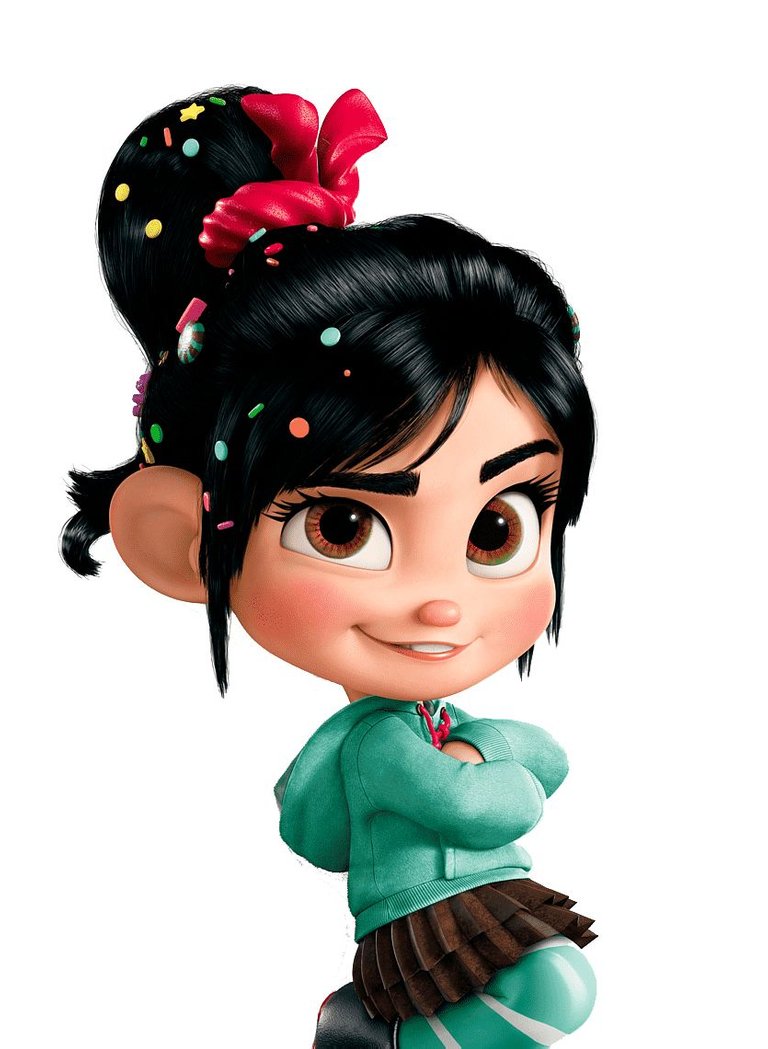 Source / Fuente
---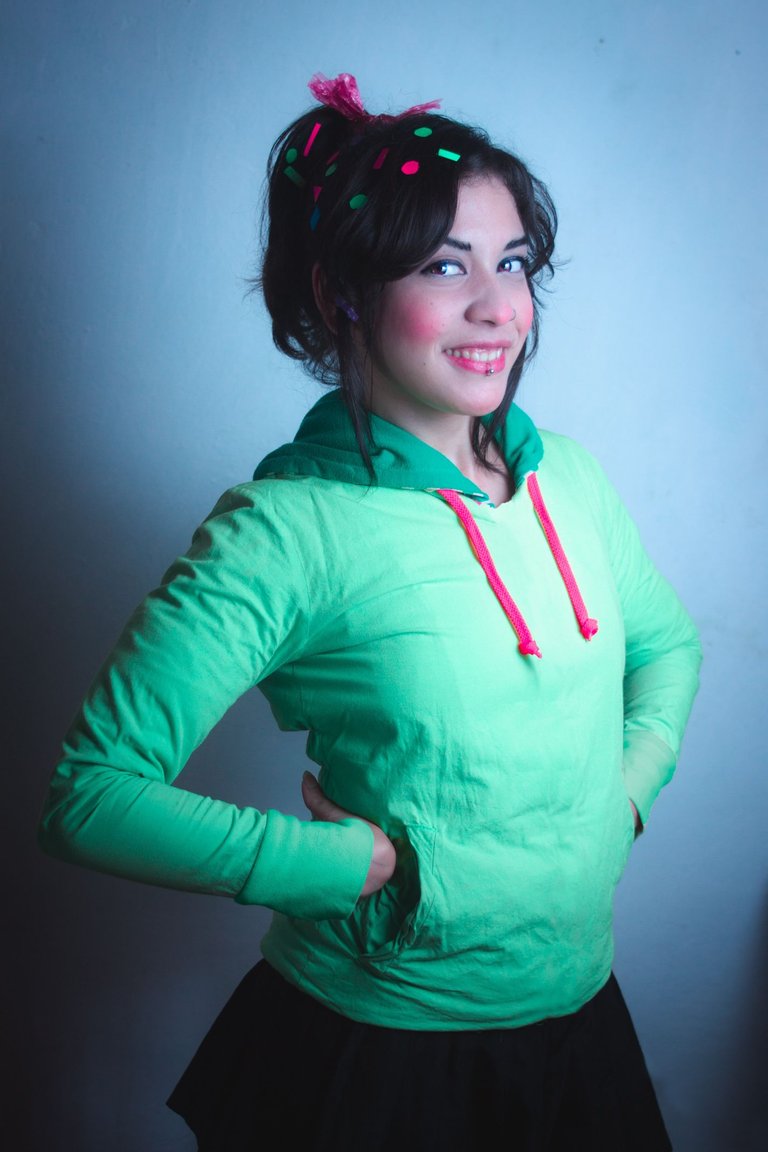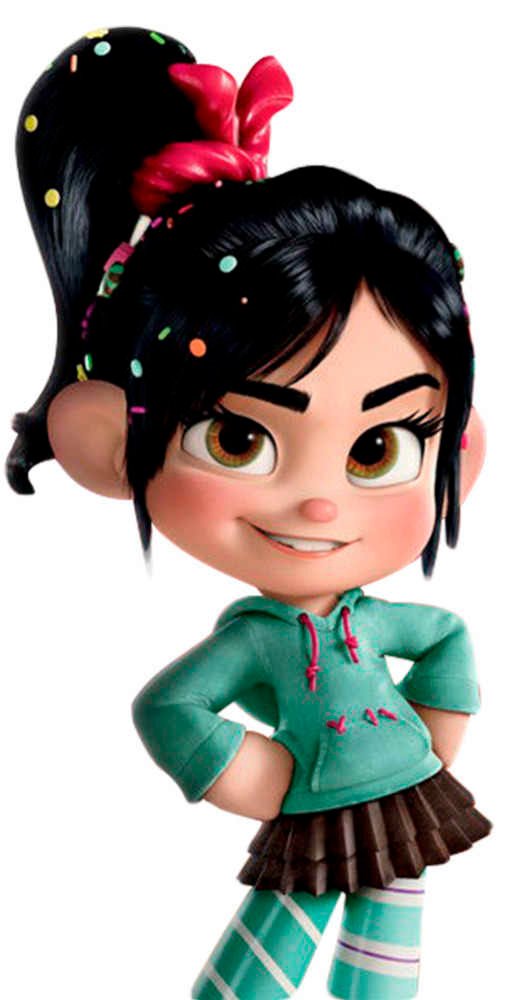 Source / Fuente
---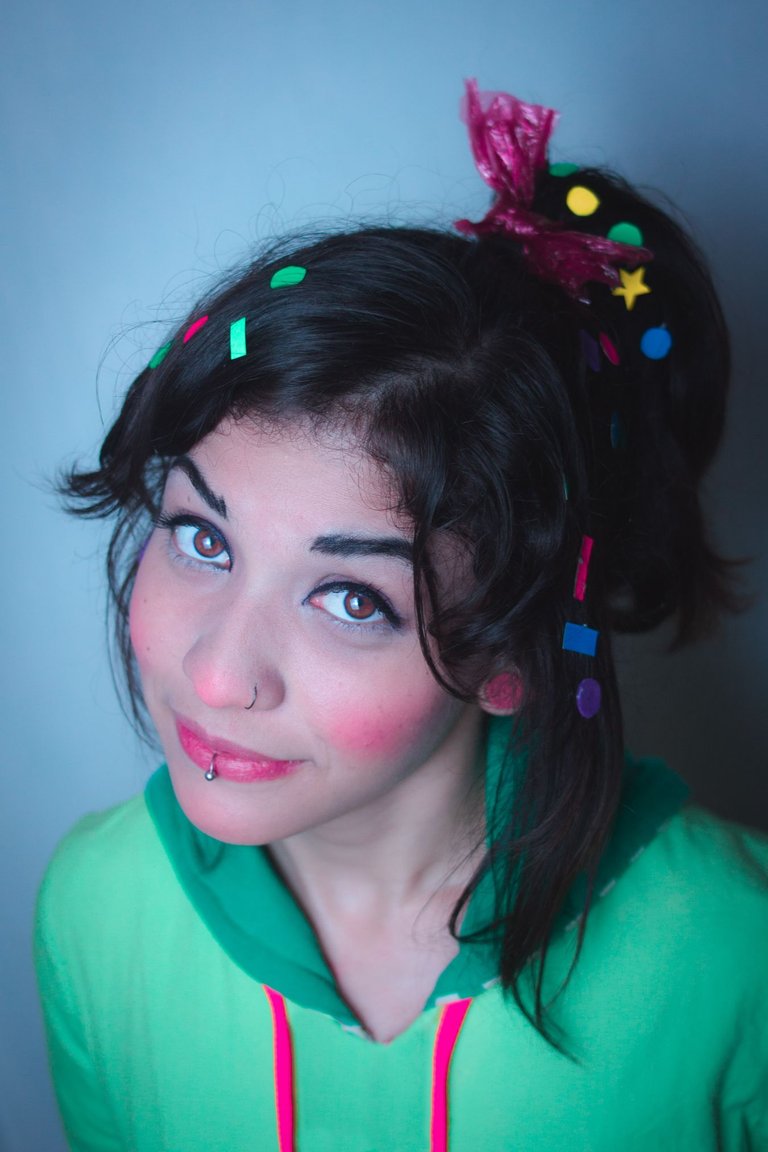 ---
That was my Princess Challenge, folks!
What do you think, did I manage to look like Vanellope? Which photo do you think was the most successful?
¡Ese fue mi Princess Challenge, amigos!

¿Qué opinas, logré parecerme a Vanellope? ¿Cuál crees que fue la foto mejor lograda?

If you found this post entertaining or interesting please don't forget to Vote and Reblog 💞
Si les pareció entretenido o interesante este post por favor no olviden Votar y hacer Reblog 💞
Thanks for visiting Ni de Cabeza! Come back soon!
¡Gracias por visitar Ni de Cabeza! ¡Vuelve pronto!
🍀🦄🎢
---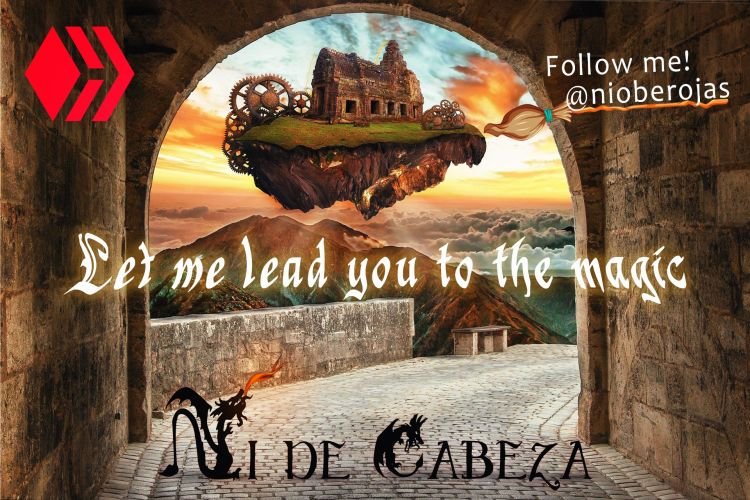 ---
Créditos - Credits
Edición de la portada y los retratos / Cover and Portraits editing: Adobe photoshop
Escobita voladora / Flying broom - Vector de Dibujos animados creado por brgfx - www.freepik.es
Sombrero con cuaderno / Witch hat with book - Vector de Libro creado por brgfx - www.freepik.es
Castillo volador de firma / Signature flying castle - Imagen de my best in collections - see and press 👍🔖 en Pixabay
Traducción al inglés / English translation: DeepL versión gratuita