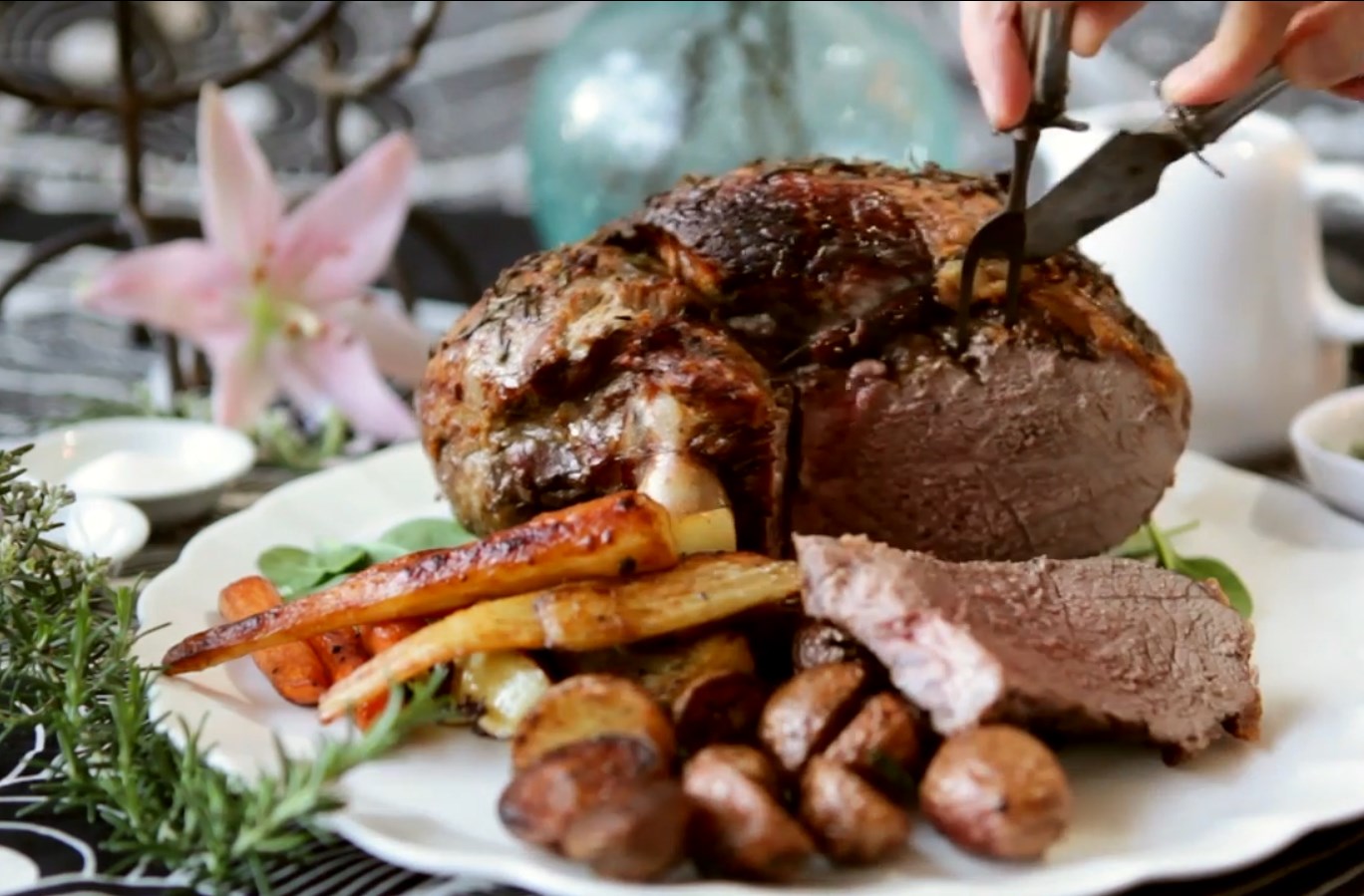 The leg is the most suitable cut of lamb for roasting. In fact, cooked this way it becomes a delicious dish.
But for perfect performance, a precise technique must be followed that begins with the removal of the pelvic bone and ends with the "carving" of the cooked roast. If you wish, you can also marinate the meat with herbs, vegetables, wine and oil.
Cooking in the oven must first be done over high heat (at least 230 °), so that the juices remain inside, then lower it to 180 °, sprinkling the meat with its sauce.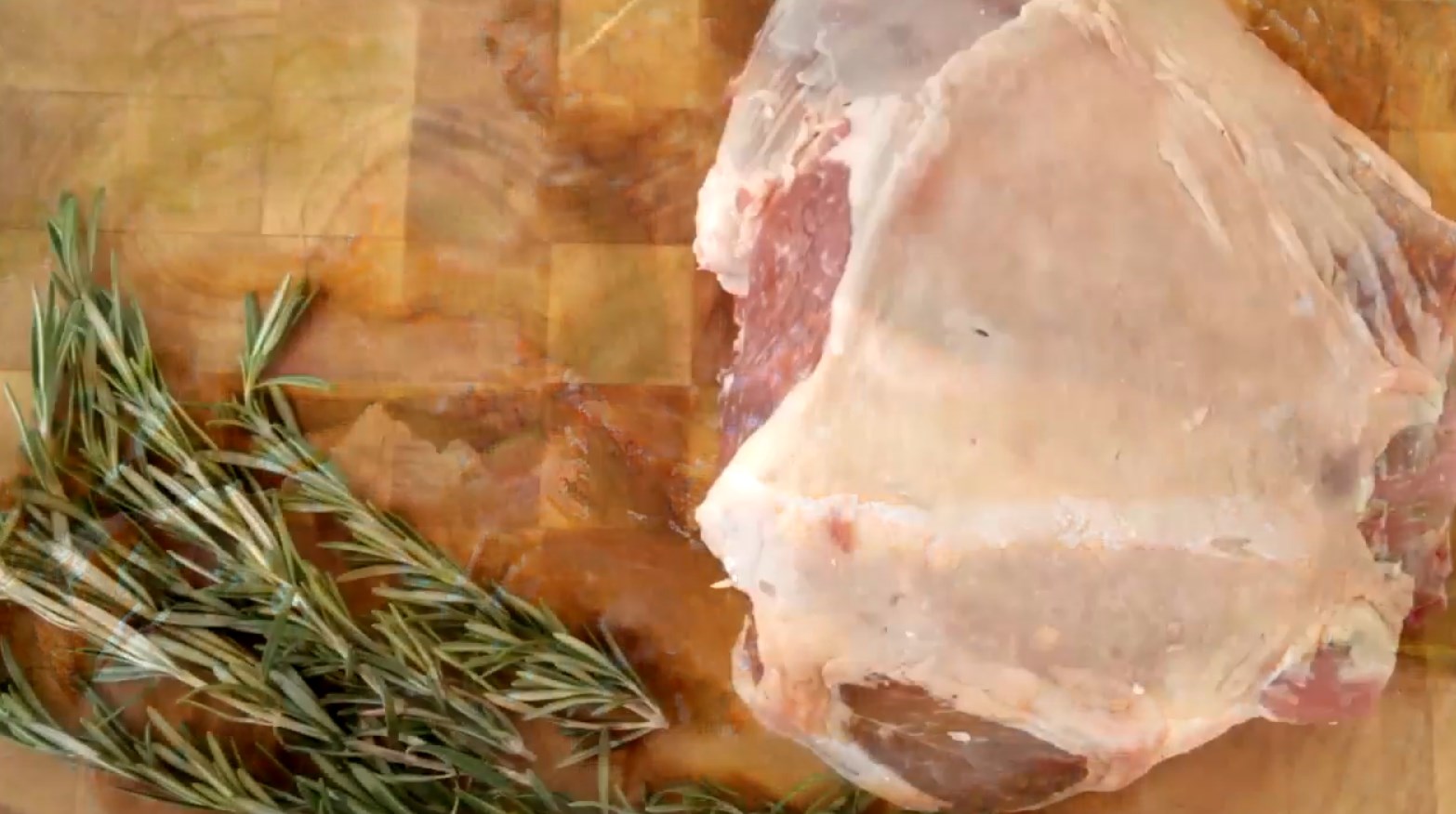 La pierna es el corte de cordero más adecuado para asar. De hecho, cocinado de esta forma se convierte en un plato delicioso.
Pero para que el rendimiento sea perfecto, se debe seguir una técnica precisa que comienza con la eliminación del hueso pélvico y termina con el "tallado" del asado cocido. Si lo deseas, también puedes marinar la carne con hierbas, verduras, vino y aceite.
La cocción en el horno debe hacerse primero a fuego alto (al menos 230 °), para que los jugos queden dentro, luego bajarlo a 180 °, espolvoreando la carne con su salsa.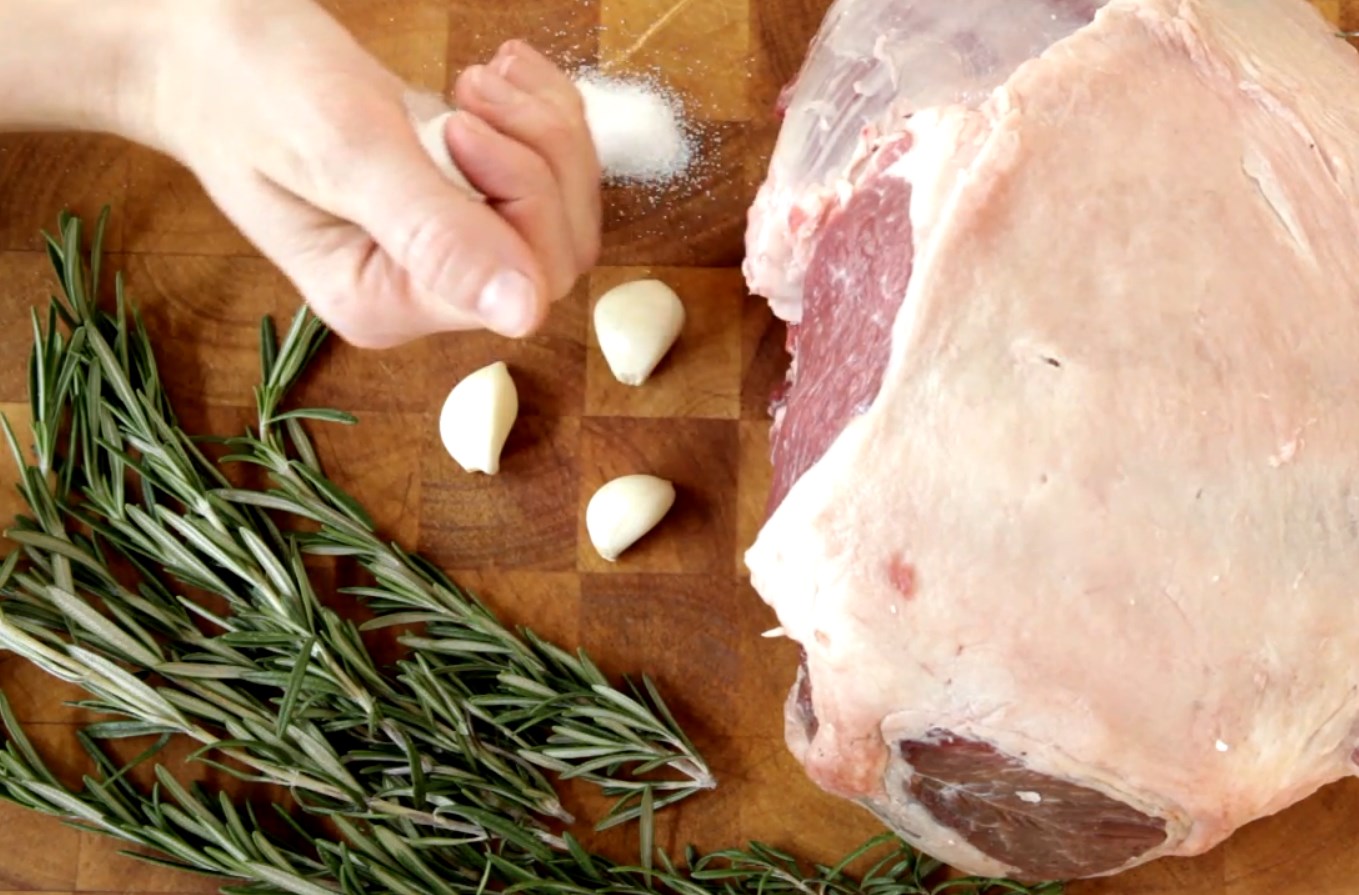 Ingredients and tips to prepare the leg with spices / Ingredientes y consejos para preparar la pierna con especias.
Simple cooking techniques, but with precise precautions and tricks as cooks to obtain the best results.
Only then can you discover the benefits of this tender and tasty meat.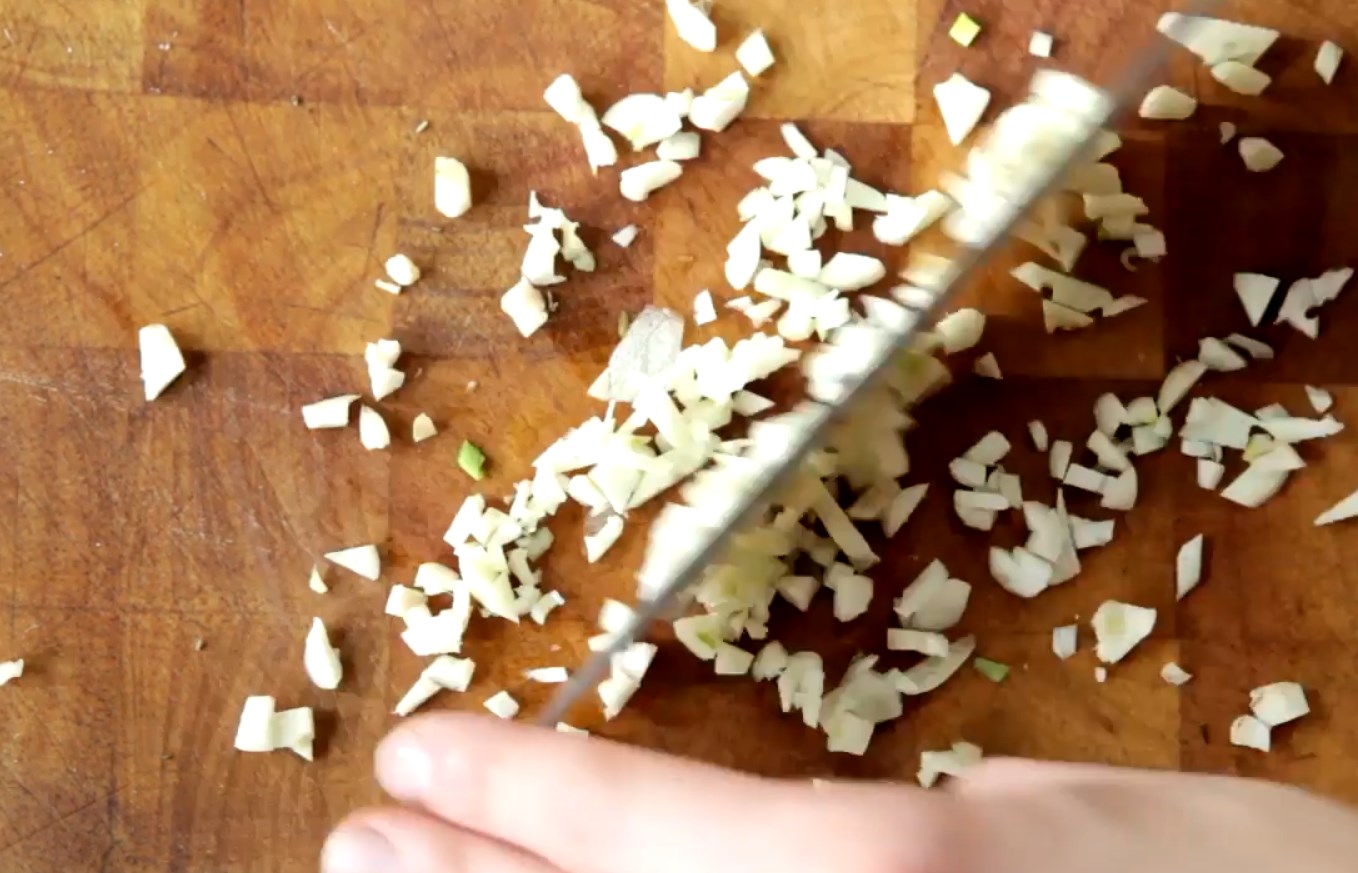 Técnicas de cocina sencillas, pero con precisas precauciones y astucias como cocineros para obtener los mejores resultados.
Solo así podrás descubrir las bondades de esta tierna y sabrosa carne.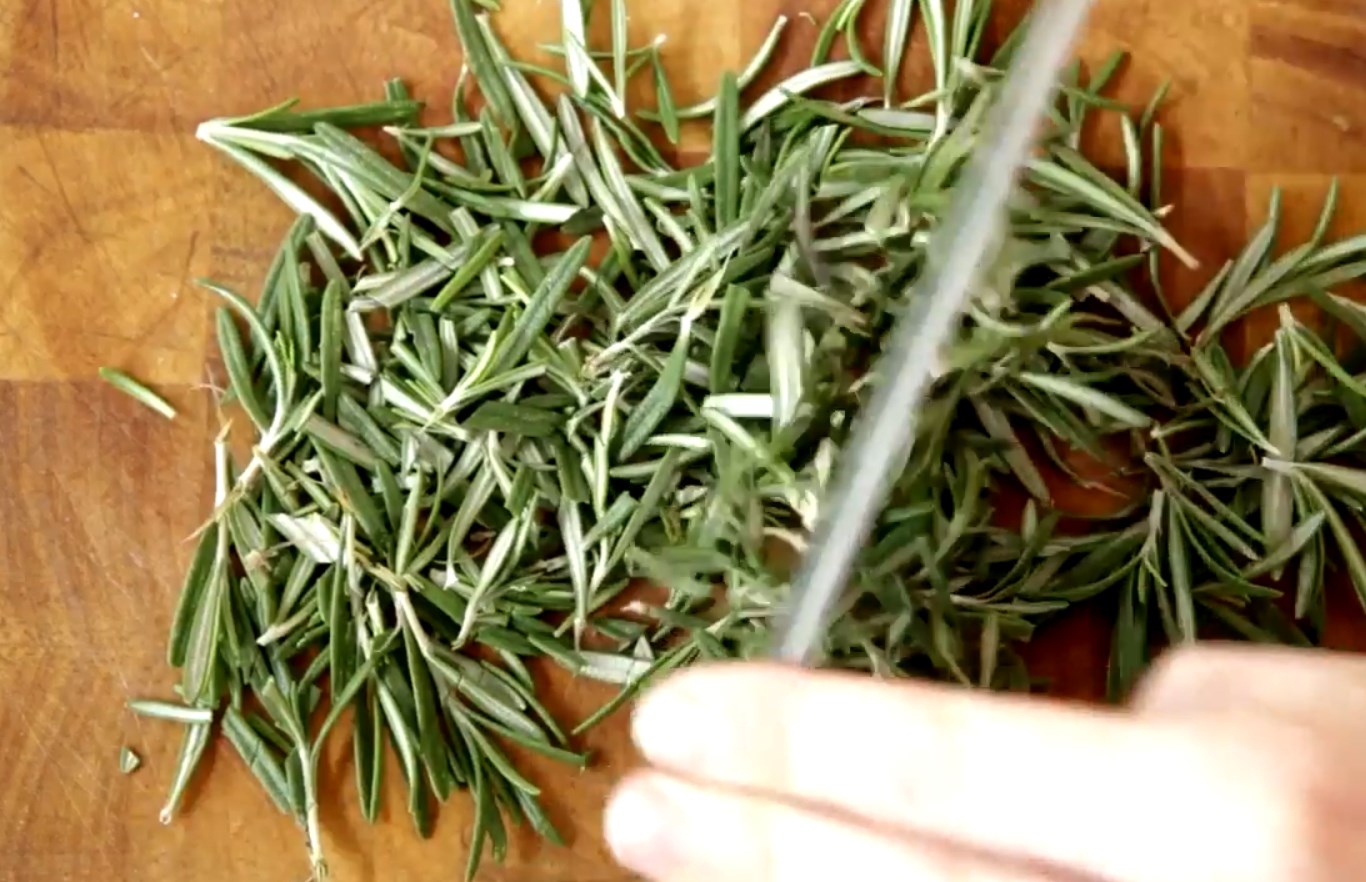 Season the meat. / Sazona la carne.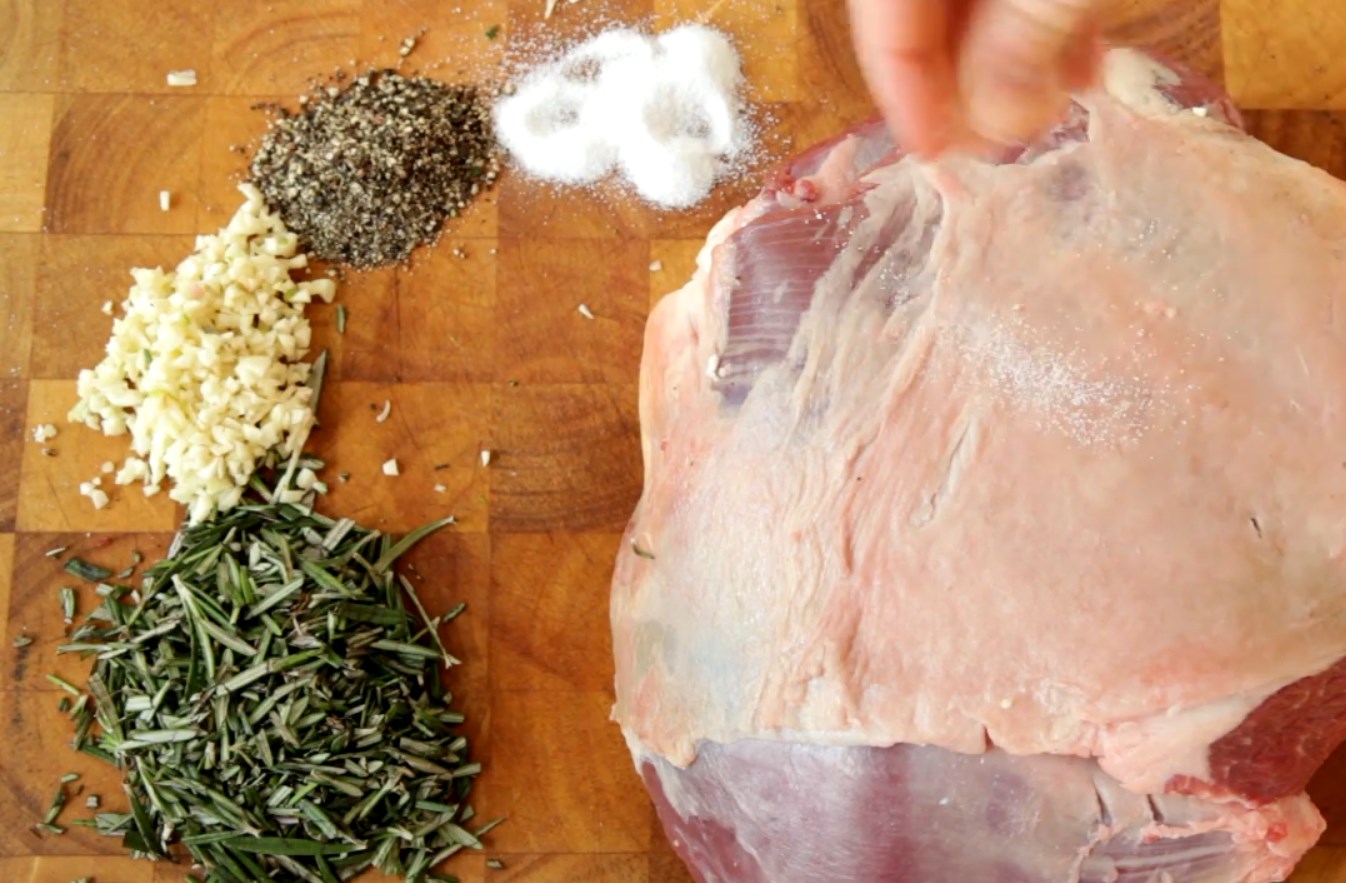 Make small incisions and insert a sprig of rosemary and a clove of garlic in each one.

Sprinkle with chopped rosemary and marjoram, salt, pepper, a drizzle of oil and half a glass of white wine.

Ideally, let them marinate for a couple of hours.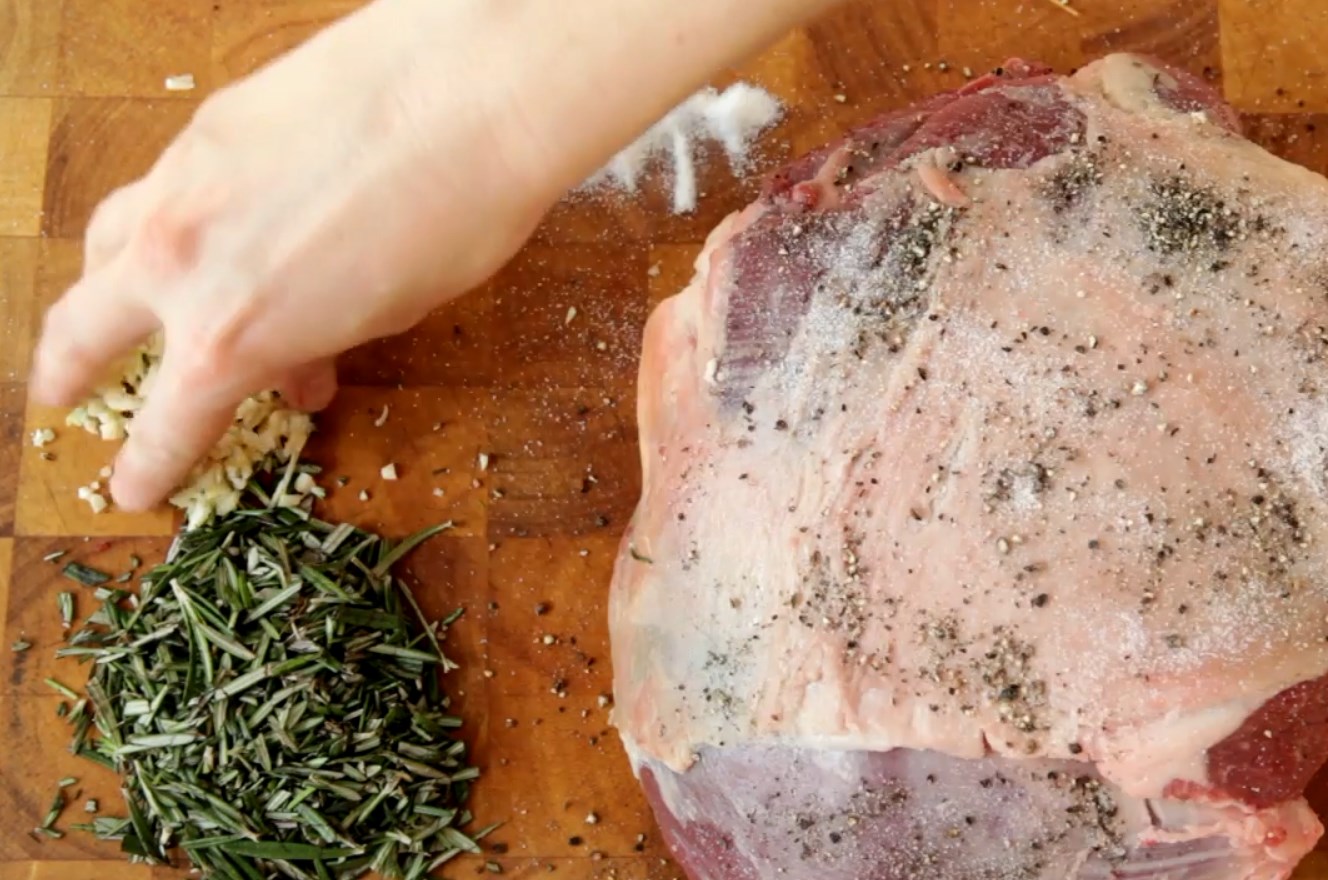 Efectúa pequeñas incisiones e introduce en cada una una ramita de romero y un diente de ajo.
Espolvorea con romero y mejorana picados, sal, pimienta, un chorrito de aceite y medio vaso de vino blanco.
Lo ideal es dejarlos marinar durante un par de horas.

Brown it on the stove. /Dorarlo en la hornalla.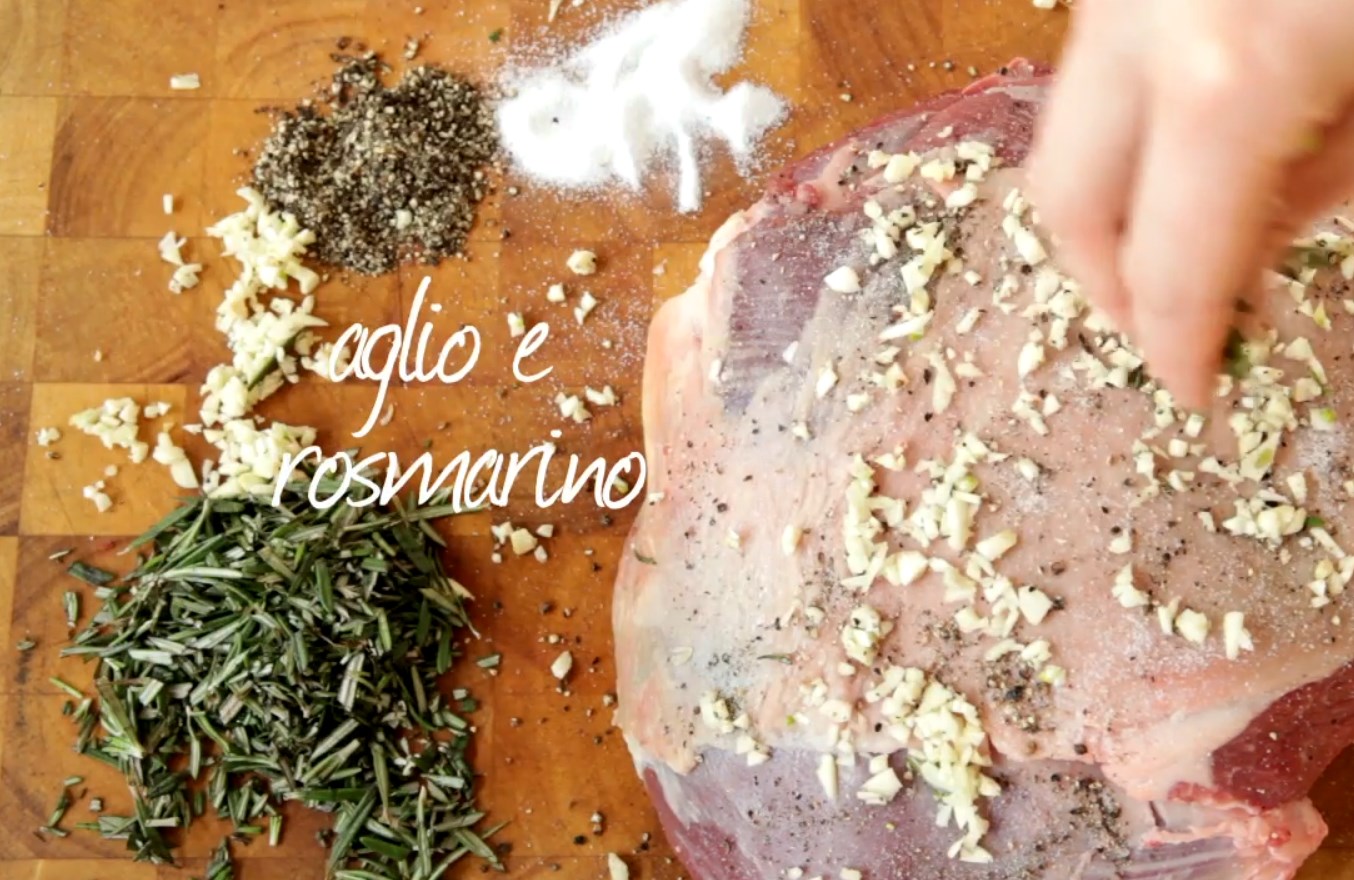 Drain the leg of the marinade (which you will set aside) and pat it dry with kitchen paper.

Heat 2-3 tablespoons of extra virgin olive oil in a frying pan.

Place the leg and brown over high heat on all sides, turning it with 2 wooden spoons, until it is golden all over the surface.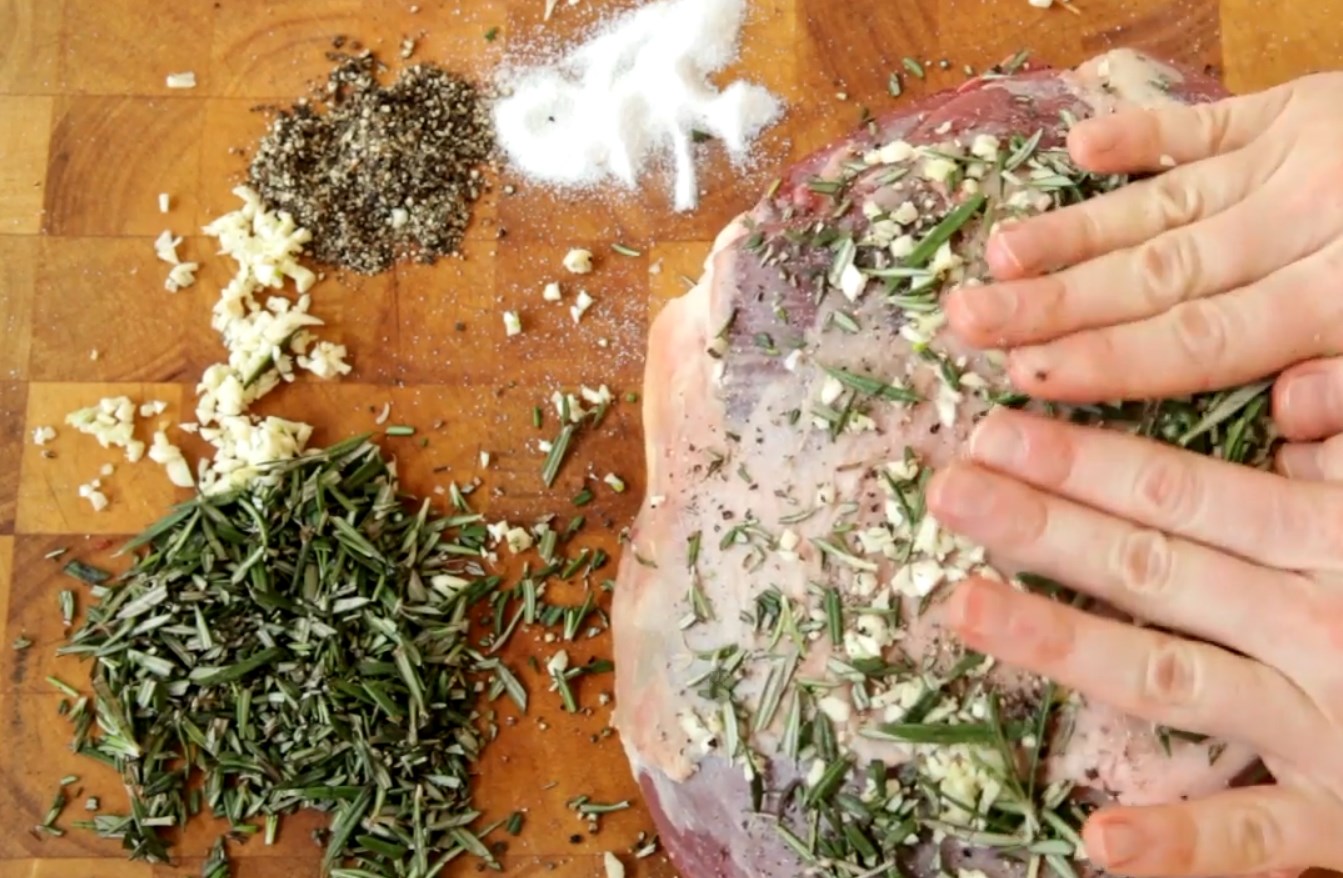 Escurre la pierna de la marinada (que dejarás a un lado) y sécala con papel de cocina.
Calienta 2-3 cucharadas de aceite de oliva virgen extra en una sartén.
Coloca la pierna y dora a fuego alto por todos los lados, girándola con 2 cucharas de madera, hasta que esté dorada en toda la superficie.

Cocinarlo en el horno. / Cook in the oven.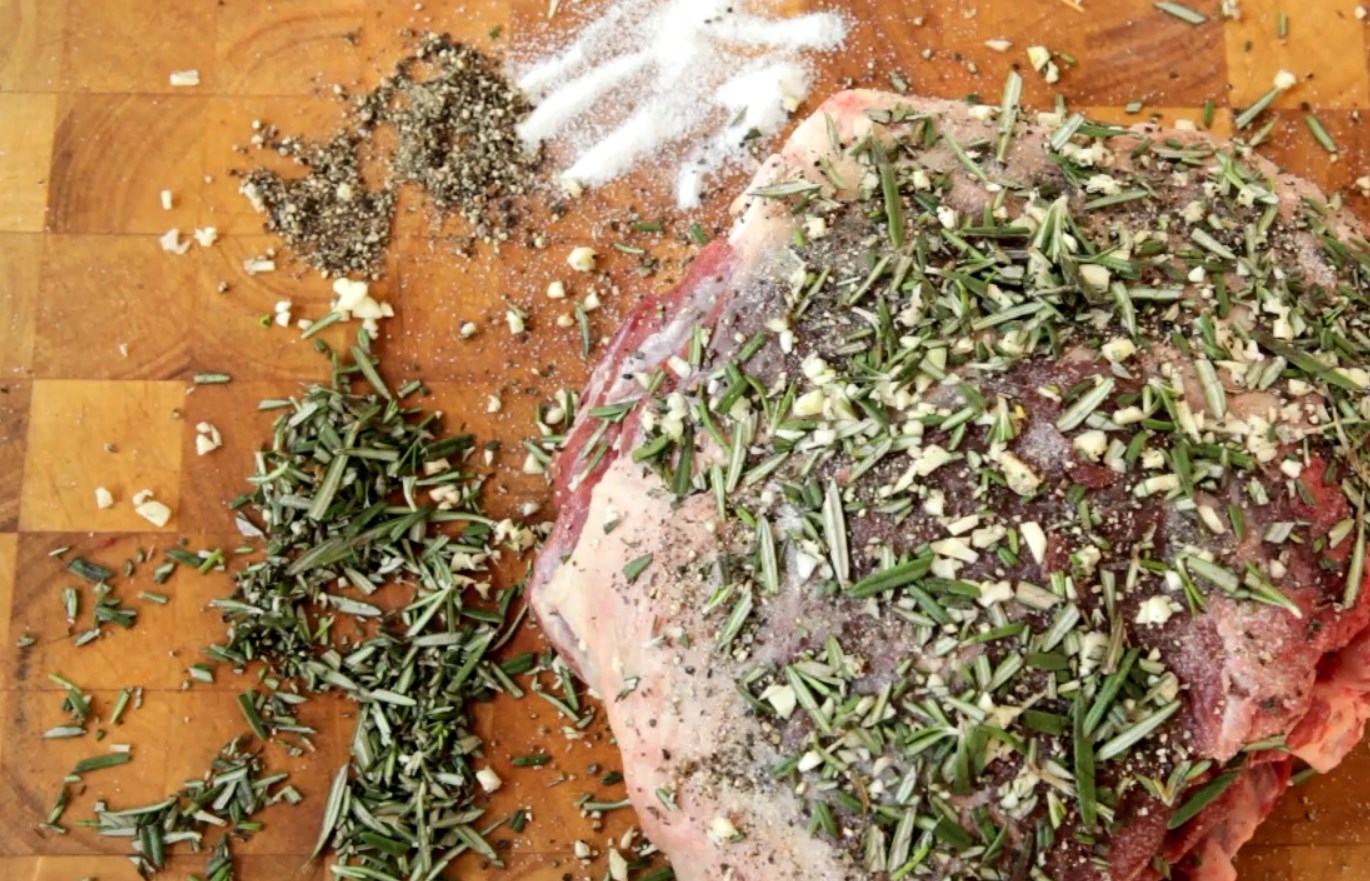 Place the leg of lamb on the grill in the oven with a skillet underneath.

Bake at 200 ° and cook for about an hour, brushing it occasionally with the marinade and the cooking juices.
Coloca la pierna de cordero en la parrilla del horno con una sartén debajo.
Hornea a 200 ° y cocinar durante aproximadamente una hora, cepillándola de vez en cuando con la marinada y los jugos de cocción.

Pequeños secretos. / Little secrets.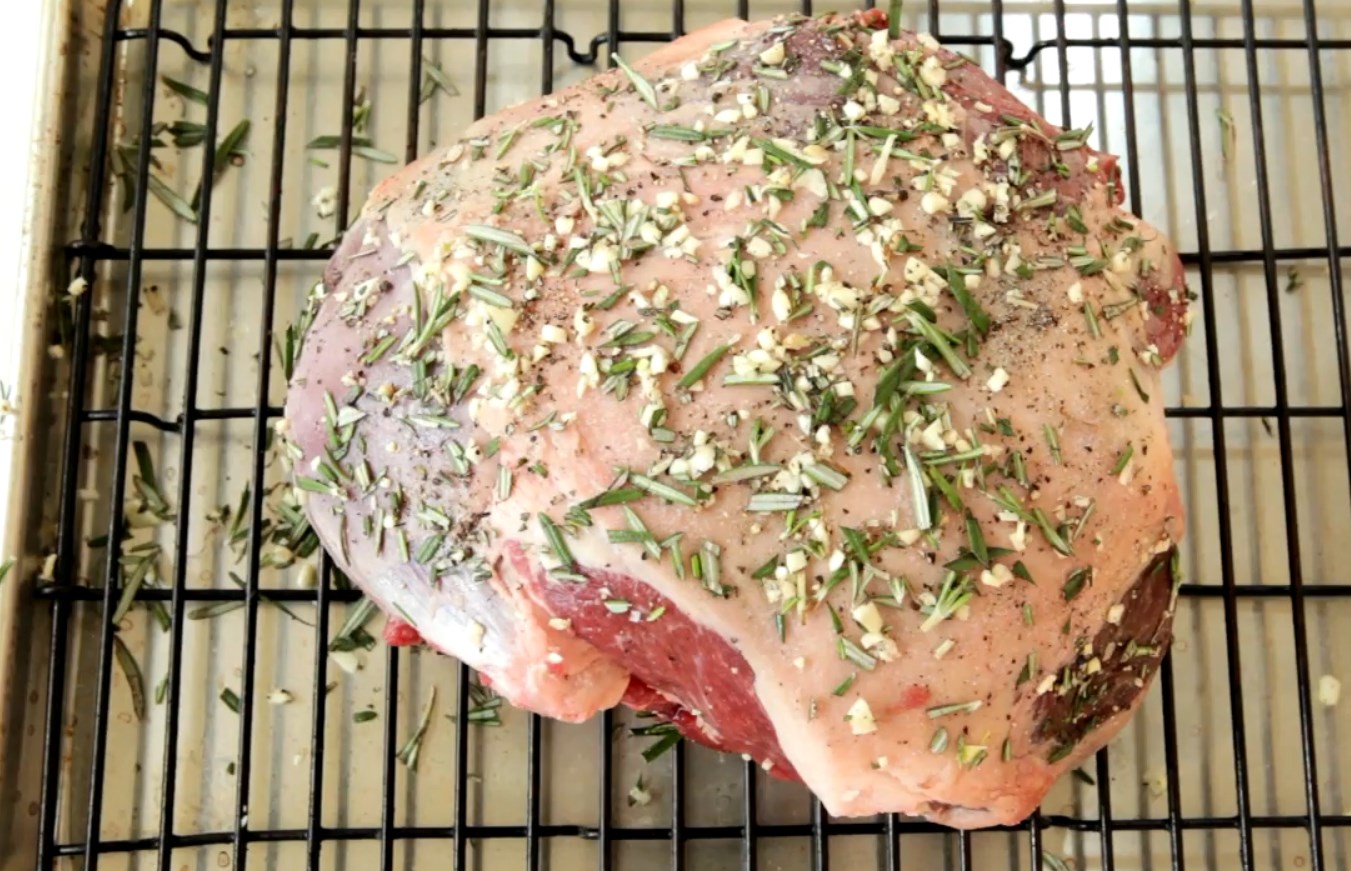 If you want to have an exceptional roast, buy the pre-salé lamb. It is raised in Brittany, where it feeds on the grass of the coastal meadows (in fact, its name means "salty meadow").

When browning the leg, use a thick-bottomed pan (preferably copper with a steel interior) that contains it in size: you will prevent the oil from flowing into the empty spaces and burning.

Cooking in the oven tends to dry out meat too much. To keep the leg soft, dip it in a ladle of hot broth: this will give you a rich and flavorful sauce that will accumulate in the pan below.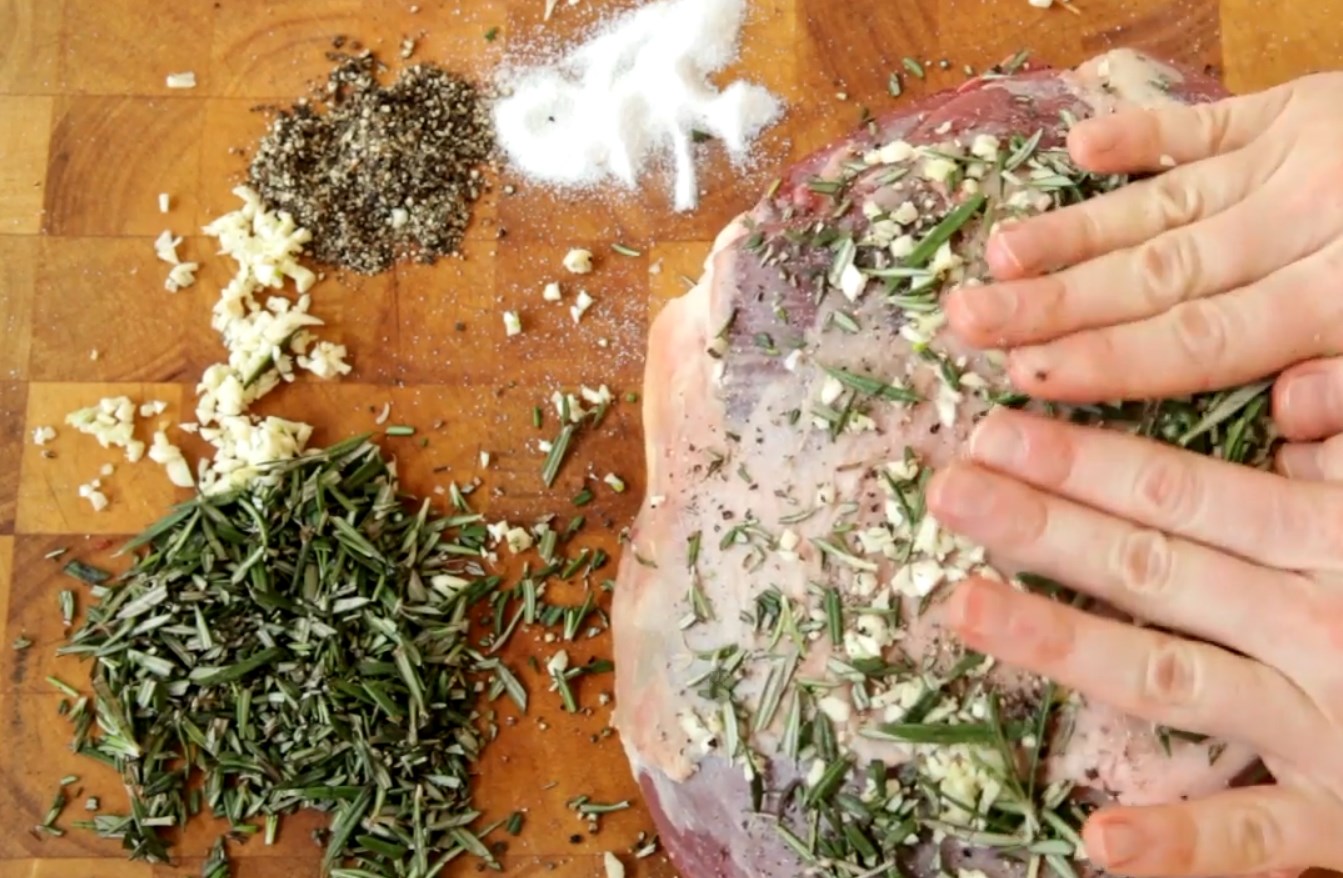 Si quieres obtener un asado excepcional, compra el cordero presalè . Se cría en Bretaña, donde se alimenta de la hierba de los prados costeros (de hecho, su nombre significa "prado salado").
A la hora de dorar la pata, utiliza una sartén de fondo grueso (preferiblemente de cobre con interior de acero) que la contenga en tamaño: evitarás que el aceite fluya hacia los espacios vacíos y se queme.
Cocinar en el horno tiende a secar demasiado la carne. Para mantener la pierna blanda, mojala con un cazo de caldo caliente: de esta forma obtendrás una salsa abundante y sabrosa que se acumulará en la sartén de abajo.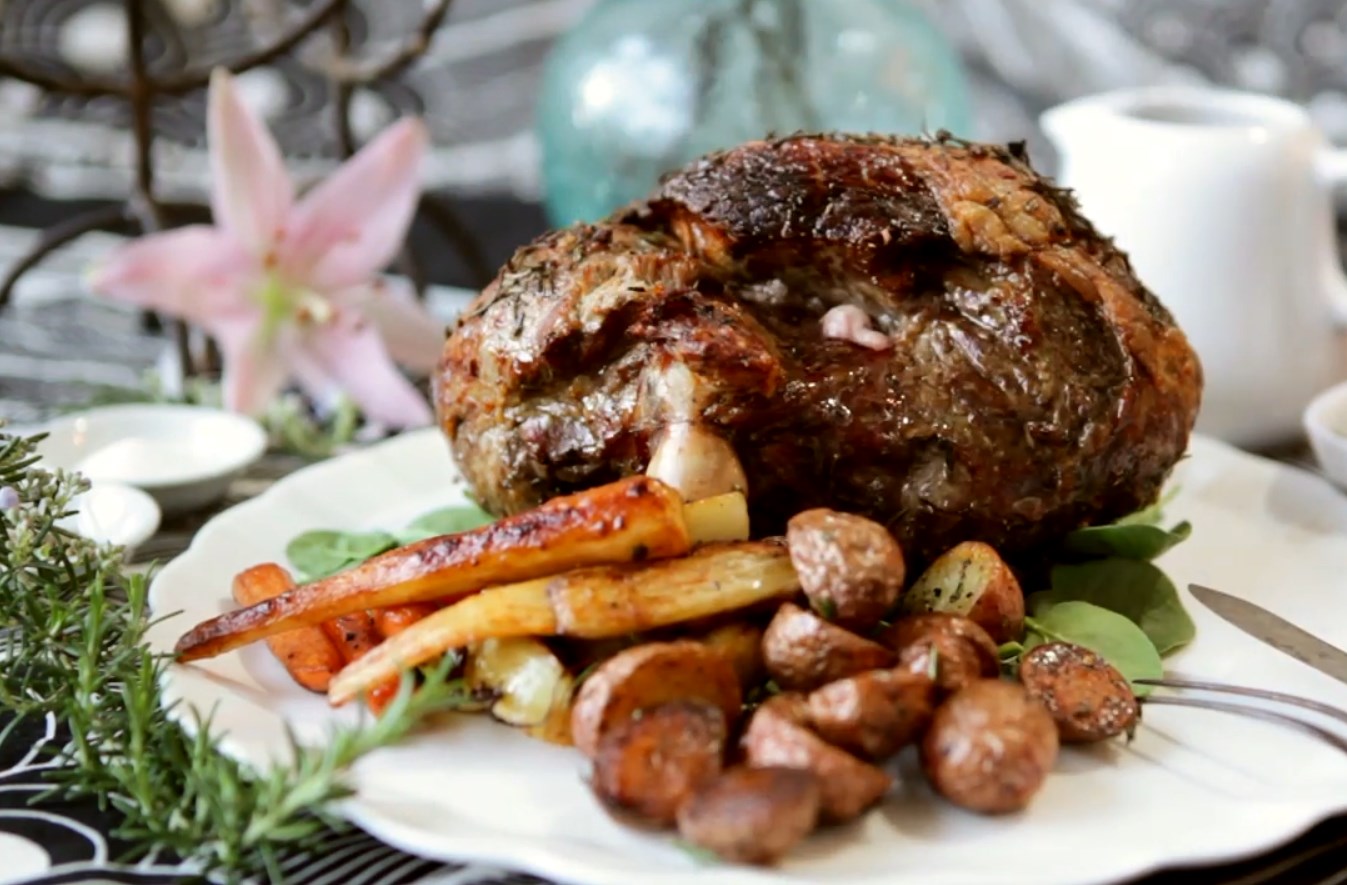 Banners and icons (modified with Paint.NET) are free to download from the PngTree.site.
Los banners e iconos (modificados con Paint.NET) se pueden descargar gratuitamente del sitio PngTree.site.

LATEST RECIPES PUBLISHED ON HIVE / ULTIMAS RECETAS PUBLICADAS EN HIVE.