With all the time and effort, we each, have put into this community and its various projects. All the support given to and from the community accounts. I (@d00k13) just want to say thank you by helping the @OneLoveDTube Community account break into the...

DTube Rich List





What can I say... It has been through DTube that most of my financial and personal growth has flourished. Through the content I create and following I build but most importantly the connections I try kindle. A single comment is all it took and away the community carried me. Brutal truth when I look back, without One Love I do not think I would be the same me as I am now!

So @OneLoveDTube just pushed aside @AlphaSteem following up on @Ficcion, two of our very own one of which from the very beginning. We are proud to see so many of the early members in that Rich List. Humble beginnings right? The journey was tedious but WE MADE IT!!!

Currently We Are Charging And Reserving DTube Voting Power For Our Next Video Challenge

End Week 1 Video Challenge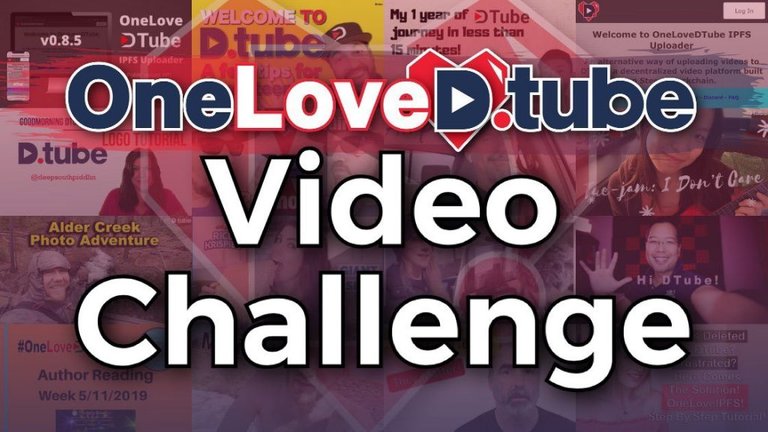 Results were kind of dismal so we will wrap all the rewards offered from that post including the post rewards into next week video challenge. Reward Total a little over 5 SBD.

Next Challenge
Video Responses
, we want to see our community leaders - meaning all of DTube because you all are part of the One Love DTube Family - This should be an excellent way for everyone to get engaged but to keep things open ended we don't care to or what you make your video response too. Reply to a comment, or make a response to a news article. Respond to your favorite creators or even to yourself LOL
Let's bring back the #DTubeSnap!!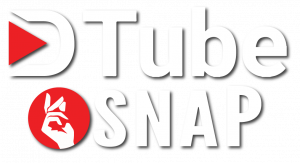 Only Rules:
Keep It Clean & Friendly
Post Directly To D.Tube w/ File Upload or IPFS Alternatives
Use Tag DTubeSnap
Accepted Entries will be Curated adding the
#OneLoveDTube
tag!
Further Details in our Next Video

Avalon Block Explorer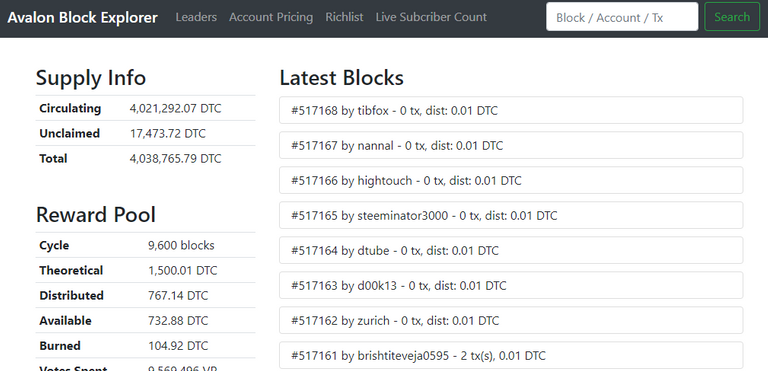 Found at https://blocks.oneloved.tube you can see @TechCoderX's Announcement Post Here
With this tool you can check and see we have 2 Leaders in the Top 10 DTube Consensus and also view the Rich List mentioned above.

Much Love,

@OneLoveDTube

Tired Of Your Videos Not Playing? We Have Solutions!
An alternative way of uploading videos to DTube, a decentralized video platform built on Steem, Hive and Avalon blockchain. With a competitive $0.087/GB/month you will get full access to our creator tools including our IPFS Discord Pin Bot, DTube Uploader, Thumbnail Swap Tool.
Videos Playable Forever, Faster Playback, High Quality Thumbnails, Thumbnail Swap Tool, 0% Beneficiary (exclusive to uploader.oneloved.tube interface), Add Beneficiary To DTube Posts, Create Steem/Hive Post & Upload Images Within Our Uploader, Skip Upload & Rendering Queues, Use Upto 7 Post Tags, Resume-able Uploads.

Roadmap:
Support for Alive, a decentralized multi-chain live streaming protocol
User settings for customizing upload threads, API nodes etc
DTC payments in Shawp
Schedule videos
If you have any enquiries regarding our uploader, feel free to contact us on our Discord Server.
"We #OneLoveDTube are a group of content creators aiming to support creativity on DTube and the platform alike by manually curating content while providing IPFS backup solutions that keep videos playable forever!"
We Will Get There Together
Join Us In Discord, Click The Image Below

---
Posted with our community page powered by SteemPress/Exxp : https://oneloved.tube/2020/10/19/break-into-dtube-rich-list-end-week-1-video-challenge/
---