Introduction
Dear, Hive Community, how are you? I hope you guys are doing fine. Before I begin, I am sorry for doing mass tagging. I tag each of you guys because I wanted to thank you for liking/voting on my previous post, which gives me hive dollars that I already withdraw for my son's needs. Thank you, thank you so much!
It's been two months since my last post about my son's condition. I have been thinking about stopping writing about it since it's hard to put these pieces and stories together, but then I think again someone out there might get this story useful. So, I glad to share the difficult time of our side of the story. Our entire family has been struggling mentally and physically to endure the pain and sadness about my son's condition. It is not a dream that we can wake up from and forget about it. It's hard. I will try to make this short. God bless.
Getting to know about the wad
On 1st Mac of 2021, we checked in at the bone marrow transplant unit's wad. I am satisfied with all the utilities and facilities provided by the hospital for a bone marrow transplant patient for a government hospital. We only have three hospitals in the entire country that experience enough to handle bone marrow transplant procedures. Two of them (one private and one government hospital) are located thousand of kilometers away, and we need to go there by airplane. So, in our state, there is only one hospital that has experience handling the procedures. We are here.
By the way, we got really nice outside view from the room's windows. The view means a lot since we will be stuck here for three months according to the procedure plan.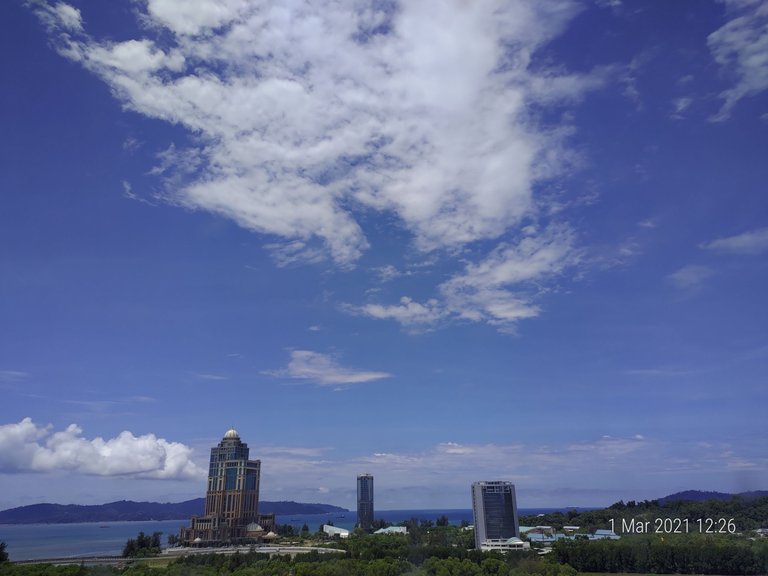 View from the window. Beautiful isn't it?
The First Step
After two days of well-rested, my son's first step of the procedure was the CVL placement. Thank God the procedure went smoothly and successfully.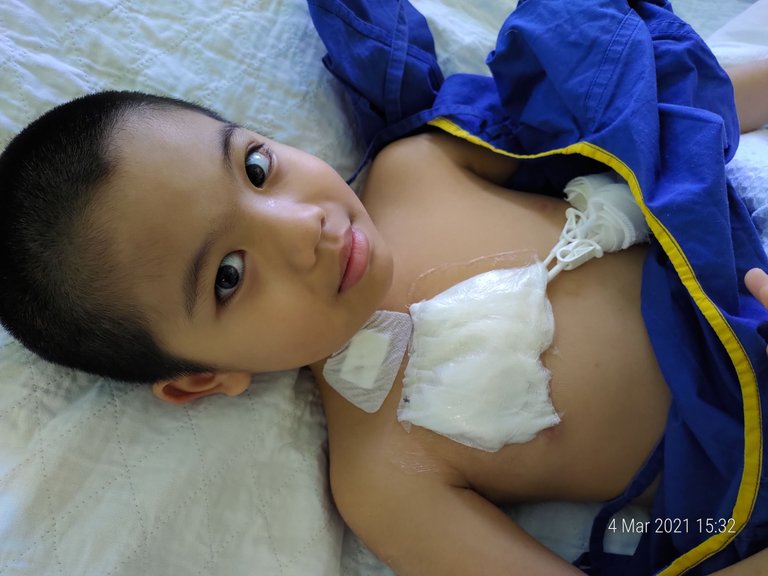 Few hours after CVL placement. The thing on (in) his chest.
The new way of cleaning teeth/mouth
For the first time, and still doing it until now. Ray cannot use a toothbrush, to prevent bleeding, to clean his teeth and mouth. He needs to use a mouth set that has been sterilized and sodium bicarbonate 3.5% to wash his mouth.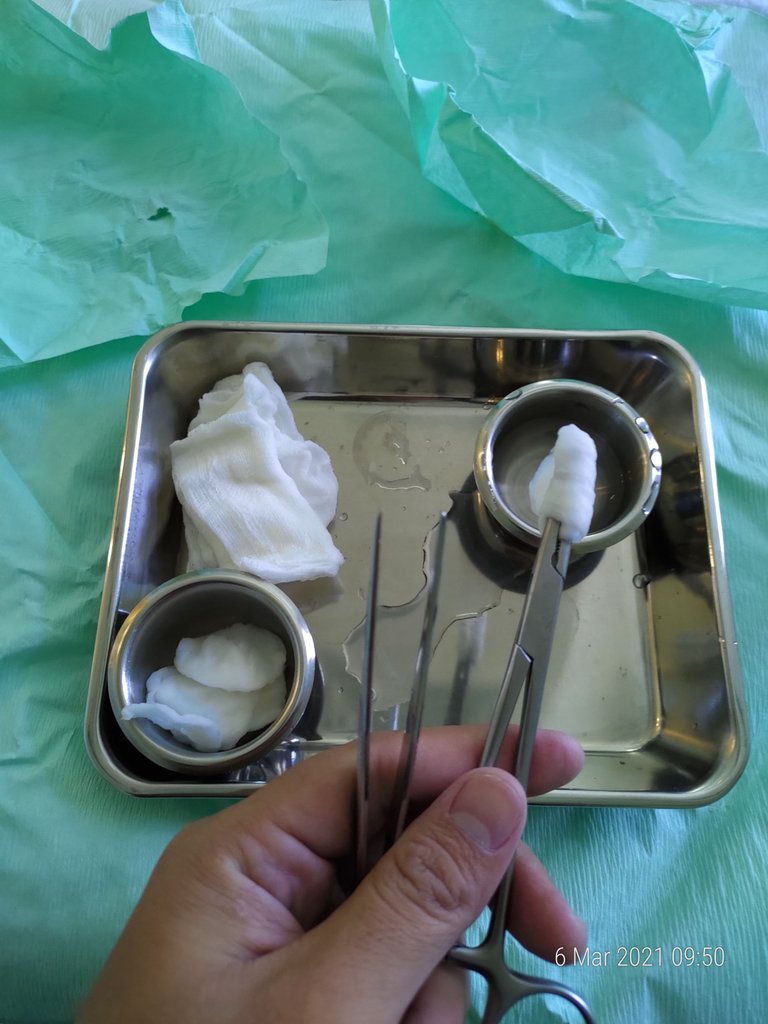 Mouth wash set ready.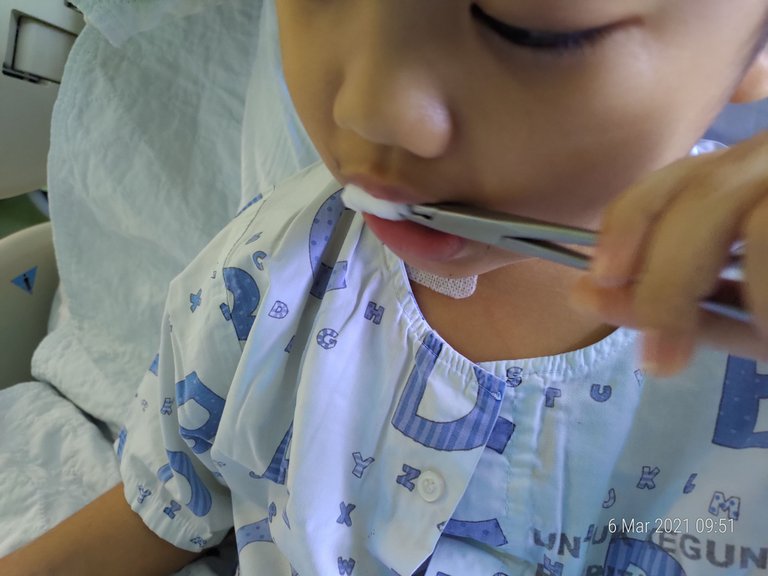 Doing it slowly (really slow).
Other than that, nystatin also used as antifungal medication.
To fill the boredom
To stuck in this room is pain. After the chemotherapy started, Ray cannot go outside from his room. Even my movement is also limited. I cannot go anywhere except the pantry room and washroom which are located in different rooms. The reason is to prevent unseen tiny living microorganisms from reaching Ray and infecting him badly.
So, to fill the boredom, we try our best to entertain ourselves.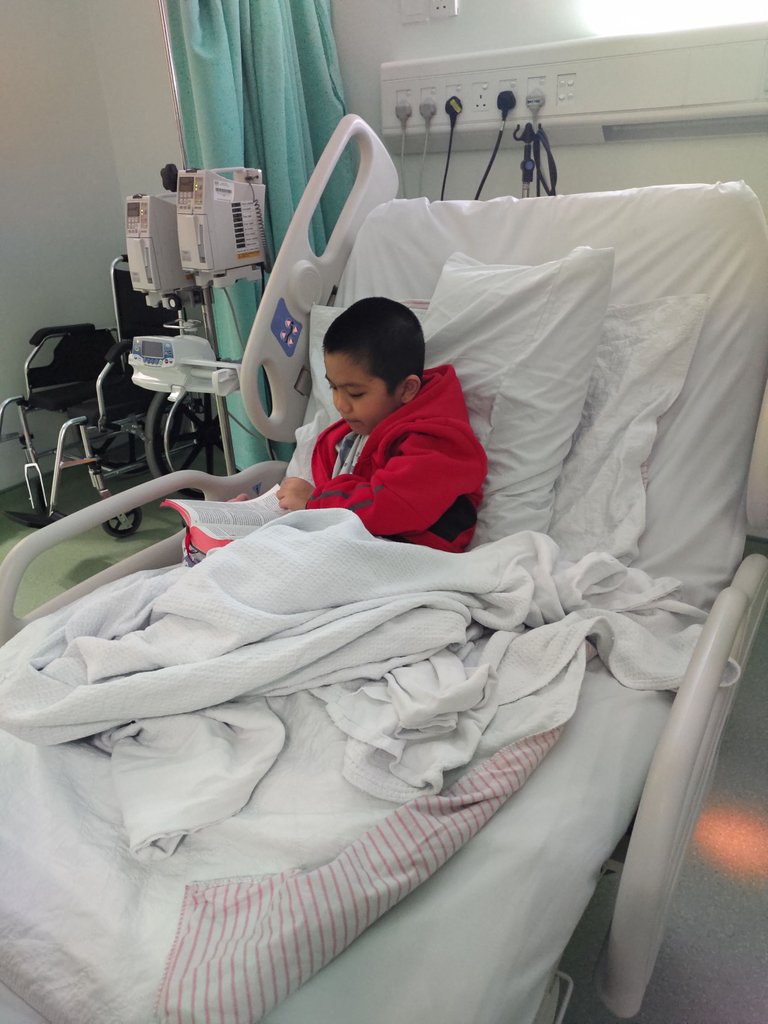 Reading the Bible or other books.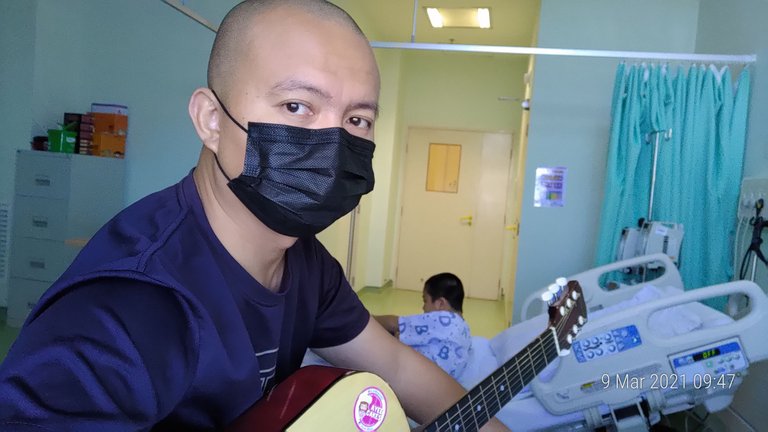 Me playing guitar, and we sing together.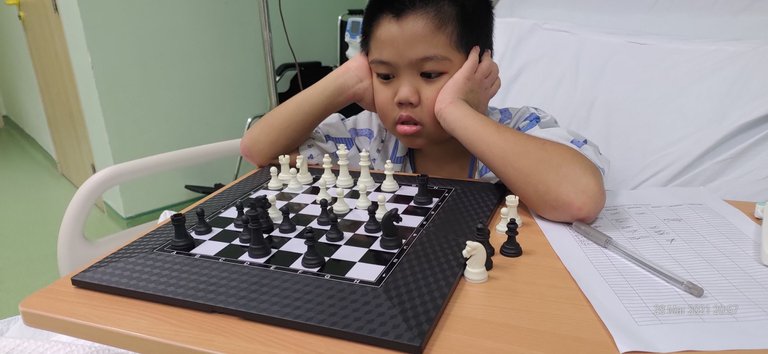 Yes, Chess!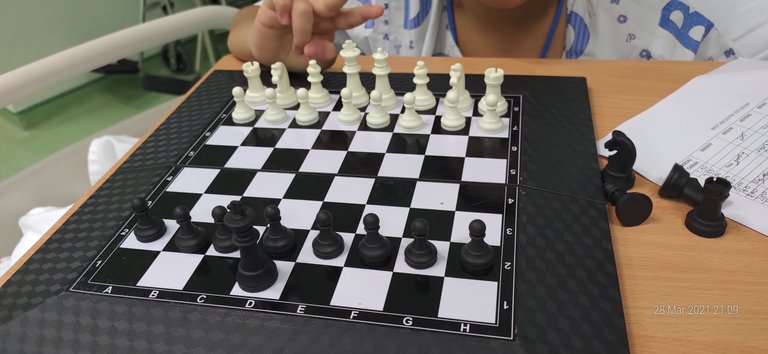 Chess with an insane handicap (I'm black and I lose haha)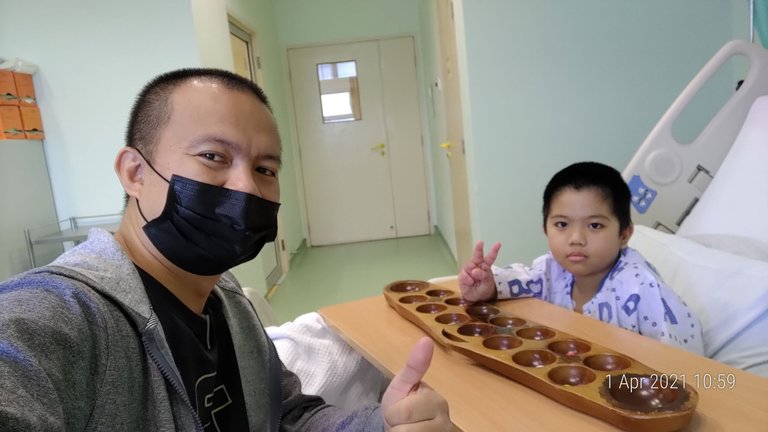 playing 'congkak'!
Other than that, we play Minecraft sometimes. Not forgot to mention, we also play snake and ladders. But, our activity is limited because we don't have a lot of toys here. Ray likes to draw, and I like to compose a song. Sometimes we just do our own thing.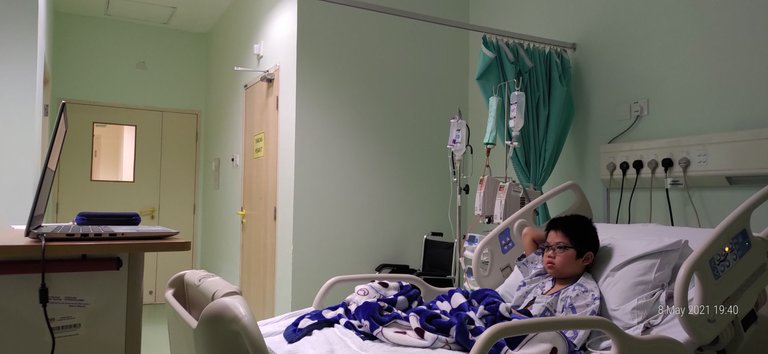 and of course, movie time!
Hardmode level up
It's really hard to tell this, but on the third day of chemotherapy, Ray's body begins to show a negative effect on the antibiotic that has been given to him. He doesn't have any allergic reactions for as long as I remember. The rashes that appear on his body making this treatment even harder and riskier.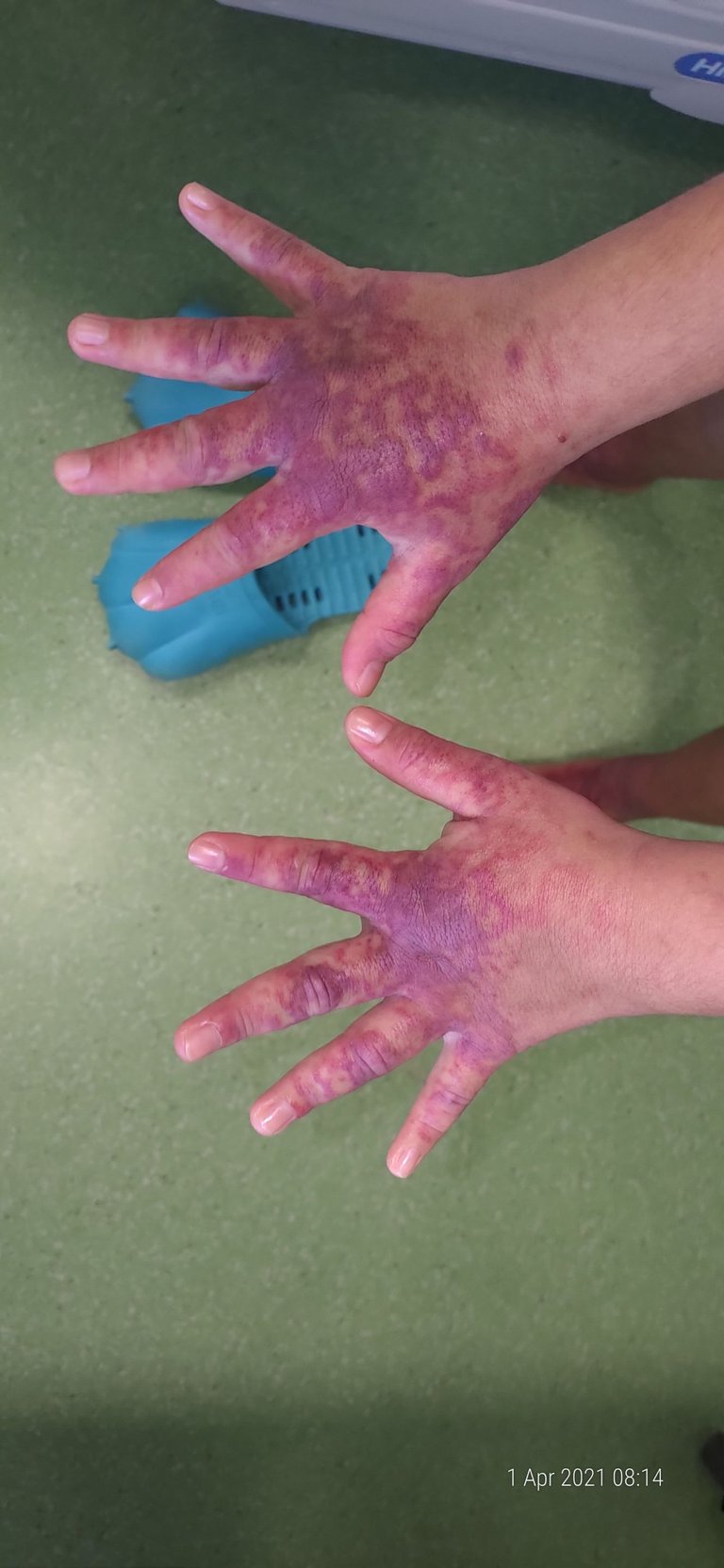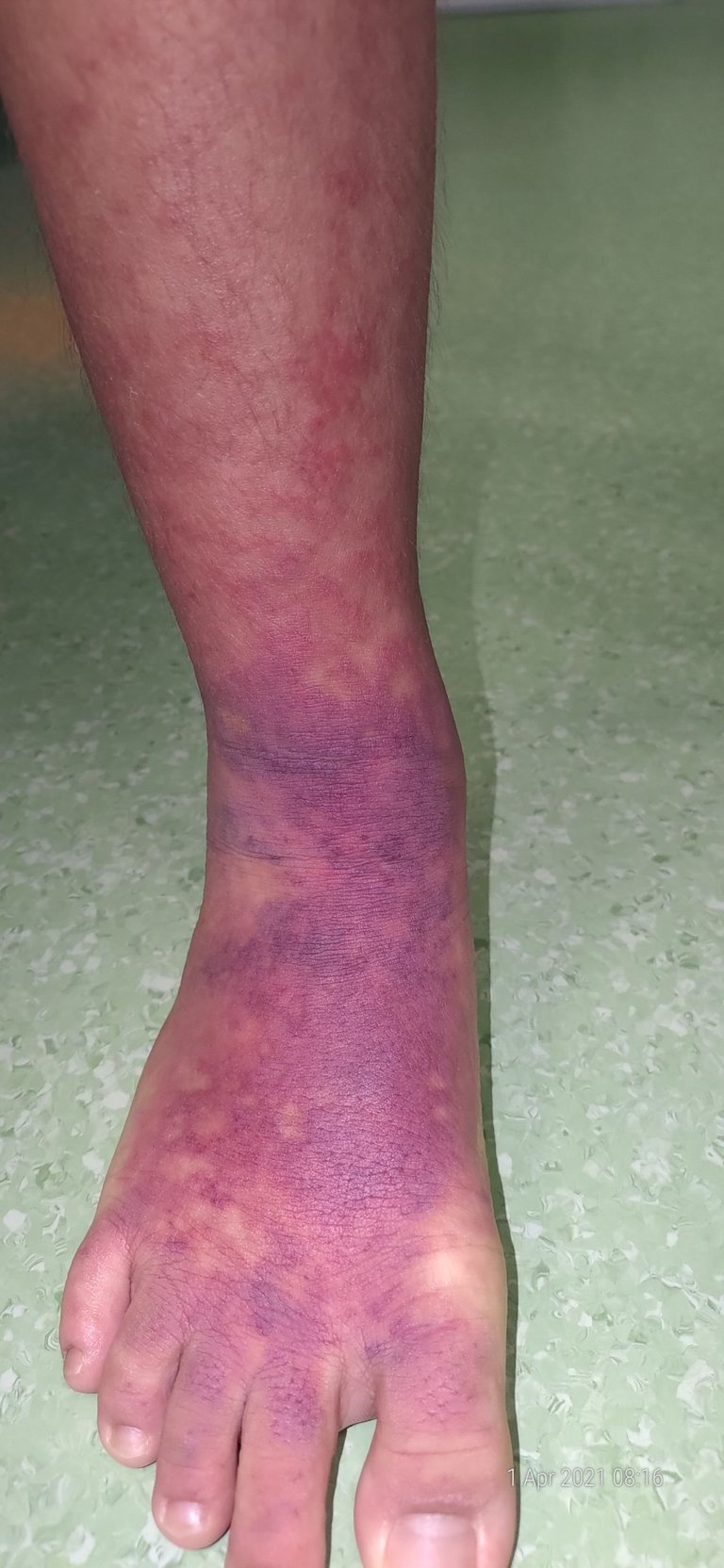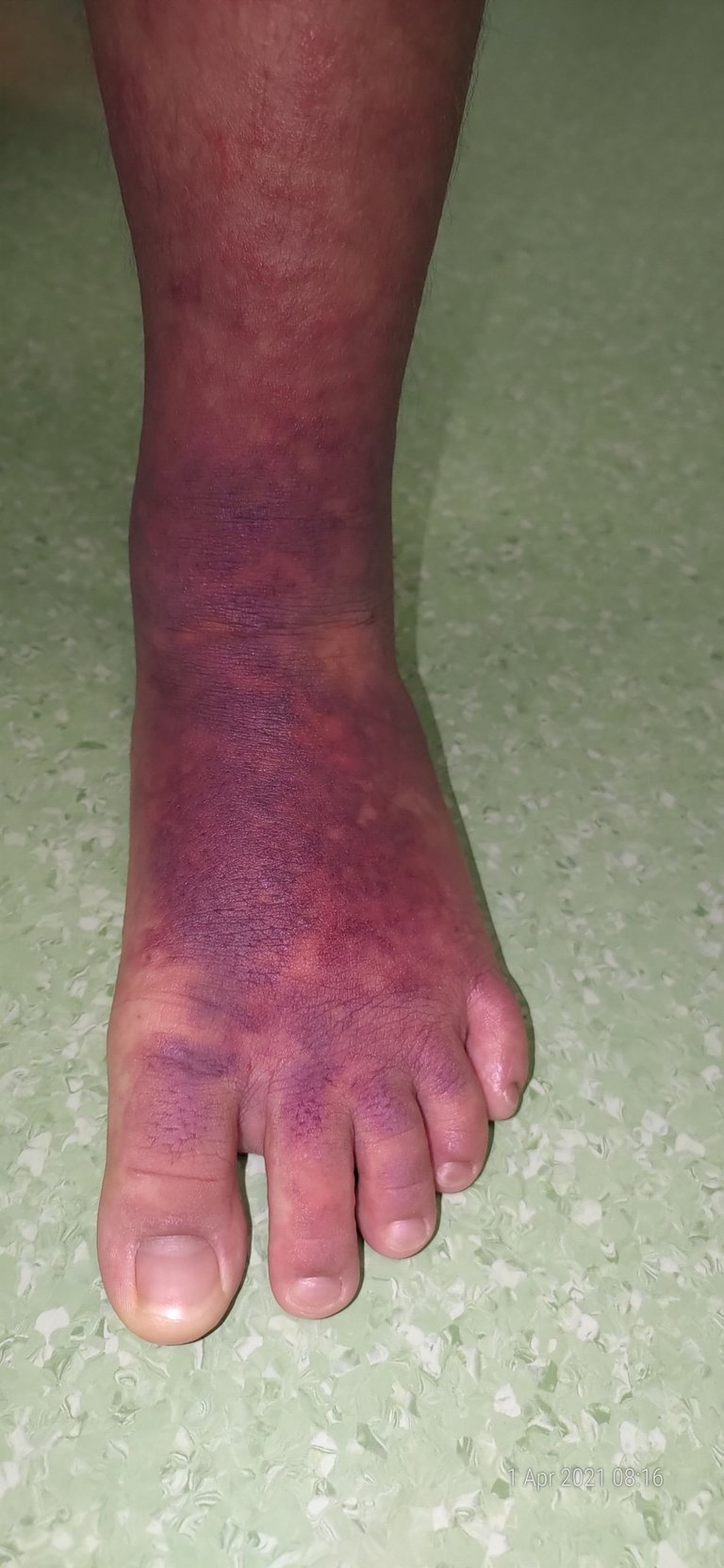 I only take some of the pictures. Some are worse.
The rashes appeared first on his chest and slowly spreading to the hands and leg's fingers which is the last part of the rashes spread. It took five-week for the rashes to completely heals.
The beginning of something even worse
After the rashes heal, the doctor decided to continue the procedure. But, before he even started, Ray got infected by some kind of microorganisms that make him got sinus, headache, fever, and more illness. The chemotherapy already kills his immune system which makes him vulnerable to infection. This is really hard to endure. The pain and struggling that Ray has been facing are beyond my will and strength. During Ray's mummy take a turn to take care of Ray in the wad, while I go out and get my leave without pay application approval, I had my time of crying for few hours (I just cannot control it, it just happens when I thinking about Ray). Because of that, My right eye got panda eye because of that, and it took five days to heals. It's hard. But I know I got to get stronger, and that's what I am now. God bless.
BMT cannot be done
It broke my heart to heard from the doctor and specialist that BMT cannot be done due to the infection. The infection not only makes Ray sick but also making the BMT riskier to do. Even if after the infection treated later, and Ray will look fine, the risks to continue BMT is so much higher now. The Doctor doesn't recommend it. So, we are looking at immunosuppressive therapy with anti thymocyte globulin (ATG) and cyclosporine to treat Ray in the future. Let's pray this will work and cure Ray's aplastic anemia.
Current situation
After got my leave without pay application approved, I swap the role with Ray's mummy to be the caretaker for Ray in the wad. It's not like Ray doesn't want his mummy to take care of him during he sick, but he wants me to be there more. He wants me to cook for him for every meal he takes in the wad. He's crying almost every day wants me to go back take care of him. I cannot say no to that. I don't care if I got no salary for a few months, although that makes me worry, as long he is happy then that's all matters now. A happy heart is the best medicine.
So, for now, I really hope the antibiotic that is given to Ray will work. I've been asking help from many people to pray for my son to recovery already, I mean a lot. And now I am asking from HIVE Community too, please pray for my son Ray Einstein Remenzer, so he will be cured and heals, live long, lives normally, grow up, have family and kids, I wish for a miracle to happen right now. The antibiotic that was given to Ray is the strongest one. If it's not successful to disinfect the infection, then no antibiotic left that can. May God have mercy. Amen.
Thank you so much for your time, and upvotes. God's blessing with us all.
Appreciation
THANK YOU ALL FOR VOTING MY PREVIOUS POST...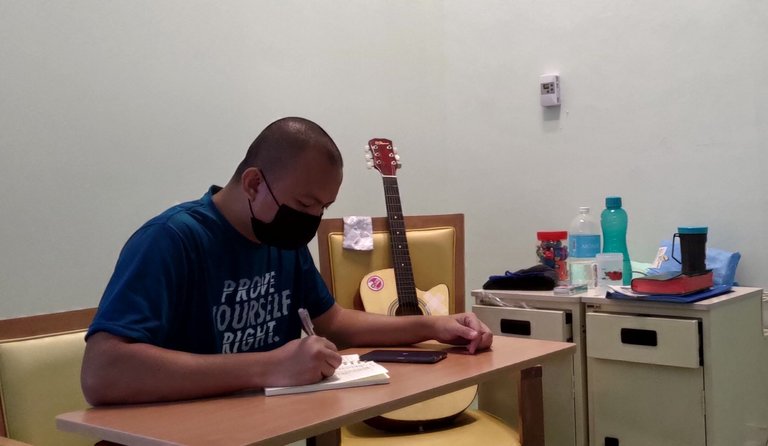 I write down all upvoters before type it back in this post
Appreciation List 1
Thank you for upvotes this post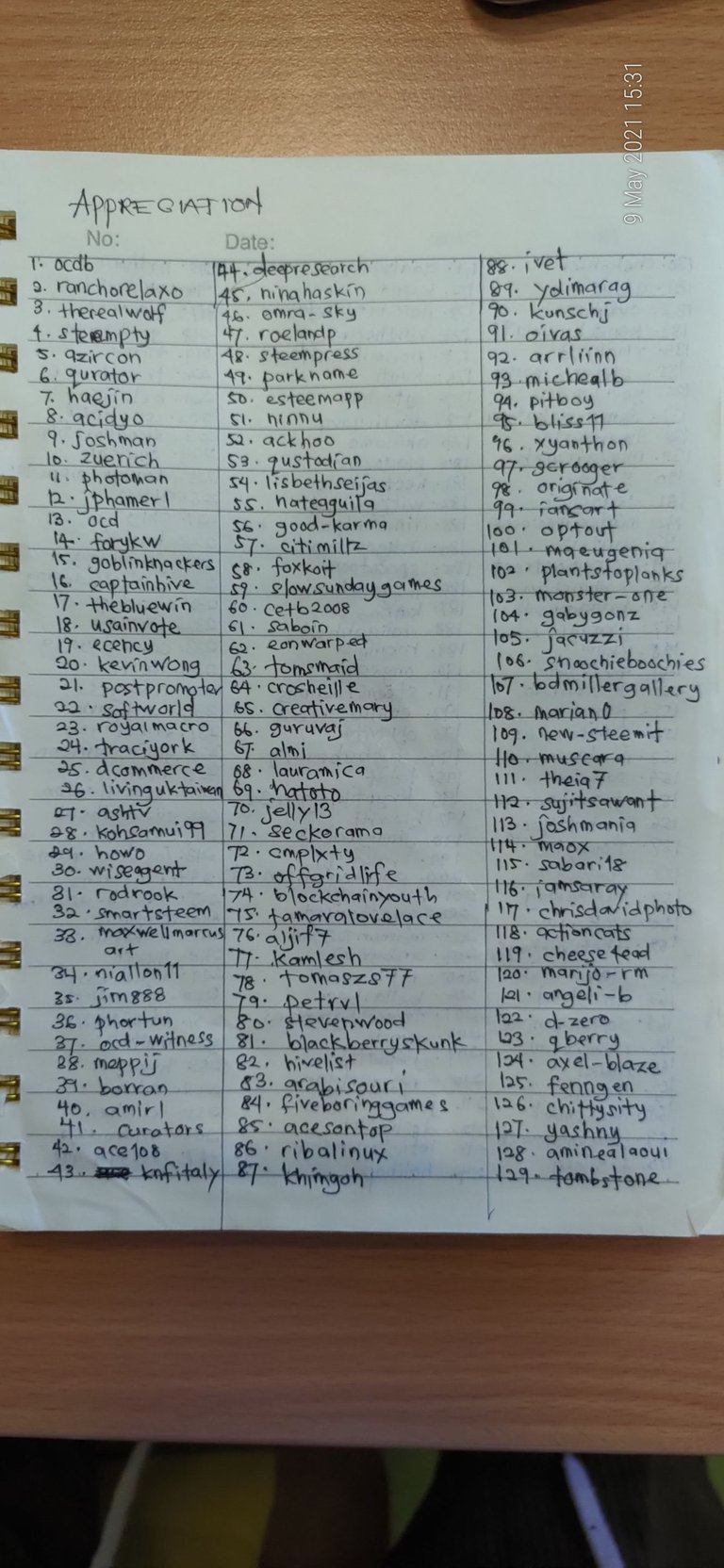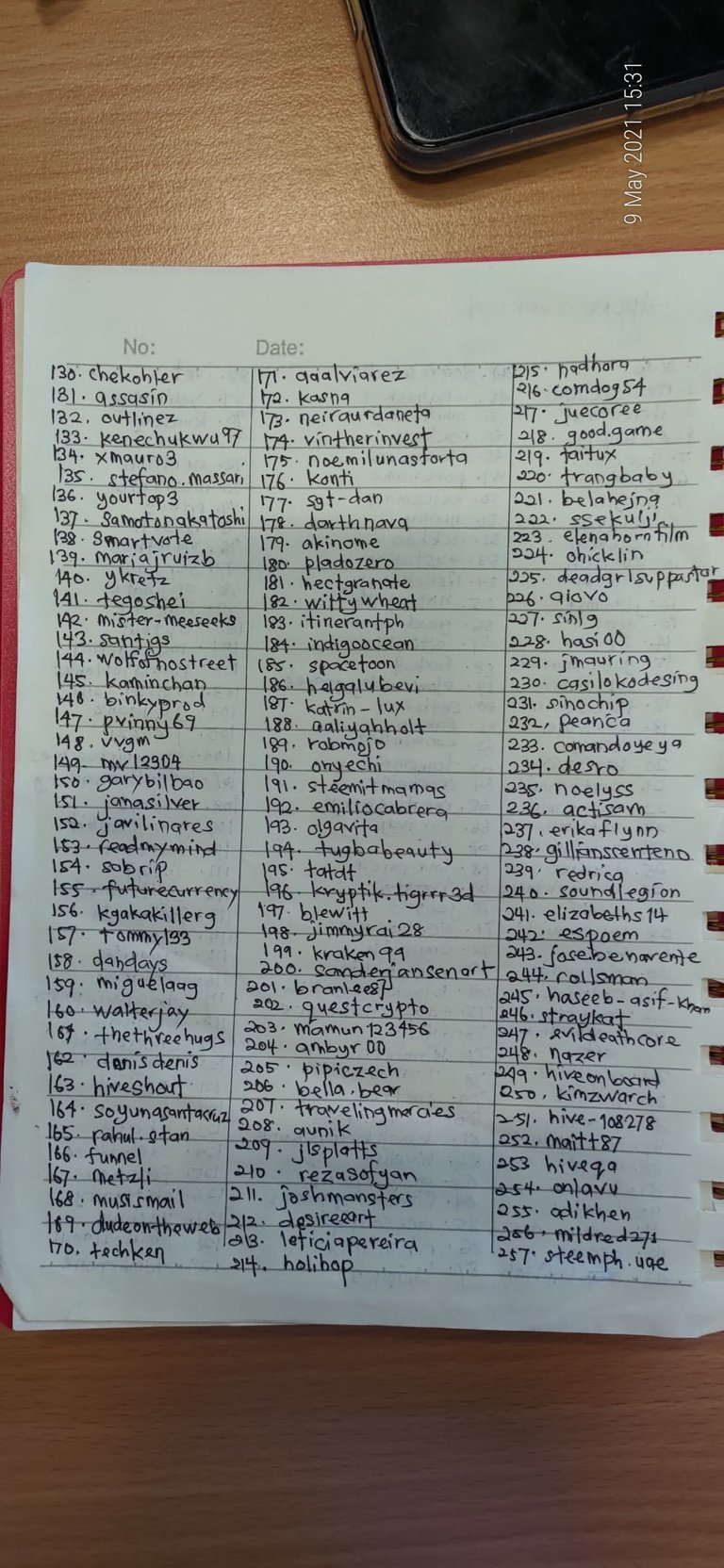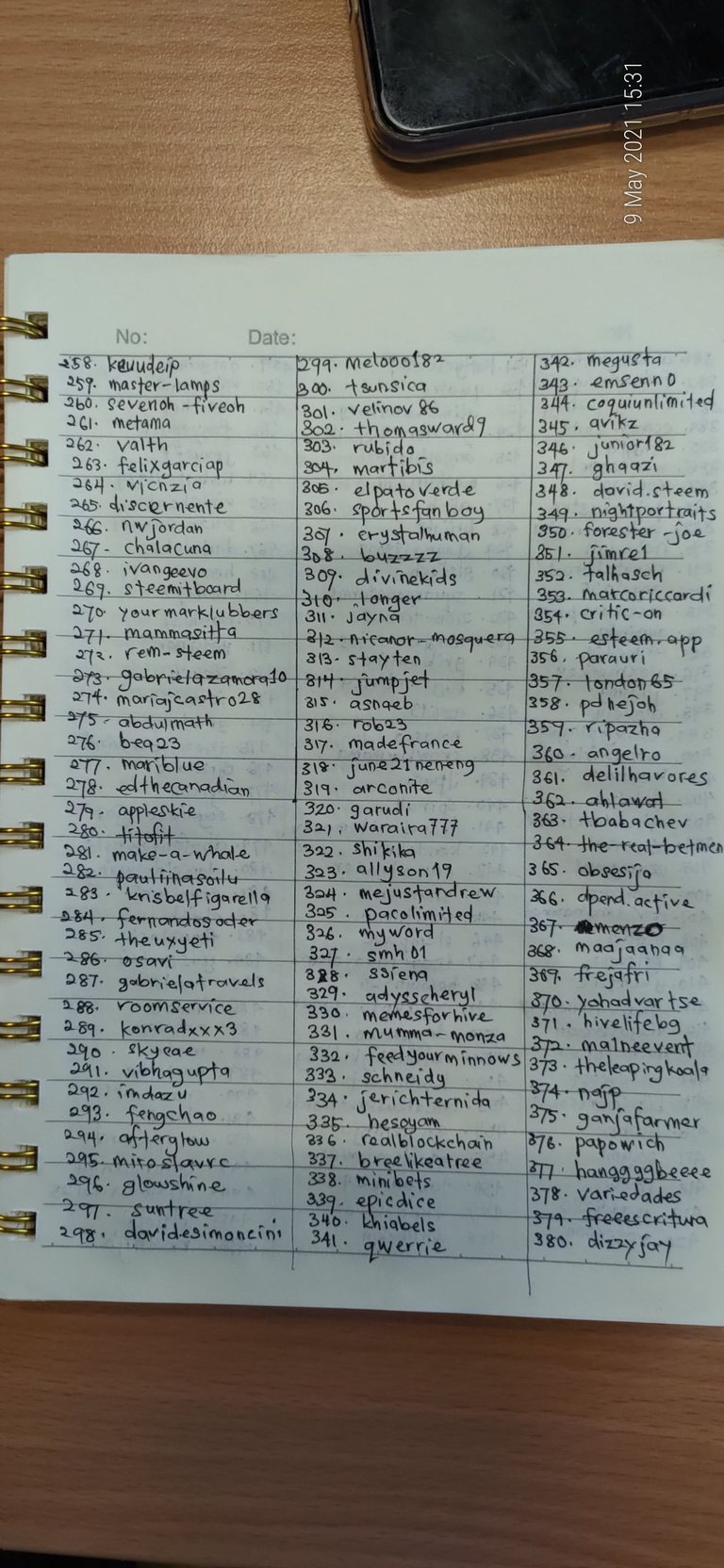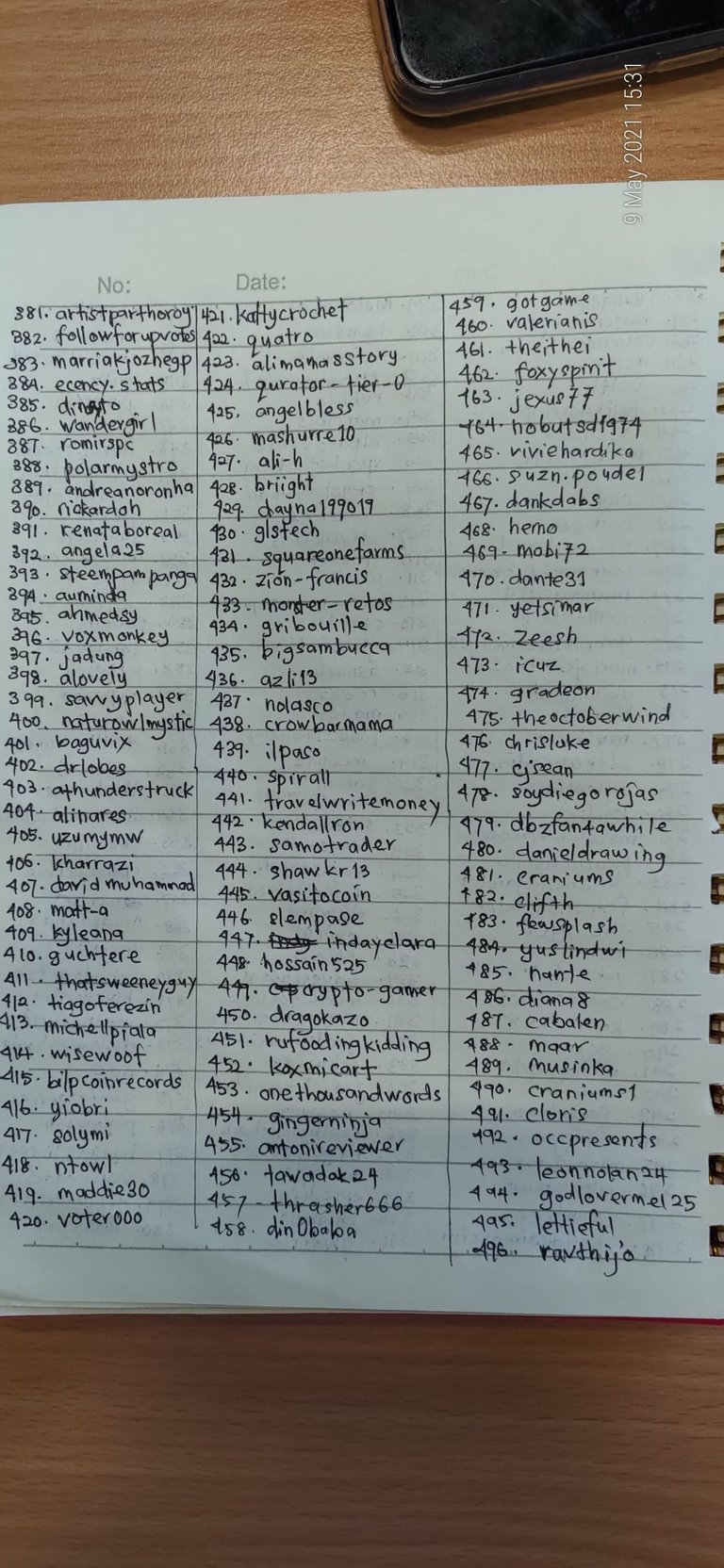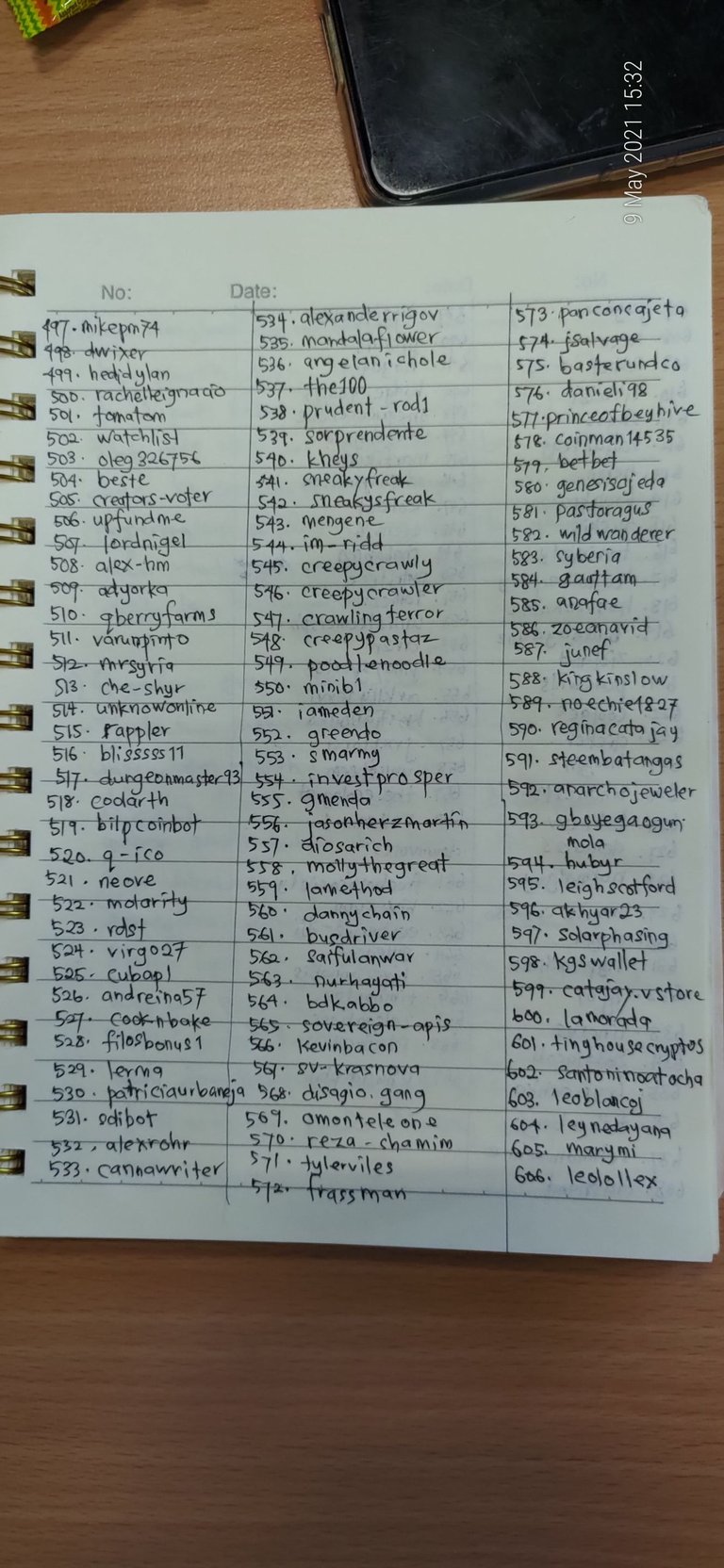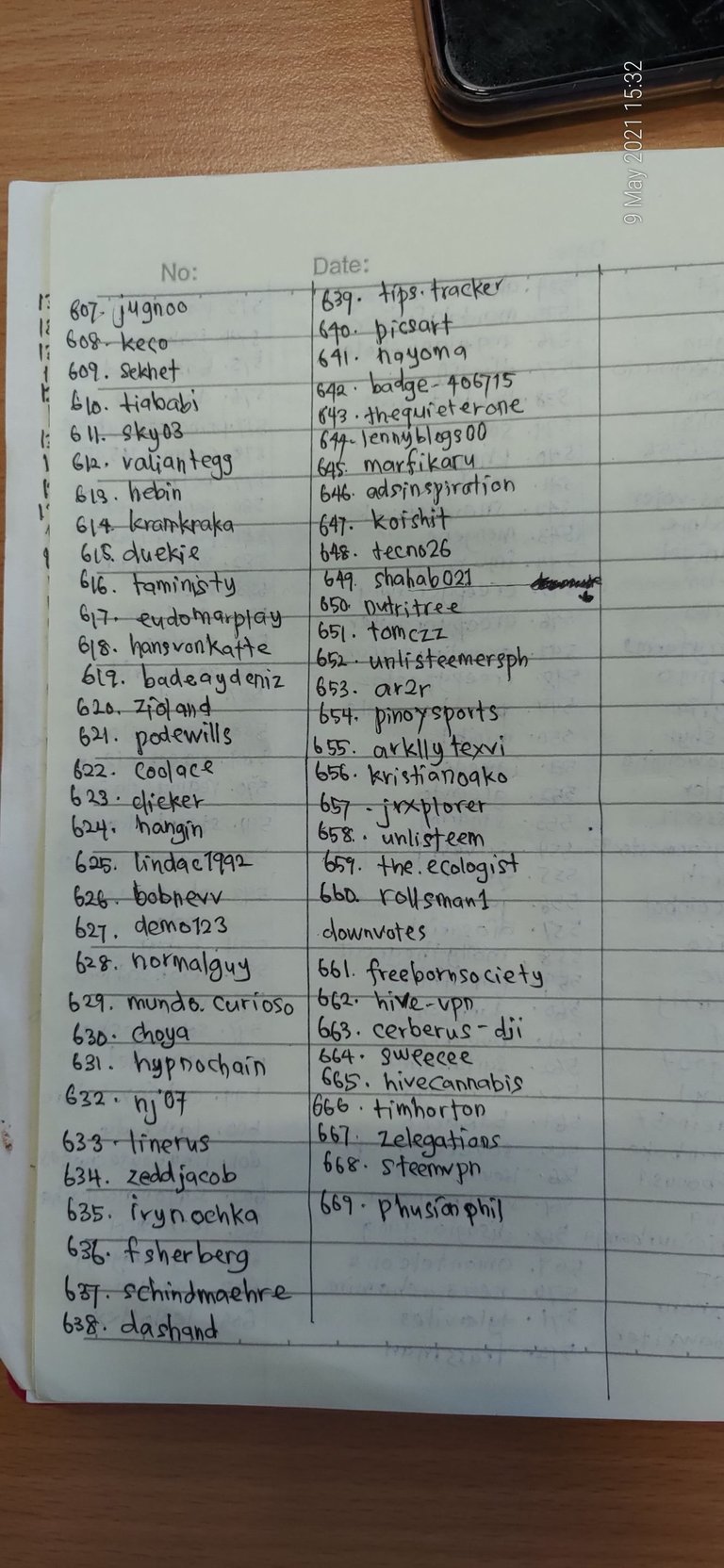 @ocdb @ranchorelaxo @therealwolf @steempty @azircon @qurator @haejin @acidyo @joshman @zuerich @photoman @jphamer1 @ocd @forykw @goblinknackers @captainhive @thebluewin @usainvote @ecency @kevinwong @postpromoter @softworld @royalmacro @traciyork @dcommerce @livinguktaiwan @ashtv @kohsamui99 @howo @wiseagment @rodrook @smartsteem @maxwellmarcusart @niallon11 @jim888 @phortun @ocd-witness @meppij @borran @amirl @curators @ace108 @knfitaly @deepresearch @ninahaskin @omra-sky @roelandp @steempress @parkname @esteemapp @ninnu @ackhoo @qustodioan @lisbethseijas @nateaguila @good-karma @citimillz @foxkoit @slowsundaygames @cetb2008 @saboin @eonwarped @tomsmaid @crosheille @creativemary @guruvaj @almi @lauranmica @hatoto @jelly13 @seckorama @cmplxty @offgridlife @blockchainyouth @tamaralovelace @aljif7 @kamlesh @tomaszs77 @petrvl @stevenwood @blackberryskunk @hivelist @arabisouri @fiveboringgames @acesontop @ribalinux @khimgoh @ivet @ydimarag @kunschj @oivas @arrliinn @michealb @pitboy @bliss11 @xyanthon @scrooger @originate @iansart @optout @maeugenia @plantstoplanks @monster-one @gabygonz @jacuzzi @snoochieboochies @bdmillergallery @marian0 @new-steemit @muscara @theia7 @sujitsawant @joshmania @maox @sabari18 @iamsaray @chrisdavidphoto @actioncats @cheese4ead @marijo-rm @angeli-b @d-zero @qberry @axel-blaze @fenngen @chittysity @yashny @aminealaoul @tombstone @chekohler @assasin @outlinez @kenechukwu97 @xmauro3 @stefano.massari @yourtop3 @samotonakatoshi @smartvote @mariajruizb @ykretz @tegoshei @mister-meeseeks @santigs @wolfofnostreet @kaminchan @binkyprod @pvinny69 @vvgm @mv12304 @garybilbao @janasilver @javilinares @readmymind @sabrip @futurecurrency @kgakakillerg @tommyl33 @dandays @miguelaag @walterjay @thethreehugs @denisdenis @hiveshout @soyunasantacruz @rahul.stan @funnel @metzli @musismail @dudeontheweb @techken @aaalviarez @kasna @neiraurdaneta @vintherinvest @noemilunastorta @konti @sgt-dan @darthnava @akinome @pladozero @hectgranate @wittywheat @itinerantph @indigoocean @spacetoon @helgalubevi @katrin-lux @aaliyahholt @robmojo @onyechi @steemitmamas @emiliocabrera @olgavita @tugbabeauty @tatdt @kryptik.tigrrr3d @blewitt @jimmyrai28 @kraken99 @sanderjansenart @branlee87 @questcrypto @mamun123456 @ambyr00 @pipiczech @bella.bear @travelingmercies @aunik @jlsplatts @rezasofyan @joshmansters @desireeart @leticiapereira @holihop @nadhora @comdog54 @good.game @taitux @trangbaby @belahejna @ssekulji @elenohornfilm @ohicklin @deadgrlsuppastar @aiovo @sinlg @hasi00 @jmauring @casilokodesing @sinochip @pearica @comandoyeya @desro @noelyss @actisam @erikaflynn @gillianscenteno @redrica @sounddlegion @elizabeths14 @espoem @josebenavente @rollsman @haseeb-asif-khan @straykat @evildeathcore @nazer @hiveonboard @kimzwarch @hive-108278 @maitt87 @hiveqa @onlavu @adikhen @mildred271 @steemph.uae @keuudeip @master-lamps @sevenoh-fiveoh @metama @valth @felixgarciap @vicnzia @discernente @nwjordan @chalacuna @ivangeevo @steemitboard @yourmarklubbers @mammasitta @rem-steem @gabrielazamora10 @mariajcastro28 @abdulmath @bea23 @mariblue @edthecanadian @appleskie @titofit @make-a-whale @pauliinasoilu @krisbelfigarella @fernandosoder @theuxyeti @osavi @gabrielatravels @roomservice @konradxxx3 @skyeae @vibhagupta @imdazu @fengchao @afterglow @miroslavrc @glowshine @suntree @davidesimoncini @melooo182 @tsunsica @velinov86 @thomasward9 @rubido @martibis @elpatoverde @sportsfanboy @crystalhuman @buzzzz @divinekids @longer @jayna @nicanor-mosquera @stayten @jumpjet @asnaeb @rob23 @madefrance @june21neneng @arconite @garudi @waraira777 @shikika @allyson19 @mejustardrew @pacolimited @myword @smh01 @ssiena @adysscheryl @memesforhive @mumma-monza @feedyourminnows @schneidy @jerichternida @hesoyam @realblockchain @breelikeatree @minibets @epicdice @khiabels @qwerrie @megusta @emsenn0 @cogquiunlimited @avikz @junior182 @ghaazi @david.steem @nightportraits @forester-joe @jimre1 @talhasch @marcoriccardi @critic-on @esteem.app @parauri @londen65 @pdnejoh @ripazha @angelro @delilhavores @ahlawat @tbabachev @the-real-betmen @obsesija @dpend.active @maajaanaa @frejafri @yohadvartse @hivelifebg @malneevent @theleapingkoala @najp @ganjafarmer @papowich @hanggggbeeee @variedades @freeescritura @dizzyjay @artistparthoroy @followforupvotes @marriakjozhegp @ecency.stats @dinosyto @wandergirl @romirspc @polarmystro @andreanoronha @rickardoh @renataboreal @angela25 @steempampanga @auminda @ahmedsy @voxmonkey @jadung @alovely @savvyplayer @naturowmystic @baguvix @drlobes @athunderstruck @alinares @uzumymw @kharrazi @davidmuhammad @matt-a @kyleana @guchtere @thatsweeneyguy @tiagoferezin @michellpiala @wisewoof @bilpcoinrecords @yiobri @solymi @ntowl @maddie30 @voter000 @kattycrochet @quatro @alimamasstory @qurator-tier-0 @angelbless @mashurre10 @ali-h @briight @dayna199019 @glstech @squareonefarms @zion-francis @monster-retos @gribouille @bigsambucca @azli13 @nolasco @crowbarmama @ilpaso @spirall @travelwritemoney @kendallron @samotrader @shawkr13 @vasitocoin @slempase @indayclara @hossain525 @crypto-gamer @dragokazo @rufoodingkidding @koxmicart @onethousandwords @gingerninja @antonireviewer @tawadak24 @thrasher666 @din0baba @gotmeme @valerianis @theithei @foxyspirit @jexus77 @nobutsd1974 @viviehardika @suzn.poudel @dankdabs @hemo @mobi72 @dante31 @yetsimar @zeesh @icuz @gradeon @theoctoberwind @chrisluke @cjsean @soydiegorojas @dbzfantawhile @danieldrawing @craniums @clifth @flewsplash @yuslindwi @nante @diana8 @cabalen @maar @musinka @craniums1 @cloris @occpresents @leonnolan24 @godlovermel25 @lettieful @ravthijo @mikepm74 @dwixer @hedidylan @rachelleignacio @tomatom @watchlist @oleg326756 @beste @creators-voter @upfundme @lordnigel @alex-hm @adyorka @qberryfarms @varunpinto @mrsyria @che-shyr @unknowonline @rappler @blisssss11 @dungeonmaster93 @coolarth @bilpcoinbot @q-ico @neove @molarity @rdst @virgo27 @cubapl @andreina57 @cooknbake @filosbonus1 @lerma @patriciaurbaneja @sdibot @alexrohr @cannawriter @alexanderrigov @mandalaflower @angelanichole @the100 @prudent-rod1 @bdkabbo @sovereign @sorprendente @kheys @sneakyfreak @mengene @im-ridd @creepycrawly @crawlingterror @creepypastaz @poodlenoodle @minib1 @iameden @greendo @smarmy @investprosper @gmenda @jasonherzmartin @diosarich @mollythegreat @lamethod @dannychain @busdriver @saifulanwar @nurhayati @bdkabbo @sovereign-apis @kevinbacon @sv-krasnova @disagio.gang @omonteleoone @reza-shamim @tylerviles @frassman @ponconcajeta @jsalvage @basterundco @danieli98 @princeofbeyhive @coinman14535 @betbet @genesisojeda @pastoragus @wildwanderer @syberia @gauttam @anafae @zoeanavid @junef @kingkinslow @noechie1827 @reginacatajay @steembatangas @anarchojeweler @gboyegaogunmola @hubyr @leighscotford @akhyar23 @solarphasing @kgswallet @catajay.vstore @lamorada @tinghousecryptos @santoninoatocha @leoblancoj @leynedayana @marymi @leolollex @jugnoo @keco @sekhet @tiababi @sky03 @valiantegg @hebin @kramkraka @duekie @taministy @eudomarplay @hansvonkatte @badeaydeniz @zioland @podewills @coolace @clicker @hangin @lindac1992 @bobnevv @demo123 @normalguy @mundo.curioso @choya @hypnochain @nj07 @linerus @zeddjacob @irynochka @fsherberg @schindmaehre @dashand @tips.tracker @picsart @nayoma @badge-406715 @thequieterone @lennyblogs00 @marfikaru @adsinspiration @koishit @tecno26 @shahab021 @nutritree @tomczz @unlisteemersph @ar2r @pinoysports @arkllytexvi @kristianoako @jrxplorer @unlisteem @the.ecologist @rollsman1
Appreciation List 2
Thank you for upvote this post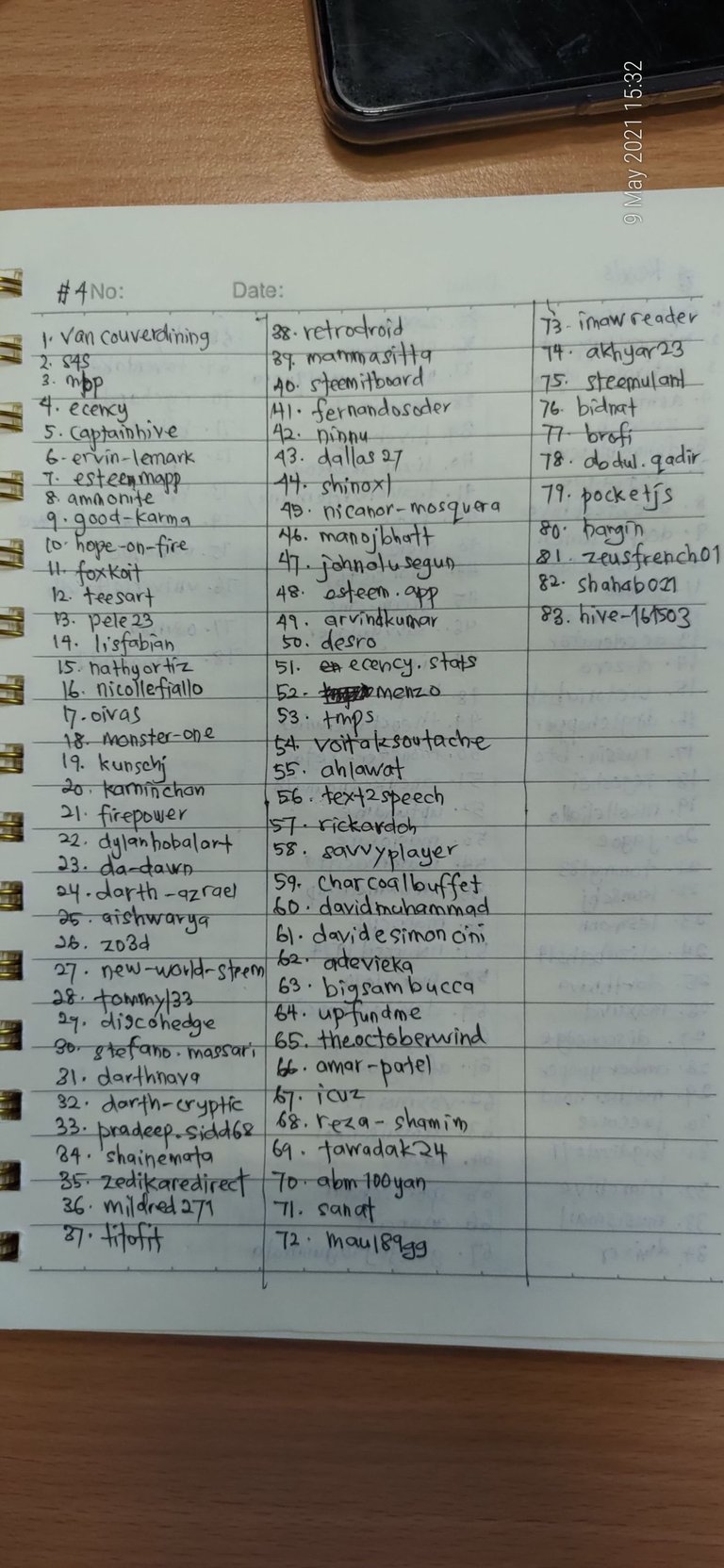 @vancouverdining @s4s @mbp @ecency @captainhive @ervin-lemark @esteemapp @ammonite @good-karma @hope-on-fire @foxkoit @teesart @pele23 @lisfabian @nathyortiz @nicollefiallo @oivas @moster-one @kunschj @kaminchan @firepower @dylanhobalart @da-dawn @darth-azrael @aishwarya @zo3d @new-world-steem @tommyl33 @discohedge @stefano.massari @darthnava @darth-cryptic @pradeep.sidd68 @shainemata @zedikaredirect @mildred271 @titofit @retrodroid @mammasitta @steemitboard @ninnu @dallas27 @shinoxl @nicanor-mosquera @manojbhatt @johnolusegun @esteem.app @arvindkumar @desro @ecency.stats @tmps @voitaksoutache @ahlawat @text2speech @rickardoh @savvyplayer @charcoalbuffet @davidmuhammad @davidesimoncini @adevieka @bigsambucca @upfundme @theoctoberwind @amar-patel @icuz @reza-shamim @tawadak24 @abm100yan @sanat @mau189gg @imawreader @akhyar23 @steemulant @bidnat @brofi @abdul.qadir @pocketjs @zeusfrench01 @shahab021 @hive-161503
Appreciation List 3
Thank you for upvote this post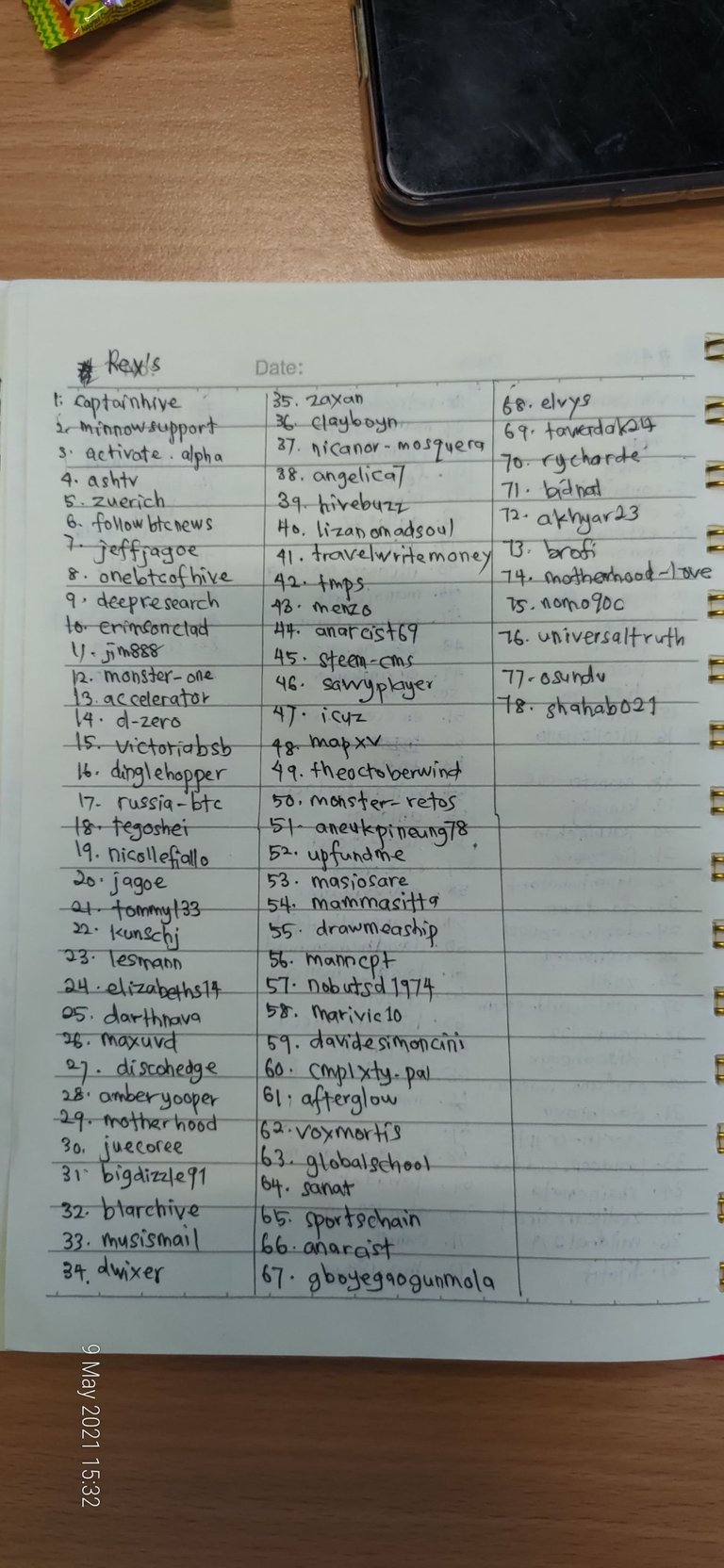 @captainhive @minnowsupport @activate.alpha @ashtv @zuerich @followbtcnews @jeffjagoe @onebtcofhive @deepresearch @crimsonclad @jim888 @monster-one @accelerator @accelerator @d-zero @victoriabsb @dinglehopper @russia-btc @tegoshei @nicollefiallo @jagoe @tommyl33 @kunschj @lesmann @elizabeths14 @darthnava @maxuvd @discohedge @amberyooper @motherhood @juecoree @bigdizzle91 @blarchive @musismail @dwixer @zaxan @clayboyn @nicanor-mosquera @angelica7 @hivebuzz @lizanomadsoul @travelwritemoney @tmps @anarcist69 @steem-cms @savvyplayer @icuz @mapxv @theoctoberwind @monster-retos @aneukpineung78 @upfundme @masiosare @mammasitta @drawmeaship @manncpt @nobutsd1974 @marivic10 @davidesimoncini @cmplxty.pal @afterglow @voxmortis @globalschool @sanat @sportschain @anarcist @gboyegaogunmola @elvys @tawadak24 @rycharde @bidnat @akhyar23 @brofi @motherhood-love @nomo90c @universaltruth @osundu @shahab021
THANK YOU SO MUCH!