[Spanish] Hola usuarios! El día de hoy quería abrir mi alma con ustedes y les compartiré dos de mis poemas, se leen rápido y son cortos, espero que sean de su agrado.
[English] Hello users! Today I wanted to open my soul with you and I will share with you three of my poems, they read fast and are short, I hope you like them.
Del abismo
Tiembla el árbol de la tarde gris
El simiente del hombre doliente, hoy
El vestigio del ayer, la resina en la nariz
Busco al sol, como las ramas voy
Miro un día como cantan los gorriones
Viajan, van, libres, vuelan sin dolores
Tierra, madera y aire: Nido de sus flores
Corren; buscan para alimentar sus amores
Oscuro semblante, se mira a sí mismo
Se mira a sí mismo, duda, cae al abismo
Cae al abismo
Al insondable abismo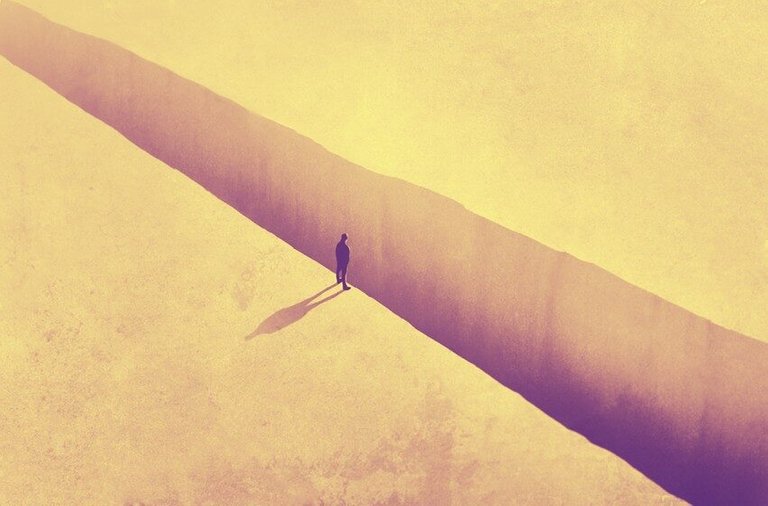 Image from: Scopio. (Imagen de Scopio).
From the abbys
The tree of the gray afternoon trembles
The seed of the suffering man, today
The remnant of yesterday, the resin in the nose
I look for the sun, like the branches I go
I watch one day as the sparrows sing
They travel, they go, free, they fly without pains
Earth, wood and air: Nest of their flowers
They run; they seek to nourish their loves
Dark countenance, it looks at itself
Looks at himself, doubts, falls into the abyss
Falls into the abyss
Into the unfathomable abyss
Arrebol
En el ocaso el resplandor del horizonte
Lastima las nubes, el sol, enrojece el monte
Hoy, la flor de primavera en arrabal
Borra las cosas que me hacían mal
Pasan los días, la ciudad se acerca más
Poder subir al monte, en un sueño nomás
Recuerdo mi tierra con tu suave parpadear
Recuerdo los lagos al oír tu alma hablar
En la mañana no se oyen los zorzales
Las bocinas, por las mañanas otoñales
Sin embargo, en el ocaso el resplandor del horizonte
Sigue existiendo, pero el sol ya o enrojece el monte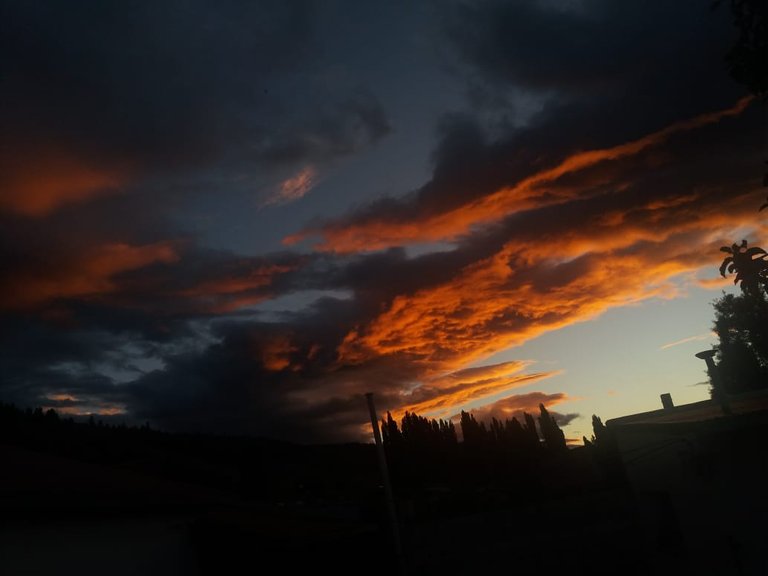 Original picture: Sunset on my city (Imagen propia, Atarceder en mi ciudad)
Sunset
In the sunset the glow of the horizon
Hurt the clouds, the sun, reddens the mountain
Today, the spring flower in the suburbs
Erases the things that made me bad
The days go by, the city comes nearer
Be able to climb the mountain, in a dream only
I remember my land with your soft flickering
I remember the lakes when I hear your soul speak
In the morning you can't hear the thrushes
The horns, in the autumn mornings
However, in the sunset the glow of the horizon
Still exists, but the sun no longer reddens the mountain
Abrazado a la penumbra
La soledad no es mi amiga ya, porque me traicionó
La maldad me oscureció y el cielo se nubló
Y este pobre corazón se pudre en el rincón
Las luces se fueron ya, no alumbran más
Y yo no volví a ser el mismo ser
Resentimiento, desesperación, marchitaron la flor
Pensamientos, negación, cimiento del dolor
La penumbra me esperó y en sus brazos me arropó
Original picture: Dusk in my city (Imagen propia, anochecer en mi ciudad)
Embracing the gloom
Loneliness is no longer my friend, because it betrayed me.
Evil has darkened me and the sky has clouded over
And this poor heart rots in a corner
The lights are gone, they don't shine anymore
And I was never the same being again.
Resentment, despair, withered the flower
Thoughts, denial, foundation of pain
The gloom waited for me and wrapped me in its arms