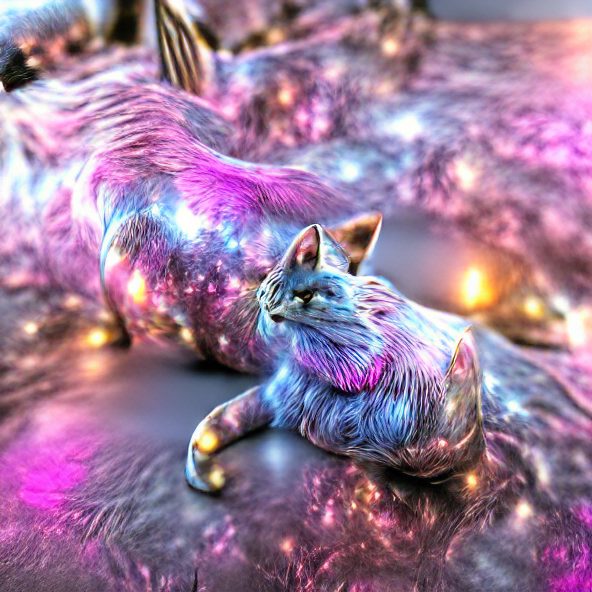 Hello friend of Hivers ✨ , as always searching the internet for ways to create new and acquire new knowledge, I found this way to create images with just words or phrases, through the artificial intelligence of VQGAN+CLIP. In this case I used the Google Colab service.
Hola amigo de Hivers ✨ , como siempre buscando por internet la manera de crear nuevas y adquirir nuevo conocimientos, me encontré con esta forma de crear imágenes con solo palabras o frases, a través de la Inteligencia artificial de VQGAN+CLIP. En este caso use el servicio de Google Colab .

🔵 🟣 How can this be achieved? / ¿Cómo lograrlo? 🔵 🟣
✔️ The first thing to do is to go to the following Link . There you will open Google Colab which is used to run the model used for this image.
✔️ Lo primero que debe hacer es dirigirte al siguiente Link . Allí abrirá en Google Colab que se utiliza para ejecutar el modelo utilizado para esta imagen.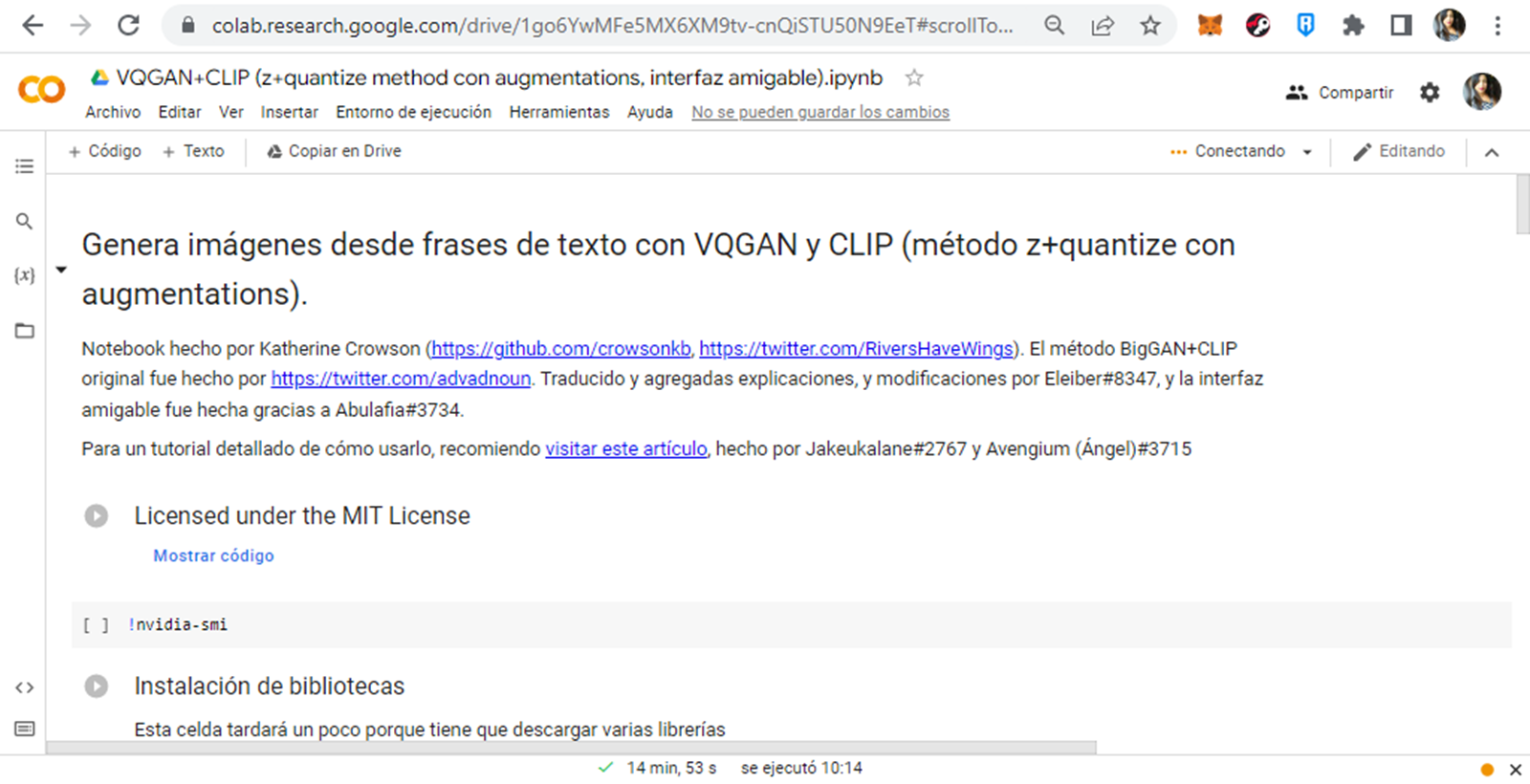 ✔️Simply run or click on the ▶️ "play" button, to the cells indicated in the image.
✔️ Simplemente ejecutar o dar click en el botón ▶️ "play", a las celdas señaladas en la imagen.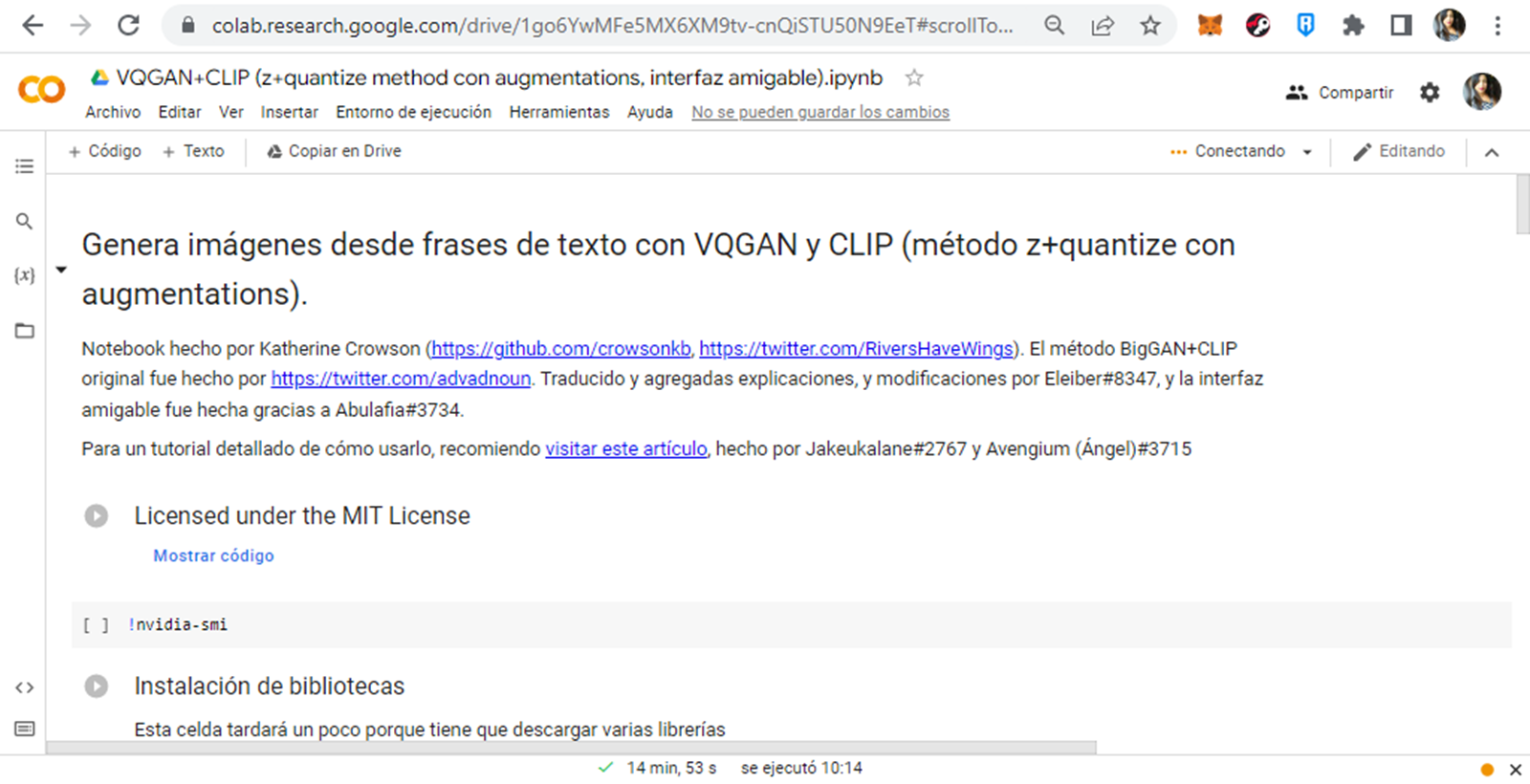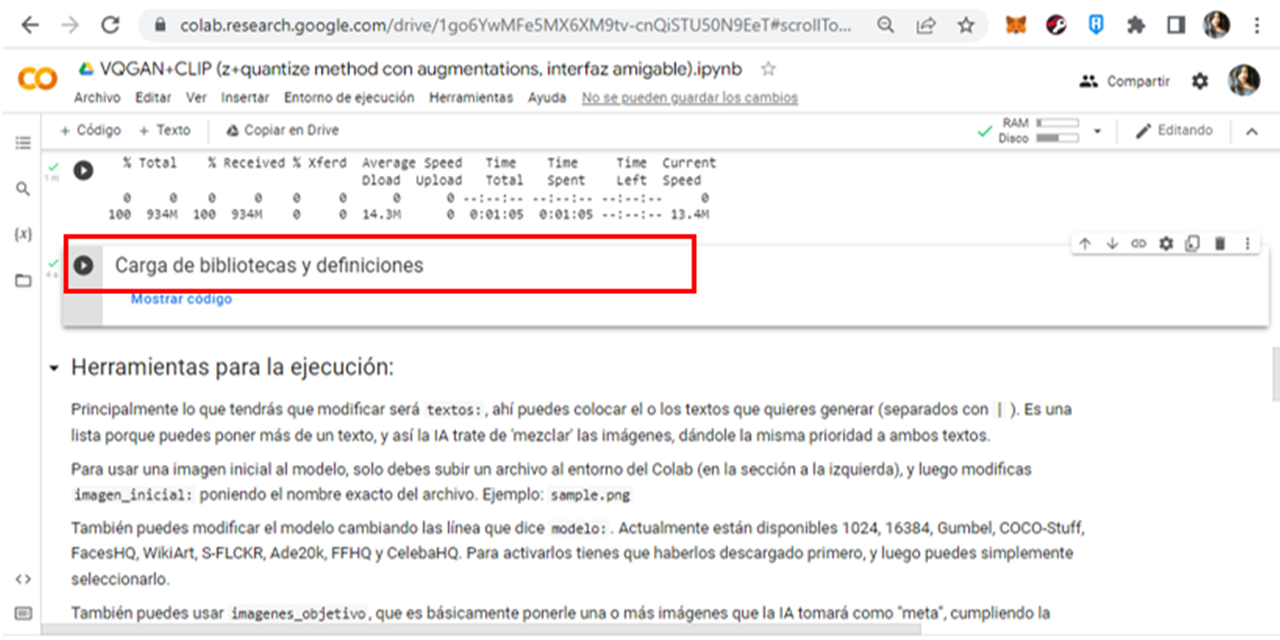 ✔️Go to the parameters cell, and in "texts" place the phrase or word, which you want your image to be about. For this image I wanted to place parameters focused on colours, galaxy, nebula and of course how can I not include my dear friends cats. You can put words at the end like ureal and hyperrealistic to improve the quality of the image.
✔️Dirigirse a la celda de parámetros , y en "textos" colocar la frase o la palabra , de la cual quieres que trate tu imagen. Para esta imagen quise colocar parámetros enfocado en lo colores, galaxia, nebulosa y por supuesto como dejar no incluir a mis queridos amigos gatos. Puedes colocar palabras al final como ureal e hiperrealistic para mejorar la calidad de la imagen .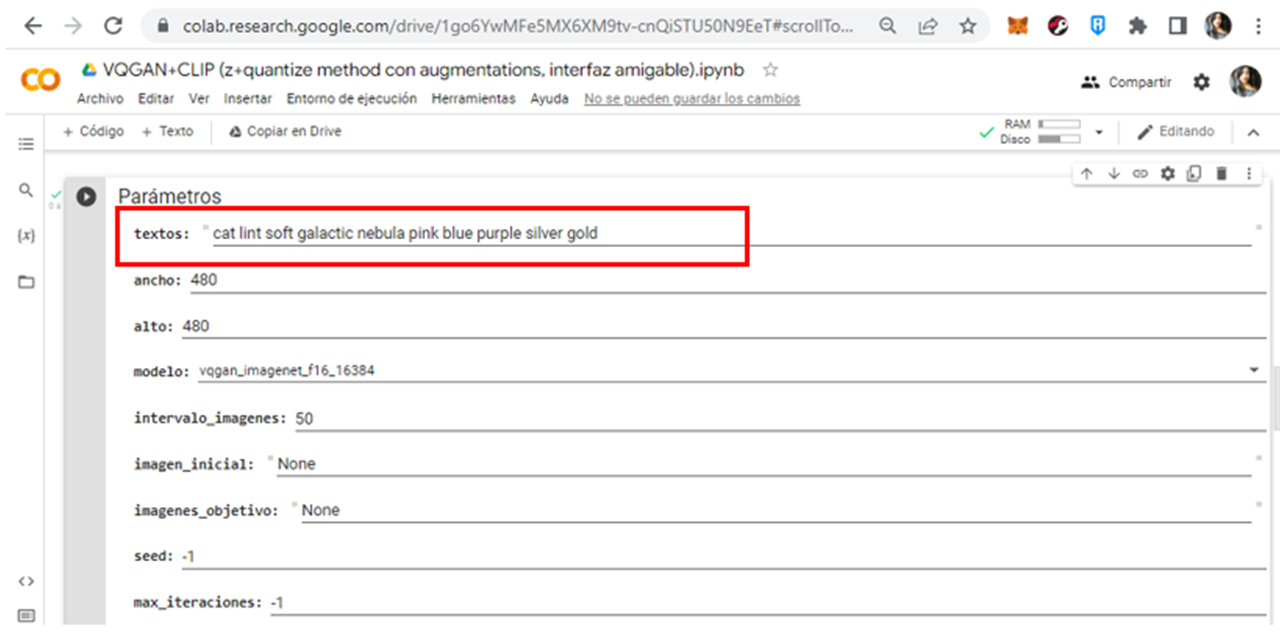 ✔️ And finally click on: Do execution. At the beginning of the first iterations you don't see anything finished, everything looks very blurry, but when you get to iteration 50 you start to see the concept of the image. You can stop at any iteration you want, depending on how you want your image.
✔️ Y finalmente dar click en: Hacer la ejecución. Al principio de las primeras iteraciones no se ve nada concluso se ve todo muy borroso, pero al llegar a la iteración 50 comienza a ver el concepto de la imagen. Puedes parar en la iteración que desees, según cómo quieres tu imagen.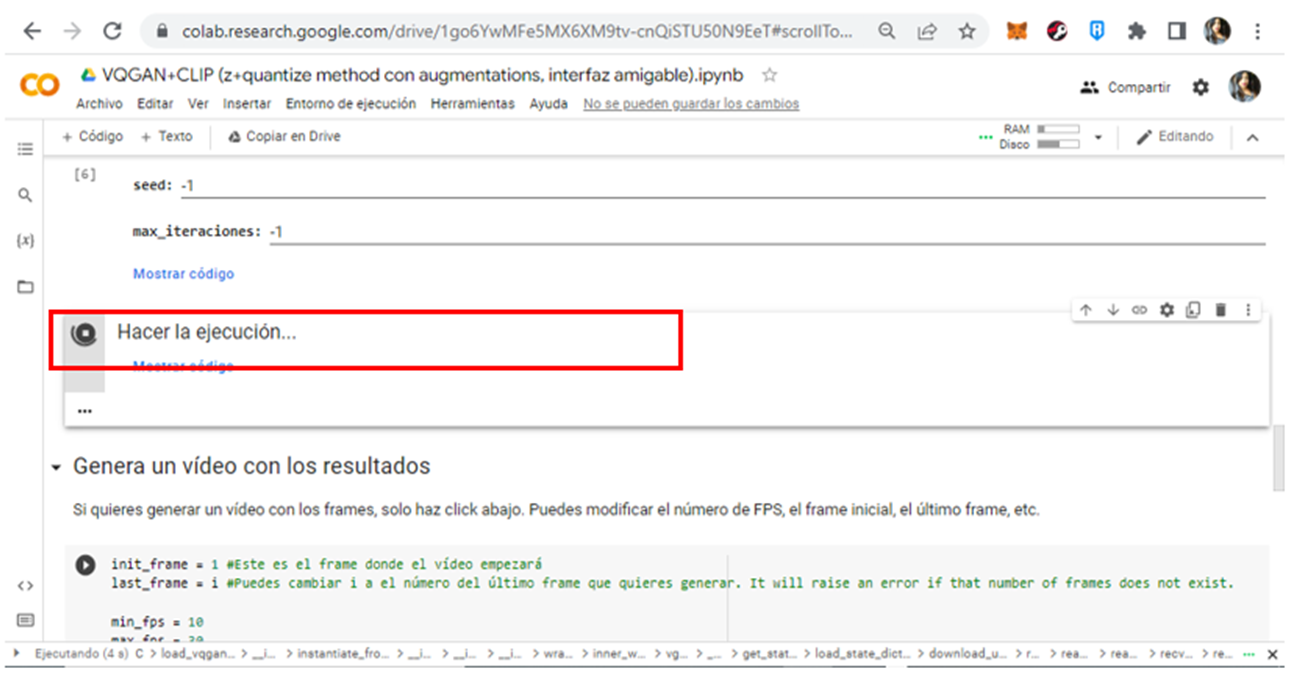 I was very surprised that the Artificial Intelligence literally processed all the placed elements and made a very surreal, but at the same time fantastic image 🎆. I showed this image to a friend of mine and he said:
-Wow 😮 it's great the image, but doesn't it look like "A strange cat nebula from space" to you?
I laughed after what he said 😂, but he's right and that's why I decided to name this image "Galactic Fuzz" in honour of my cat named Fuzz 🐱.
By the way, and you my dear readers, what do you think about this image? You can let me know in the comments. Soon I'll be trying with other models so you can see what kind of images some of them generate.
Me sorprendio mucho que la Inteligencia Artificial literalmente proceso todos los elementos colocados y realizo una imagen muy surrealista, pero a la vez fantástica 🎆. Esta imagen se la mostré a un amigo y me dijo:
–Wow 😮 está genial la imagen, pero ¿no te parece "Un extraño gato nebulosa del espacio"?
Me eché a reír después de eso que dijo 😂, pero tiene razón y por eso decidí colocarle de nombre a esta imagen "Pelusa Galáctica" en honor a mi gata que se llama Pelusa 🐱.
Por cierto, y a ustedes mis queridos leyentes ¿Qué les parece esta imagen? Pueden dejármelo saber en sus comentarios. Próximamente estaré intentando con otros modelos para que visualicen el tipo de imágenes se genera algunos de estos.

💙 💜 🖤 🤍Nos vemos en una próxima ocasión….Byeeeee 👋 💙 💜 🖤 🤍
💙 💜 🖤🤍See you next time ....Byeeeee 👋 💙 💜 🖤🤍