In the remote state of Kerala, located in the southern tip of India, in a remote hamlet lies an occult Kali temple on top of a mountain. The temple is home to a rather intense form (Bhadra Kali) of the Indian goddess Kali. It's dedicated to the memory of a divine mad man. His name is Naranath Branthan (The madman from Naranam).
The temple is called Rayiranellur Bagavathy Temple. The temple sees a lot of traffic in the month of October when devotees climb the mountain in large numbers to celebrate a particular festival. However, for the rest of the time the whole place is absolutely desolate. A priest comes in once in a while in the mornings to conduct pooja and then leaves. The whole place is usually absolutely empty and a hiker's dream come true !

The place is around 103 kilometres from the airport and takes about 2.5 hours of drive to get to the mountain. The Naranathu Branthan Mala (hill) is located at Rayiranelloor in Palakkad district on the Valanchery - Pattambi road after Thiruvegappura Shiv temple. It takes 1.5 hours to climb the mountain. On top there is a statue of Naranathu Branthan. The nearest rail head is Kuttipuram in Malappuram district on the Shornur - Kozhikode route.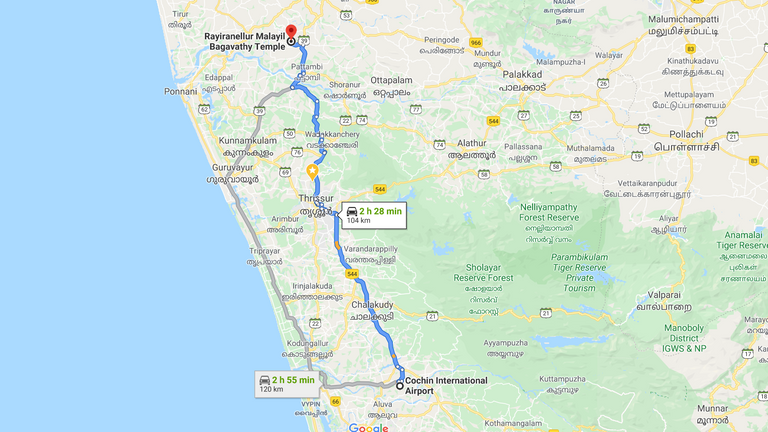 He is a very famous folklore in south India. There are many legends connected to this strange unconventional mystic. He was always unkempt, dirty, wore rags and chewed betel leaves. A through rough and rude demeanor and dis-interested in human affairs. He was everything humans would despise and yet he was a god!
He is known for his famous past time of rolling up a huge boulder up the hill and then letting it roll down while he laughs hideously. It was his way of poking fun at society and its ways. He was not known to be very kind to divine beings either!
The legend goes that while he was sleeping in the cemetery the dark goddess decided to test him. She appeared in front of him in her ferocious form and instead of being afraid he simply laughed her off. Impressed with him, she granted him a boon. He simply told her he did not give a damn about her boon! She insisted he ask for a boon. So, he just told her if she could increase his lifespan by a single day. She said she could not do that. So, he said maybe she could decrease his lifespan by a day. And she said she could not do that either. So, finally he just asked her to transfer a swelling he had on his leg from the right leg to the left leg. She did that and he went away.
Another famous legend is about the famous temple in Alapuzha Ambalappuzha Sri Krishna Temple. Apparently for some reason no matter what they did, the statue of the god simply refused to stay upright. When they were convinced the reason was beyond physics, they called a famous astrologer. He proclaimed that only NB could get this statue installed. Needless to say, the temple authorities were not pleased. The idea of getting an offensive character like NB to the temple was not very appealing. However, since they had no choice they got him !
He came and the process of setting up the statue and the rituals began. However, despite multiple efforts the status simply refused stay up. Finally, NB lost his temper and spat on god and shouted "'irikkeda pulayadimone avide'. It means "sit there you son of a Whore!" And apparently the statue instantly stood straight and apparently has been since.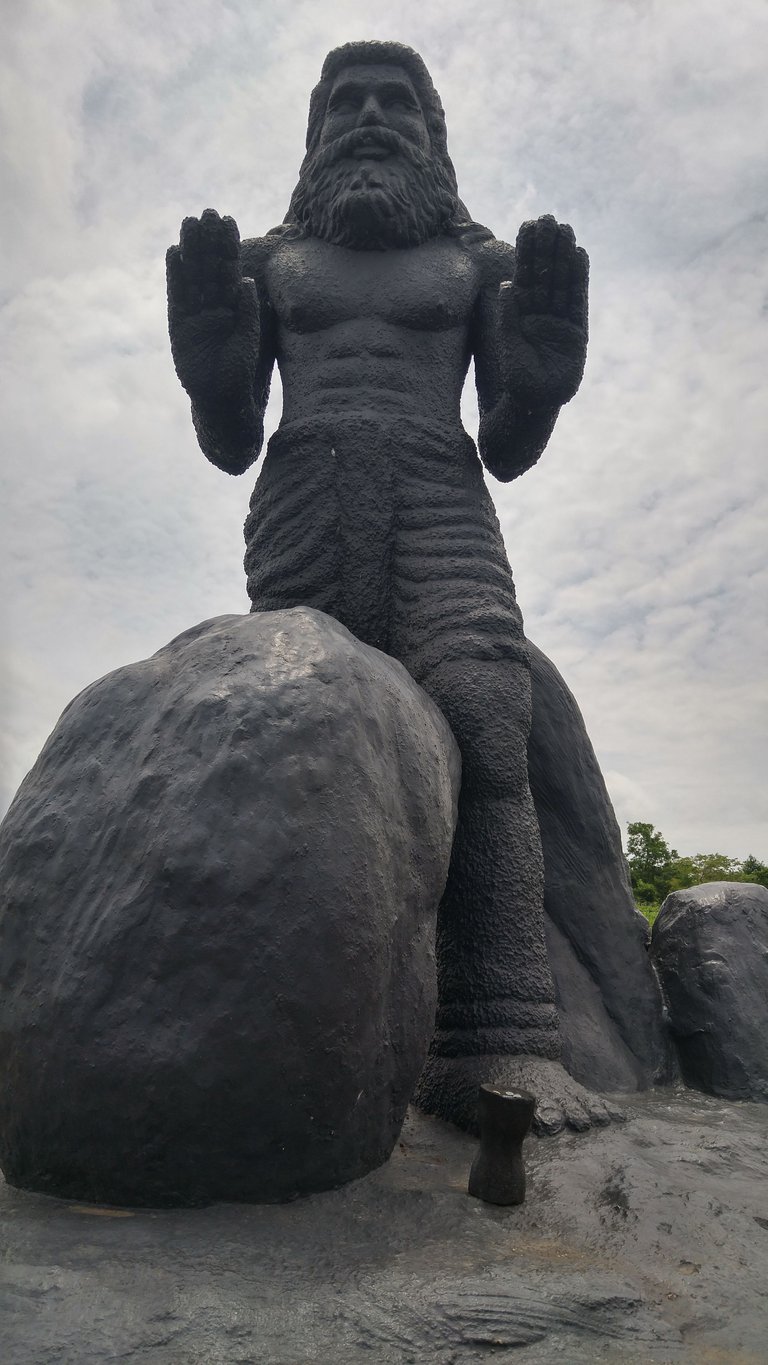 NB stands on top of the mountain.Imposing and from his POV looks down the whole valley. A symbolic boulder is made at his feet.
I went there in the month of May. It's very hot. Also, it's quite the trek up the mountain. Please note its NOT a hill. It's a mountain. They have stairs however do NOT try and go up if you are not in good shape. The place is desolate. You will NOT get any help.
The rules require you to inform the temple authorities located near the base of the temple before you go up and after you come down. So that they can keep track of you in case something goes wrong. It's best to go up with someone so that you have help. Make sure cell phones are charged. Make sure you have water, sunscreen and hat/cap.
DO NOT FORGET to carry a big stick. The place is foresty so finding a stick won't be a problem. If you forget it, the wild animals in the forest are going to get very curious about you. You are not going to enjoy that. Especially if you are alone.
That's the Way Up. Its a couple of Kilometres Up ! Don't let the pic fool you. Those are really steep stairs andgo up a loooong way !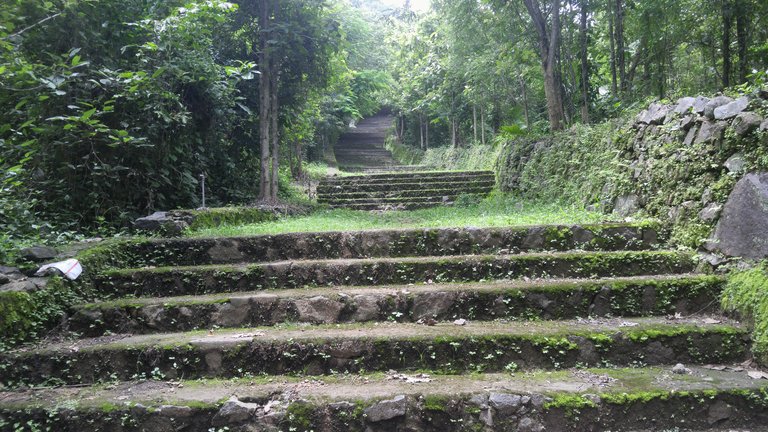 Halfway Up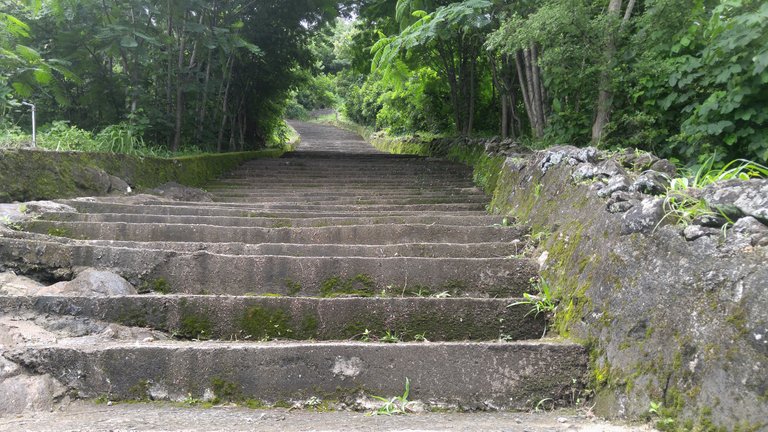 View from Halfway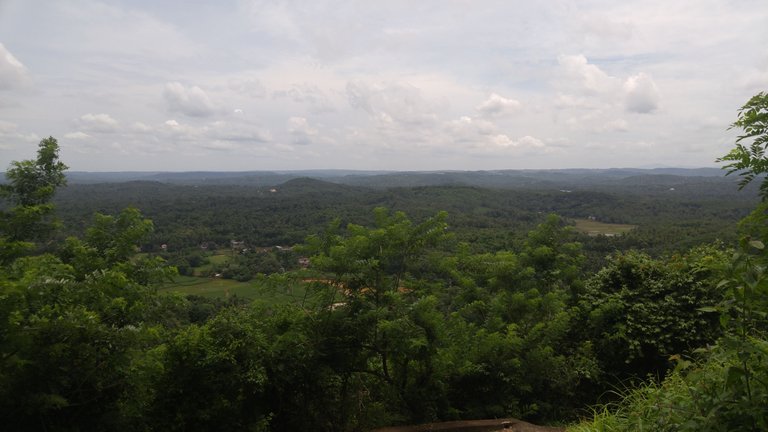 POV of the valley from the statue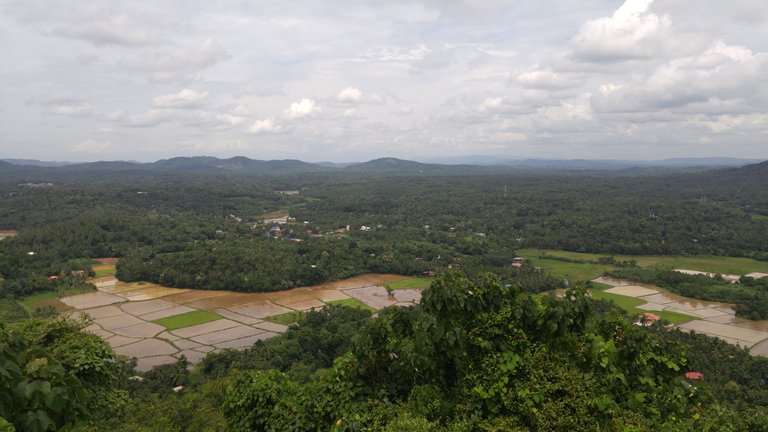 View From top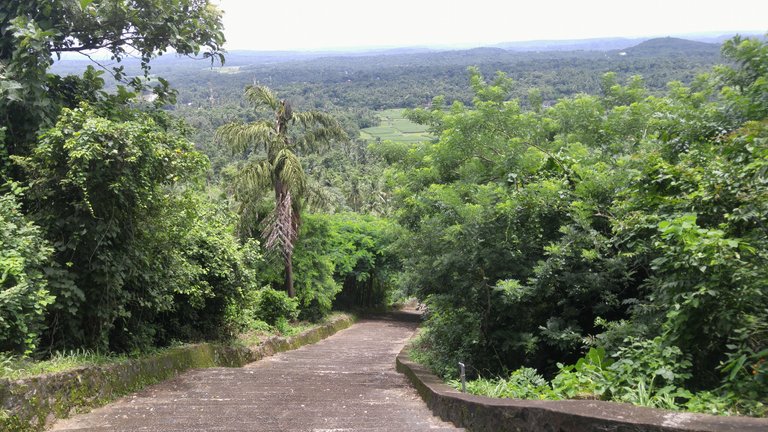 The temple is a Tantric kali temple. It is usually isolated and you can have a good time looking around without any interruption. I would recommend against touching items in the temple. Especially if it looks like some Tantric ritual has taken place.
The temple at the top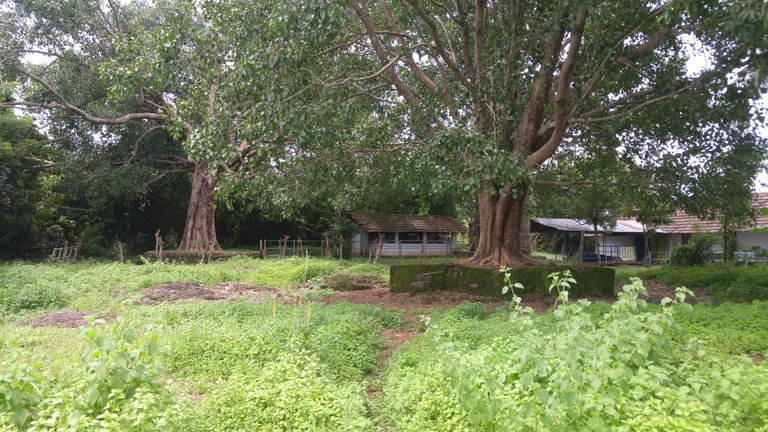 In the true tradition in the olden days a temple built on top of the hill meant just one thing. STAY AWAY - NOT FOR NORMAL MASSES. It's mostly occult and only for specific practitioners. While the Tantric arts are not as common as back then, there could still be some nasty surprises. If you see any dying bird (Owl,Crow etc.) or small animals (snake,rat,rabbit etc.) especially near the ritualistic space. Keep your compassion in check and give this one a miss. Take a selfie and move on.
The climb is long and a true test of endurance. But the view on top and at various points on the way is stunning. Overall, it's a spiritual-adventure trip of a different kind and those with an interest in the unconventional will love it.
Anyone who comes down to India and especially visits Kerala. A visit to this place is highly recommended. Once again carry lots of water ! And carry a BIG STICK . Wild animals can be a bitch!
If you like our content please follow @sajannair
Cher!