Have you ever heard of Baingan (Eggplant) Pakoda? It is actually called as Baingan ki Kachri. It's a very famous snack to eat along with your main course. Its very easy to cook and comes out to be as a delicious accompaniment with your main course food. So if you are not in a mood to cook variety today, just make these with your regular dal and sabji and get going.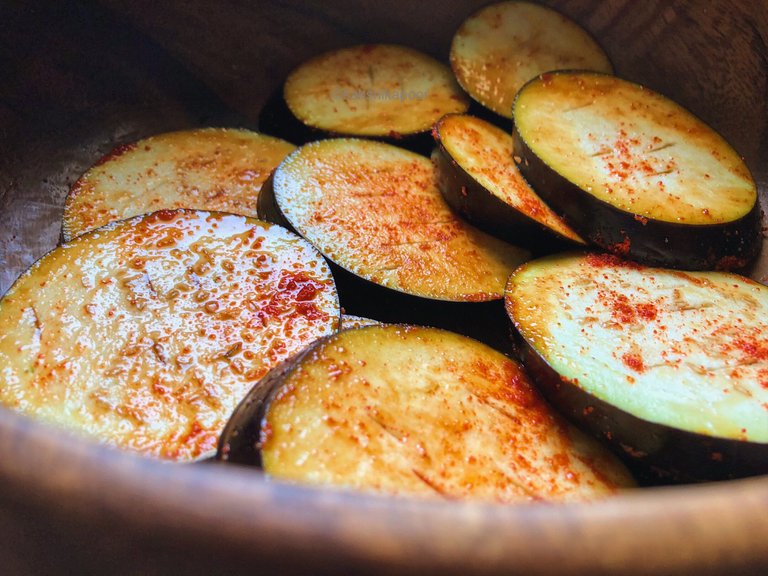 1
Cooking Time
20 minutes
Kitchen Standing Time
20 minutes
Servings
2 people
Ingredients
• 1 Brinjal, cut in slices.
• 2 TBSP besan
• ½ TBSP Red Chilli Powder
• ½ TBSP Coriander Powder
• ½ TBSP Amchoor Powder
• ½ TBSP Chaat Masala
• Salt as per taste
• Oil for Frying
Method
Step 1: Wash the brinjal well and cut it into thin slices. Spread the slices on a plate.
Step 2: In a bowl, add the besan and all the spices. Mix well. Don't add any water.
Step 3: Spread the besan mix evenly on the slices and mix well.
Step 4: Heat oil in a pan. Heat enough oil to dip atleast 7-8 slices in one go.
Step 5: Gently put the slices intohot oil. Let them cook until brown. Cook on a slow flame.
Step 6: Strain out the excess oil from the kachris and sprinkle chaat masala from the top.
Serve hot with your regular dinner!
---