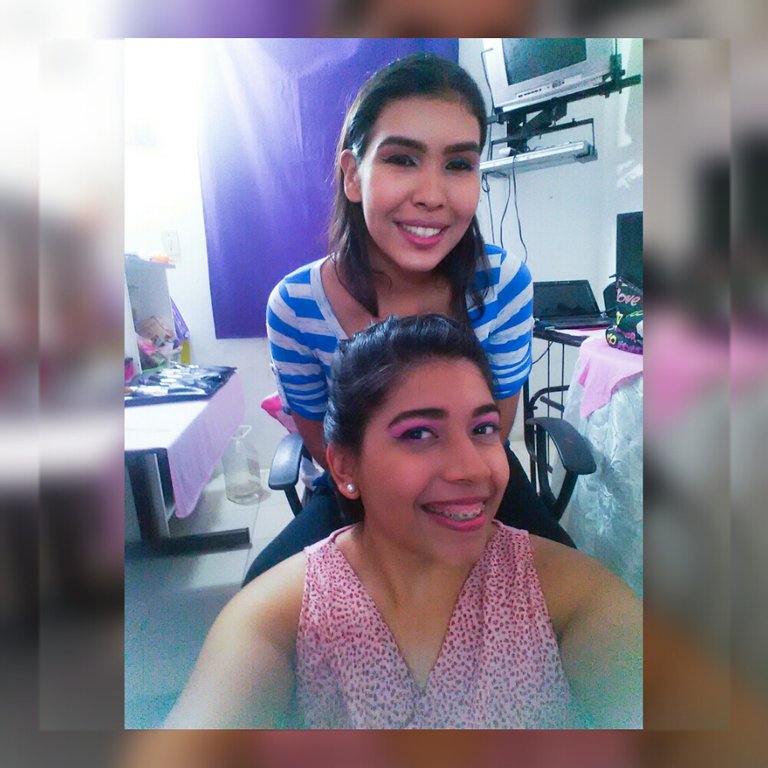 Bienvenidos a mi post •••• Welcome to my post

Hola amigos, ya que me nos estamos conociendo cada vez mas les voy a contar sobre mi primer curso de maquillaje
Lo recibí cuando tenia 17 años, estaba por iniciar la Universidad, asistía a clases de danza, entonces quería hacer un curso de estos para saber como maquillarme o arreglarme para distintas ocasiones
Entonces me puse a buscar cursos por la zona donde vivía antes, no conseguí al instante pero tiempo después me escribió una chica llamada Yanirma, la cual decía que dictaba cursos de auto maquillaje y vivía en la misma urbanización que yo lo cual me sorprendió muchísimo, decidí ir a donde se encontraba ella para concretar la realización de este curso
No me juzguen jajaja este fue mi primer curso, no quede echa toda una experta pero fue el comienzo de mas aprendizaje
Hello friends, since we are getting to know each other more and more I'm going to tell you about my first make-up course

I received it when I was 17 years old, I was about to start the University, I was attending dance classes, so I wanted to take one of these courses to know how to make up or dress up for different occasions

Then I began to look for courses in the area where I lived before, I did not get instantly but some time later a girl named Yanirma wrote me, which said that she taught courses in self makeup and lived in the same urbanization as me which surprised me a lot, I decided to go to where she was to specify the realization of course

Don't judge me hahaha this was my first course, I didn't get to be an expert but it was the beginning of more learning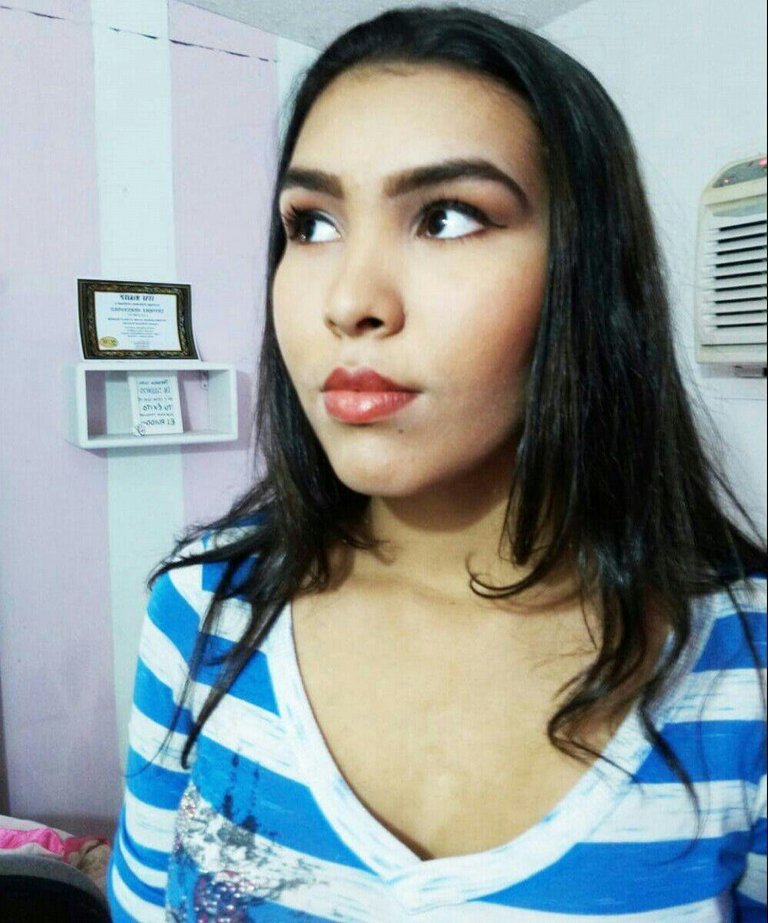 Antes de iniciar •••• Before you start

Al cuadrar nuestro encuentro, que seria en su mini estudio de maquillaje ubicado en su casa, Yanirma me dijo que tenia que llevar mi maquillaje, yo casi no tenia así que me toco comprar algunas cosas
Pero esto no importaba mucho ya que ella dijo que también utilizaríamos sus brochas o cremas para un mejor acabado, así yo aprendería las técnicas correctas de como utilizar cada brocha, aplicar cremas o polvos
Para ese entonces no me gustaba el maquillaje lo admito, lo creía innecesario saben? Por que teníamos que tener esos productos puestos en el rostro, pero una vez que lo haces con alguien que realmente es profesional, te das cuenta que es una ayuda, se trata de reforzar tu belleza nada mas y aprendes a amarlo
When we agreed to go and see the course , would be in her mini makeup studio located in her house, Yanirma told me that I had to wear my makeup, I didn't have much, so I had to buy some things.

But this didn't matter much since she said we would also use her brushes or creams for a better finish, so I would learn the correct techniques of how to use each brush, apply creams or powders

By then I didn't like the makeup I admit, I thought it was unnecessary, you know? Because we had to have those products on our faces, but once you do it with someone who is really professional, you realize it's a help, it's about reinforcing your beauty and you learn to love it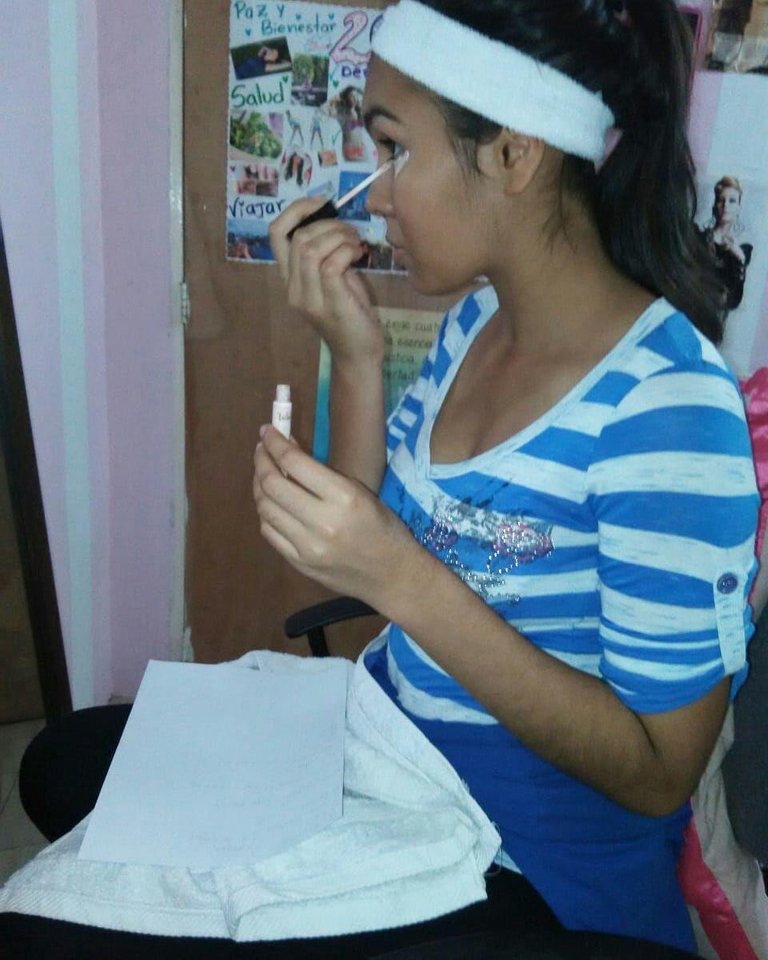 Cuidados y correctores •••• Care and correction

Lo primero es una limpieza de cutis con algodón o esponja luego un tónico que puedes hacer el casa con agua de rosas y glicerina, para terminar nuestra preparación de la piel una crema hidratante de tu preferencia todo esto para que los productos que vamos a utilizar no nos hagan daño en la piel
Luego de todo ese proceso de protección, Yanirma me estaba explicando como aplicar los correctores, el blanco es para dar luz o volumen y el marrón para oscurecer o hundir, estos se aplican de manera estratégica en el rostro para cubrir o resaltar lo que queramos

Inclusive existen correctores de varios colores para partes especificas del rostro, como por ejemplo: El naranja o rojo es perfecto para cubrir ojeras o manchas en general y el azul les funciona a las personas que tienen acné rojizo estos colores equilibran el tono de piel y lo notas cuando aplicas la base después de haberte aplicado estas cremas coloridas
The first thing is a skin cleaning with cotton or sponge then a tonic that you can do in the house with rose water and glycerin, to finish our preparation of the skin a moisturizer of your preference all this so that the products we will use do not hurt our skin

After all that protection process, Yanirma was explaining to me how to apply the concealers, the white one is to give light or volume and the brown one to darken or sink, these are applied in a strategic way in the face to cover or highlight what we want

There are even concealers in various colors for specific parts of the face, such as: Orange or red is perfect for covering dark circles or blemishes in general and blue works for people with reddish acne. These colors balance the skin tone and you can tell when you apply the base after you have applied these colorful creams.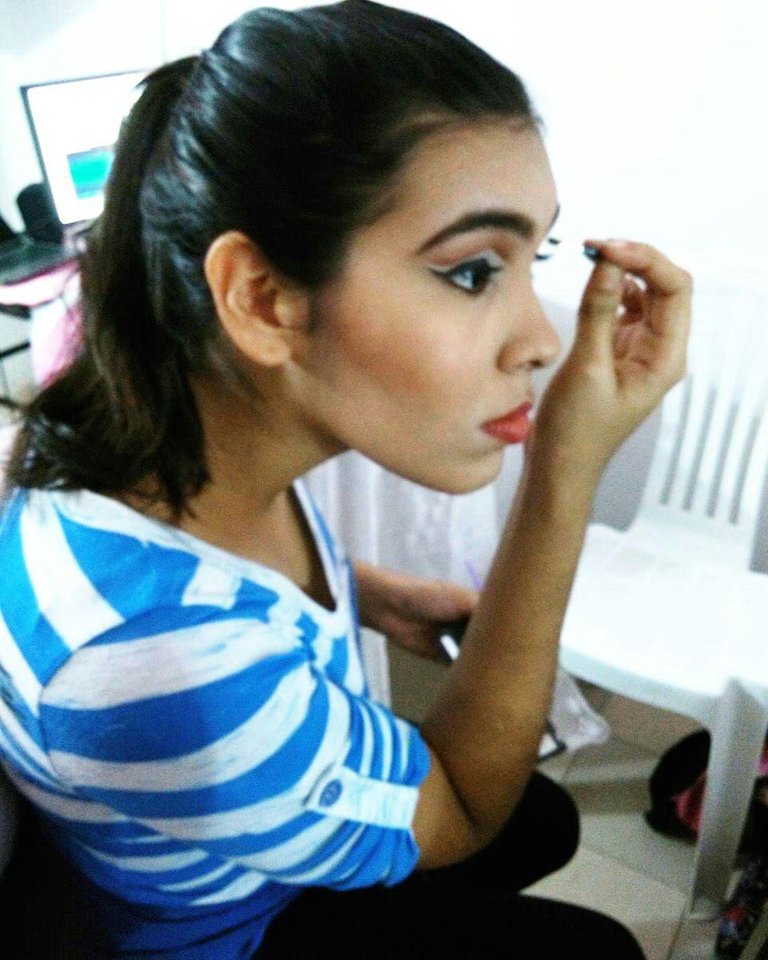 Sellar y pulir •••• Sealing and polishing

Como pueden ver no sabia aplicarme bien la pomada de cejas jajaja
En este paso Yanirma me explico como aplicar correctamente los polvos para sellas el maquillaje, de nada nos sirve dejarnos los correctores y la base sin sellar nuestro trabajo
Como mis ojos son hundidos ella opto por enseñarme un difuminado con un leve delineado de ojo, me mostró las paletas o brochas correctas, los movimientos de manos de los cuales depende que tan fuerte quede tu maquillaje, si afincas mas al aplicar una sombra de ojos pues quedara un color fuerte, pero si aplicas la sombra de manera leve tendrá un tono mas suave
Al igual que los correctores, las sombras son para sellar y dar luz o profundidad, en este caso disminuir mis cachetes que son bien grandes jajaja
As you can see, I didn't know how to apply the eyebrow ointment properly hahaha

In this step Yanirma explained to me how to correctly apply the powders to seal the makeup,there's no point in leaving our correctors and the base without sealing

As my eyes are sunken she chose to show me a blur with a slight eyeliner, showed me the correct palettes or brushes, hand movements which depend on how strong your makeup is, if you settle more when applying an eye shadow it will be a strong color, but if you apply the shadow slightly will have a softer tone

Like the concealers, the shadows are to seal and give light or depth, in this case to diminish my cheeks that are very big hahaha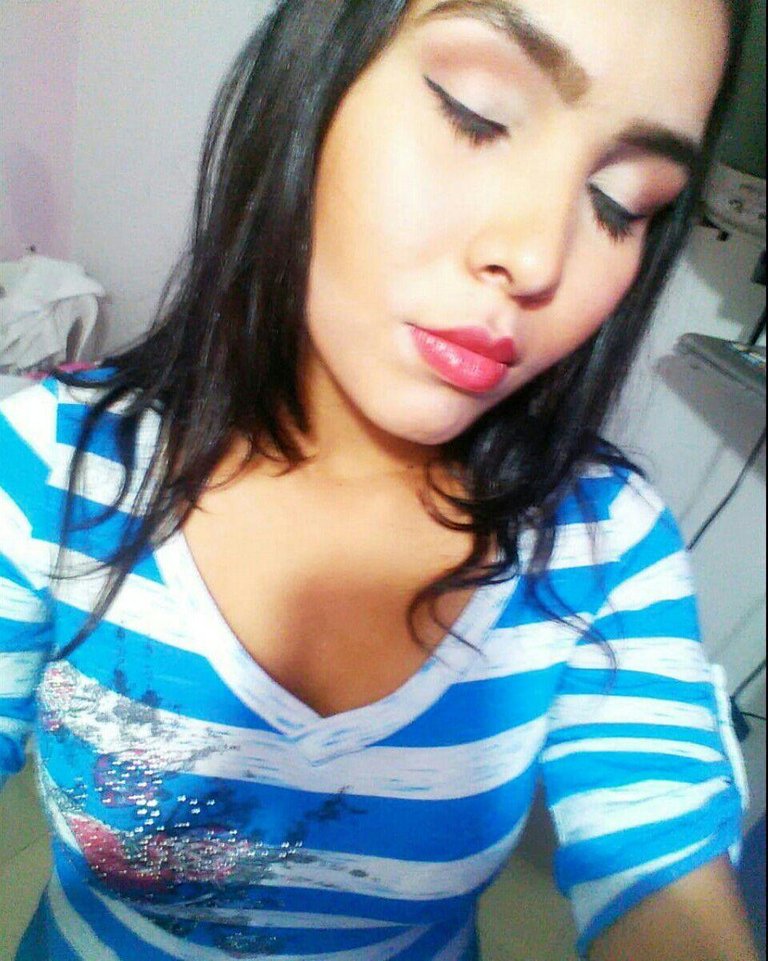 Curso de auto maquillaje terminado •••• Self make-up course completed

Quede contenta con este curso, pues no sabia nada de maquillaje literalmente, como pueden ver para mi en ese entonces fue un buen resultado ya que a partir de este curso me enfoque en seguir aprendiendo mas de este arte
Luego de eso realice otros cursos, mas vídeos que veía por Instagram, practicando con mis familiares, luego me llego la oportunidad de tener la escuela de danza y maquillar a todas las niñas era mas practica para mi
Todo tiene un comienzo, si no empiezas desde el inicio como pretender llegar a la meta ?
Espero que mi contenido haya sido de tu agrado, gracias de ante mano por todo el apoyo que me brindan, nos encontraremos en una próxima publicación, sugarelys.
I was happy with this course, because I didn't know anything about makeup literally, as you can see for me at that time it was a good result because from this course I focused on continuing to learn more about this art

After that I did other courses, more videos that I saw on Instagram, practicing with my relatives, then I got the opportunity to have the dance school and makeup all the girls was more practical for me

Everything has a beginning, if you don't start from the beginning how do you intend to reach the goal?

I hope that my content has been to your liking, thanks in advance for all the support you give me, we will meet in a next publication, sugarelys.