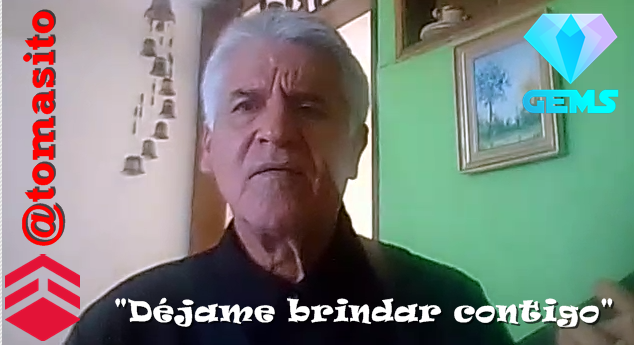 BIENVENIDOS A MI POST


---
Hola amigos de #GEMS.
Quien les escribe y les saluda, su servidor @tomasito. En esta oportunidad les traigo un tema que me encanta mucho, el cual lleva por título "Déjame brindar contigo" y le pertenece en letra y música al compositor Óscar Santana y originalmente interpretado por Hector Cabrera. El tema habla de un amorío prohibido pero decidido a estar juntos, aunque sea a duras penas, ¿Y quién no ha pasado por algo así? Espero les sea de su agrado y nos vemos en la próxima oportunidad.
Hello #GEMS friends.

Whoever writes and greets you, your server @tomasito. This time I bring you a song that I love very much, which is entitled "Déjame brindar contigo" and belongs in lyrics and music to the composer Óscar Santana and originally performed by Hector Cabrera. The theme talks about a forbidden love affair but determined to be together, even if it is barely, And who has not gone through something like that?. I hope you like it and see you next time.

Déjame brindar contigo
Déjame brindar contigo
Por ti por tu nuevo amor
No le hables de nosotros
no le cuentes que fui yo
Aquel que cubrió de besos
los caminos de tu cuerpo
y en mujer te convirtió
Perdona lo que ha pasado
por er hombre casado
no puedo tener tu amor
Déjame brindar contigo
porque ya se acerca el fin
Déjame secar tu llanto
quiero verte sonreir
perdona lo que ha pasado
por ser un hombre casado
no puedo tener tu luz
pero quiero que lo sepas
que en el otoño de mi vida
hay una flor y eres tu
---
Thanks for support and watching. Hope enjoy.
---