I've been somewhat steadily working on creating more #witchcraft related quotos and infographics to use as the spoiler space prevention spacers for my Tarot Tuesday posts (as well as just for general sharing). I'm also curious to see if I can drive some of my Pinterest traffic here to my Hive blog, instead of my WordPress blog (which I will eventually get around to posting about...probably...lol!).
As I've been doing for the past couple of months-ish, after this post is published, I'll reply down in the comment section with a link to the pin I plan to create, as well as my Instagram post, and my Tweet. If you're in those spaces as well, feel free to shout out and I'll give you a follow - always happy to have more Hivers on my other social media accounts! 😊
Now to the graphics - I haven't done an infographic for a New/Dark moon in ages, and I found it interesting that the last one I created was early last July. Seems a pretty auspicious one to start back up on too, especially given that it's a rare second Cancer New Moon in a row, which in some circles makes it a Black Moon!
To explain a bit further, some consider a Black Moon (which is kind of the New Moon version of the Blue Full Moon occurrences) to be the second new moon in a solar month (meaning two new moons in a row in the same zodiac sign). For others, it's the third of four new moons to take place in one season (the period of time between a solstice and an equinox, or vice versa). Since this one fits the first definition, I'm going to go ahead and call it so.
Hope you have a magical Black New/Dark moon, and as always, please feel free to share!
Instagram sized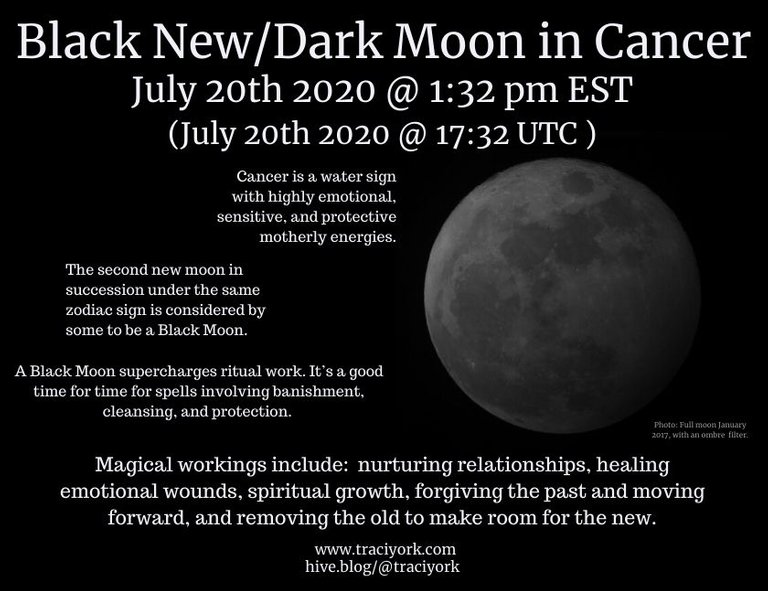 Pinterest sized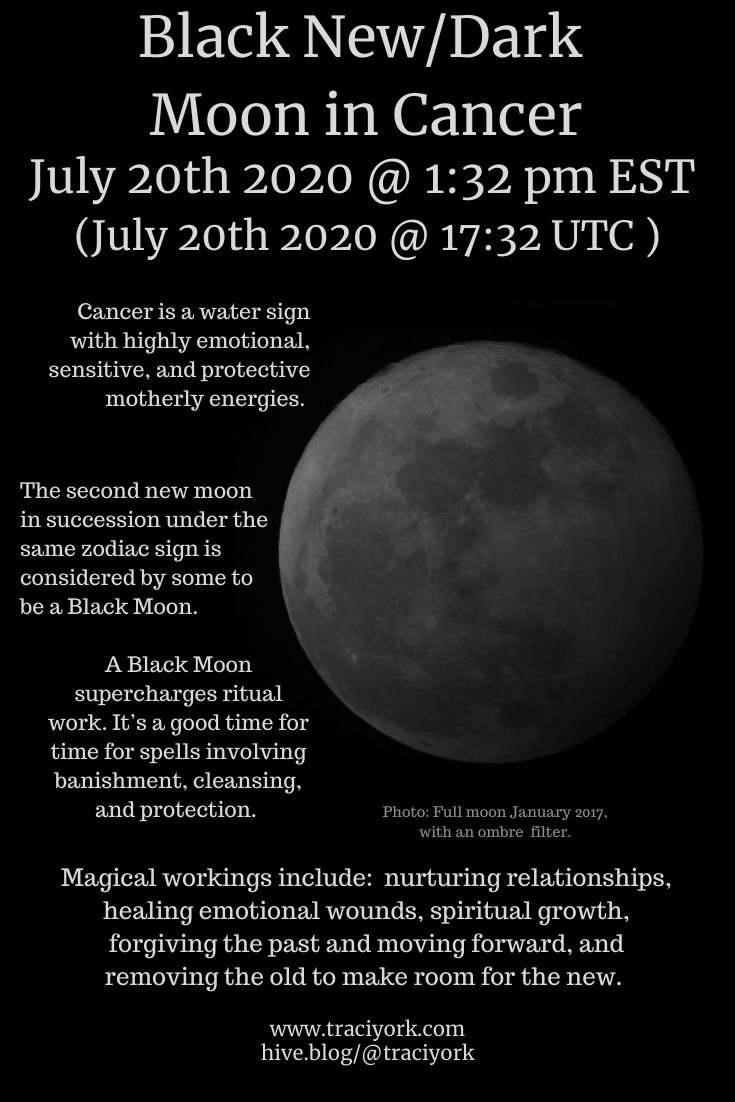 Infographic Text

Black New/Dark Moon in Cancer
July 20th 2020 @ 1:32 pm EST
(July 20th 2020 @ 17:32 UTC )

Cancer is a water sign with highly emotional, sensitive, and protective motherly energies.
The second new moon in succession under the same zodiac sign is considered by some to be a Black Moon.
A Black Moon supercharges ritual work. It's a good time for time for spells involving banishment, cleansing, and protection.
Magical workings include: nurturing relationships, healing emotional wounds, spiritual growth, forgiving the past and moving forward, and removing the old to make room for the new.
Photo: Photo: Full moon January 2017, with an ombre filter.

Thanks for stopping by!

My posts may occasionally contain affiliate links. If you click through,
I might get a wicked small commission, with no extra cost to you.
Blog graphics created on Canva
My photographs are taken with my trusty Nikon,
sometimes utilizing my handy dandy tripod.
All words and images are mine (unless otherwise indicated),
and can sometimes also be found on my various social media sites.
Speaking of witch which...

I have one billion many homes on the interwebz.
Here are a few...