Herkese merhaba 🖐️
Sizlere Bursa'da bir müzeden bahsetmek istiyorum. Türk ve İslam Eserleri Müzesi Yeşil semtini sevdiğimi daha önceki postlarımda belirtmiştim. Semt içinde Osmanlı döneminden kalma bir çok yapı mevcut.
YEŞİL MEDRESESİ
Yeşil Medresesi; Bu medrese Çelebi Sultan Mehmed tarafından 1419 yılında yaptırılmıştır. Osmanlı zamanında , Bursa'nın en önemli medresesi oldu söylenmektedir. Dikdörtgen avlu çevresinde 13 oda ve girişden ibarettir. Yapılan restorasyon çalışmalarında sonra 1975 yılından sonra Türk İslam Eserleri Müzesi olarak hizmet vermektedir.
---
Hello everyone 🖐️
I would like to tell you about a museum in Bursa. Turkish and Islamic Arts Museum I have stated in my previous posts that I love the Yeşil district. There are many buildings from the Ottoman period in the district.

GREEN MADRAS
Green Madrasa; This madrasa was built by Çelebi Sultan Mehmed in 1419. It is said that during the Ottoman period, it was the most important madrasah of Bursa. It consists of 13 rooms and an entrance around a rectangular courtyard. After the restoration works, it has been serving as the Turkish-Islamic Arts Museum after 1975.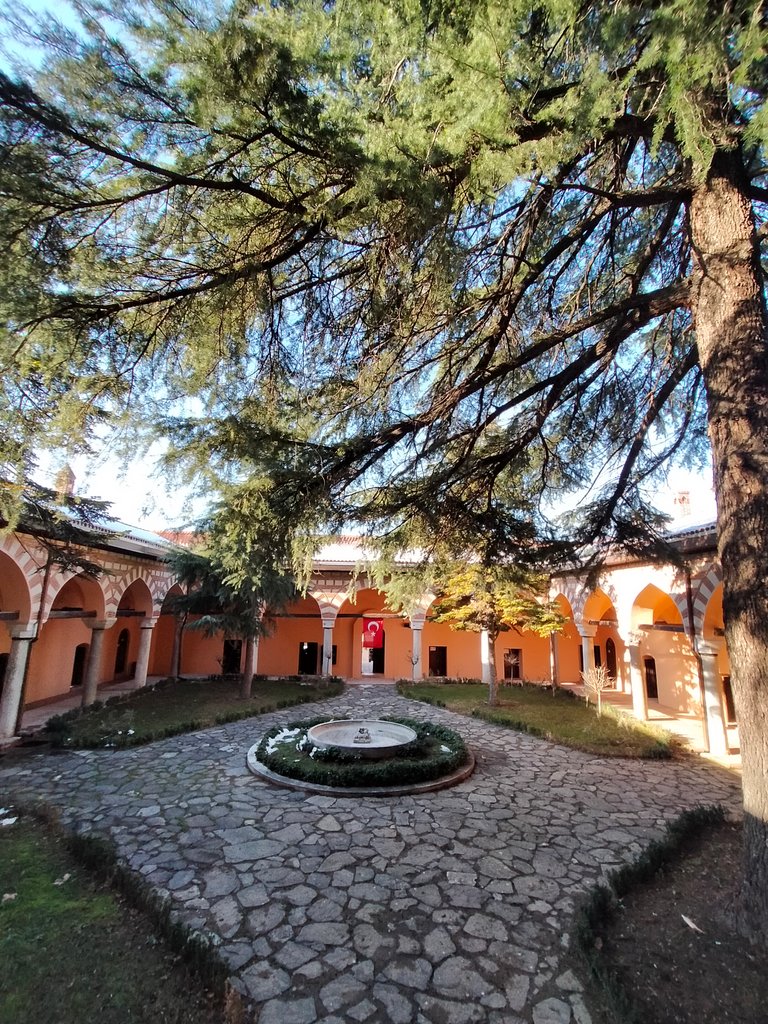 Konum
Müze olarak kullanılan her odası ayrı ayrı güzellikler sergilenen enerjisi çok güzel bir yapı.
It is a very beautiful building, which is used as a museum, and each room exhibits different beauties.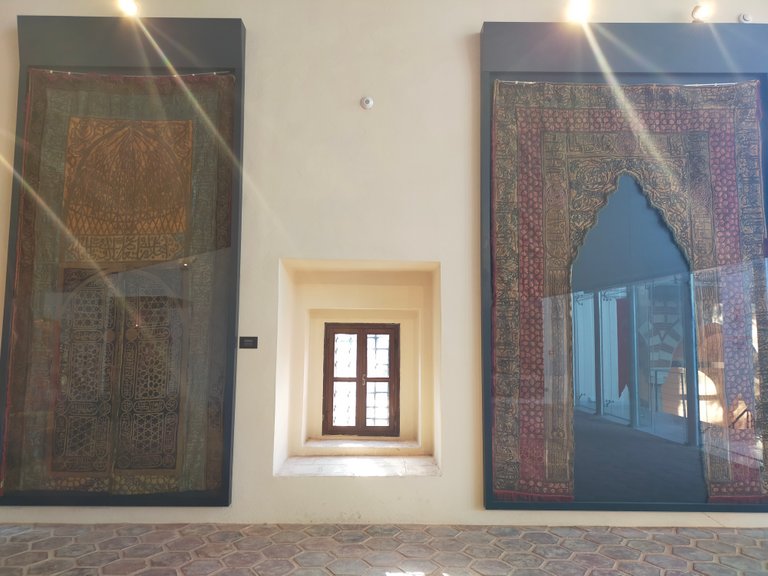 Müzenin şimdilik sadece bir odasından bahsedecim. İlk fotoğrafta "Yeşil türbe mihrap perdesi" ve "Yeşil türbe kapı perdesi" yer almaktadır. Tarihe tanıklık etmiş bu eserle inanılmaz, bunlara dokunmak çok farklı bir duygu.
Let me talk about only one room of the museum for now. In the first photo, there are "Green tomb altar curtains" and "Green tomb door curtains". It is incredible with this work that has witnessed history, it is a very different feeling to touch them.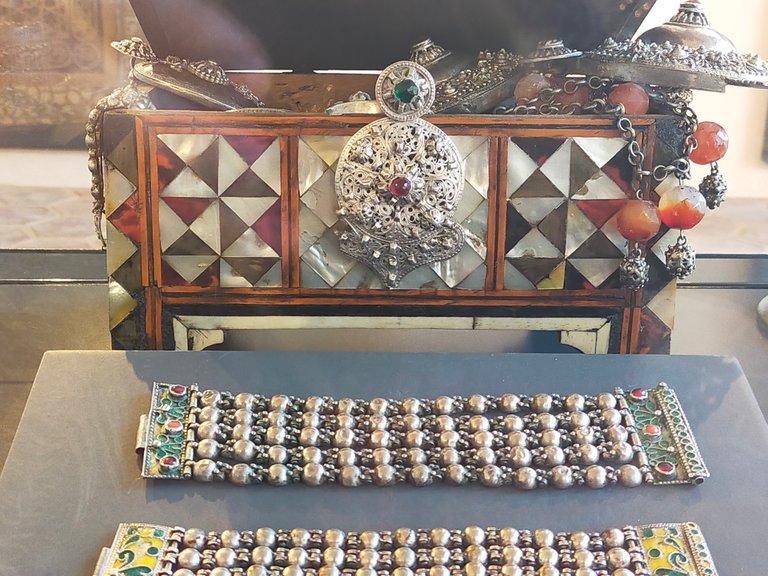 Eski dönemlerde kadınların kullandığı işlemeli taşlı özel takılar ve onların konulduğu el işi mücevher sandığı. Keşke benim olsa 😍
Special jewelery with embroidered stones used by women in the Ottoman period and a handmade jewelery box in which these are kept. I wish it was mine 😍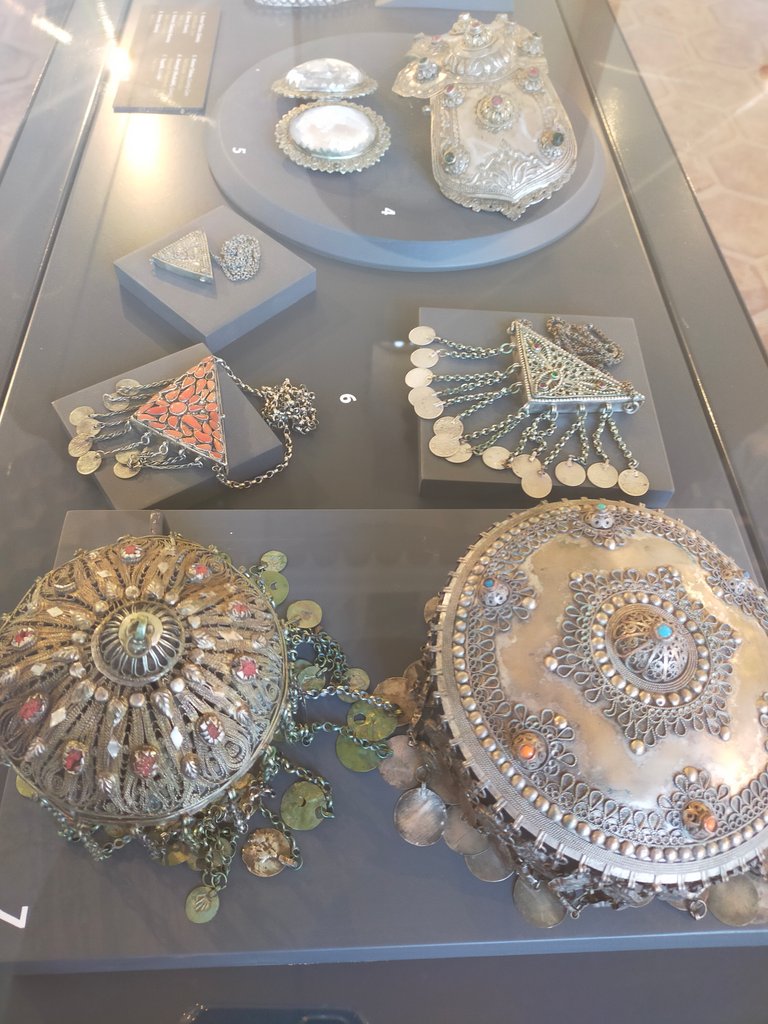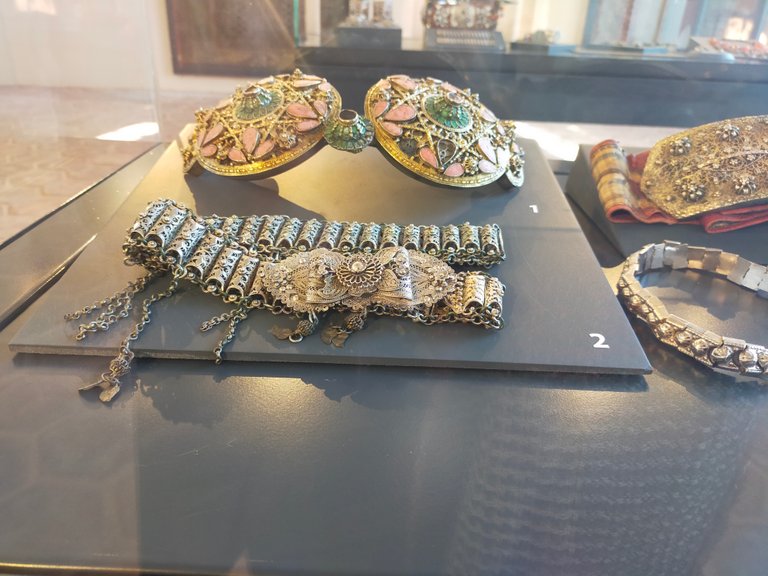 Başlıklardaki ince iş 😍 Kemerler, renklerin uyumu her bir aksesuara bayıldım.
Fine work on the titles 😍 Belts, harmony of colors I love every accessory.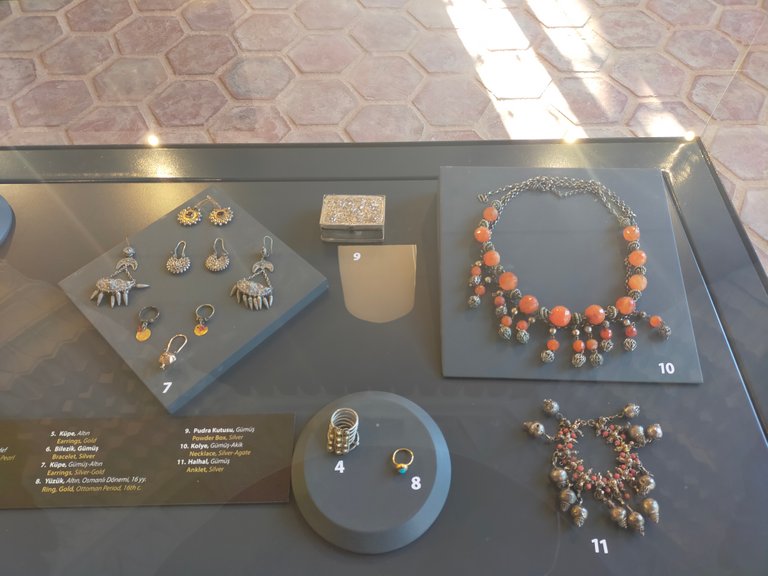 Kolyeler bilekliklerde aklım kaldı otantik şeyleri sevdiğim için tam bana hitap ediyor. Takılarda
daha çok altın ve gümüş kullanılmış.
I'm stunned by necklaces and bracelets, it appeals to me as I love authentic things. in jewelry mostly gold and silver were used.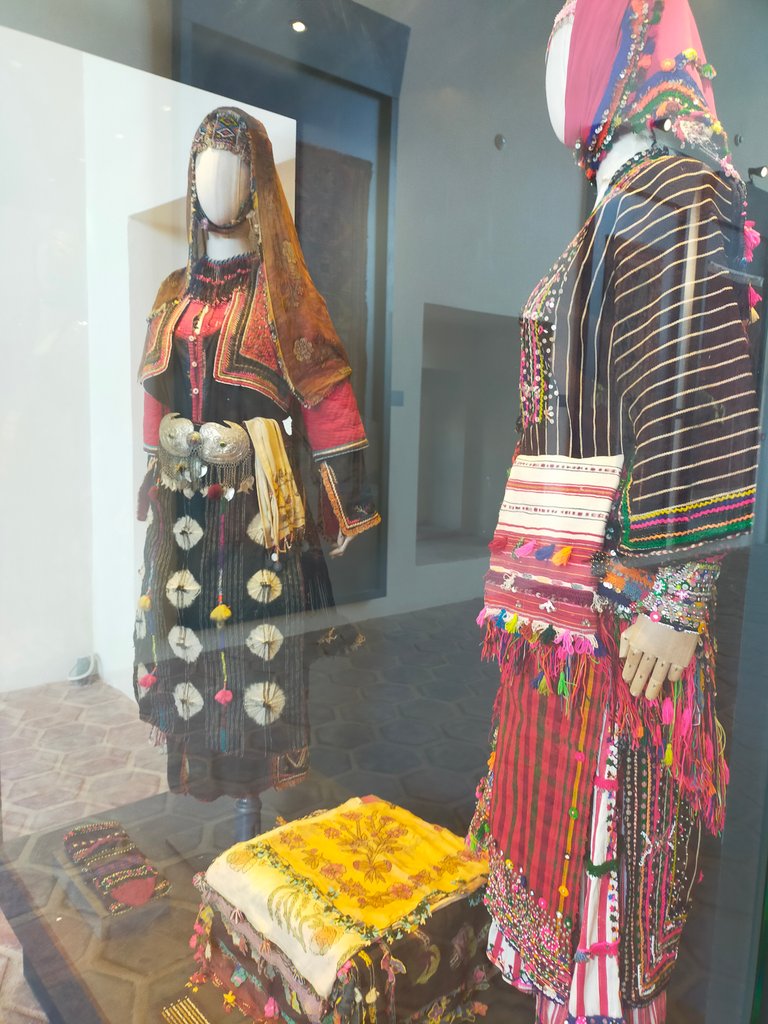 Osmanlı döneminde Bursa yöresel kadın giyisileri. Uç etekleri, iclikler, şalvar, cepken, iç gömlek, başlık, yazma. Bildiğim kadarıyla bunlar var. Tahminime göre bir kaç parça daha olmalı. O dönemlerde giyinip süslenmek cok zahmetli görünüyor , çok vakit aldığı kesin hiç bana göre degil 🙈
Bursa local women's clothing in the Ottoman period. End skirts, laces, shalwar, pocket, inner shirt, cap, writing. As far as I know they exist. My guess is there should be a few more pieces. As far as I can see, it was difficult to dress and decorate in those times, it sure took a lot of time 🙈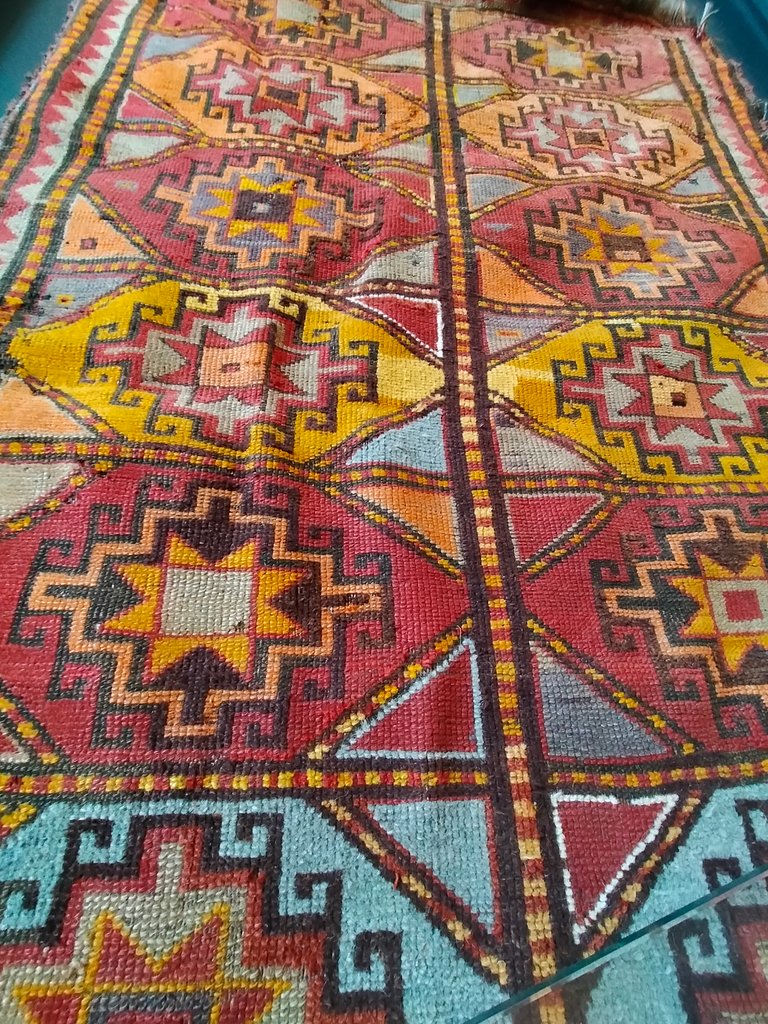 Kars Halısı, Yün, 20 yy. başı El dokuması farklı yörelere ait halılar da sergileniyor. Tek tek her ilmeği nasıl bir sabırla dokunmuş inanılmaz geliyor.
Kars Carpet,Wool, Early 20th century
Hand-woven carpets from different regions are also on display. It's incredible how patiently each thread is woven.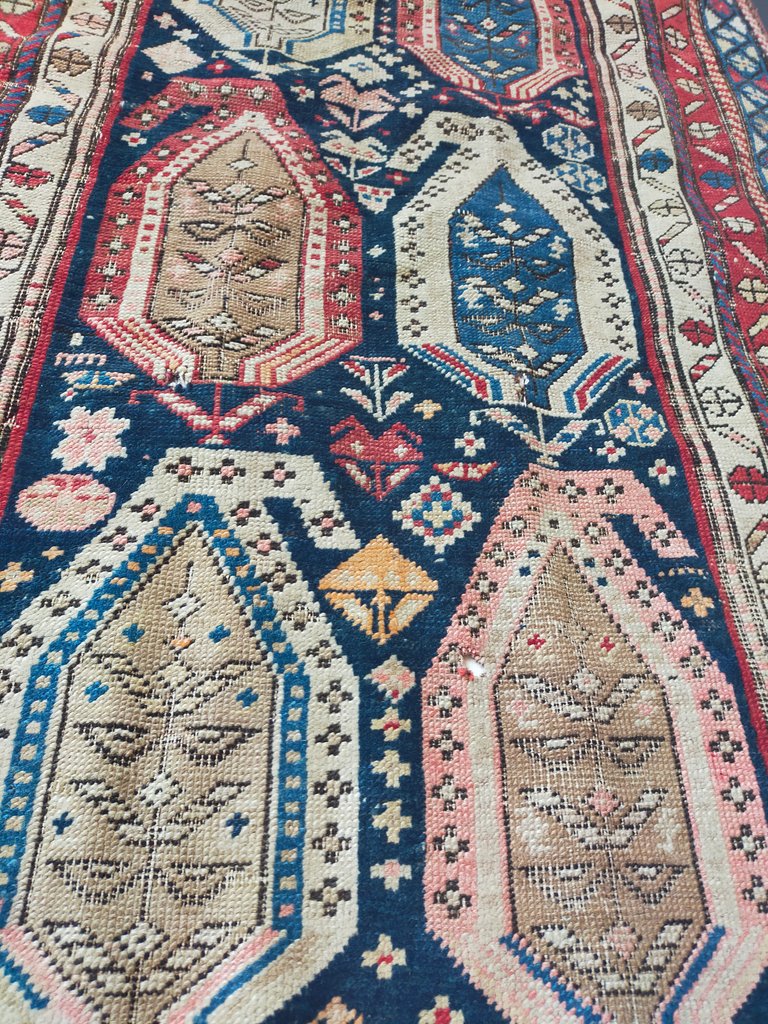 Kafkas Halısı, Yün, 20 yy, başı
Caucasian Carpet, Wool, Early 20th century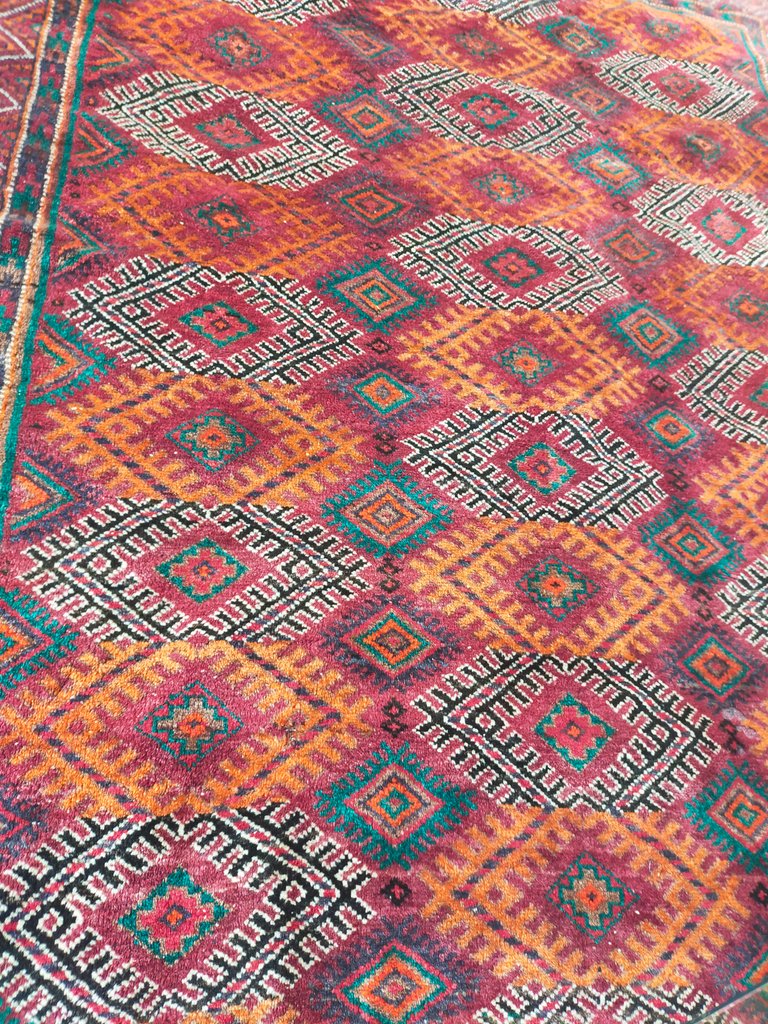 Zili Dokuma, Yün, 20 yy. başı
Zili Weaving, Wool, Early 20th century
Müzenin her odası ayrı güzellikte bir ay içersinde iki defa ziyaret ettim😊
Özellikle akşam üstü daha bir güzel oluyor, güneşin ışıkları ağaçların arasından süzülüp görsel şölen sunuyor. Kuş sesleri eşliğinde bu manzarayı izlemek bile yetiyor. Müzenin diğer odalarindaki guzellikleri sonraki postum sizlere aktaracağım. Görüşmek üzere
Every room of the museum is different, I visited it twice this month😊 It is especially beautiful in the evening, the sun rays filtering through the trees offer a visual feast. It is enough to watch this view accompanied by bird sounds. I will tell you about the beauties in the other rooms of the museum in my next article. See you
Mucizeler Bizlerle Olsun🪄
UzerCanan☘️