Greetings my dear hivers. How unpleasant it is to find out from @ginabot that all the money you had saved on Hive.Blog, vanishes overnight. This situation was experienced by our dear @alexaivytorres, 4 days ago.
Saludos mis queridos hivers. Que desagradable es enterarse por @ginabot que todo el dinero que tenías ahorrado en Hive.Blog, se esfume de la noche a la mañana. Esta situación fué experimentada por nuestra querida @alexaivytorres, hace 4 días.
For those who do not know @alexaivytorres. I want to tell you that she has given much of herself for the growth of the platform, she is a podcaster, a professor with a doctorate, a creator of high quality content, a lover of science, philosophy and poetry, Coordinator of the Cervantes Ciencia Magazine, among others; so it is unquestionable that his presence has been enriching for everyone, and his charisma, effort and responsibility have always been remarkable.
Para los que no conocen a @alexaivytorres. quiero decirles que ha dado mucho de sí para el crecimiento de la plataforma, es podcaster, profesora con doctorado, creadora de contenido de gran calidad, amante de la ciencia, filosofía y poesía, Coordinadora de la Revista Cervantes Ciencia, entre otros; por lo que es incuestionable que su presencia ha sido enriquecedora para todos, además que su carisma, esfuerzo y responsabilidad siempre ha sido notable.
His horror story began with the creation of a hive user named @ anon1765. It was created just to commit the vile act.
Su historia de terror comenzó con la creación de un usuario en hive llamado @anon1765. Fue creado solo para cometer el acto vil.

Source / Fuente
It only took a few minutes to commit his misdeed, which suggests that everything was coldly calculated.
He made 3 transactions from the @alexaivytorres account, as you can see in the image, showing 2 receiving accounts: @beeanon (16,858 HIVE) and @ anon1765 (1354,004 HIVE and 320,118 HBD)
Solo bastó unos minutos para cometer su fechoría, lo que da a entender que todo estaba friamente calculado.

Realizó 3 transacciones desde la cuenta de @alexaivytorres, como pueden ver en la imágen, evidenciándose 2 cuentas receptoras: @beeanon (16,858 HIVE) y @anon1765 (1354,004 HIVE y 320,118 HBD)

Source/Fuente
Once the money was transferred to @ anon1765, he converted the HBD part to HIVE, and made 2 transactions: He transferred 1,650 HIVE to @deepcrypto8 and 3100,105 HIVE to @honey-swap.
As you can see in the images, we can conclude that the money from @alexaivytorres went to 3 accounts as a final destination: @beeanon, @deepcrypto8 and @honey-swap.
Una vez que el dinero fué transferido a @anon1765, convirtió la parte de HBD a HIVE, y realizó 2 transacciones: Transfirió 1,650 HIVE a @deepcrypto8 y 3100,105 HIVE a @honey-swap.



Como pueden observar en las imágenes, podemos concluir que el dinero de @alexaivytorres fué a parar, como destino final a 3 cuentas: @beeanon, @deepcrypto8 y @honey-swap.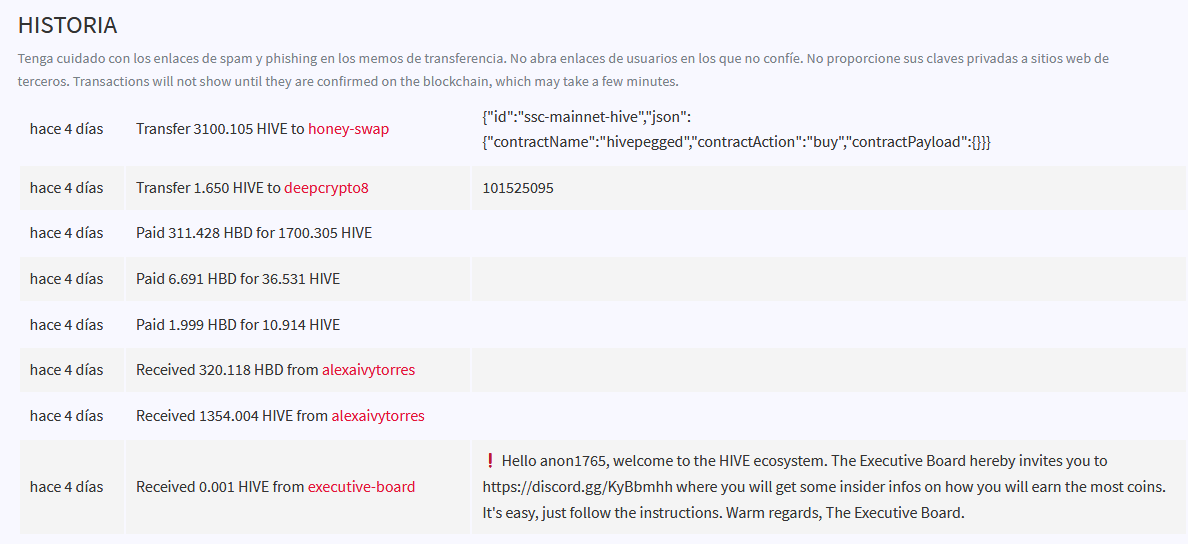 Source/Fuente
Excuse me for mentioning these transactions, but I am an auditor and it is inevitable for me to use the tracing technique. I do not know the deep waters of this platform and I cannot go further, but to my knowledge, I know that transactions leave traces, and if there are systems involved, which record service payment operations, it is indicative that the data of the beneficiary accounts exist.
The person who was affected has my full affection, and I know that, like me, many users are hurt by what happened.
Me disculpan que hago mención a estas transacciones, pero soy auditora y para mí es inevitable emplear la técnica del rastreo. Desconozco las aguas profundas de esta plataforma y no puedo llegar más allá pero en mi conocimiento, se que las transacciones dejan huellas, y si hay sistemas de por medio, que registren las operaciones de pago de servicios, es indicativo que los los datos de las cuentas beneficiarias existen.



La persona que fué afectada tiene mi pleno cariño, y se que como a mi, a muchos usuarios nos duele lo que le pasó.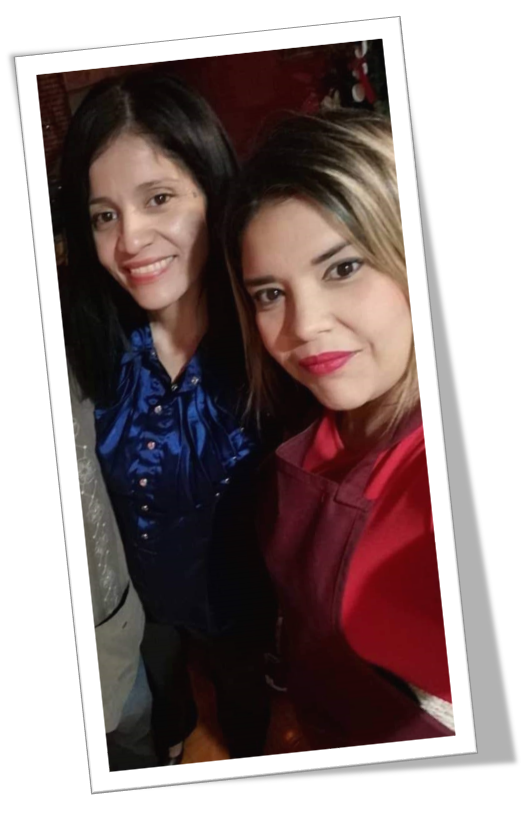 Author's own photo / Foto propia del autor
Let's hope the truth is reached. For now I believe in divine justice beyond the earthly one and I am pleased with the support provided by @cervantes, other witnesses, communities and a large number of users who have shown their solidarity, both in words and in donations, for the sake of to recover what was lost.
Esperemos se llegue a la verdad. Por lo pronto creo en la justicia divina más allá de la terrenal y me siento complacida del apoyo que ha brindado @cervantes, otros witnesses, comunidades y una gran cantidad de usuarios que han mostrado su solidaridad, tanto en palabras como en donaciones, en aras de que recupere lo perdido.
The post of @alexaivytorres, about this situation, you can find it here
El post de @alexaivytorres, sobre esta situación, lo puedes encontrar aquí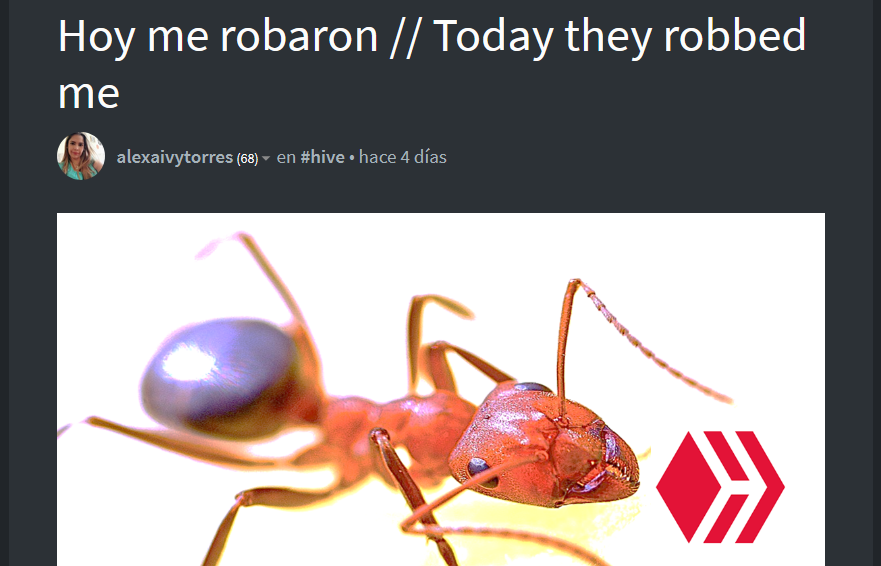 Source/Fuente
To give added value to this publication, I would like to make a warning to all users, so that we can improve the security of our wallets, with the following recommendations:
Changing the original keys
Use keychain and hivesigner key systems
Do not use the owner key for everything, only to reset the other keys. If you are going to post, use the "posting" key, do not "active" key.
Do not share computers, laptops or cell phones in which you make transactions.
Do not carry out transactions in cybers.
Place antivirus on the computers used.
Do not respond or click on strange messages.
Do not keep the passwords in emails or in visible places.
Do not trust the keys to other people.
Transfer the money to savings within the same wallet
Para dar un valor agregado a la presente publicación, quisiera hacer un llamado de advertencia a todos los usuarios, para que mejoremos la seguridad de nuestros monederos, con las siguientes recomendaciones:

Cambiando las claves originales
Usar sistemas de claves keychain y hivesigner
No usar la clave propietario para todo sino para resetear las demás claves. Si vas a postear usa la clave "posting", no la "active".
No compartir computadoras, laptops o celulares en la que haga transacciones.
No realizar transacciones en cybers.
Colocar antivirus en los equipos utilizados.
No responder o dar click a mensajes extraños.
No guardar las claves en correos ni en sitios visibles.
No confiar las claves a otras personas.
Transferir el dinero a ahorros dentro del mismo monedero.
If you know of other ways to improve wallet security, let's share them to prevent situations like this from happening.
Si conoces otras formas de mejorar la seguridad de los monederos, compartámoslas para evitar que situaciones así sigan sucediendo.
The rewards of this post will go to @alexaivytorres
Las recompensas de este post serán destinadas a @alexaivytorres
Written by @ xandra79 // Escrito por @xandra79