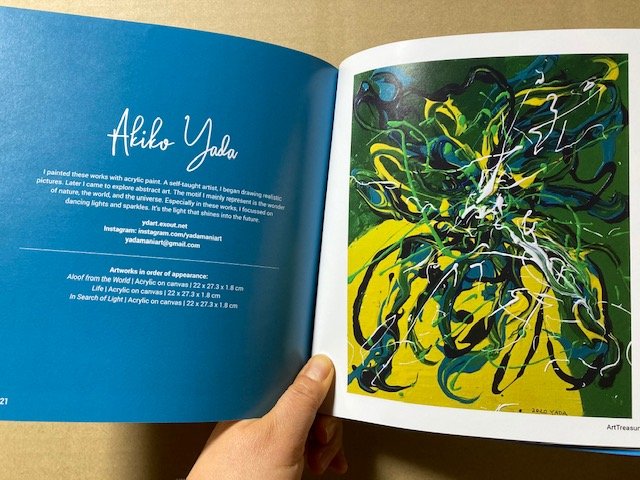 (ENG)
My works are published in 2021 ArtTreasury Collector's Annual.
The picture is a two-page spread.
It is published annually by an international art magazine called ArtAscent, and has been selected as one of 10 talented contemporary artists. I was sure everyone who applied would be on the page. I paid the listing fee of (However, it was only several thousand yen.) which is not cheap. So there were only 10 people, and I was surprised when I found out I was one of them.
I'm glad to be in an art magazine like this. I hope people all over the world will see it.
You can buy it here. I bought a paper book, but I recommend you to buy a PDF version as it costs shipping fee. Please buy it by all means.
Buy it here https://www.magcloud.com/browse/issue/1905200
(JPN)
2021 ArtTreasury Collector's Annual に私の作品が掲載されました。
写真はその中の1見開きです。
これはArtAscentというインターナショナルな美術雑誌が年1回発行しているもので、10人の才能のある現代アーティストの1人として選ばれました。私はてっきり、応募した人がみんな載るのだと思っていました(苦笑)。安くない(といっても数千円)の出品料を出したので。だから10人だけで、その中に私が入っていると知った時にはびっくりしました。
こういう美術雑誌に載るのは嬉しいです。世界中の人に見てもらえればなあと思います。
購入はここからできます。私は紙の本を買いましたが、送料もかかりますのでPDF版を買って見ることをおすすめします。是非是非お買い求めください。