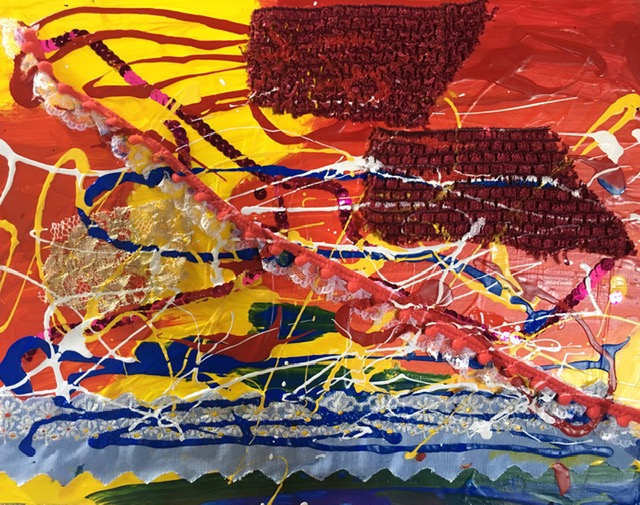 (ENG)
This is my original artwork.
"At Resort"
Mixed Media,41x31.8cm,2020
I imagined a bright tropical resort. That said, I haven't been able to go to a resort or even a trip this year. I hate COVID-19. But it's no use complaining about nature, so I drew a colorful world on the panel.
A typhoon is approaching to the west of Japan. This is also scary. There is a possibility that a violent wind with maximum instantaneous wind speed of 70 to 85 meters blows. I'm afraid many things will be blown away. Fortunately, the place where I live is out of the strong wind area, so I will go to the neighboring Osaka tomorrow ......
I stayed too much at home in August, so I want to go out in September.
I like a world where people have colorful hearts.This is a picture showing the wonders, complexities and mysteries of nature. I tried to get closer to the shape of nature, but it still couldn't match nature. But I did my best to make it insane and scary.
(JPN)
これは私が創った作品です。
「リゾートにて」
ミクストメディア、41x31.8cm、2020
鮮やかな熱帯のリゾートを想像で描きました。とはいうものの今年の私はリゾートに行くどころか旅行にすら行けていないのです。COVID-19憎しです。しかし自然に文句を言っても仕方ないのでパネルの上に色鮮やかな世界を描きました。
日本の西の方には台風も近づいています。これも恐ろしいです。最大瞬間風速70メートルから85メートルの猛烈な風が吹くおそれがあるそうです。色んなものが吹っ飛ぶのではないでしょうか。幸い私が住んでいる所は強風域から外れているので、明日は隣の大阪まで出かけますが……。
8月は家にこもりすぎたので、9月はぼちぼちと外に出ていきたいです。
色とりどりの心が豊かになる世界が好きです。