A story about bitcoin, crypto, blockchain, and life.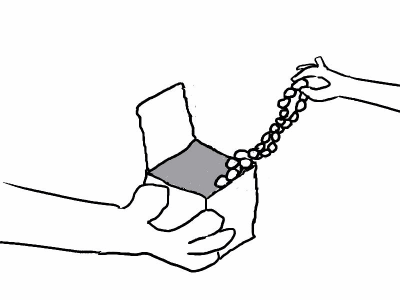 Bitkenstan has a running story line.
Earlier episodes can be viewed on the Hive blockchain at https://peakd.com/@bitkenstan

bitkenstan.com

Transcript
Hilda: (gingerly removes the pearls from the box) Someone's at the door! I'll put away the pearls. You sit at your desk. (Stanley sits) And look busy, Stanley! (Stanley pulls out pen and paper)
Mr. Holler: Talk. (a figure peers in the window, then opens the door) Miss Hilda, I'm Mr. Holler. The Man's assistant.
Hilda: I remember you. (Mr. Holler smiles)
Mr. Holler: Well, The Man has a gift for you. And a message. (Stanley looks over with concern)
Hilda: Today is just full of surprises.
Mr. Holler: Mr. Fitts is bringing in the gift now. (Mr. Fitts brings in a huge bouquet)
Stanley: Are those roses?
Mr. Holler: Yes.
Stanley: There must be 100!
Mr. Holler: 500. Actually. For Miss Hilda. From The Man. (Stanley looks over with concern)
Creator: What's in a name of 500 roses?
Originally posted July 3, 2020 at
---
Official NFTs have arrived to Bitkenstan! It's possible to actually own each episode. View the NFTs at https://wax.atomichub.io/explorer/collection/bitkenstanxx
---
Bitkenstan is the webcomic that became the world's first NFTcomic on bitcoin, cryptocurrency, blockchain, and life.
It began with @bitkenstan on Twitter and is now upgrading over to the Hive blockchain. (join Hive)
Visit @bitkenstan on Twitter, @bitkenstan on Hive at https://peakd.com/@bitkenstan, or learn more and see the playlist at bitkenstan.com