Even though I live alone (well with my diabolic cat tho) it still feels like I never have enough time for everything. Not to mention not having a lot of money for eating out, going to a café, and doing other social stuff. It's like my schedule is always full (and that includes sleeping min 7 hours lol) and everything should be planned (due to time and money considerations ugh!). Weekends are pretty hectic too with all the chores and stuff.
One big part of my weekend routine is Meal Prepping. I've been doing this for months now and this is the only way for me to save money (by not eating out and having healthy meals available). To be honest, I've saved a big chunk of my wage just by meal prepping. My goal to own a tiny piece of land and build a tiny home is still /On but it just won't happen anytime soon.
Meal prepping is hard work but anyway it is just 2-3 hours of cooking and after that I'm done for the week. And I don't have to cook grand meals everyday so I can just focus on work and hobbies. In my opinion, it is easier to do this when you live alone. I love meal prepping because it is such a rewarding activity. It feels like a hobby that I always look forward to doing every weekend. I think about the ingredients that I'm going to buy and the dishes that I'm going to cook. I feel like a chef going to the farmers' market every Sunday and about to cook the best meal for the week. I can't fail it or my one and only customer's gonna get hangry ha ha ha. No, these days I just love myself. Meal prepping has been one of my self-care activities. It helps me to stay away from the screen for a while and be mindful and present.
To meal prep or not to meal prep. I know there's a debate out there about meal prepping certain food, like grains, meat and stuff. There's even a thriving community of meal-peppers in this dark world called Reddit - with die-hard preppers ready to troll the trollers of meal prepping. I'm actually just there lurking and looking for some meal prep ideas. So anyway, meal prepping is up to you. What is your goal? Is it to save money and time? Is it to have healthy meals within your reach?
First off, what kind of food storage/containers to use for your meal prep? Personally, I prefer oven-safe glass containers because they are nice and easy to clean. They can be a bit expensive but I think it's all worth it because I'm gonna use them for a long time anyway.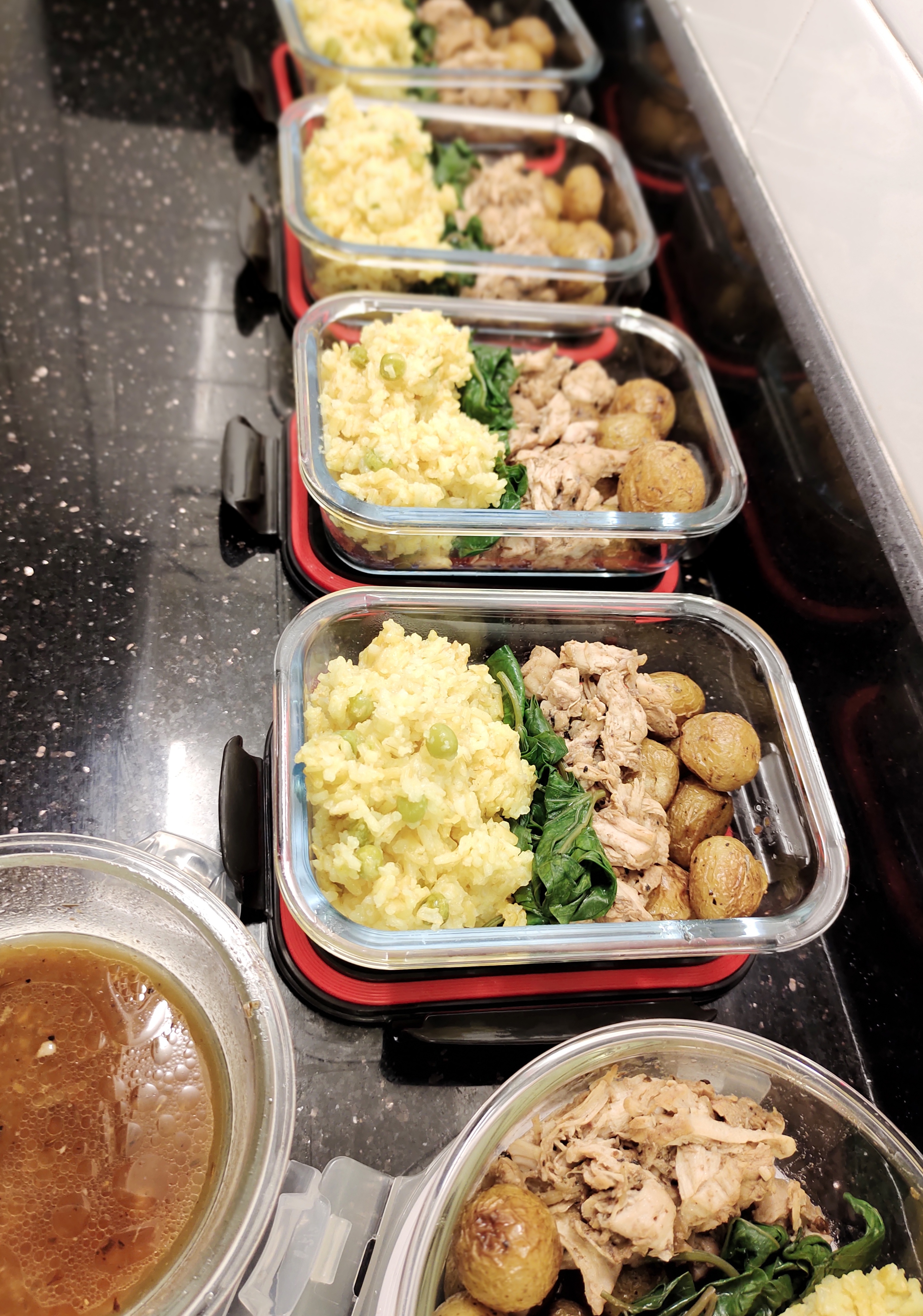 I've been meal prepping for a while so I know what works for me. So far my food are still good for 5 days (or maybe it must be my strong stomach ha ha ha) I just follow the usual rules or create some rules that make sense. Like if I have to meal prep beef or chicken, they have to be sautéed, cooked or seasoned very well (salt, pepper, sauces, and all). You also have to use common sense when choosing what type of food to cook that can last for a week. As for me, I avoid meal prepping seafood for the obvious reasons. If I crave seafood, I'll just cook them for a day. And as you all probably know, canned and preserved food last for a long time due to the heavy amount of salt, oil, and preservatives. But of course you have to control the amount for yourself. I don't have to meal prep for months (the food is just for me anyway) so mine's usually just 5 days worth of meals. And I only eat one big meal a day so I'm less likely to have spoiled food or waste. So what do I eat during weekends then? These are the days when I cheat (eat out or eat unhealthy stuff to balance lol) or when I'm free to eat whatever I want. You need these days too or you'll get tired of what you eat.
In my experience, pasta is always good for a few days. You can't go wrong with Chili Con Carne - super easy and filling. I don't overcook veggies especially if I have to reheat them anyway. Cooked rice can be a bit tricky though and you have to be careful. It shouldn't stay in the fridge for more than 3 days in my own rulebook but if I am to meal prep them for a few more days, I usually just fry a day old rice and put lots of seasoning (turmeric or soy sauce or ala "Nasi Goreng", salt, pepper, garlic), fried eggs, and veggies like corn, carrots, green peas, etc). I don't usually put cooked food in the freezer but I heard some people who meal prep for a month's worth freeze burritos, rice, soup, and other stuff. Again, everything should be up to what works for you. As long as you don't poison yourself, you're good!
Here are some of my past meal preps. I've been meaning to buy Basmati rice (they are damn expensive !) but maybe I will buy one of these days (I will ask for a raise lol). Blanched spinach and shredded peppery chicken in soy sauce and vinegar. And then I also have 5 days worth of shredded chicken soupy soup gingery stew (with papaya or chayote squash, and chili leaves) very particular to my region (if you know then you know! ;). Chicken is usually not shredded here but since I live in a condo now, I don't want to worry about storing chicken bones and food scraps in my bin attracting city creepy crawlies lol. Because Sunday also means "take the trash out Sunday".
Happy Meal Prep Sunday y'all. 😊🙏